There is no question that your kitchen should reflect your personality. Given its importance, it's no surprise that you should take the time to design your kitchen carefully. But what exactly makes an ideal kitchen design? What are the best layouts for a perfect kitchen?
In this article, we'll give you handy guidelines and checklists. We'll also provide tips on making your kitchen more functional and comfortable in 2022. So whether you're dreaming of a spacious country kitchen or a sleek modernist masterpiece, read on for ideas that will help bring your dreams to life.
Kitchen layout ideas checklist for a dream kitchen design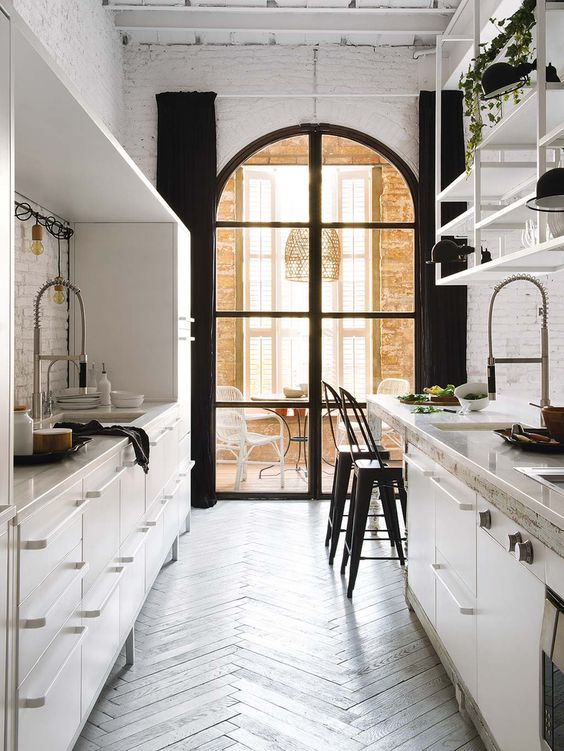 1) A galley kitchen is ideal if you want to cook quickly and efficiently.
Galley kitchens are great for smaller houses or apartments. They're space-efficient and easy to clean.

Galley kitchens are great if you don't want to compromise storage or countertop space.

A galley kitchen provides plenty of room for cooking, entertaining, and eating. This kitchen layout doesn't fit well with an open plan concept.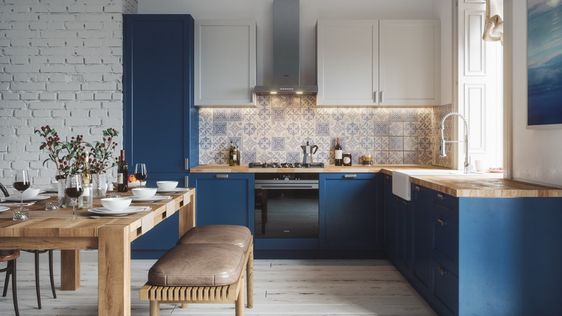 2) An L-shaped kitchen is excellent for families who enjoy socializing together.
L-shaped Kitchens maximize corner space.

An L-shaped kitchen design is great for traffic flow and workflows.

Avoid an L-shaped kitchen layout if there is no room for additional work areas.

An L-shaped kitchen is great for smaller kitchens.

They create a sense of openness and accessibility.

You can still fit a table into the corner if needed.

An L-shaped kitchen layout looks clean without making you feel cramped or closed in.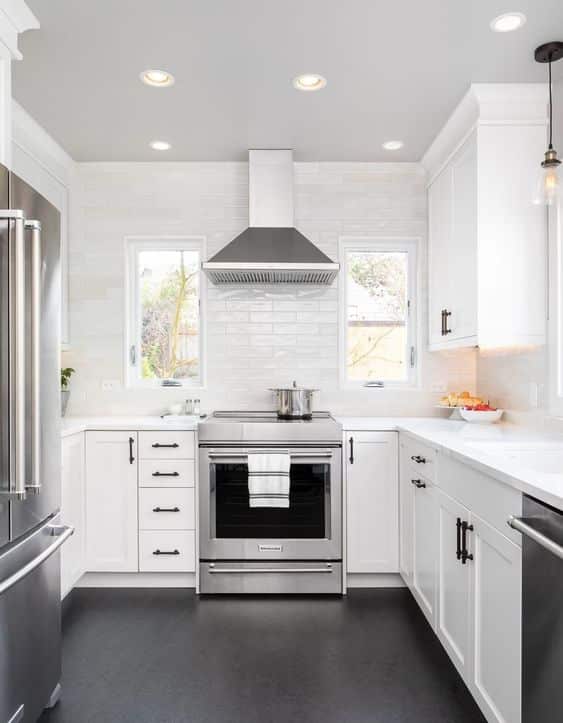 3) A U-shaped kitchen is designed for couples who work separately.
A U-shaped kitchen makes it easier to cook and clean and gives you more countertop space.

A U-shaped kitchen is excellent for entertaining and meal prep.

You can fit large appliances in a U-shaped kitchen.

This kitchen layout can feel cramped if not designed correctly.

A U-shaped kitchen is suitable for those who like to cook together.

U-shaped kitchen layouts work well in smaller spaces, with enough room for a large island or peninsula.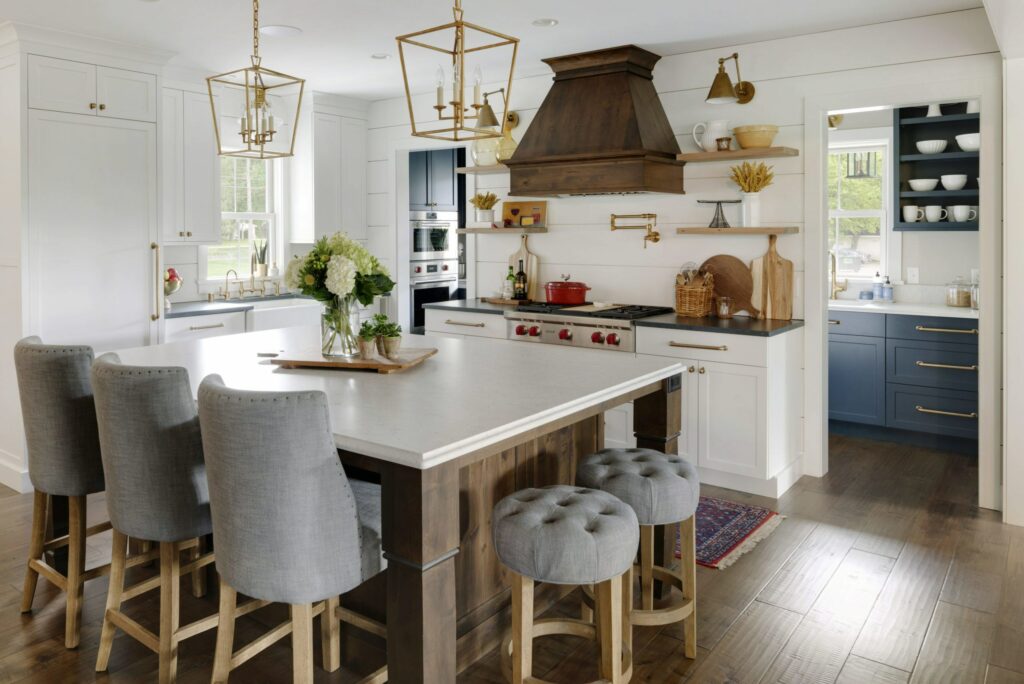 4) An island kitchen is perfect for those who love to entertain.
Islands are great for cooking, entertaining and serving food. They add function and space to any home.

They're great for larger spaces where there isn't much room for other furniture. Many people think that all homes should have an island in them. But most homes don't have room for one.

Islands allow for greater flexibility regarding where people sit and move around. An island works better than a peninsula because it feels more like a piece of art than a table.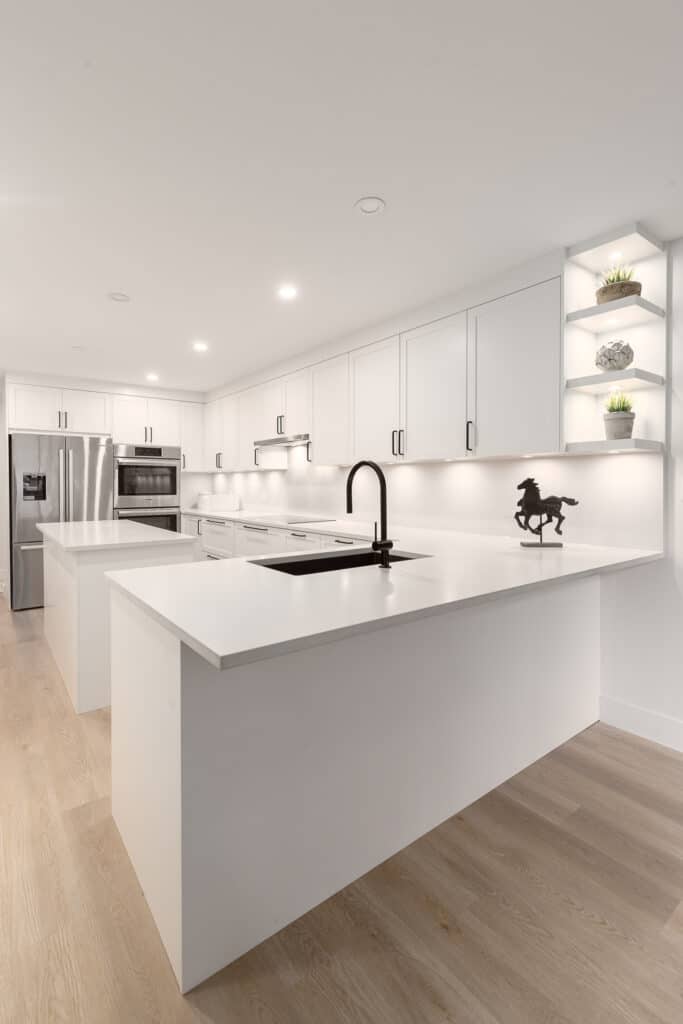 5) A peninsula kitchen is ideal for smaller kitchens where space is limited.
Peninsula kitchens are great for those who want more space in their kitchen without sacrificing storage.

Peninsulas are a great way to add more countertop space while maintaining a functional kitchen.

Kitchens with peninsulas have much room for storage.

Use a peninsula to disrupt a passage.

Use this design to create a walkway between two areas of your home.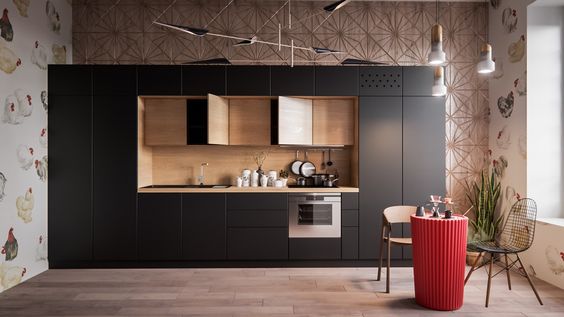 6) One-wall kitchens are popular in modern homes. They are often combined with a walk-in pantry.
OneWall Kitchens are great for smaller spaces.

They're easy to clean and maintain.
 What is a work triangle principle in kitchen design?
A work triangle is a helpful layout for a kitchen. It allows for easy access to all areas of the kitchen. It is a fundamental part of an ideal kitchen design, which should be considered when planning a kitchen layout. Kitchens are no longer work centers. While it is still essential to create an efficient layout for the work triangle, you should consider other factors, such as the flow of traffic and accessibility of fixtures. A kitchen design should also consider how the kitchen functions and what activities the family members enjoy most.
In the ideal kitchen, the length of each leg of the work triangle is at least 1.2 m (4 ft) and 2.7 m (9 ft) long. The total distance of the triangle's sides should be between four and eight metres (13 to 26 feet). To create a work triangle, there must be no obstacles or significant traffic between any two points of the triangle. There should be enough space between the appliances and countertops to move quickly between these points.
Because kitchens are often multifunctional and have multiple cooks, work triangles are no longer a rigid rule. In the ideal kitchen, the work triangle should not cut through the peninsula or island because it tends to be narrower and hosts more traffic patterns. Adding a second sink on an island can help convert a linear layout into a triangular one. Designers have found inventive ways to accommodate such flexibility, including breaking the kitchen into five zones.
A work triangle in an ideal kitchen design will maximize available space. It helps reduce wasted steps and makes it easier to perform kitchen tasks. Ideally, it should include ample space between kitchen appliances and lessen the need for shortcuts. An ideal kitchen design should have enough space between the three appliances. A good design will also maximize the use of the available space and minimize the need for additional storage. A work triangle is a helpful design guide if you plan to redesign your kitchen.

Top Kitchen layouts in detail
Galley kitchens
This classic layout features two walls of cabinets with a walkway down the middle. Galley layout kitchens are ideal because they're small, efficient, and functional. They're great for families living in apartments or condos with limited space. Galley layout kitchens are also perfect for those who prefer open floor plans and large living spaces. Galley layout kitchens are also popular among chefs because they're designed specifically for culinary use.
L-shaped layout
If you are looking for a kitchen design that is versatile and functional, an L-shaped layout is a way to go. This layout allows multiple users to work in the kitchen simultaneously while maintaining the proper spacing between major kitchen areas. An L-shaped design provides plenty of storage space and maximizes the preparation and cooking areas. With so many people in the kitchen, an L-shaped layout can help you get more done in a shorter amount of time.
The L-shaped layout allows for maximum storage and preparation counter space. At the same time, a galley kitchen only has one long span of counter. The L-shape provides overhead cabinets that can store different kitchen utensils, making the working triangle more efficient. Additionally, the L-shaped layout allows for less space between zones and the work triangle, making it easier to move between the areas. This layout works well in large kitchens, including an island with a breakfast bar.
L-shaped kitchens with a small island for extra prep workspace are considered the most functional. It is important to remember that an L-shaped kitchen should have enough space to fit an island, allowing for counter space for dining and prep work. Adding an island can increase countertop and storage space while making it easier to move around the kitchen. A kitchen island will also remove the possibility of stepping into the kitchen area and blocking the way to work.
The L-shaped kitchen design allows for more storage space and is an ergonomically-accurate design. It is an excellent choice for open-plan kitchens and works well when there is little cabinetry in the kitchen. An L-shaped kitchen is also perfect for long, thin rooms without much cabinetry. And if you have a large family, an L-shaped kitchen with an island can be a practical choice.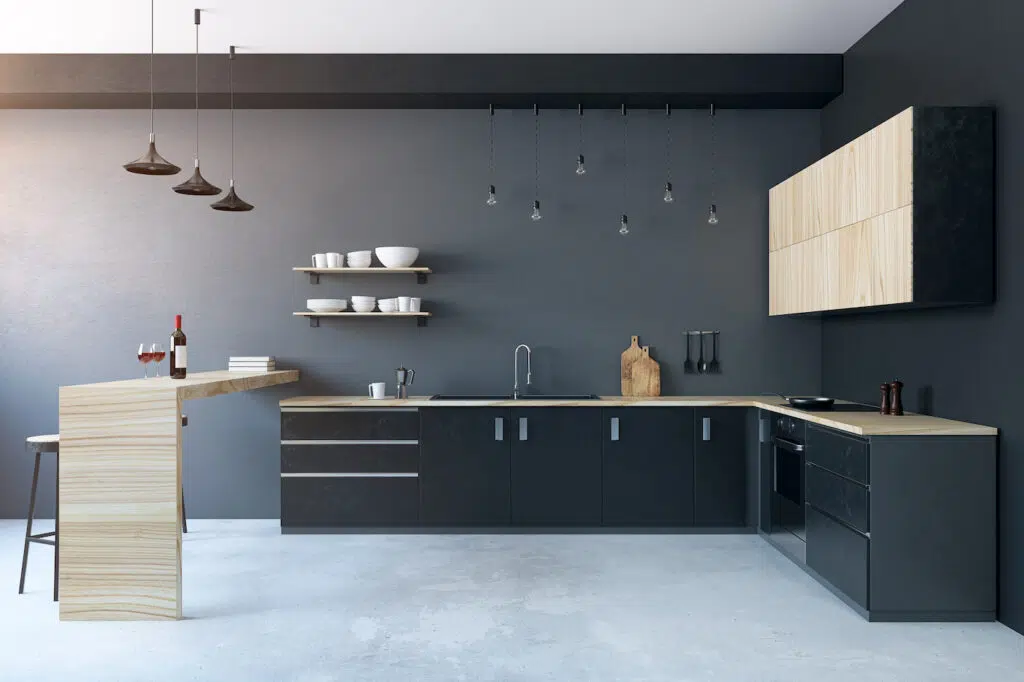 U-shaped layout
A U-shaped kitchen layout is an excellent choice for your home if you have the space. You need a minimum of 14 feet of width to fit one island. In a U-shaped kitchen, you'll find the range, oven and refrigerator on either side of the island.
Another great feature of a U-shaped kitchen is its massive storage space in its corners. The depth of corner cupboards is enormous, so even if you have a small kitchen, you can use this space for bulky appliances. You can also install a carousel to make corner cupboards accessible. Use the golden triangle to guide cupboard placement in a U-shaped kitchen.
The U-shaped kitchen layout has some challenges when it comes to lighting. Natural light is essential for creating an airy atmosphere, but you can install overhead lighting with little natural light. A U-shaped kitchen with the proper lighting is a beautiful, well-functioning space. With clever planning, you can create a kitchen that looks great and functions efficiently.
Choosing a suitable colour scheme for your U-shaped kitchen is essential. The wall cabinets should coordinate with the rest of your decor. If you have a large kitchen, a dark colour on the walls and ceiling will dramatically impact you. A light-coloured worktop will provide a balance between light and dark colours. In addition to choosing a paint colour that complements the units, you can also use your walls as reference colours.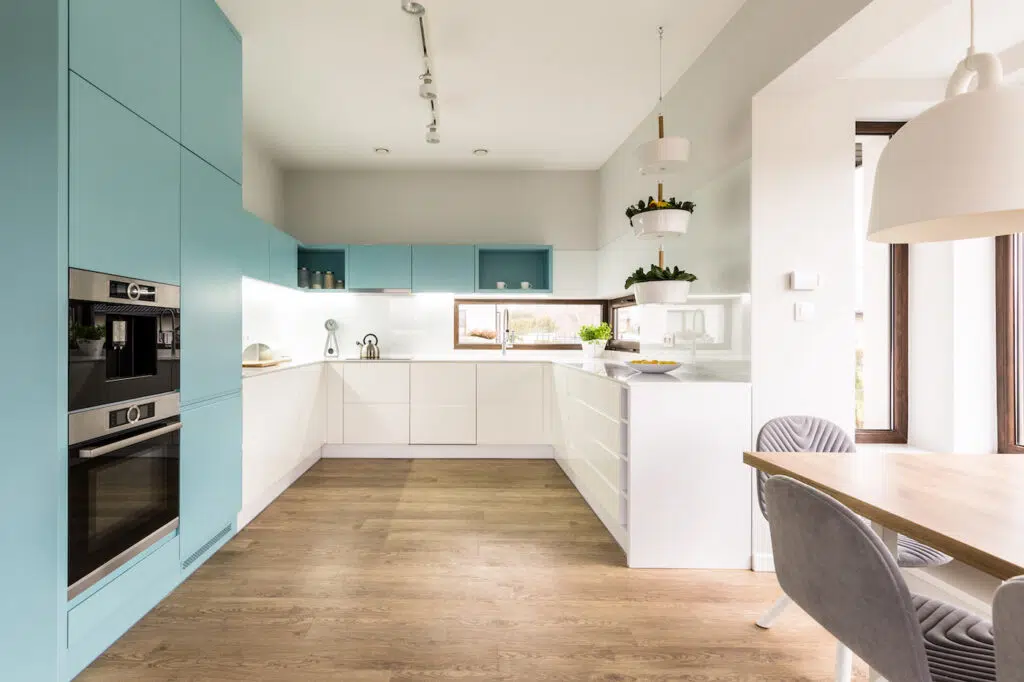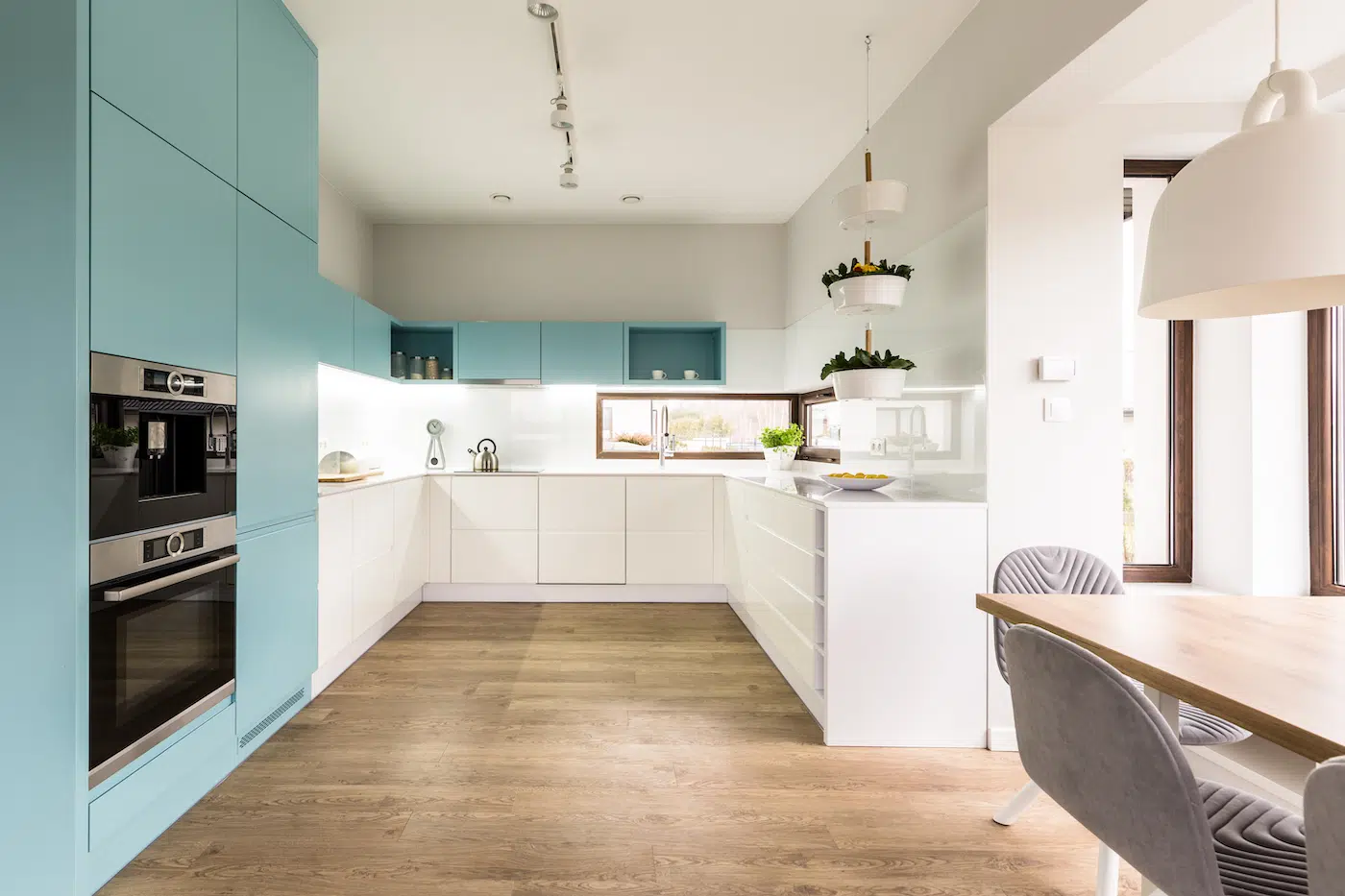 Island layout
A large kitchen can become a skating rink if it does not have a practical layout. You can easily add an island with a bar-style sink in a large kitchen and separate the working areas. However, small kitchens cannot accommodate an island. An island kitchen is an excellent space for entertaining guests because there's room for everyone to congregate at once. But it's not just for parties; it's also ideal for everyday family meals.
An island kitchen is perfect for families who cook together often. The island provides plenty of countertop real estate where Mom and Dad can chop vegetables and stir sauces while kids play nearby. 
G-shaped or peninsula layout
A G-shaped kitchen is a variation of the U-shaped layout. This design includes a peninsula. A peninsula can be a functional addition to a kitchen, providing extra countertop space and storage. This design also allows for two work triangles, which makes it an ideal kitchen design for two cooks. Once you've figured out your excellent kitchen design, you'll want to get the perfect plan to make your life as easy as possible.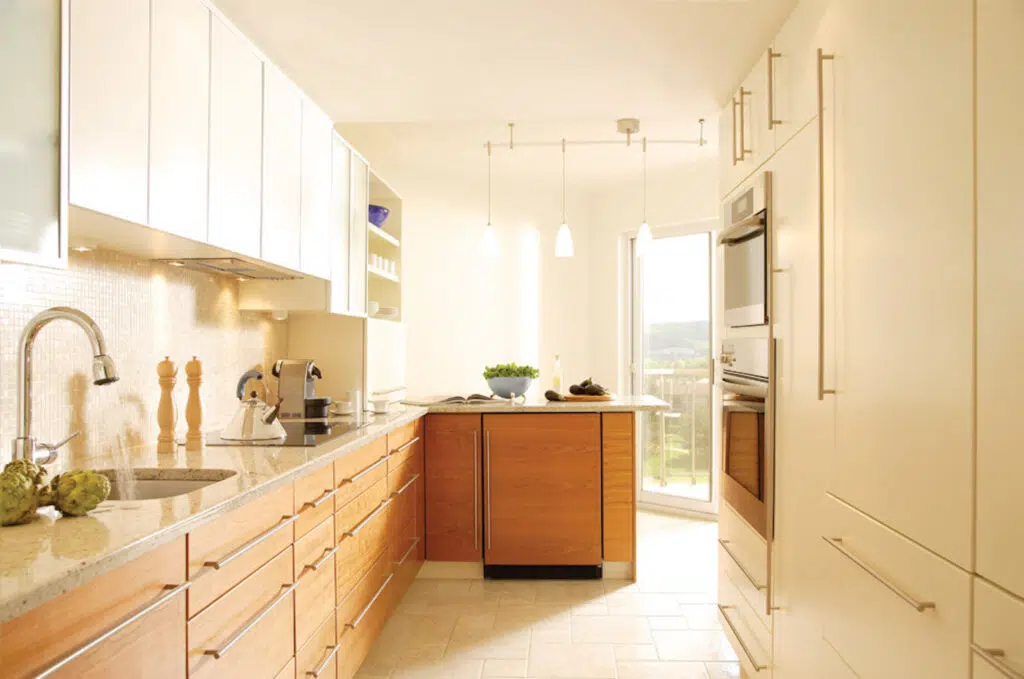 One-wall kitchen layout
The one-wall kitchen layout is great for small kitchens or open-plan living. This layout is the least favourite design amongst kitchen designers. It is also the most economical layout, requiring the least cabinetry and appliances.
A kitchen design guide: what are the things you need to consider when designing an ideal kitchen?
Kitchen design should take into account the needs of the family.

A smaller kitchen doesn't mean less storage or countertop space.

A kitchen layout should revolve around the three main elements: sink, cooker and refrigerator.

Kitchen layouts should be but don't have to be designed according to the principles of the work triangle.

Don't let a triangle dictate what you can and cannot do in your kitchen.

There are many ways to arrange a kitchen layout.

3D drawings can help you visualize how things will look before building them out.

A kitchen layout should be chosen according to its purpose.

Think about what you'll do in the kitchen before you plan the layout.

Make enough room for all the appliances you want to buy.

Don't forget to consider storage options if you don't already own any.

A well-designed kitchen layout will include elements that encourage people to spend more time cooking and less time cleaning.

Kitchen design should take into account the size of your family.

Kitchen cabinetry should be considered early in the design process.

Make sure the height of cabinets and appliances works well together.

Consider the placement of appliances before you buy them.
Top five 2022 kitchen design elements that work in all kitchens.
Incorporate house plans in your kitchen design
You can use some green in your kitchen in 2022

Use plants that don't require too much attention or maintenance.

Create an outdoor look without actually having outside access.
Full-height backsplash and waterfall counter
A statement in your kitchen is a full-height backsplash that would match your counter. Run the counter up to your upper cabinets.

A full-height backsplash is easy to clean since you have no grout lines.

A waterfall countertop adds an element of luxury to any room.

This type of countertop is trendy and will never go out of style.

Because of its sleek lines, it's easy to maintain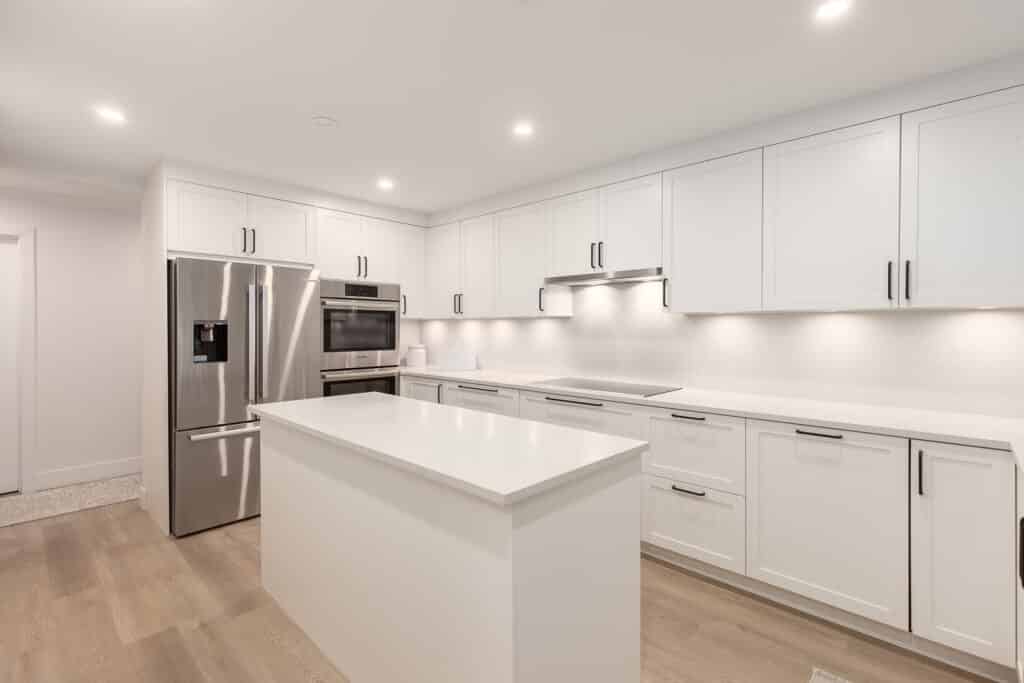 Bring warmth to your kitchen by incorporating wood or brass elements.
Light wood cabinets aren't just for old kitchens anymore.
Modern brass hardware makes a statement without overpowering the space/

You can also use marble in small doses to add a touch of luxury.

Use Texture to create visual interest.
Your dish storage solutions should be well thought out.
A peg system keeps dishes in place and lets you easily reach them.

The design is simple and doesn't take up much space.

Peg systems are standard on ships, which is why this idea works well in kitchens.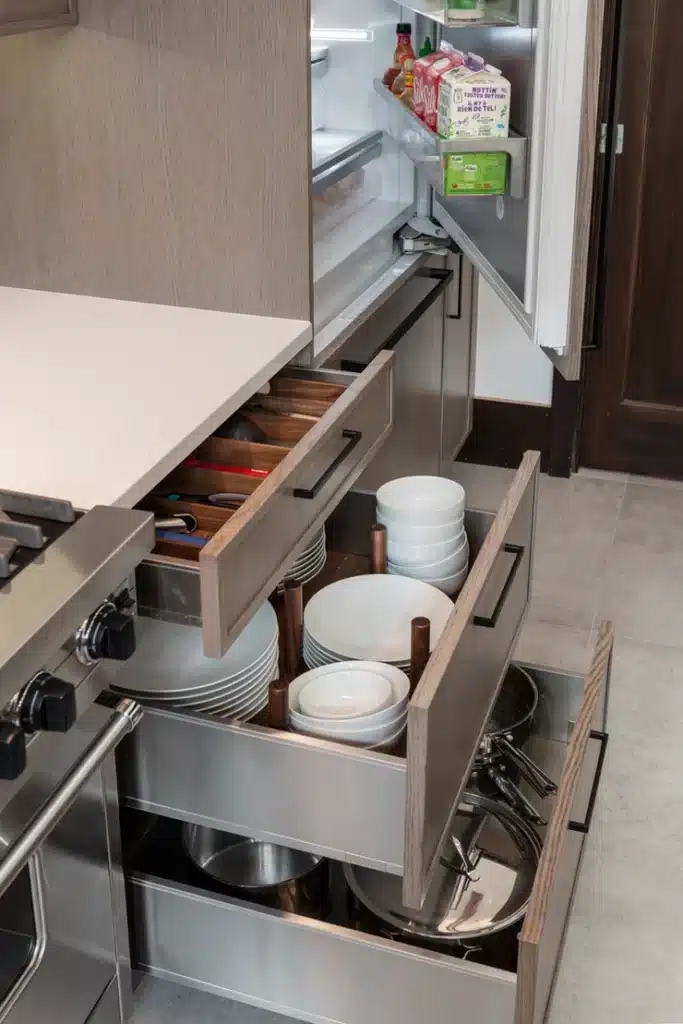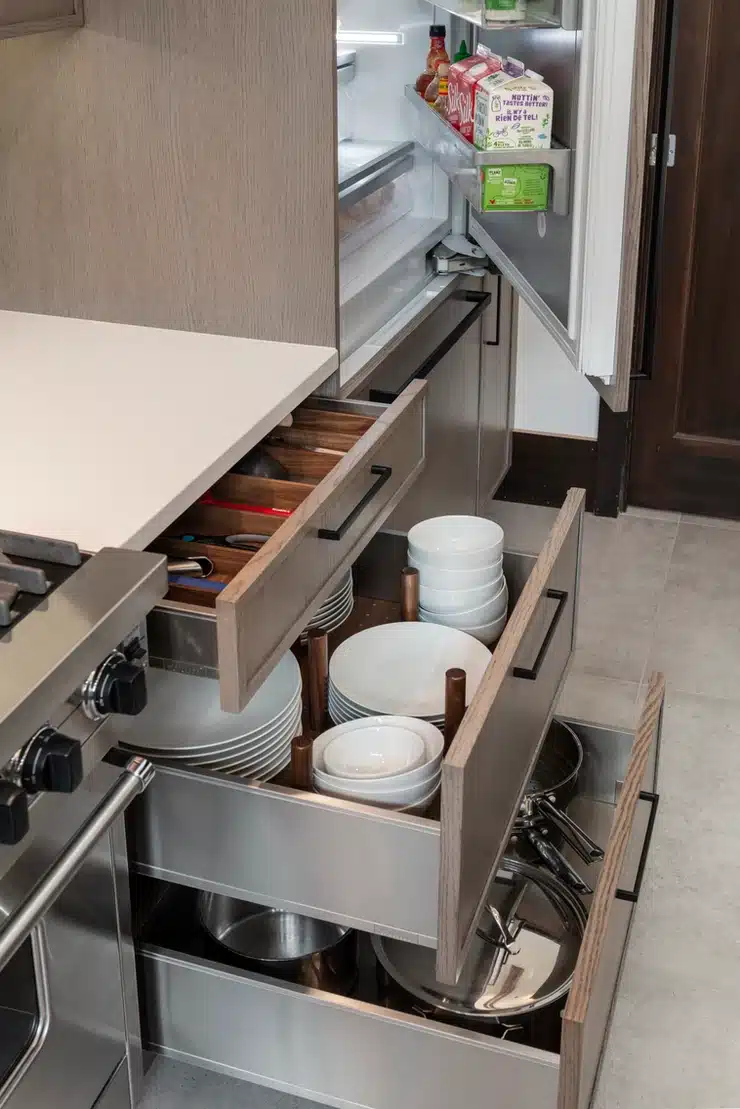 Built-in appliances are the new norm in modern kitchen design.
A built-in is an ideal way to store all those small items that clutter up a countertop or cabinet.

This design adds extra storage space without taking up any floor space.

Kitchen designers love built-ins because they give a room a finished look.
Consider Hanging Light Fixtures
Use multiple styles of lighting to create a cohesive look. Pendant lighting is an ideal way to add ambiance to any room.

Task lighting gives off a softer glow, while dimmer switches allow you to adjust the amount of light.

Use accent lighting to add drama and style to any space.
Canadian Home Style is your family-owned and operated custom cabinetry retailer with a showroom in North Vancouver, BC. We are the official dealer of Cabico custom cabinetry in the Lower Mainland, providing complete kitchen renovations with an extended warranty. We always keep up to date with the latest trends and are proud members of the NKBA National Kitchen and Bath Association.  In addition, we have won the Consumer's Choice Awards back-to-back in 2021 and 2022 for our commitment to business excellence. We are considered one of the highest-rated kitchen and bath design and renovation experts in Metro Vancouver. Book now to visit our North Vancouver showroom, where you can get expert advice from one of our kitchen and bath designers. We're happy to be a part of your journey with your next kitchen renovation project in Metro Vancouver.
We are the official dealer of Cabico custom cabinetry in the Lower Mainland, and we believe in providing sustainable kitchen designs that can last you and your family a lifetime. Contact us for all of your Vancouver kitchen renovation needs.
Services We Offer:
Main Areas of Service in British Columbia: 
Frequently asked questions
What is the best kitchen layout?
An L-shaped kitchen with an island is the best kitchen layout if there's enough space. 
What are the characteristics of an ideal kitchen?
An ideal kitchen with plenty of storage space should be large enough for cooking, cleaning, entertaining, etc. A well-designed kitchen also has easy access to natural light and ventilation.
Is there an app that lets me design my kitchen?
Yes! Several apps out there let you create 3D models for your home. The RoomSketcher App and SketchUp allow you to create floor plans, furniture layouts, and even interior decorating ideas.
What is the most functional kitchen layout?
The most functional kitchen layout has an island with a sink, stove, fridge, microwave, and dishwasher, all within reach. An L-shaped kitchen layout with an island is considered the best layout in kitchen design. 
Where should a refrigerator be placed in a kitchen?
A refrigerator should be placed next to the sink for easy access.
Can a stove and refrigerator be side by side?
Yes, they can be side by side if there is enough space for both appliances. However, this is not considered a great practice in kitchen design. 
Where should pots and pans go in the kitchen?
Pots and pans are best kept in the cupboard above the stove.
What is the 5-zone kitchen?
The 5-zone kitchen is an innovative design that allows for more efficient cooking with less space.
Where should a fridge go in the kitchen?
The refrigerator goes between the sink and stove.
Does your new kitchen need planning permission?
If you're changing the electrical and plumbing locations, you would need electrical and plumbing permits. You may also need to apply for a building permit if you're making structural changes to your walls to accommodate these changes.
Read our last kitchen renovation article here: