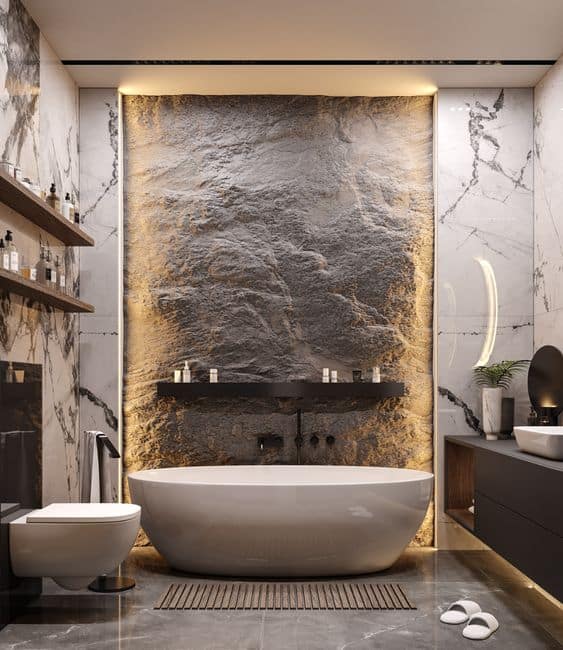 As we enter 2023, bathroom designs will continue to evolve as new technologies emerge. It's crucial to stay ahead of the curve regarding bathroom design trends. As technology advances, we will see more innovations in bathroom design. From smart toilets to self-cleaning showers, bathrooms will get even smarter in the future. This article will share our top predictions for bathroom design in 2023 based on NKBA annual surveys. In addition, we'll also tell you how you can ensure your bathroom renovation doesn't become obsolete before you retire.
Bathroom trends for 2023 based on NKBA
According to the National Kitchen and Bath Association (NKBA), homeowners are moving away from traditional design choices in favour of more personal spaces. In particular, the trendiest bathrooms will be designed for relaxation and reflection, with technology and sustainability at the forefront.
Large format tile (59%) was the most popular material for tub and shower surrounds. Slab surfaces (40%) were the next most popular.
Heated floors were favoured by a substantial 75% of those who responded to the survey.
82% of those surveyed revealed bathrooms are now designed for two-person use.
Showers often have seats, linear drains, grab bars, and multiple shower heads, with one of them being rain heads and steam showers.
Windows above tubs were favoured by 51% of those surveyed. Skylights were selected by 37% of those surveyed.
Chromotherapy, which uses coloured lights to stimulate relaxation, was chosen by 25%.
Preset lighting schemes for different times during the day were favoured by 29%.
Low-maintenance, nonporous surfaces were preferred by 82% of those surveyed.
Floating vanities were favoured by 71% of those surveyed.
Bathroom faucet designs reflected wellness concerns, with 61% choosing accessible lever handles, 48% choosing motion and 36% going for the touch or tap options.
Large format tiles were favoured by 59% of those surveyed.
Slab surfaces were favoured by 40% of those surveyed.
Temperature controls for showers and floors were popular with 67% of respondents.
Sensor humidity controls were cited by 55%.
Digital showering allows users to program their preferred flow rate, and the temperature was a 23% preference.
44% wanted the ability to start their showers with their phones.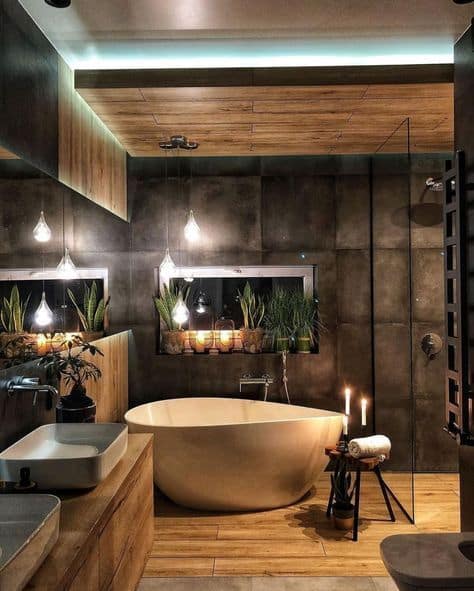 Personalized bathrooms
Bathrooms are becoming more personal, with homeowners using them to reflect their style. We predict that bolder colour schemes and statement pieces, such as dramatic mirrors and artworks, will become more prevalent in 2023. People are making their bathrooms more personal in 2023.
The rise of personalization means that bathroom design will become more about individual expression. Homeowners will look for ways to make their space unique through bold colour choices, statement furniture or eye-catching artwork.
Homeowners are becoming bolder with their colour choices, moving away from traditional white and neutral bathrooms. We predict that 2023 will increase the use of bolder colours, such as black, navy and jewel tones. These colours can create a luxurious and sophisticated look, perfect for a relaxing haven.
Statement mirrors and artworks are becoming increasingly popular as they add personality to a space. Large, ornate mirrors can make a small bathroom feel more spacious, while artwork can add interest and character.
We predict the following. trends will be popular in 2023:
1. Statement mirrors
2. Artworks
3. Dramatic colour schemes
4. Unique furniture pieces
5. Luxurious materials and finishes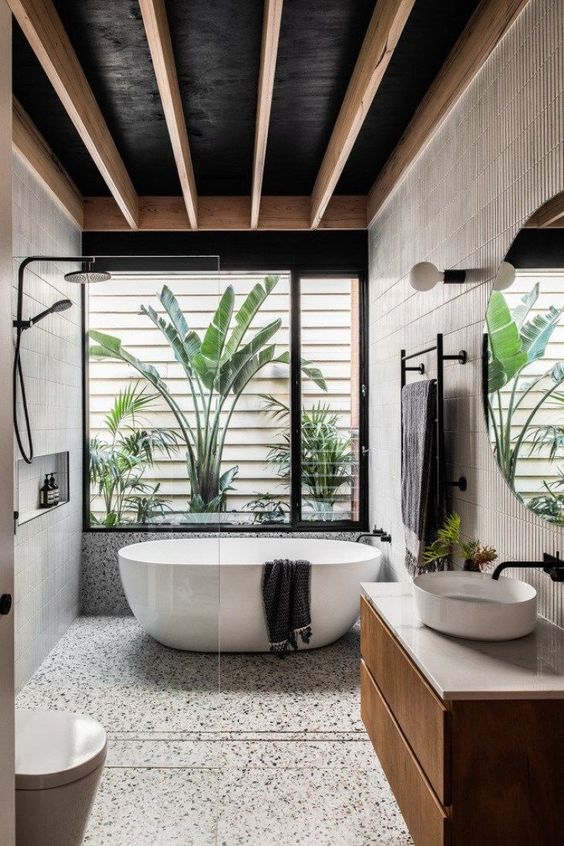 Relaxation-focused bathrooms will give you a spa-like feel.
Bathrooms are becoming increasingly important as a space to relax and unwind. Features such as freestanding baths, rain showers and heated floors are becoming more popular. Homeowners also invest in high-quality materials and finishes, such as marble and brass, to create a luxurious spa-like experience.
As the bathroom becomes a more critical space for relaxation, we predict homeowners will invest in features promoting well-being. Freestanding baths, rain showers and heated floors are becoming increasingly popular as they offer a luxurious spa-like experience.

Functionality dictates form.
As people spend more time at home, the need for functional and practical bathrooms has increased. Homeowners are looking for ways to make their space more efficient by adding additional storage or installing innovative technology. Storage is a top priority for bathroom design, with many homeowners looking for hidden storage or built-in shelving.
While style is essential, bathroom design must also be functional. In 2023, we predict that bathrooms will continue to be designed with an emphasis on practicality and convenience. The following features will become increasingly popular:
Heated floors – These are a must-have for any bathroom as they provide both warmth and comfort.
Multiple shower heads – Showers are becoming more luxurious, with many now featuring multiple shower heads, including rain heads and steam showers.
Digital showers allow users to program their preferred flow rate and temperature, making showering more convenient.
Sensor lighting – This lighting automatically turns on and off, which is perfect for energy-saving and safety.
In-mirror TVs are a luxurious addition to any bathroom and are perfect for those who want to relax with a movie or TV show while they shower or get ready for the day.
Touchless fixtures – Touchless fixtures, such as toilets, bathroom faucets and soap dispensers, are more hygienic and convenient.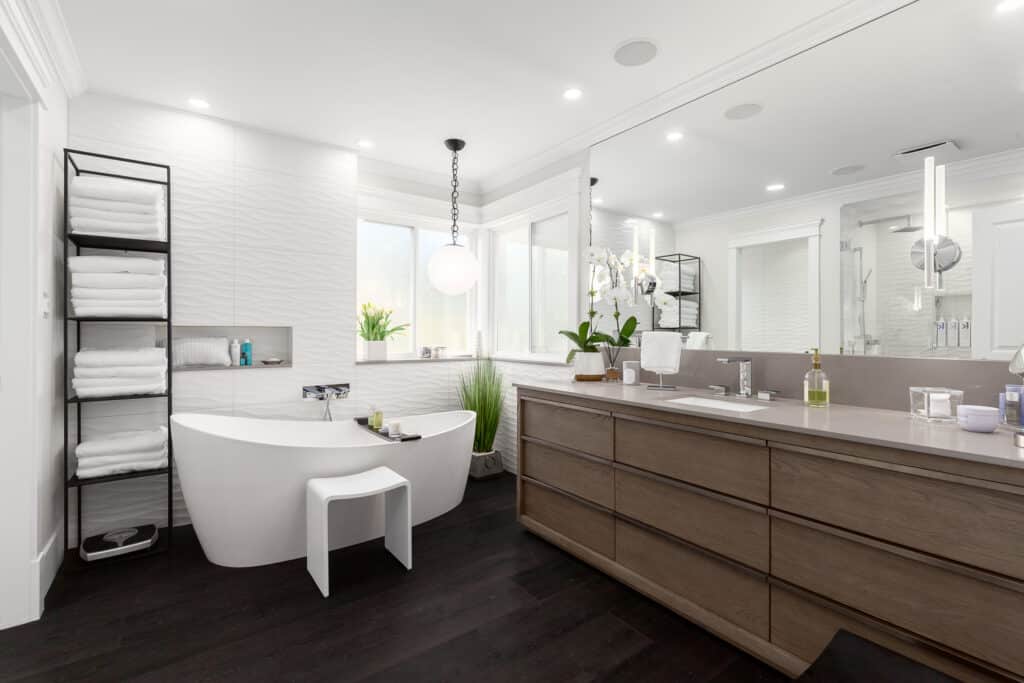 Opened-up bathroom spaces are the new norm.
As we move forward into the future, several bathroom design trends are already here. One of the most common ones involves removing the bathtub to open up the space. People are using more oversized showers instead of baths and getting away with the traditional tub altogether.
Removing the tub allows people to add additional space to their bathroom. They can remove the wall between the shower and the toilet, making it feel more spacious. Some people also use oversized sinks or double sinks. This gives them more counter space to put away their toiletries.
People are also moving towards freestanding showers. These showers are usually deeper than standard showers, giving people more room to relax and enjoy themselves. The showerheads are also becoming more advanced. Many now include different settings and features, such as a rain shower setting.

Sustainability concerns are at the forefront in 2023
As we move forward into 2023, many changes will happen in the home decor world. One of those changes will be the increasing popularity of sustainable products. As the population grows, we'll continue to demand more energy-efficient homes, appliances and furniture.
The term "sustainable design" encompasses several different design principles. Generally, it refers to designing products that can be reused or recycled instead of being thrown away. This includes using recycled materials, choosing furniture that can be easily repaired or upcycled, and selecting energy-efficient appliances.
As awareness of the importance of sustainability grows, we predict that sustainable design will become increasingly popular in the coming years. Homeowners will be looking for ways to reduce their impact on the environment, and sustainable design will offer them a way to do that.

Technology-enabled bathrooms are leading the way.
Homeowners are looking for ways to make their lives easier and more convenient, including in the bathroom. Smart toilets, faucets and showers are becoming more popular, as are features such as heated floors and towel racks.
Some of the most popular technology-enabled bathroom features include:
Smart toilets have various features that make them more convenient to use. Some of these features include self-cleaning, automatic flushing and hands-free operation.
Smart showers come with various features that make them more convenient. Some of these features include temperature control, water conservation and hands-free operation.
Smart faucets are becoming more popular in the kitchen, but they're also becoming more common in the bathroom. These faucets have various features that make them more convenient, such as hands-free operation, water conservation and temperature control.
Heated floors are a luxurious addition to any bathroom. They provide a warm, comfortable place to stand on cold mornings.
Heated towel racks are another convenient feature that is becoming more popular in bathrooms. These racks can be heated, so you'll never have to step out of the shower into a cold towel again.
Integrated lighting and internet screens in mirrors are also becoming more popular. These features can add a touch of luxury to any bathroom.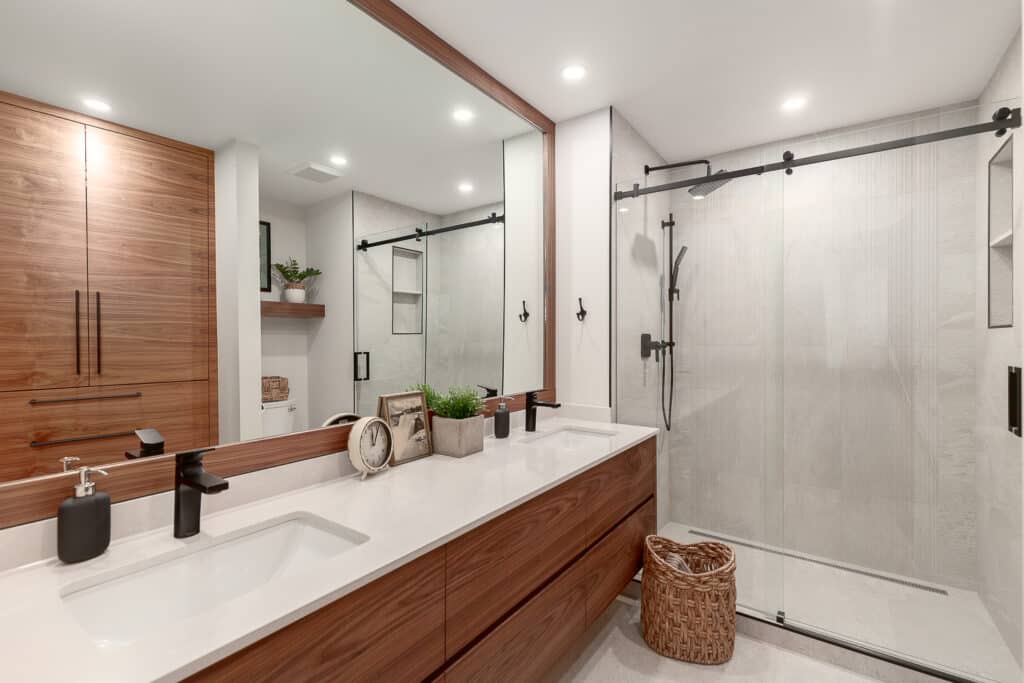 Use natural materials and geometric shapes for timeless elegance.
While some design trends come and go, others remain timeless. In 2023, we predict that natural materials and geometric shapes will continue to be popular in bathroom design. Natural materials such as wood, stone and glass can add a touch of elegance to any space. Geometric shapes are versatile and can be used to create various looks. Neutral colours will always be in style for modern interior living spaces. They can create a calming atmosphere that is perfect for a bathroom.
You don't necessarily have to follow the popular trends to achieve your dream bathroom. Choose the colour palette that suits you for your bathroom paint. A beautiful bathroom is not necessarily a white bathroom anymore.
Final thoughts on 2023 bathroom trends
As you can see, several different bathroom trends that we predict will become popular in the coming years. These trends encompass a variety of design principles, from sustainability to technology-enabled features. We believe these trends will appeal to homeowners looking for ways to make their lives easier and more convenient.
In 2023, the theme will be minimalist interiors with technology and suitability at the forefront. Bathroom decor will be efficient and easy to clean while maintaining a luxurious feel. Remember that you are the center stage, and the focal point should be you. Showcase your personal style with clean lines and simplicity. Bring in the natural light and air with bathroom windows and skylights. And don't forget the little things that impact significantly, like fresh flowers, soft towels, and unique soaps. Whether planning a complete bathroom makeover or a simple update, these trends will inspire you to create a beautiful and functional space.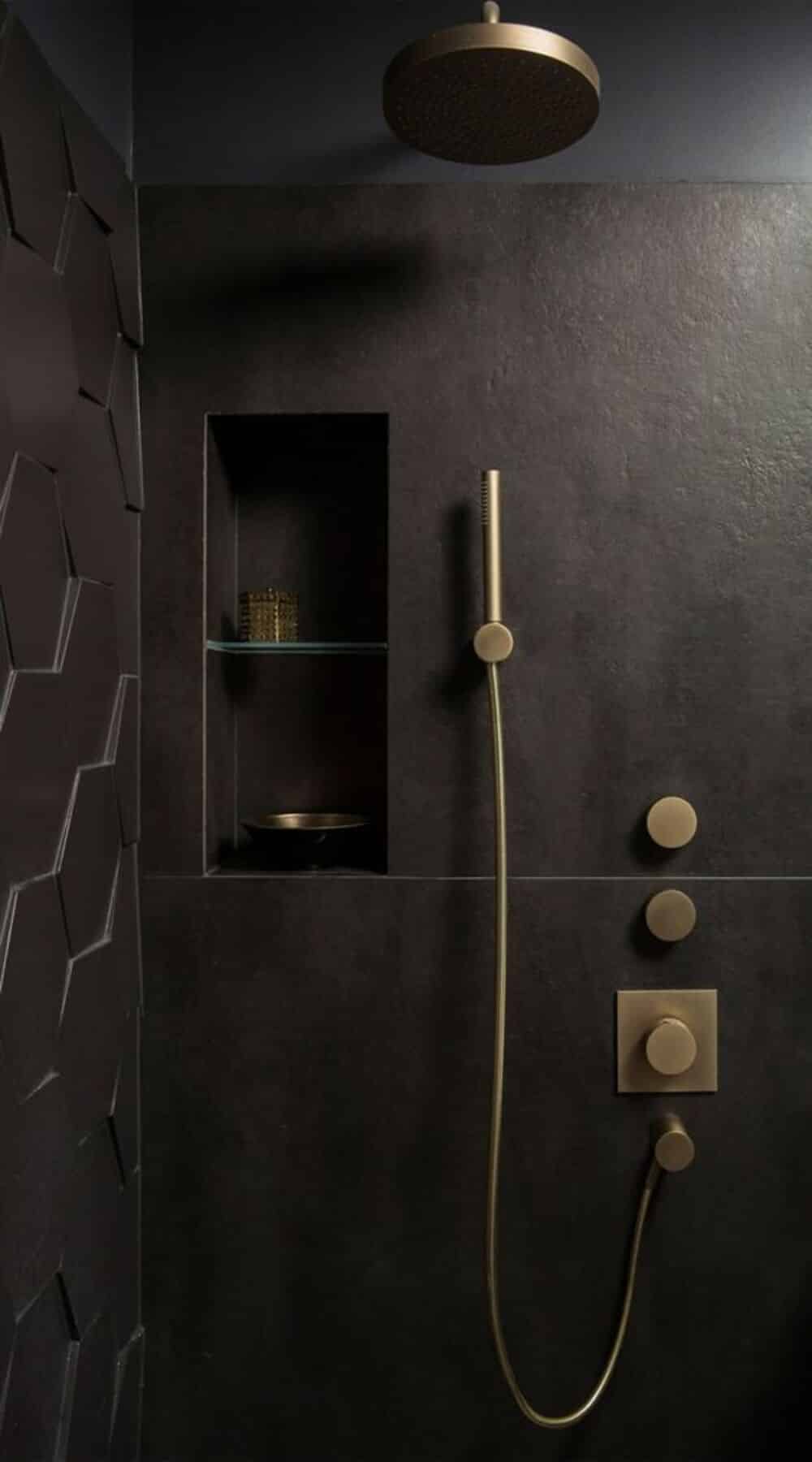 Hire Canadian Home Style for your Vancouver modern bathroom design and renovation in 2023
Canadian Home Style is your family-owned and operated bathroom remodeler in North Vancouver, BC. We hold the highest standards in the industry and provide complete bathroom renovations across the Lower Mainland with an extended warranty. We always keep up to date with the latest trends and are proud members of the NKBA National Kitchen and Bath Association. In addition, we have won the Consumer's Choice Awards back-to-back in 2021 and 2022 for our commitment to business excellence. We are considered one of the highest-rated kitchen and bath design and renovation experts in Metro Vancouver. Book now to visit our North Vancouver showroom, where you can get expert advice from one of our bathroom designers. We're happy to be a part of your journey with your next bathroom renovation project in Metro Vancouver.
Our bathroom designers are some of the top industry leaders in Vancouver. They provide you with the latest design ideas and trends to renovate your bathroom. We offer comprehensive services that include 3D renderings, complete project management, and more. Our goal is to make your vision a reality while providing an exceptional customer experience from start to finish.
Services We Offer:
Main Areas of Service in British Columbia:
Useful Resources:
Read our last bathroom renovation article: