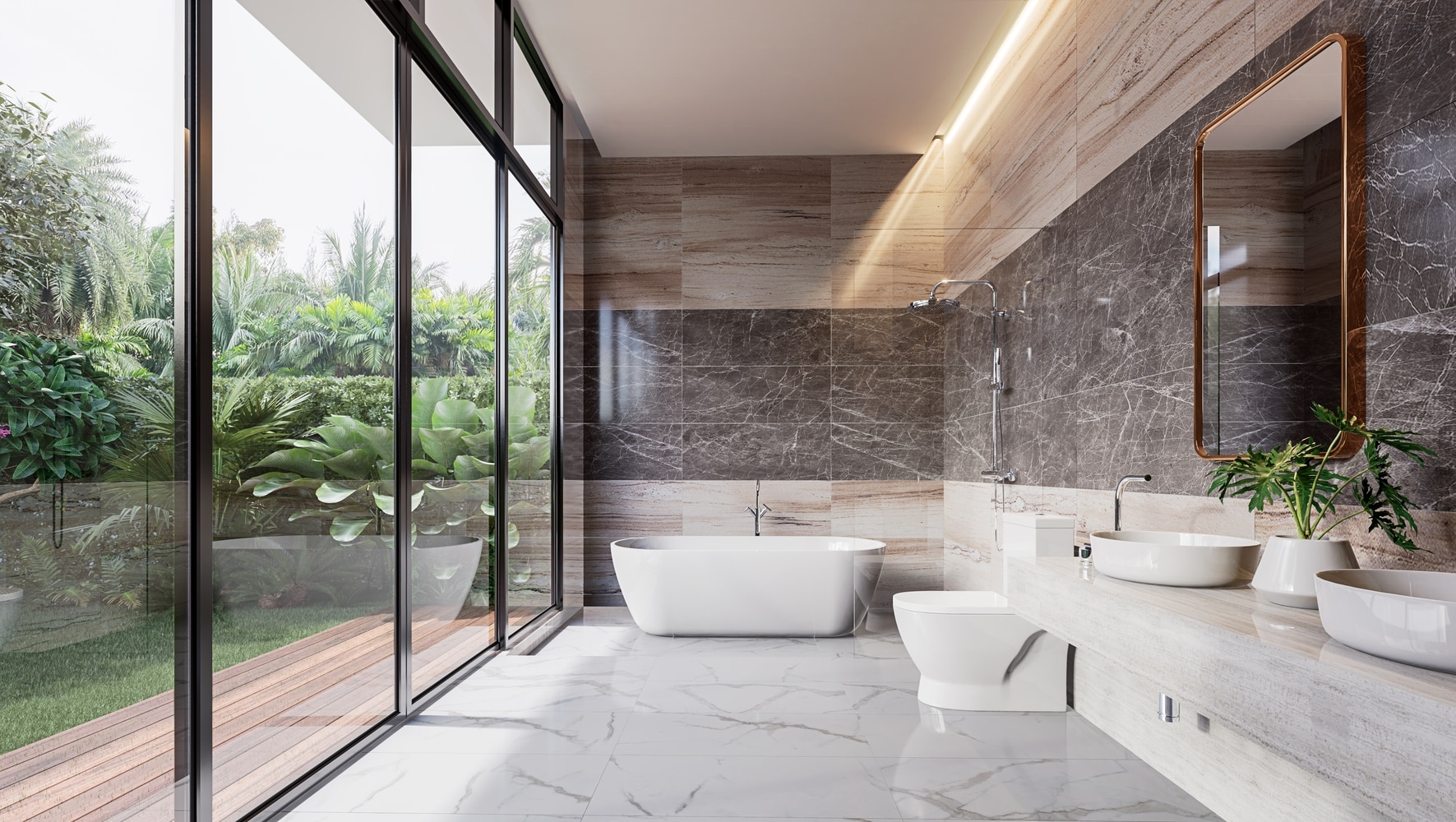 Modern bathroom ideas
There's no question that a well-designed bathroom can add tremendous value to a modern home. Not only does it make the space more aesthetically pleasing, but it can also make the room more functional and practical. A modern bathroom embodies simplicity, geometric shapes, natural textures, and floor-to-ceiling windows. Whether you're remodelling your bathroom or adding a new one, some design elements are sure to make a statement. This article will explore some of the latest trends in modern bathroom design.
Modern bathroom ideas quick checklist
You must have:
Geometric tiles
Simple colours
Natural textures
Quartz countertops
Sleek vanity units
Floor-to-ceiling wall tiles
Shower glass doors
Open floor plan
An undermount sink or a vessel sink
Shower glass door
It would be nice:
Textured feature walls
Floor-to-ceiling windows
Freestanding tub
Double vanity
Chic dispensers
Fresh flowers
Geometric shapes and patterns
You may be surprised at how beautiful and versatile geometrics can be! When thinking about a design for your modern bathroom, geometric shapes can play a crucial role. They can be a great way to emphasize your passion for math and art and your artistic vision. A geometric pattern to your bathroom's floor can add drama to the space and accentuate neutral undertones. A geometric design in a bathroom can create a grid-like effect.
Consider the following geometrical shapes in your modern bathroom design:
Hexagons
Hexagons can be subtle or outspoken, depending on the design. They are a modern way to add interest to the space.
Squares
Squares are a classic geometric shape that can be used in many different ways. They can be used to create patterns or as a standalone element.
Circles
Circles are versatile shapes that can be used in many different ways. They can be used to create patterns or as a standalone element.
Triangles
Triangles are modern and can add visual interest to a space. They can be used to create patterns or as a standalone element.
You can get creative and mix and match different shapes to create your unique design.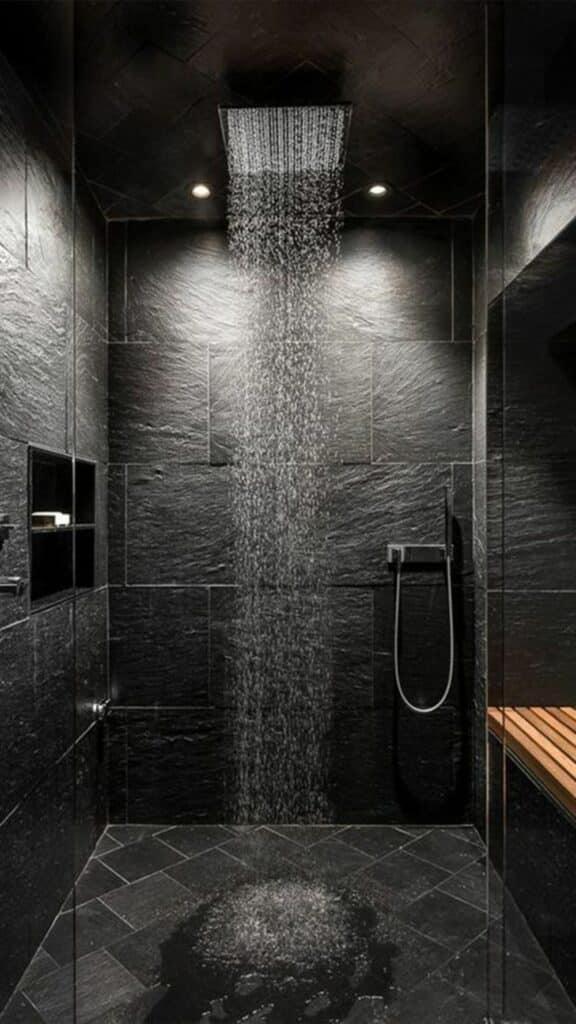 A simple colour scheme goes a long way for a modern style.
For a calming, spa-like atmosphere, consider a simple colour scheme for the walls of your bathroom: mix high-gloss and matte paint to add interest to the walls of your bathroom. The high-gloss paint will add a modern touch, while the flat paint will provide a more subdued look.
Beige is great
Beige is an excellent neutral colour that has endless possibilities in bathroom design. It's commonly used in decorating and can vary from brown to light off-white. This neutral colour is so versatile that you can use it in virtually any bathroom part. Additionally, it works well with almost any decor element. Make sure the hues don't clash since they'll look out of place if the colours don't go well together.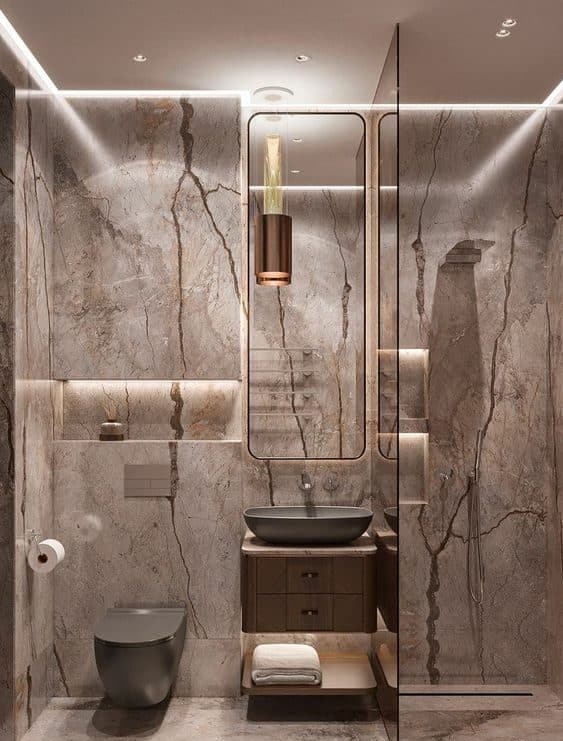 Grey is timeless
Grey is a modern neutral colour that has become increasingly popular. It's versatile and can be used in many different ways. You can use it to create a modern look or use it as an accent colour. It goes well with almost any other colour and can be used in any room in the house.
White is always in style.
White is a classic colour that never goes out of style. It's perfect for creating a modern look. If you don't like an all-white bathroom, you can use it as an accent colour. Use white with warm tones to make the room more welcoming.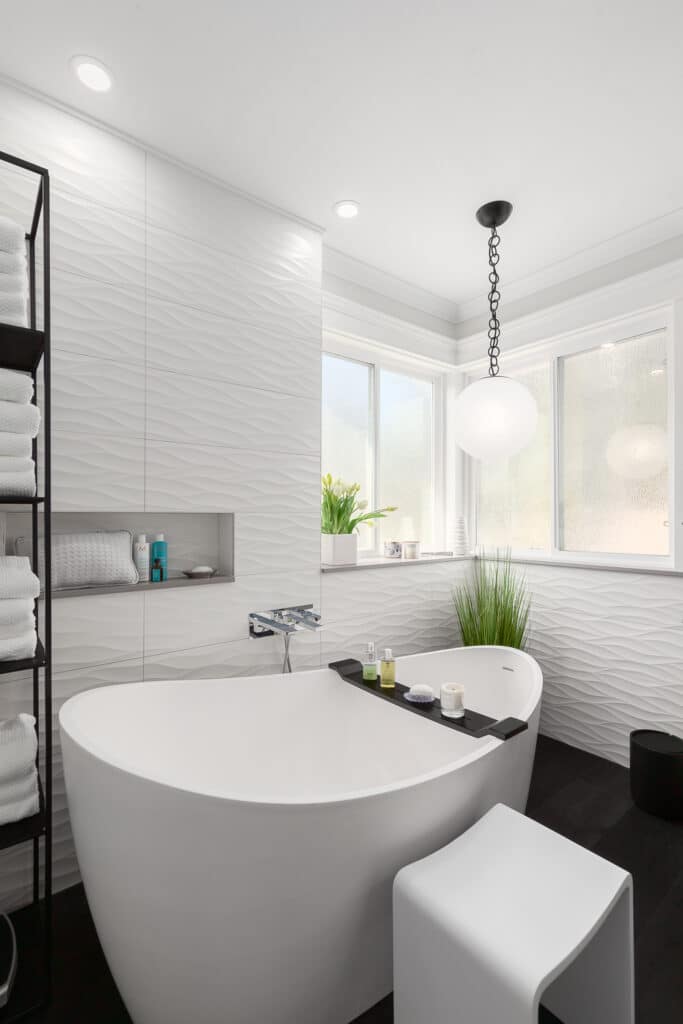 Neutral colours are perfect for modern bathrooms because they create a calming atmosphere. You can use them as a base to build upon or use them as an accent. When using neutral colours, ensure they go well together, so the space looks cohesive.
Natural textures mixed with some modern elements can create a welcoming feeling.
Adding textures to your new bathroom is a great way to give it a natural feel. Whether you use wood, stone, or any other natural material, these textures can add character and warmth to the room. While choosing textures for your bathroom, consider which ones mean something to you. Surfaces in your bathroom should also be mood-boosting.
Using natural textures is a trend that continues to evolve in the design world. A bathroom can have subtle and dramatic textures from concrete to terrazzo. You can choose to mix and match natural materials and colours to achieve a harmonious organic design.
Floor-to-ceiling windows can make a small bathroom feel more spacious.
There's nothing like natural light. If you're considering adding floor-to-ceiling windows to your modern bathroom, you've made a great choice. This style is perfect for small bathrooms because they allow the light to filter into the room while giving it a Zen-like feel. Since floor-to-ceiling windows can be challenging to clean, consider adding a simple Roman shade to the window.
If you have a spectacular view, floor-to-ceiling windows are a must-have. A wooden ceiling and floors look great against a large white tub, while a wooden floor complements the room's natural beauty. Use natural tones that mimic the sun's light.
An open floor plan is a must.
An open floor plan is perfect for modern bathrooms because it allows you to move freely from the sink to the shower. This type of layout also gives the illusion of a larger space. In an open floor plan, there are no partitions between the different areas of the bathroom. So, remove that pony wall between the shower and the toilet to create an open feel.

A Sleek vanity unit can add a luxurious touch.
You can opt for a floating slick vanity unit to modernize your space. A floating vanity makes the room more spacious. You can add modern touches like a vessel sink or waterfall faucet to your floating vanity. Nothing beats a walnut wood vanity. A walnut custom wood vanity would give you the same wow factor as marble walls.
A Modern bath should be freestanding.
Freestanding bathtubs in modern bathrooms add a touch of modern charm to any room. They are perfect for relaxing and reading, and the sleek white finish gives any bathroom an elegant, contemporary flair. When choosing a freestanding bathtub, select one that is the right size for your bathroom. You don't want it to overpower the space. In addition to being modern, sleek, and stylish, freestanding bathtubs are also very functional. They can be used as a soaking tub or as a regular bath. Freestanding bathtubs are available in a wide range of materials, including fibreglass, stone resin, and cast iron. Of these, acrylic is the most popular.
Quartz countertops are the new norm.
If you are looking for a new bathroom countertop, look no further than a good-quality quartz countertop. This engineered stone comprises 97% natural quartz, one of the hardest minerals on earth. The quartz agglomerate offers the perfect combination of form and functionality. In addition, unlike other types of stone, quartz never goes out of style or becomes obsolete. Compared to tiles and other countertop materials, quartz offers a smooth glossy surface that's easy to clean. You don't need to seal your quartz countertop. To clean it, simply use a damp cloth and cleaning solution. However, don't expose it to potent cleaning agents, as this can cause the surface to become scratched or chipped.
You can incorporate bright colours in modern bathroom design.
Modern bathrooms are often quite simple in terms of decorating style. There might be just one wall colour, maybe some wallpaper, and perhaps some tile accents. But there is no reason why you cannot add a splash of colour to your space. A bold accent wall or a colourful towel rack will bring life into your bathroom. The most important thing to remember about adding colour to your modern bathroom is that it must have a flow with the rest of your home. This would make the room look cohesive and polished.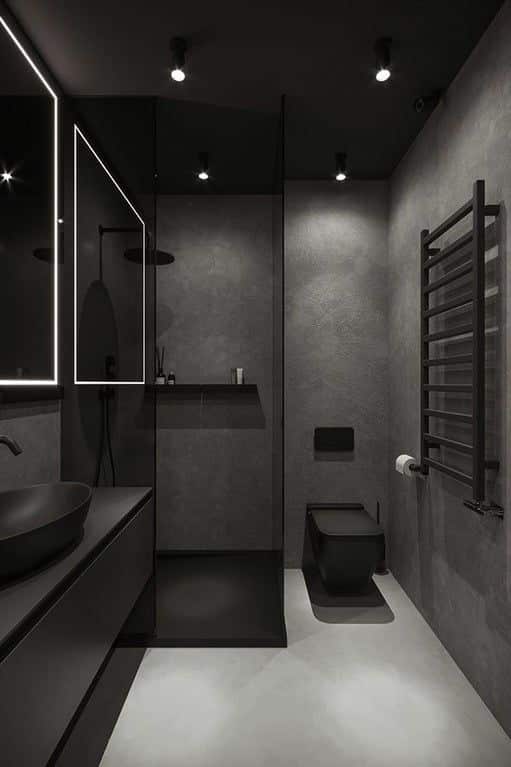 Blacken your fixture game.
You don't need a complete bathroom renovation to make an impact. If you're looking for something easy yet visually striking, swapping out all the fixtures in your bathroom for black might be just what you need. If you want to add visual interest to your space without spending a fortune, consider swapping out all the existing bathroom fixtures for black hardware. This simple change makes a massive difference in design and won't break the bank either.
If you're looking for timeless and modern features in your bathroom, it's necessary to consider your lifestyle when making design decisions. It's also essential to consider how often you use your bathroom and what activities occur there. For example, if you have a large family, you might want to incorporate double sinks and plenty of storage into your design. On the other hand, if you live alone or have a smaller family, you can get away with a more straightforward design. Remember, a modern bathroom space should also be for the future.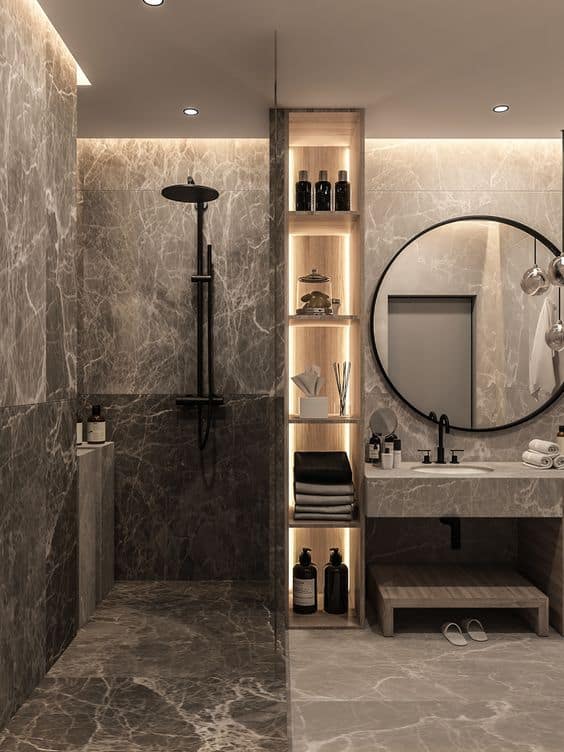 What should you consider for a modern-style bathroom?
• Lighting
• Storage
• Accessibility
• Comfort
• Privacy
• Safety
• Mobility
• Security
• Aesthetics
In addition to considering these elements, it's essential to understand how people evolve. As they age, many homeowners become less mobile and require fewer trips outside the home. They may no longer need to travel to work or go out to dinner every night. This requires flexibility in terms of layouts and design.

Walnut touch
Vanity units come in all shapes and sizes, but a walnut vanity would look incredibly chic in a modern bathroom. The warm woodgrain finish is perfect for creating a cozy ambience, while the clean lines and straight edges of the unit lend themselves to a more contemporary aesthetic. Here, we have used walnut as the mirror frame and for an open shelf to create a contemporary space. This bathroom also features a walnut pantry-style storage unit for added functionality.
Black accents
Back fixtures work wonders in this contemporary bathroom.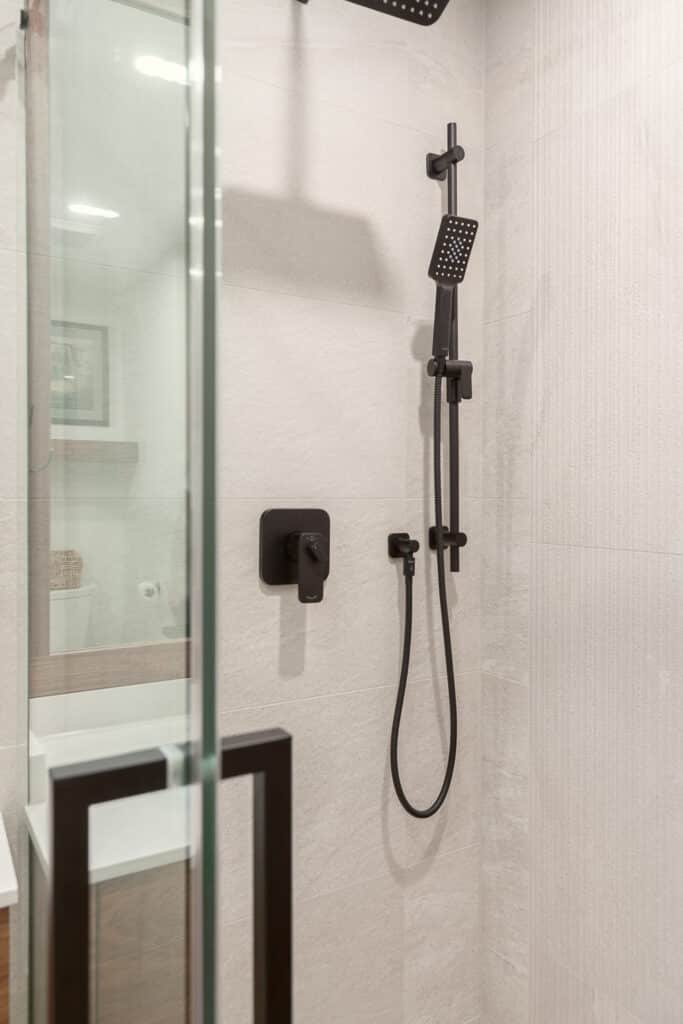 Gray countertop and full-body porcelain tiles
The beautiful light gray countertop compliments the mature, elegant porcelain tiles well. We recommend using porcelain tiles over ceramic ones for your walls as well. This is because they are more durable and look better in modern design.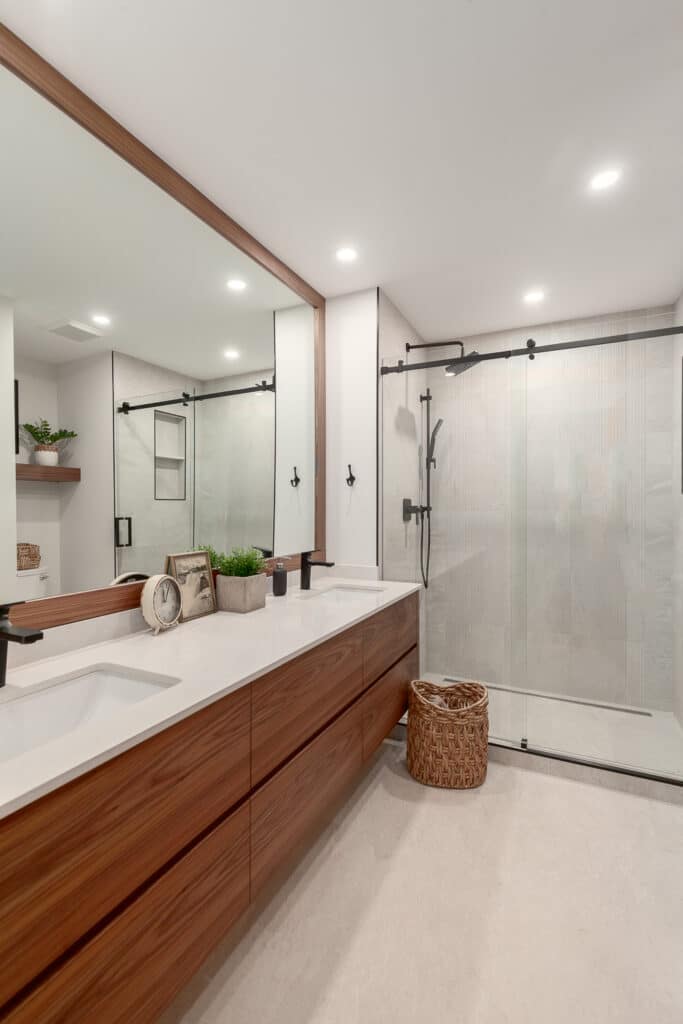 Lighting is simple
The lighting in this bathroom is simple, with recessed LED puck lights. We have not added any fixtures that would take away from the focal point: the beautiful walnut vanity and pantry!
Custom shower with linear drain and custom niche.
A linear drain makes the space more modern and allows us to use large format tiles for the base of the custom shower. You notice that the wall and the floor tiles are the same in this bathroom. It's a simple yet effective design tactic which adds consistency across all aspects of the room without being too overbearing or distracting from one another. The custom niche is sleek and practical, providing ample storage space for all your shower essentials.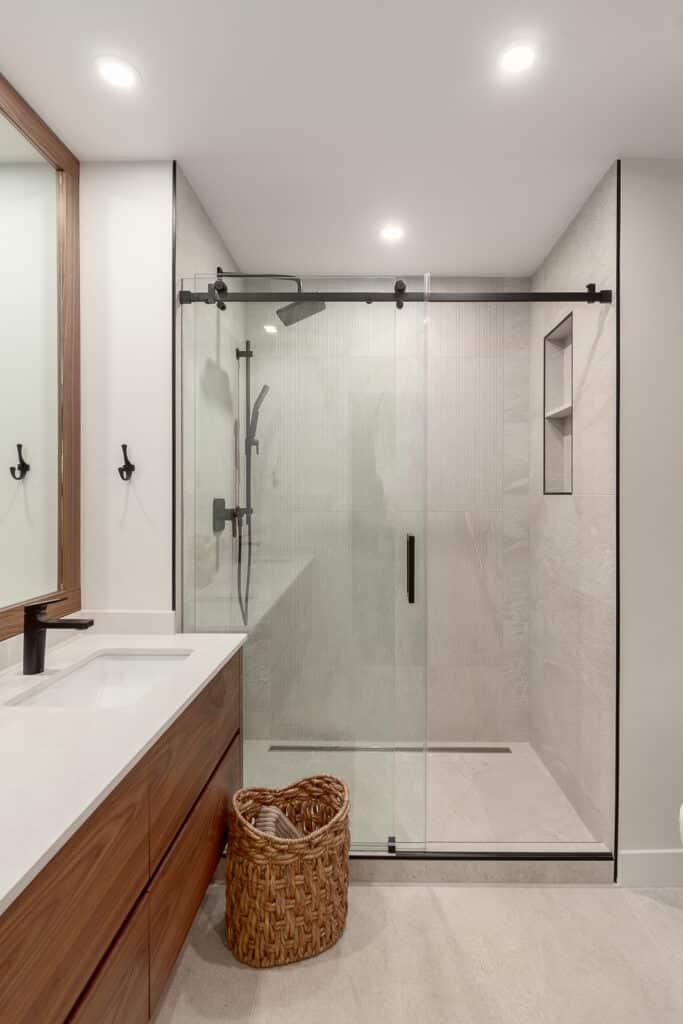 Frequently asked questions: modern bathroom design ideas.
What are the 2022 bathroom trends?
• Statementbathtubs: Bathtubs are becoming increasingly popular as a focal point in modern bathrooms. They offer a luxurious and relaxing experience, perfect for unwinding after a long day.
• Smart technology: Homeowners are looking for ways to make their lives easier, including bathrooms. Smart toilets, showers, and taps are becoming increasingly popular as they offer convenience and peace of mind.
• Sustainability: Homeowners are becoming more conscious of their environmental impact and are looking for ways to make their homes more sustainable. Low-flow toilets, showers, and taps are a great way to save water while using natural materials like bamboo and stone can help reduce your carbon footprint.
• Bold Accents: Accents are a great way to add personality to your bathroom. From bright tiles to patterned wallpaper, there are endless ways to make your space your own.
• Luxury finishes: Homeowners are looking for ways to make their bathrooms more luxurious. Adding features like heated floors, rain showers, and freestanding tubs can turn your bathroom into a spa-like retreat.
What do luxury bathrooms have?
Luxury bathrooms are designed to give guests a relaxing experience. These rooms feature high-end finishes like marble countertops, custom cabinetry, and luxurious fixtures. They're also spacious, allowing guests to relax without feeling cramped. Many of these features are included in luxury bathroom designs. Designers focus on materials like quartz countertops, black fixtures, and walnut wood to achieve this look. They also incorporate lighting, art, and furniture pieces that add visual interest to the room. Some luxury bathrooms include spa-like amenities such as steam showers, whirlpool tubs, and soaking tubs. Others have unique features like heated floors, built-in speakers, and televisions.
How can I make my bathroom feel modern?
There are many ways to make your bathroom feel modern. Incorporating sleek and simple lines into your design is a great way to achieve a modern look. You can also use colours like white, grey, and black. Adding modern fixtures, like LED lighting and rain showers, will also give your space a more contemporary feel.
What colour is in for the bathroom in 2022?
In 2022, light green is the most popular for those who are looking for bolder colours. There's also been a shift towards more neutral tones, such as white, grey, cream and off-white. These colours are great for any bathroom but perfect for small spaces. The trick is finding ways to combine these colours without feeling too much like a uniform room.
Are grey bathrooms outdated?
No, grey bathrooms are not outdated. They're becoming increasingly popular due to their modern and sleek aesthetic.
What are the 2022 Color fixtures?
Black fixtures are significantly in trend in interior design.
Is subway tile out of style in 2022?
Larger format tiles are more prevalent in a modern bathroom. However, subway tiles remain timeless.
How much is a new bathroom in 2022?
A complete bathroom renovation can cost you between $2500 to $50,000 in Metro Vancouver. This includes the price of materials, labour, permits, and other professional services. The final cost will depend on your bathroom size, layout, and finishes.
Are big tiles better in a small bathroom?
Yes, big tiles are often better in small bathrooms as they make the space feel bigger and brighter. You can use them on the floors and walls to create a cohesive look.
Should floor tiles be darker than walls?
Not necessarily. We would recommend using the same tile for the floor and walls. However, if you'd like to use two different tiles, use the darker one on the floor. In a modern-style bathroom, less is more.
What is the best colour for flooring in a modern bathroom?
A gray floor can give your bathroom a modern and sleek look.
How can you make a concrete bathroom more welcoming?
Introducing a warming wood tone and indoor plans can make a concrete bathroom feel more inviting and welcoming.
How can you make a tiny bathroom feel bigger?
There are a few ways to make a tiny bathroom feel bigger. The first is to use lighter colours on the walls and floors. Use mirrors as much as possible to reflect light and make the space feel bigger. Glass shower door enclosures also help open the space. And finally, consider using floating shelves and cabinets to give the illusion of more space.
Are mosaic tiles suitable for a modern bathroom?
It would be best if you avoided mosaic tiles in modern design unless you are using them as your accent tiles.
Can you incorporate a vintage light fixture in a modern bathroom?
It is possible to incorporate a vintage light fixture in a modern bathroom. However, it is essential to make sure that the rest of the elements in the room are modern to avoid a clash of styles. An interior designer can help you achieve the right balance.
Hire Canadian Home Style for your Vancouver modern bathroom design and renovation
Canadian Home Style is your family-owned and operated bathroom remodeler in North Vancouver, BC. We hold the highest standards in the industry and provide complete bathroom renovations across the Lower Mainland with an extended warranty. We always keep up to date with the latest trends and are proud members of the NKBA National Kitchen and Bath Association. In addition, we have won the Consumer's Choice Awards back-to-back in 2021 and 2022 for our commitment to business excellence. We are considered one of the highest-rated kitchen and bath design and renovation experts in Metro Vancouver. Book now to visit our North Vancouver showroom, where you can get expert advice from one of our bathroom designers. We're happy to be a part of your journey with your next bathroom renovation project in Metro Vancouver.
Services We Offer:
Bathroom Renovation
Kitchen and Bath Design
Main Areas of Service in British Columbia:
Did you miss our previous article…