How to Design a Spa-Like Bathroom
Spa Bathroom Ideas
The first step in creating a spa-like bathroom is ensuring that the bathroom has a neutral colour scheme. Then, select aesthetically pleasing bath products and blend them into the overall colour scheme. You can also add a spa-like feel to the vanity area by decanting your toiletries into clear glass jars. Another critical element of spa-like bathrooms is soft, plush towels. Have plenty of these and a robe or two after your bathing routine. Add a small bathroom seating area to relax and enjoy the space. Plants are also a nice touch in spa-like bathrooms. Choose greenery known for its calming properties, such as lavender or aloe vera. Place these strategically around the bathroom, so the space feels fresh and serene.
Last but not least, don't forget about the little details. Add a few scented candles, soothing music, and perhaps a diffuser with essential oils. These small touches will help you create a spa-like bathroom you can enjoy anytime. This article gives a clear spa-like bathroom design guide, including spa-inspired colour schemes, materials, and layout ideas. Creating a spa-like bathroom in your home can be easy if you follow simple design guidelines. Whether planning a complete bathroom renovation or just thinking of ideas to improve your bathroom design, consider these spa-inspired tips.
Spa Bathroom checklist
A freestanding tub adds visual interest and invites relaxation.
Incorporating plants into your home makes it look more luxurious and relaxing. Choose plants that will grow well in a humid bathroom environment.
Adding some furniture to your bathroom will give your bathroom a nice touch.
Bring in some accent with back and gold.
Decluttering your bathroom will help you relax better.
Include plenty of storage space in your bathroom to keep things organized
Use baskets, hooks, and other storage options to help organize your bathroom
Add candles to a relaxing bath to create a sense of peace.
Aromatherapy can help calm your mind and body.
Diffuser oils can add scent to your home without overpowering other smells. Many people enjoy the scent of lavender and other herbs when bathing.
Investing in a towel warmer rack makes bathing more enjoyable.
A luxury towel will give a feeling of luxury, even though the price might seem a little steep.
Rugs can soften the flooring and create an inviting atmosphere in any room
Quick-drying mats are ideal for bathrooms since they won't hold moisture
A shower bench adds a touch of style to any bathroom
Heated flooring is a great luxury for bathrooms
Bring the outside indoors with large windows
Install skylights to let in sunlight during the day
Open up your bathroom space to the elements with a glass shower door
Subtle lighting makes your bathroom feel like a spa.
Under cabinet lighting adds a touch of elegance to any bathroom.

A freestanding tub adds visual interest and invites relaxation.
You need a focal point in your bathroom, and often that's the tub. A spa-like bathroom should make you feel like you can retreat from the world and relax, so choose a tub that will help create that feeling. If you don't have the space for a freestanding tub, you can still get the spa feeling by choosing a luxurious clawfoot tub. If the space allows, set the tub in front of a window with a view. Centring a tub to your window creates symmetry and balance in your bathroom. For a spa-like ambiance, use natural materials like stone or wood for the tub surround and flooring for your next bathroom renovation.
No spa would be complete without a rainfall shower head. Not only will it make you feel like you're in a spa, but it can also help save water. Look for a showerhead with multiple settings to customize your shower experience.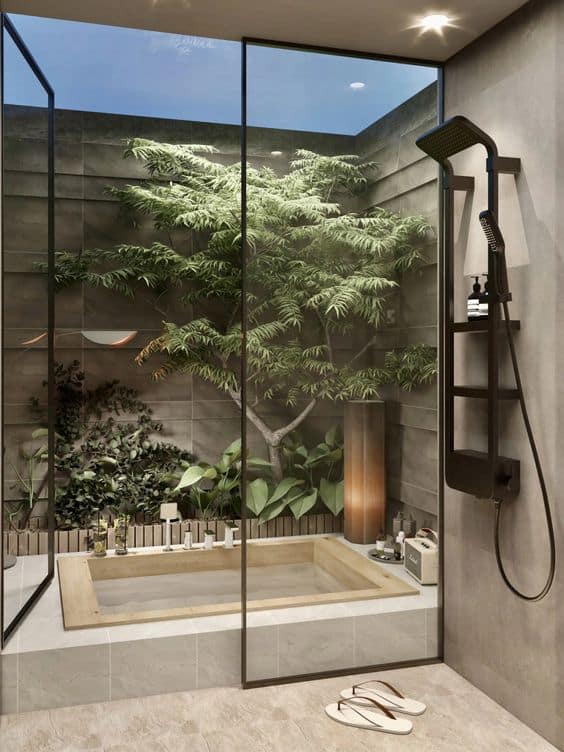 Adding plants for a spa-like feel is a must.
Adding plants to a bathroom is a simple way to create a more relaxing and luxurious atmosphere. Choose plants that can survive in low light and thrive in high humidity. Orchids are an excellent choice for the bathroom. They can survive in low light and can also tolerate indirect sunlight. A peace lily, for example, is a beautiful white bloom that will make any bathroom look luxurious. These plants do best in indirect light and should be located near a bathtub or shower. They are also very hardy and require very little care.
Chinese evergreens are another excellent choice for a bathroom. These plants can survive in low light and even be grown in artificial lighting. They are also drought tolerant, which is an excellent feature for a spa bathroom. They can also be kept in an average size pot, which is a good option for beginners. Houseplants are an excellent addition to any bathroom. However, make sure to choose ones that can stand the high humidity. If you don't have much counter space, hanging pots are also a good choice. The plants should be watered regularly, and they should be placed in a location with indirect light.
Plants will not only add a touch of nature to your bathroom, but they can also increase your energy levels. They can also improve your outlook on life and spark your creativity. But you must be careful when selecting plants. It's essential to choose plants that can handle a bathroom's microenvironment. This includes considering lighting, airflow, and temperature.
Adding some furniture to your bathroom will give your bathroom a nice touch.
A small addition like a bench or a side table can change the feel of your bathroom. If you want to add a bench, you can put it near the tub. A small table can be placed next to the sink or in another bathroom corner. Furniture adds a touch of luxury and a spa-like feeling to any bathroom. Spa bathrooms are all about relaxation, so adding a few personal touches will make it feel more like your own oasis.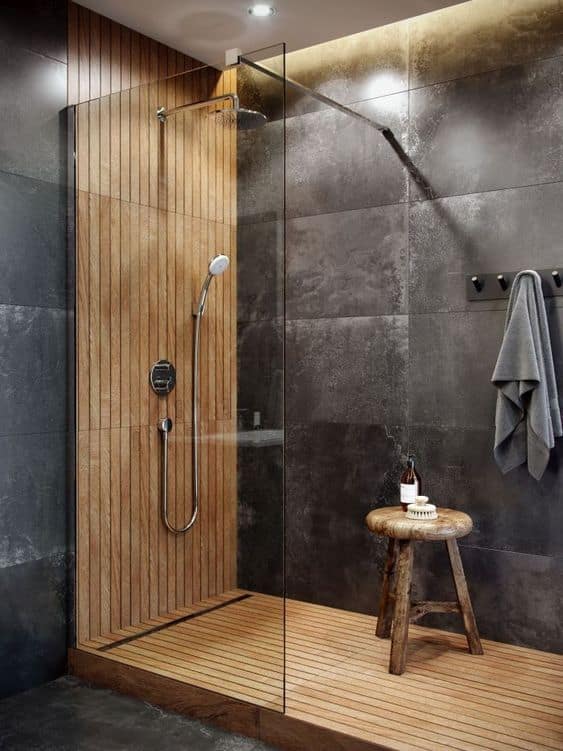 Adding black and gold accents goes a long way.
Gold accents in your bathroom can add a touch of sophistication to the space. Gold faucets and other bathroom fixtures give the room a rich and luxurious feel. You can also use gold-coloured towels to add a luxurious feel to the space. This precious metal is an excellent choice for bathrooms, as it matches many interior styles and is adaptable to most tastes. Gold will also add warmth to a dark space.
Changing the hardware in your bathroom is another great way to create a spa-like environment. Instead of the standard chrome faucets, you can choose matte black faucets. This versatile colour works well with wood, marble, or white designs. White walls will create a feeling of cleanliness, while back and gold accents will add a luxurious feel.
Decluttering your bathroom however you can.
Clutter makes us feel stressed out and anxious. A cluttered bathroom can feel cramped and busy. If you want to create a spa-like environment, it's vital to declutter the space. Remove any unnecessary items from the counters and shelves. Store away any extra toiletries, towels, or products. If you have a lot of products, consider investing in a storage system. This will help to keep the counters and shelves clear. A well-organized bathroom will feel more spa-like and relaxing. It would be best if you also decluttered your medicine cabinet. Get rid of any expired products and outdated medications. Keep only the essentials in the cabinet, such as first-aid supplies, bandages, and pain relievers. Use baskets, hooks, and other storage options to help organize your bathroom. This will free up counter space and make the room feel more spa-like.
Aromatherapy is a great way to relax and de-stress.
Incorporate calming scents into your routine to create a peaceful environment. Scented candles are a great way to add ambiance to your bathroom. They can also help to mask any unpleasant smells. Candles come in many shapes and sizes. Choose between pillar candles, votives, tapers, teardrops, and even floating candles. Floating candles are ideal because they don't require a candle holder. Choose a calming scent, such as lavender or chamomile, to create a sense of peace.
Aromatherapy can help calm your mind and body. Adding essential oils to your bathwater is an excellent way to relax. You can also use diffusers to fill the room with a calming scent. Aromatherapy can help to ease anxiety and promote sleep. It's also been shown to boost your mood and improve focus.
There are several ways to incorporate aromatherapy into your spa-like bathroom. You can add essential oils to your soap, lotion, or shampoo; diffuse essential oils throughout the room; or place a bunch of eucalyptuses in your shower. Essential oils are natural fragrances made from plants. Some common ones include lemon, orange, grapefruit, cinnamon, clove, basil, bergamot, chamomile, cedarwood, geranium, jasmine, lavender, lemongrass, lime, mint, patchouli, pine, rose, sandalwood, tea tree, thyme, vanilla, vetivert, and ylang-ylang, among others.
Bath salts and bath bombs are a great way to add some relaxation to your spa-like bathroom. You can find these products at most stores that sell bathroom supplies. Another way to create a spa-like atmosphere is by hanging a bundle of eucalyptus in your shower. Eucalyptus is known for its refreshing smell and is commonly used in spas. Hang a bundle of eucalypts in your shower and let the aroma permeate the bathroom.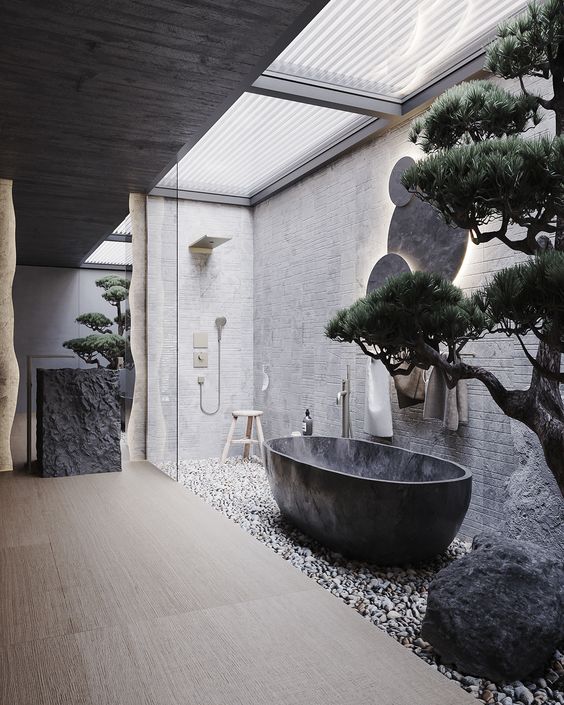 Use Soft Rugs for Bathroom Floors
Soft rugs are incredible for bathrooms because they provide warmth and comfort. They also look nice and add character to any room. You'll find that they can help keep your bathroom floor warm during those chilly winter mornings. Choose a rug that dries quickly to avoid getting sick from bacteria or mould growing in the area right outside your bathtub or shower.
You can also choose a luxurious rug that adds character to your bathroom. Choose a patterned rug if you'd prefer something more interesting than plain white or brown. A bright colour rug makes the space feel brighter and helps reduce stress levels. Avoid mats made from wool since they tend to hold moisture. Look for a rug made of synthetic fibres, which don't absorb water and therefore don't attract mould or bacteria.
Luxurious bath towels can go a long way.
Spa-like baths are a luxury that everyone wants to enjoy. You can add a class to your bathroom by getting luxurious bath towels. These towels come in various styles and patterns, so there's no reason not to splurge on a couple of sets. White fluffy towels are great because they look clean and fresh without being overpowering. Ensure your towels are soft enough to provide comfort during your relaxing soak. Also, avoid using harsh chemicals on your towels since they may leave a stain. Instead, opt for natural products that are gentle on your skin.
In addition, if you want to add spa-like touches to your bathroom, consider adding plush robes and slippers. These accessories are often found in five-star spas and hotels. These accessories will help elevate the spa experience in your own home.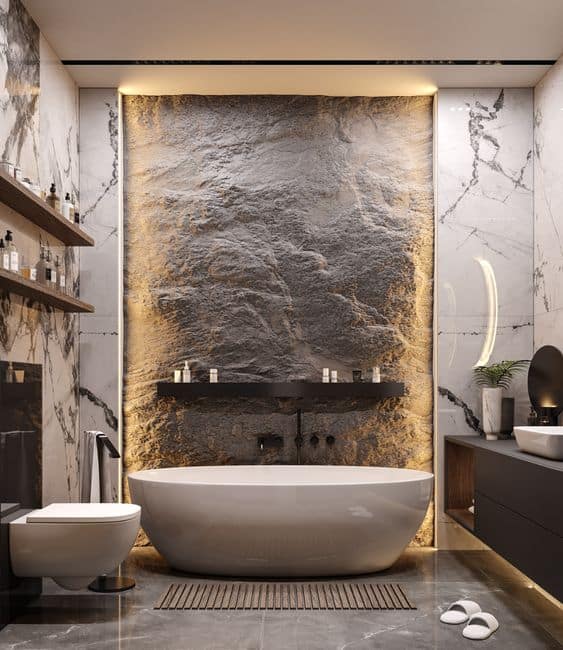 Use natural elements to add a touch of nature to your bathroom.
One way to bring a natural element to your spa-like bathroom is by adding marble. Natural stone provides a spa-like experience and has healing properties. It is commonly used in luxury spas around the world. In addition to its luxurious appearance, natural stone is available in different colours, which can enhance the decor and mood of any bathroom. While most people think of natural stone as neutral, it can be found in shades ranging from rose to blush.
Adding marble to a spa-like bathroom is easier than you might think. A marble floor, freestanding tub, and tree trunk accent table with a marble top are just a few ways to add marble to your bathroom. You can also use marble in accent designs, such as on a sink or shower. Another way to incorporate marble is to use it as a catch-all tray to store your bathroom essentials. A spa-like bathroom requires a soothing atmosphere and luxurious materials. A marble floor with a wooden palette behind the vanity will provide a spa-like atmosphere. Wood also provides warmth and texture to the room.
Adding a heated towel rack should be a priority.
Adding a heated towel rack to your bathroom is easy to do. You can purchase a simple row of metal bars or a more elaborate one made of glass. They range in price from a few hundred dollars to several thousand dollars. Regardless of your budget, these racks are a great addition to any bathroom.
Heated towel racks provide a warm atmosphere for towels after a shower. The heated towels will dry faster and prevent mildew from growing on your towels. You may also want to add a bath rug to complete the spa look. You can match your mats to your bath sheets depending on your theme.
Bring in as much natural light as you can for a relaxing ambiance.
Natural lighting is great for bringing in the outside world and connecting you to nature. Installing plenty of windows in your bathroom can provide a relaxing environment for your daily spa session. You'll enjoy the view, and your guests will appreciate the fresh air. Consider using frosted glass or curtains if you want to add some privacy. You can also get creative with the shape of your windows to add character to the room. Skylights are another excellent way to bring in natural light while maintaining privacy.
Lighting is an essential element of any spa-like bathroom. The proper lighting can set the mood and help you relax. It would be best if you considered using dimmable light bulbs to create a spa-like ambiance in your bathroom. Subtle lighting makes your bathroom feel like a spa. You can use recessed lighting with dimmers installed into the ceiling. This type of lighting provides a soft and relaxing glow. Another spa-like lighting option is using string lights or fairy lights. These lights add a touch of whimsy and can be used to decorate for special occasions. In addition, you should invest in under-cabinet lighting to add a touch of elegance and comfort. LEDs are a sustainable and cost-effective option that will save you money in the long run! Lastly, accent lighting is a great way to highlight the features of any room. It would be perfect for accentuating spa-like elements in your bathroom!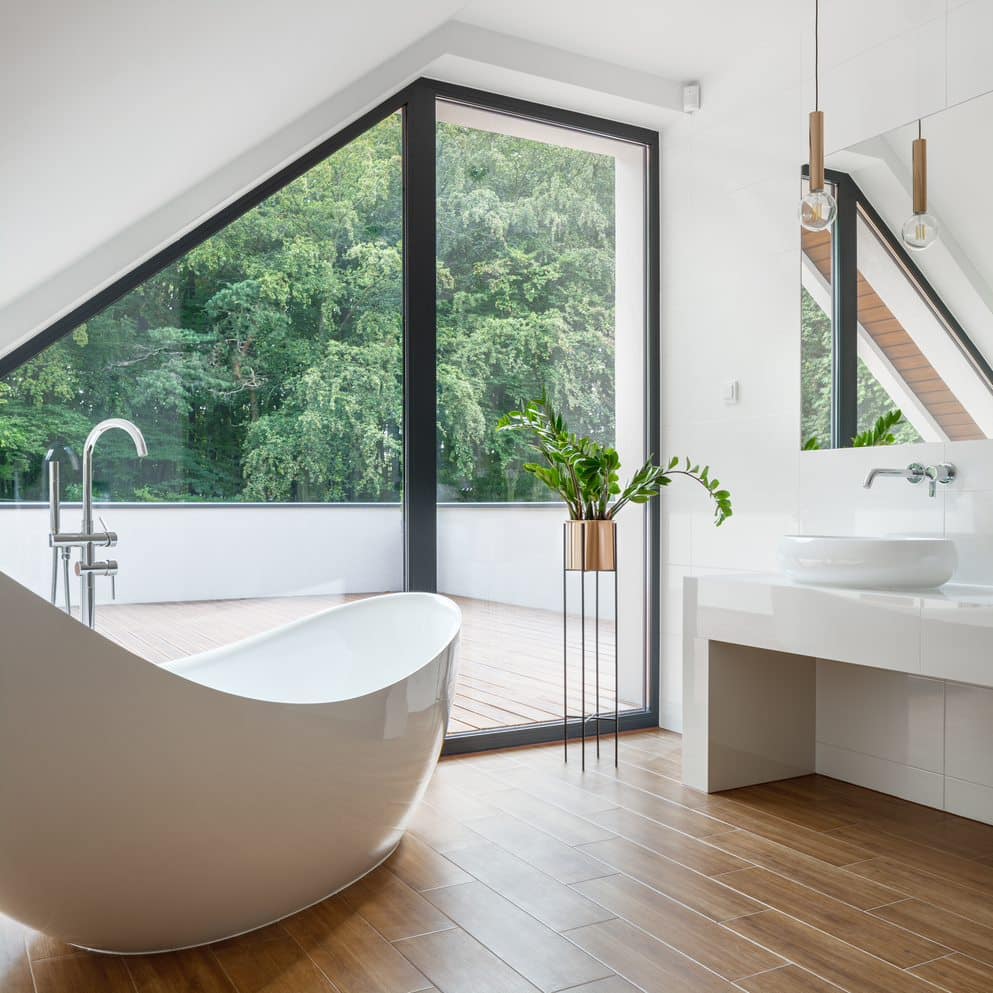 Spa-like bathroom ideas for small bathrooms
If you don't have the space to feature a free-standing tub or other elements we discussed, you can still create a spa-like feel for your bathroom. The first step in designing a small spa-like bathroom is to set the right mood. Choosing the right colour palette is also essential. The bathroom should have a colour palette that is soothing to the eye and comfortable. The colour palette for a spa-like bathroom should consist of neutrals and blues or greens. You can also use different shades of the same colour to add personality to the room. Think about the things you enjoy about a spa, and try to replicate them in your home. Working with a designer will also help you determine what is feasible with your limited space.
Adding unique pieces is an excellent way to bring character to your bathroom. You can start with antiques, rugs, and decorative objects and design entire rooms around them. Consider using lush greenery around the tub to make the bathroom feel more like a spa. Potted plants and a wall-height window add to the garden-like feel. Another way to create a spa-like feel in a small space is to use glass canisters to hold your bath essentials.
Canadian Home Style is your family-owned and operated bathroom remodeler in North Vancouver, BC. We hold the highest standards in the industry and provide complete bathroom renovations across the Lower Mainland with an extended warranty. We always keep up to date with the latest trends and are proud members of the NKBA National Kitchen and Bath Association. In addition, we have won the Consumer's Choice Awards back-to-back in 2021, 2022, and 2023 for our commitment to business excellence. We are considered one of the highest-rated kitchen and bath design and renovation experts in Metro Vancouver. Book now to visit our North Vancouver showroom, where you can get expert advice from one of our bathroom designers. We're happy to be a part of your journey with your next bathroom renovation project in Metro Vancouver.
Our bathroom designers are some of the top industry leaders in Vancouver. They provide you with the latest design ideas and trends to renovate your bathroom. We offer comprehensive services that include 3D renderings, complete project management, and more. Our goal is to make your vision a reality while providing an exceptional customer experience from start to finish. Get in touch with us for your Vancouver bathroom renovation needs.
Services We Offer:
Main Areas of Service in British Columbia:
Helpful Resources:
Statistics
Made of 100% Turkish cotton, the large towels get softer and fluffier with each wash. (bobvila.com)
According to Natural Living Ideas, the 16 best plants that will thrive in your bathroom are as follows: (buyerselect.com)
According to designer Colette van den Thillart, the "jewel of the room" is the polished nickel tub she placed smack dab in the center of this 200-square-foot space. (houseandhome.com)
Read our last bathroom renovation article here: