Natural stone tiles benefit checklist
Nonpolluting
Eco-friendly
Durable material
Versatility in application
Easy to clean and easy to maintain
Adds value to your home
Hygienic surface
Excellent for in-floor heating
Unique product
Consider the advantages of natural stone flooring before installing it in your home as your new flooring. Not only is natural stone nonpolluting, but it's also eco-friendly, and it's durable. It can be used in nearly every room of the home. Now you know why stone flooring is so popular! Find out more about this beautiful type of flooring and how to clean it.
Natural stone is nonpolluting.
One of the best features of natural stone flooring is its non-polluting. It doesn't release harmful toxins into the air like some other types of flooring can, so it's ideal for people who want a healthy home environment. If you want to avoid pollution, consider using locally sourced stones. And, of course, you can also recycle your stones and save on transportation costs.
Stone is an abundant resource and requires minimal energy to mine. Because stone contains no synthetic elements, it does not contribute to air pollution.
It is eco-friendly
Natural stone is one of the most environmentally friendly construction materials. Its vast and abundant supply dates back millions of years. Although stone regeneration is not as visible as tree regeneration, it is still environmentally friendly. Natural stone is also recyclable. Its crushed form is used to manufacture natural stone pavers and aggregates.
The stone industry has published a report detailing natural stone's benefits as a floor covering. Compared with other flooring materials, stone uses less energy and resources in its production and disposal. The stone industry has also understood the importance of sustainable mining practices. The processing of stone mining requires less energy than other materials. Stone is also more durable than other floor coverings and, thus, more eco-friendly in the end. This is good news for consumers who care about the environment.
Natural stone is the original green building material and contains no VOCs. Unlike synthetic materials, it is also 100% recyclable. It doesn't release any VOCs and can be cleaned with a PH-neutral dish detergent. The durability of natural stone makes it a green option for both commercial and residential construction.
It is durable
When it comes to durability, nothing beats stone flooring. It is one of the most durable types of flooring you can buy. Stone floors can last a lifetime with proper care and maintenance. They are also scratch-resistant and stain-resistant once sealed adequately. This means you won't need to spend hours scrubbing your floors after spills or accidents.
Not all natural stones have the same durability. For example, granite is more durable than marble, making it an excellent choice for indoor and outdoor use. On the other hand, Marble is more porous than other stones and may stain easily.
It can be used in most rooms of the home.
Stone can be used in most rooms because this eco-friendly material is waterproof, durable and easy to clean. You can use it in the kitchen, bathroom, living room, bedroom, and basement. You can go completely transition-less from one room to another with stone flooring. This would make your place feel more spacious.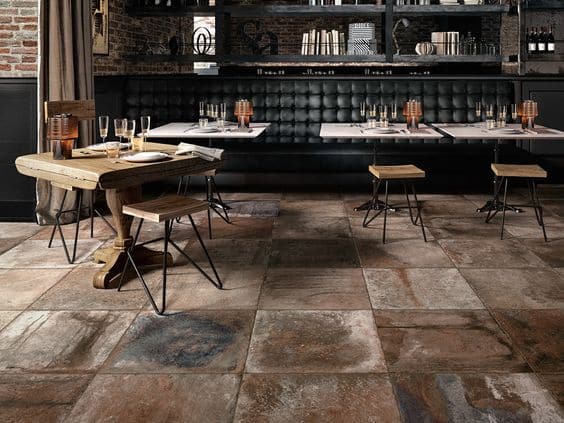 Stone flooring is easy to clean.
If you spill something, cleaning stone floors is much easier than most floors, especially carpets. You can simply sweep up spills with a broom, mop them up with water, or use a damp cloth to clean off grout lines. You don't have to worry about damaging the surface by scrubbing the floor.
Stone adds value to your property.
Stone is one of those materials that people love to talk about. Whether it's because of how unique it looks or just because it feels good underfoot, homeowners love to add stone floors to their homes. But what most don't know is that adding a stone floor can help you sell your house faster. Stone has natural beauty and charm that will make any home stand out. Stone is considered a timeless floor covering used for centuries in construction.
Stone is a hygienic floor surface.
Another reason stone is ideal for kitchens and bathrooms is that it doesn't trap dirt, dust, allergens, or pet dander. This means that stone is an excellent choice for allergy sufferers, especially those who suffer from asthma, allergies, or sinus problems. And since stone is naturally antibacterial, it's also a safe choice for kids' playrooms, where germs spread quickly.
Stone is excellent for underfloor heating applications.
Underfloor heating is a popular way to keep your house warm during winter. Floor tiles made from natural materials are good at conducting heat. They transfer warmth efficiently without adding much weight to your floors. You won't find many drawbacks to installing natural floor tiles either.
Every piece of stone tile is unique in its way.
Stone gives you endless choices for your floors. You can choose from a wide range of colours. Each stone tile is unique. You can arrange stones in many different ways.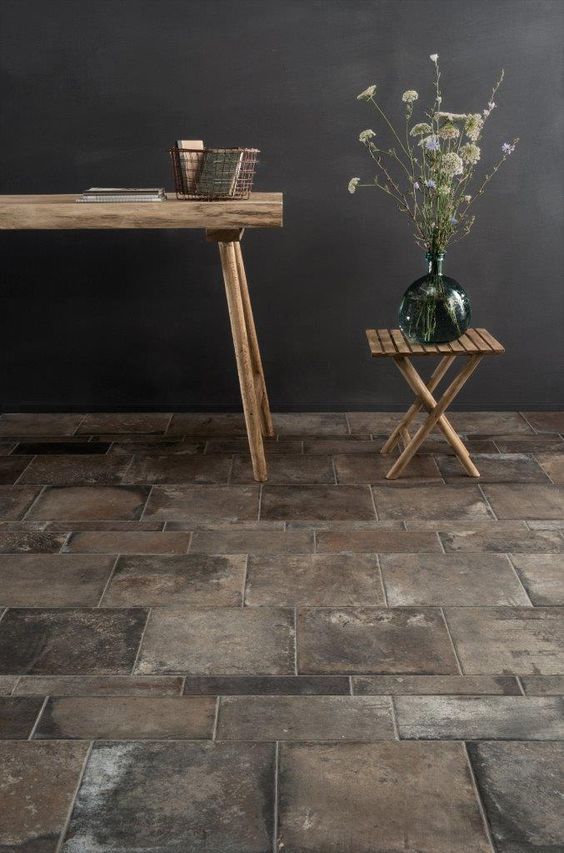 Stone tiles are versatile in terms of application.
Stone flooring is versatile. It can be installed indoors and outdoors. It can be laid over concrete or wood. This versatility makes it suitable for commercial and residential applications.
Stone for outdoor application
Some natural stone floor tiles are unsuitable for outdoor applications. This is due to many factors, such as the nature of the stone. Non-vitreous materials are prone to staining by dirt and acid rain and can crack when absorbed materials freeze. Low-coefficient-of-friction stone is unsuitable for outdoor floors as it can become slippery in heavy rain or snow.
Cons of Natural Stone Flooring
Stone flooring is expensive compared to tile, wood, laminate, vinyl, and even carpet. Stone flooring can cost anywhere from $20 to $100 per square foot. This makes it one of the priciest floors out there.
The material itself isn't always easy to install. Natural stones are heavy, dense materials that require skilled labour to handle correctly. You'll want someone with experience installing stone because it requires specialized equipment and knowledge.
Natural stones are uncomfortable. They are cold and rough. They may cause foot pain and discomfort. In addition, stone stays naturally cold under your feet and is somehow uncomfortable to walk on in cold environments. Also, because stone retains heat well, you might sweat while standing on your stone floor if installed in hot climates.
It can be slippery when wet, which can pose a safety hazard.

Most commonly used natural stone tiles for flooring
Marble Tiles
Marble is formed when limestone is heated at extremely high pressures deep underground. As the crystals grow, they become denser and more complex, eventually developing into a solid mass. Before using marble, you need to apply a protective sealant application. You must maintain and regularly re-apply the sealant for complete protection. Because marbles aren't stain-resistant, spills need to be quickly removed to prevent them from staining the surface. Daily substances that contain acids can damage marble quickly.
Granite tiles
Granite tile is a type of natural stone that is often used in kitchen countertops. Its name originates from the Greek "Granito," meaning "grained." Granite is known for its durability and resistance to heat and scratches. It is also considered one of the most beautiful stones due to its colour variations. There are many different kinds of granite, each with unique properties.
There are three main ways that granite tiles are applied: slab, honed, and polished. Slab refers to large slabs of stone that are cut into smaller tiles. Honed refers to small tiles that are cut from larger pieces. Polished refers to small tiles smoothed down and finished with a high polish. Each method has advantages and disadvantages.
Slate tiles
Slate tiles are slightly rough and dull compared to other types of natural stones. One reason why it's famous for flooring is that it offers a slip-resistant surface. It has various patterns and colours, making it modern or rustically styled. There are many different types of slate, including glazed, green, gray, red, white, black, blue, brown, pink, and yellow.
Travertine tiles
Travertine is a form of limestone that forms around hot springs. It is known for its distinctive veining and is used in various applications, including flooring, countertops, and backsplashes. Travertine is available in many colours, including white, cream, tan, brown, red, and black. Travertine is a softer stone than granite and marble, so it is more susceptible to scratching and staining. It is essential to seal the travertine to protect it from stains and damage.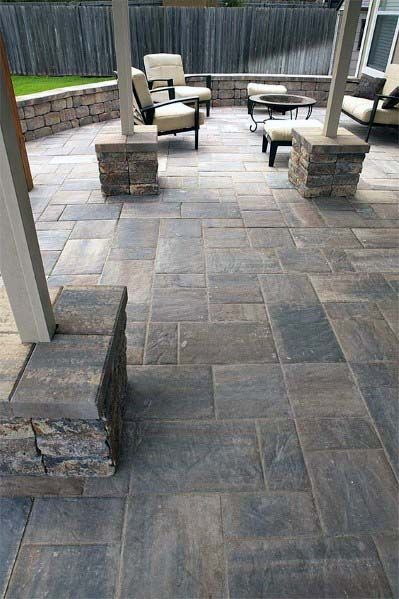 Installation guideline
Installing natural stone tiles can be a very time-consuming process. Therefore, this hard surface is the most expensive to install per square foot. If you plan to install stone flooring in your home, you must make sure that you prepare the surface. An uneven surface can cause stone flooring to buckle under pressure. The subfloor must be completely level before installation can begin.
Natural stone tiles maintenance and cleaning
Sealing is essential because natural stone absorbs moisture, creating the ideal breeding ground for mould and mildew. This process will make it less porous and stain resistant. It will also help maintain the original beauty of the stone. While sealing natural stone is essential, it is also a chore. Depending on where your stone is located, it may need to be re-sealed every six months, while lesser-traffic areas may only need sealing every one to three years. While sealants can protect against spills and scratches, they also can dull the stone and show wear patterns. Your flooring supplier can also offer recommendations based on your stone type. Once the re-sealing is complete, stone floors will remain beautiful for many years. Please make sure to use the right sealing agent, or you may cause damage to your floors.
Using a stone cleaning solution to clean your flooring is a great way to protect it from spills. You can even use a vacuum cleaner to clean the floor, especially the corners. You should also use a damp mop and a ph-neutral detergent to clean the floor. Remember to use a mild cleaner if possible, as strong acidic and alkaline cleaners can cause permanent damage to your stone. You should also clean and scrub any heavily trafficked areas with a bristle brush and a nylon scouring pad.
Contact Canadian Home Style for your Vancouver flooring needs.
Canadian Home Style is your family-owned and operated flooring retailer with a showroom in North Vancouver, BC. We provide full-service commercial and residential flooring solutions across the Lower Mainland with an extended warranty. We are proud members of the BC Floor Covering Association (BCFCA) and the National Wood Flooring Association (NWFA). In addition, we have won the Consumer's Choice Awards back-to-back in 2021 and 2022 for our commitment to business excellence. We are considered the highest-rated Vancouver flooring experts. We pride ourselves on holding the highest standards in the flooring industry. To uphold our high standards, we have a strict policy of "not selling or displaying any products that we wouldn't want in our own homes." Before we select a product to feature, we carefully assess product quality, off-gassing, warranties, and responsible sourcing. Book now to visit our North Vancouver showroom; we can help you choose the perfect floor for your home or business.
Services We Offer:
Main Areas of Service in British Columbia:
North Vancouver
West Vancouver
Burnaby
Coquitlam
Squamish
Whistler
Did you miss our previous article…