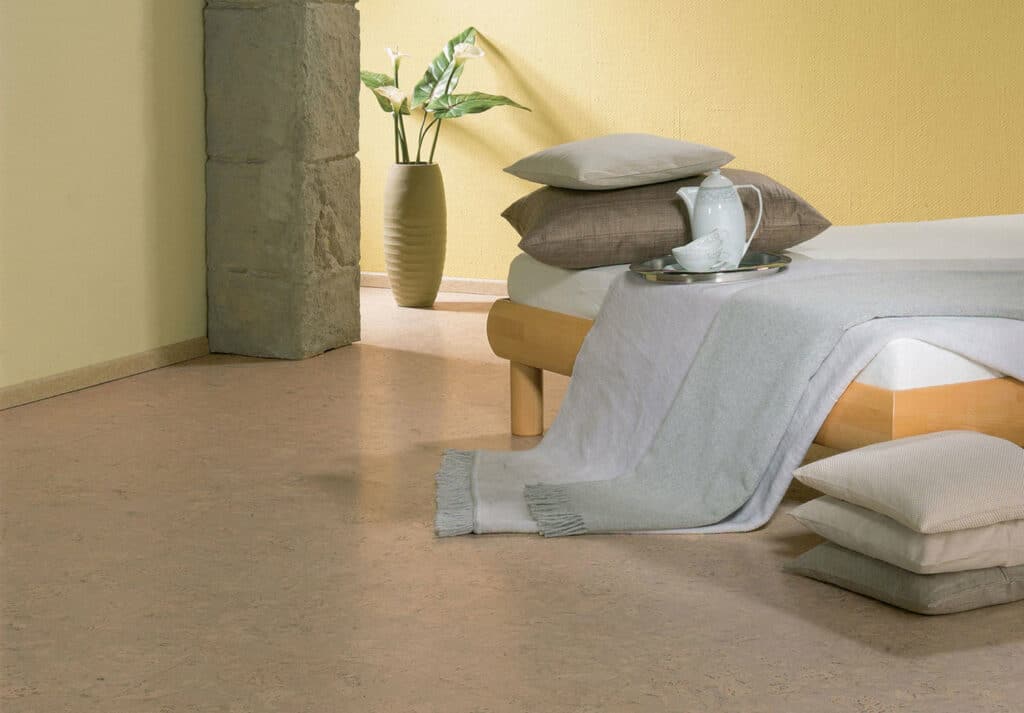 When deciding between hardwood flooring and cork flooring, consider the many benefits of each. Cork is warm, quiet, environmentally friendly and resistant to moisture and fire. This article explores the benefits of cork floors with maintenance tips and frequently asked questions. This article will make you more confident in choosing cork for your floors.
The Benefits of Cork Flooring Quick Checklist:
Quite and soundproof
Comfortable
Warm
Healthy
Sustainable
Anti-slip
Easy to install
Easy to maintain
Highly durable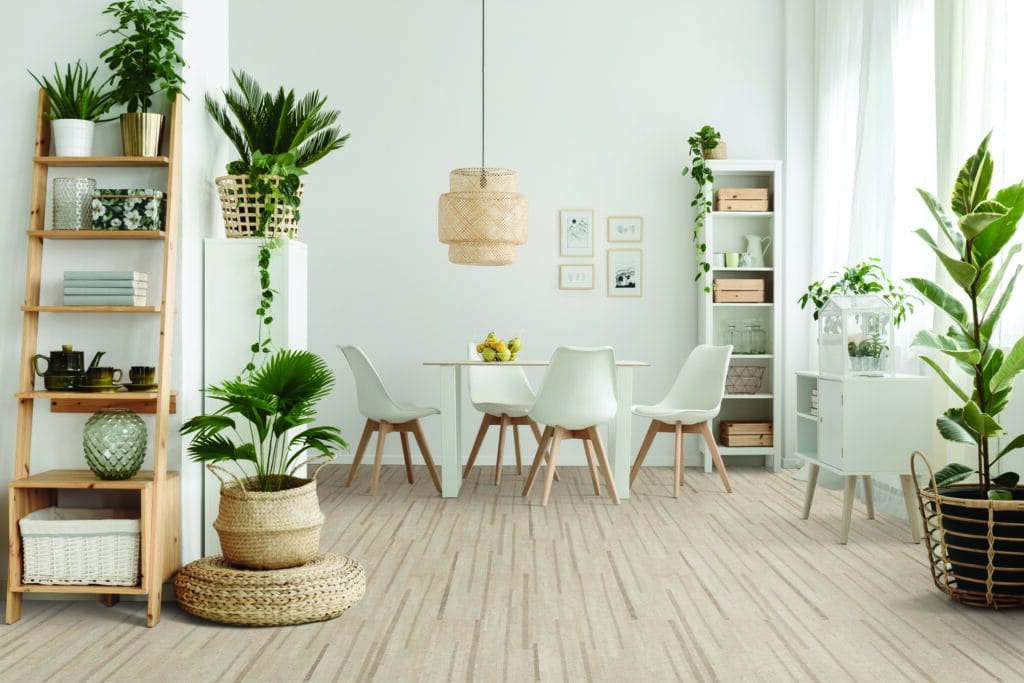 Cork flooring absorbs sound.
Cork's cellular structure is in a way that it deadens and absorbs sound. This property is beneficial for people who live in apartments or condos or for anyone who wants to reduce the amount of noise in their home.
Cork is comfortable walking on.
Cork is the softest type of flooring available after carpet. So it is pretty comfortable to walk on. It has a similar feel to walking on a sponge. This makes it ideal for people with joint pain or anyone who wants to add a little bit of cushioning to their floors.
Cork flooring is warm under your feet.
The cork flooring absorbs and retains heat from the body, keeping it close to the skin. This helps keep feet warm during cold weather.
Cork is a healthy choice.
Cork has hypoallergenic properties, making it a good choice for people with allergies. It is also resistant to mould, mildew, and bacteria.
Cork flooring is eco-friendly and sustainable.
Cork flooring is environmentally friendly because it's made from renewable resources such as trees and plants. Cork oak tree is not damaged through the harvesting process. The harvested cork grows back every nine years.
Cork is Anti-slip
Cork is anti-skid and anti-slip. The reason why it's so effective at preventing slips is because it has a low coefficient of friction. This means it won't stick to your feet like other types of flooring can.
Cork is easy to install.
Cork floating floors are easy and quick to install compared to glue-down tiles. Cork planks or tiles are floated just like laminate flooring. Since cork has an underlay attached, unlike most laminate flooring options, you don't need to worry about installing an underlay underneath.
Cork floors are low maintenance.
You should only vacuum your cork tiles or planks. They can be cleaned with a damp cloth and some mild soap.
Cork flooring is durable.
Yes, cork flooring is durable and can last up to 50 years with proper care. However, it does require more maintenance than other types of flooring.

What Is Cork Flooring composed of?
Cork flooring is composed of:
1) An scratch-resistant layer
2) Cork decorative layer
3) HDF stabilizing core
4) Some sort of locking mechanism for floating installation
5) Cork underlay attached
Top Brands of Cork Flooring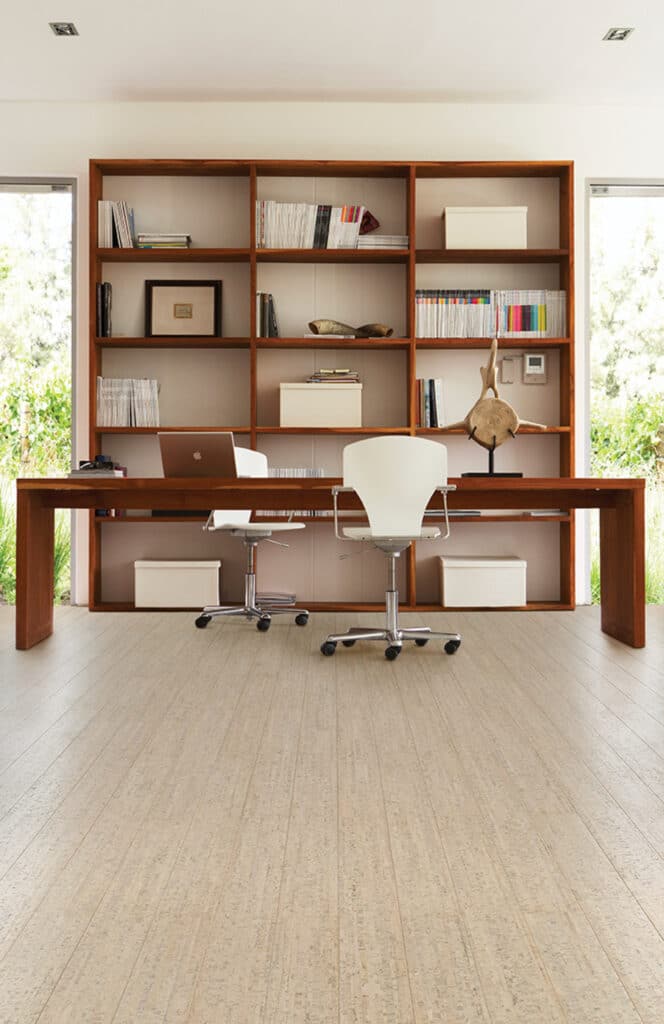 Natural material
One of the benefits of cork flooring is that it feels comfortable underfoot. The material contains just enough bounce to prevent strain on joints. Because of its softer feel, it can be used in a kitchen, where standing for extended periods can be dangerous. According to the Canadian Centre for Occupational Health and Safety, cork flooring is also more comfortable for workers.
Cork is also eco-friendly. Cork is harvested from the bark of cork oak trees. Cork oak trees replenish their bark every nine years, so this material is renewable and environmentally friendly. Many cork flooring companies recycle their waste into cork floors. And since cork is a renewable resource, they do not require cutting down trees. They also use low-VOC adhesives. So, not only will you get a beautiful floor, but you'll feel good about your purchase.
Other benefits of cork floors include their noise reduction qualities. Acoustics experts note that cork is a superior insulator, reducing the noise transmitted through floors and walls. The material can absorb up to 40 percent of noise, making it perfect for use in homes and studios with high noise levels.
Another advantage is its natural shock-absorbing properties. That's why cork floors are ideal for offices and hangout spaces, as they can prevent injuries and protect against accidents.
Despite its many advantages, cork is not indestructible. While it is resistant to stains, high heels can leave indentations on your cork floors. Also, pets' claws can be very damaging to the material. Ensure that your furniture has soft pads and that its feet are correctly positioned to prevent such injuries. Then, reapply a coat of polyurethane to protect the flooring.
Environmentally friendly
Cork floors are an environmentally friendly choice for many reasons. Cork is made from recycled waste, including the stoppers of cork wine bottles. The cork is then dried, sanded, pressed, and sold as flooring. More companies are using low-VOC glues to install cork floors. Cork floors are also a quiet alternative to hardwood flooring. And they are very easy to install.
This unique material is warm and breathable, making it ideal for commercial and residential settings.
Cork is also biodegradable. Cork also contains a waxy substance known as suberin, which is inert and impermeable. That makes it a natural choice for people with allergies or young children. Besides being environmentally friendly, cork is a good choice because it doesn't create waste or pollute the environment.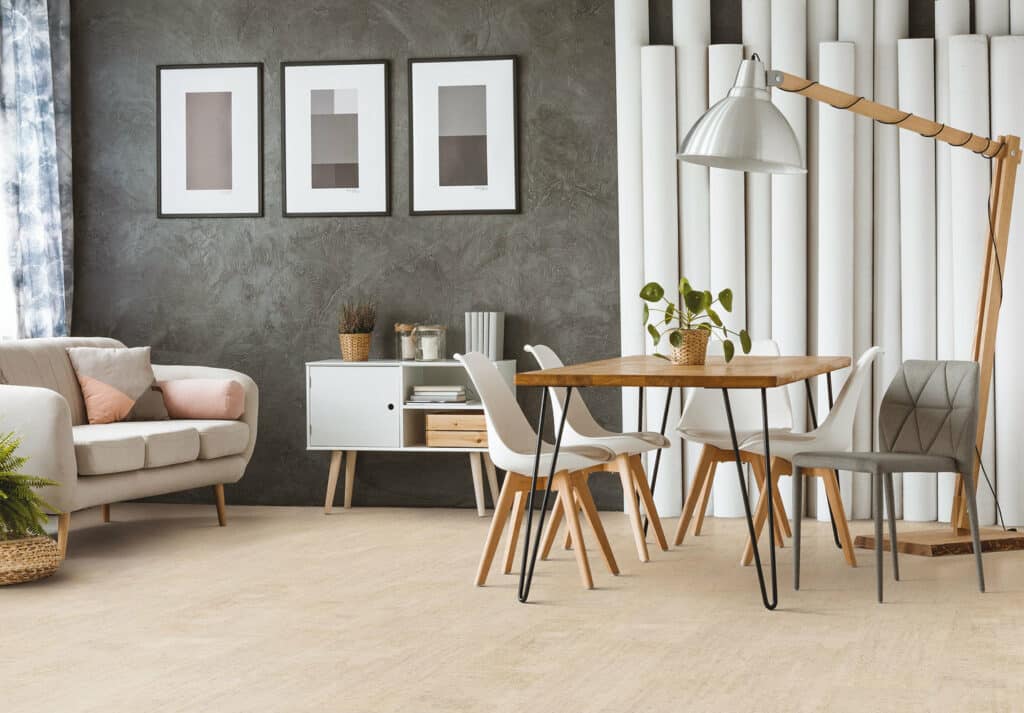 Resistant to moisture
Cork is naturally water-resistant, but improper maintenance can shorten its life. Cork is not impervious to moisture like vinyl or tile flooring. The instructions for cork flooring state that it should be installed in rooms with a 40 to 60 percent humidity level. Never wet mop the floor to ensure that there is no moisture. While this is generally the case, bathroom humidity levels can reach as high as 60 percent. Cork can absorb moisture and is therefore not a good choice for bathrooms with tubs and shower fixtures.
Cork floors are resistant to moisture and are also ideal for the kitchen. Their unique honeycomb structure provides warmth and insulation. It is warmer than other types of flooring, so it's comfortable for bare feet. Cork is also anti-vibrational and sound-absorbent. It's also anti-bacterial and mildew-resistant, and it helps to maintain a comfortable indoor climate. It's environmentally friendly, so you'll save money on energy bills.
Resistant to fire
Cork is the way to go if you're looking for a durable flooring material that resists fire. Made from the bark of a native Mediterranean tree, cork is both water and fire-resistant. The cork oak trees regenerate their barks every nine years, so the material used for flooring is renewable.
The main benefit of cork flooring is its natural fire resistance. Unlike other flooring materials, cork won't ignite or spread flames and won't release toxic gases when burned. Because it's made of more than 100 million prism-shaped cells per cubic inch, cork doesn't conduct sound and temperature so that it won't emit toxic fumes in the event of a fire.
Cork's fire resistance makes it an excellent choice for high-rise buildings, such as museums and places of worship, where noise levels need to be kept low.
Resistant to mould
Cork contains a natural substance called suberin, which acts as a mould inhibitor and prevents the cork from rotting. Cork flooring is also durable and will last for many generations.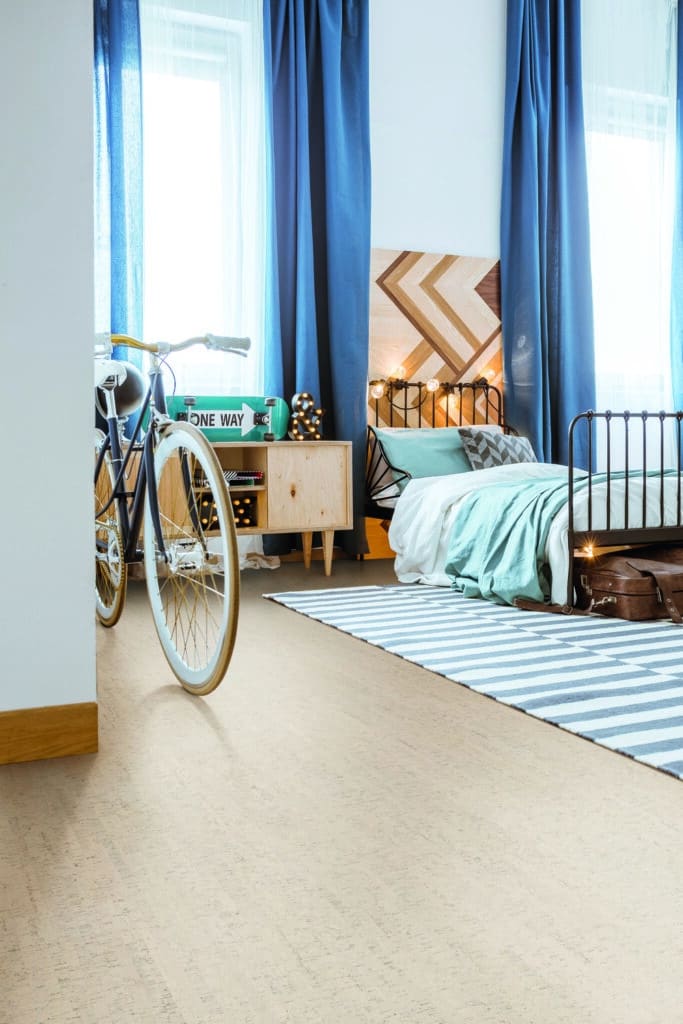 Easy to install and durability
If you live in a humid climate, be sure to check your subfloor moisture level before you start installing a cork floor. Cork is sensitive to humidity, and a high moisture level can make it curl and plump. Also, high humidity can cause planks and tiles to buckle or pop out. A relative humidity test on the concrete slab is excellent for moisture levels.
Another way to ensure the durability of your cork floor is to use floor protectors. If you have children or pets, you may want to consider buying floor protectors to avoid scratches or dents. Pets can also scratch or puncture cork if they have nails. You can also use an environmentally friendly varnish that covers the pin, which means pet nails won't damage it. This is an essential advantage of engineered cork flooring, as it's non-toxic.
In addition to the beauty of cork flooring, the durability of this floor is unmatched. Even minor dents or scratches will disappear into the overall pattern. In contrast, wood floors show marring and need refinishing. Cork's highly textural design makes it easy to maintain and clean.
Cons of Cork Flooring
Cork isn't cheap
The initial cost of cork flooring can be two to three times that of laminate flooring.
Cork isn't completely waterproof.
While cork is resistant to water, it's not waterproof. Water can penetrate the surface and cause swelling and warping. That's why it's important to immediately wipe up spills and avoid mopping with a wet mop.
You should also avoid using harsh chemicals or cleaners on the cork. If you spill something, blot it with a clean, dry cloth. To clean the floor, use a vacuum with a soft brush attachment or a broom. For more challenging jobs, use a mild soap and water solution.
Cork has a busy pattern.
Some people don't like the busy pattern in the cork and prefer the hardwood look.
Cork can fade when exposed to too much sun.
Cork floors can fade in direct sunlight, so protecting them from UV rays is essential. Close the blinds or drapes during the day, and use area rugs in sunny spots. This is especially true with cheaper products. The higher-end cork flooring offered by Wicnaders, Torlys and Cork don't have this problem.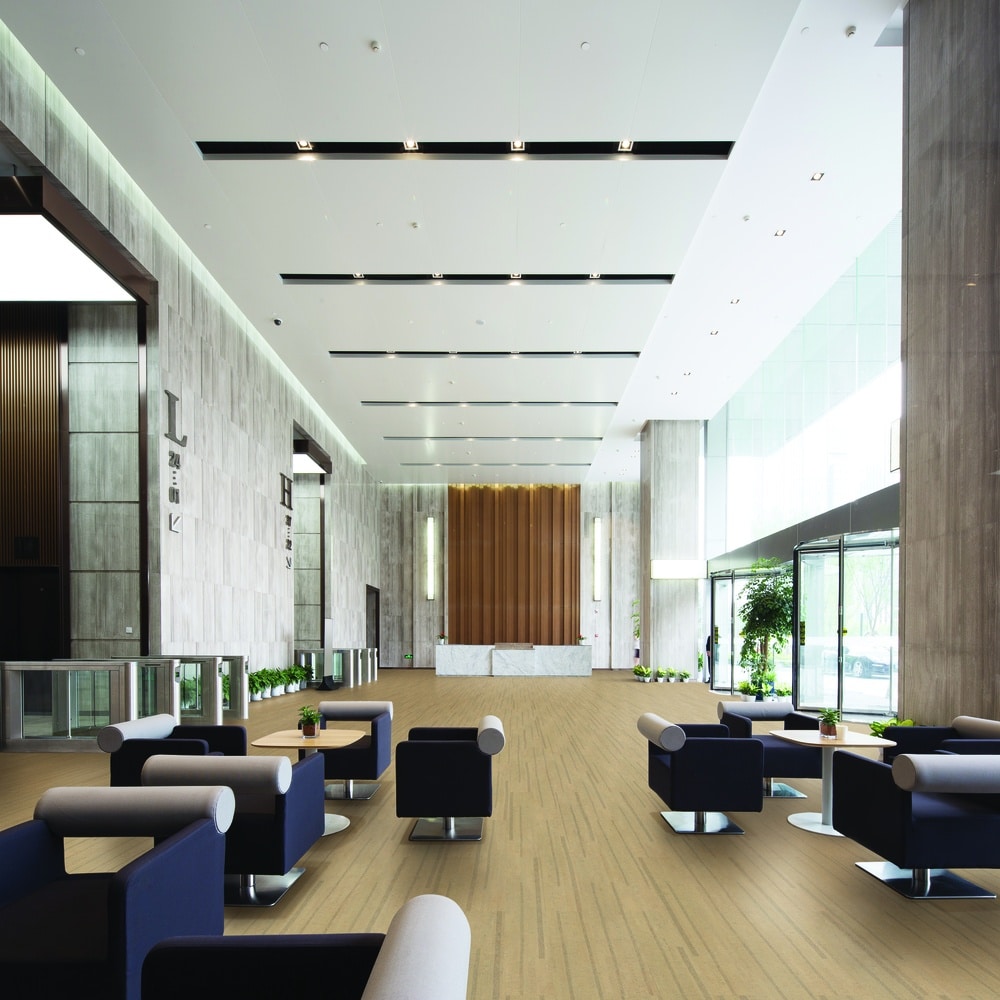 Frequently asked questions
What is the downside to cork flooring?
The main downside to cork flooring is that it's not cheap. The initial cost of cork flooring can be two to three times that of laminate flooring. Cork is also sensitive to humidity, and a high moisture level can make it curl and plump.
What are the benefits of cork underlayment?
Cork underlayment has the same benefits as cork flooring. It's eco-friendly, durable, and easy to install. It also provides acoustical and thermal insulation, which can save you money on energy bills.
Is cork suitable for kitchen flooring?
Cork is an excellent choice for kitchen flooring because it's durable, easy to clean, and has a natural resistance to mould and mildew. It's also hypoallergenic and comfortable to stand on for long periods.
Does cork attract mould?
Cork is a natural product that is resistant to mould and mildew. If there's too much moisture, the cork will act as food for the mould and mildew, so keeping the area dry is essential.
How long does cork flooring last?
A good cork floor should last about 50 years.
Can you mop cork floors?
You can not wet mop your cork floors. However, you can use a damp mop once in a while to clean the more challenging spots. Be sure to avoid using harsh chemicals, which can damage the cork.
Can you use a steam mop on cork floors?
You should not use a steam mop for cork.
Can you waterproof cork flooring?
No, cork is water naturally water resistant and not waterproof.
Do you need underlay for cork flooring?
No, most cork flooring options come with a built-in cork underlay.
Do cork floors dent?
Most things won't leave a dent in cork floor tiles because they're naturally resilient and bouncy. However, cork flooring is not dent-proof.
Can you put cork under hardwood?
Yes! We often use cork in double-glue down applications on radiant heating systems.
Canadian Home Style is your family-owned and operated flooring retailer with a showroom in North Vancouver, BC. We provide full-service commercial and residential flooring solutions across the Lower Mainland with an extended warranty. We are proud members of the BC Floor Covering Association (BCFCA) and the National Wood Flooring Association (NWFA). In addition, we have won the Consumer's Choice Awards back-to-back in 2021 and 2022 for our commitment to business excellence. We are considered the highest-rated Vancouver flooring experts. We pride ourselves on holding the highest standards in the flooring industry. To uphold our high standards, we have a strict policy of "not selling or displaying any products that we wouldn't want in our own homes." Before we select a product to feature, we carefully assess product quality, off-gassing, warranties, and responsible sourcing. Book now to visit our North Vancouver showroom; we can help you choose the perfect floor for your home or business.
Services We Offer:
Main Areas of Service in British Columbia:
North Vancouver
West Vancouver
Burnaby
Coquitlam
Squamish
Whistler
Statistics
Factual sentences referenced across top search results:
Read our last flooring article here: