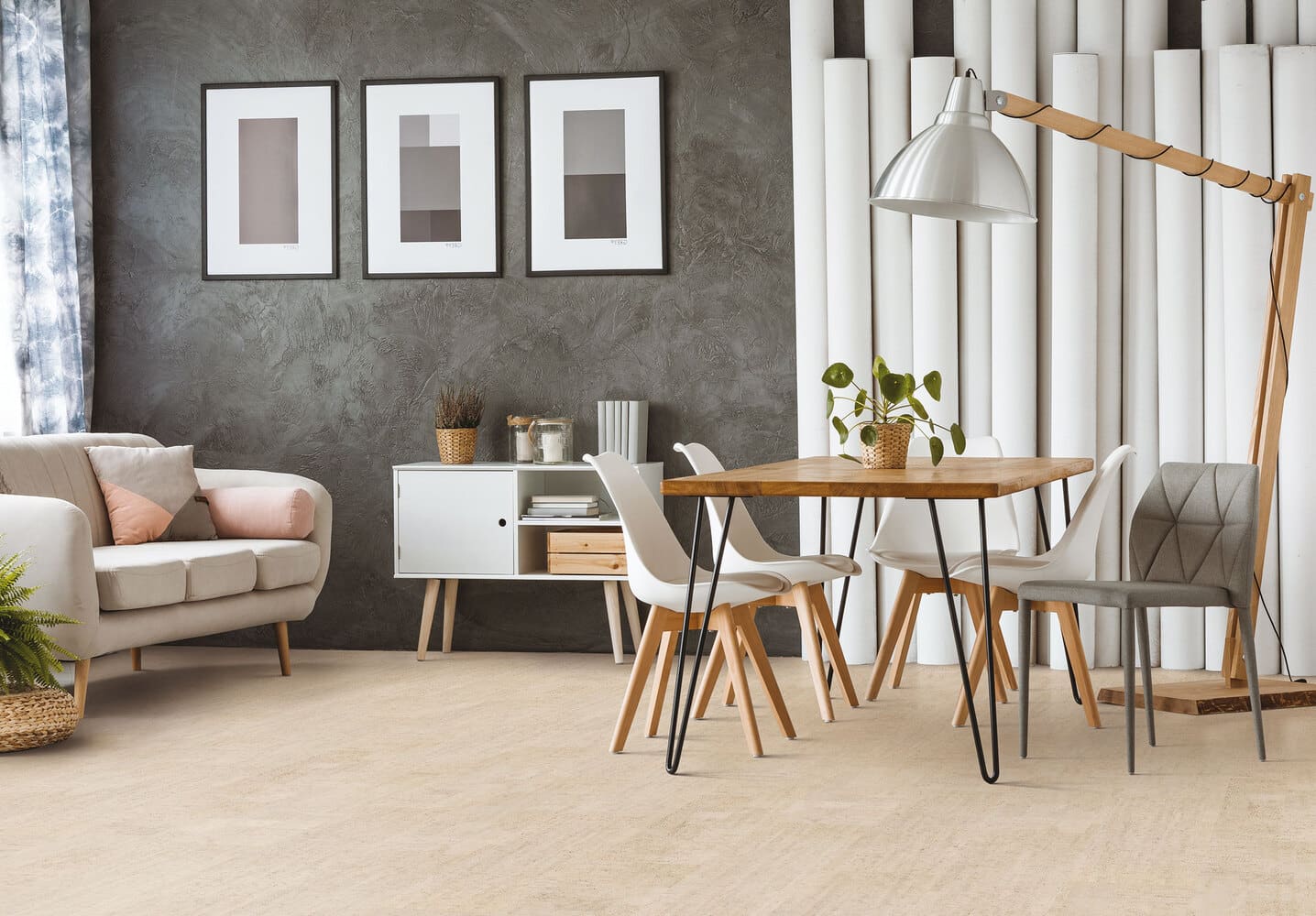 Amorim Wise Flooring Solutions
Amorim has been a family-owned and operated business since it was founded in 1870. It started as a small workshop making cork products. Over the years, Amorim has grown into the world's leader in the cork industry. In 1978, the firm began utilizing by-products from its cork stopper manufacturing process to produce flooring, another significant milestone in its long-term sustainable development strategy. The latest Amorim cork flooring products result from a perfect combination of nature and technology. The company is now equipped with 10 million square meters of manufacturing capacity. Amorim is the world's largest cork producer, and its products are sold in over 100 countries.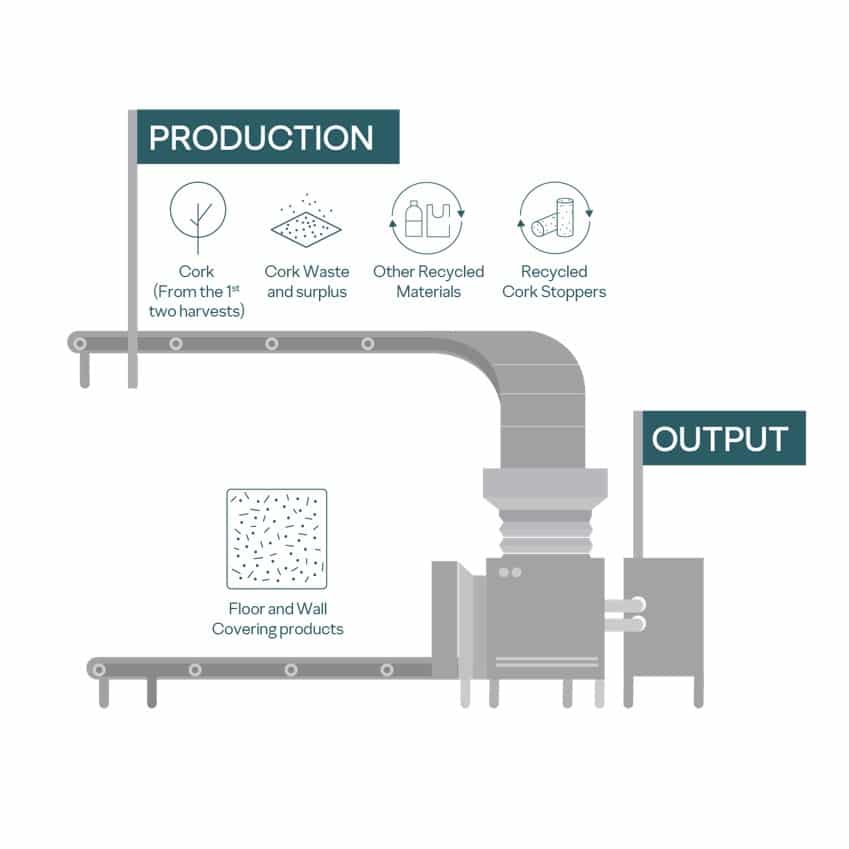 Amorim's products are made from high-quality cork sustainably harvested from Portuguese forests. The company is committed to environmental responsibility, making its products recyclable and biodegradable.
Amorim's Wise flooring line is a new generation of sustainable flooring made from cork. Consider Amorim Wise floor covering if you're looking for a long-lasting, eco-friendly option for your home. These made-in-Portugal flooring products are made 100% from cork and recycled PET plastic bottles. They are not just eco-friendly products with a gorgeous appearance but also durable, making them an excellent choice for high-traffic areas.
Before we get into Amorim flooring products and why this is our preferred cork flooring brand, let's review the cork flooring benefits in general:
Exploring the Benefits of Amorim Wise Sustainable Flooring
Amorim Wise flooring stands out as a beacon of sustainability in the flooring industry. This eco-friendly option is not just a choice for your home but a step towards a better environment. The unique attributes of Amorim Wise make it an ideal choice for homeowners who prioritize ecological concerns without compromising on style and durability. The product's core is made from natural, renewable materials, which significantly reduces its environmental footprint. Additionally, Amorim Wise flooring boasts features like high durability and ease of maintenance, making it a practical choice for busy households.
Incorporating sustainable practices into your home design not only benefits the planet but also contributes to a healthier living space. Amorim Wise products are free from harmful chemicals, ensuring better indoor air quality. With a range of styles and finishes, these floors can elevate the aesthetic of any room, harmonizing with various interior design themes from modern to rustic. To learn more about sustainable flooring solutions, visit Green Building Supply, a resource for eco-friendly building materials.
Amorim Wise: A Fusion of Innovation and Aesthetic Appeal
Amorim Wise flooring is a testament to the harmonious blend of innovative technology and aesthetic elegance. This flooring solution stands out with its advanced properties like sound reduction and thermal insulation, making it a superior choice for residential and commercial spaces. The innovative use of cork in its composition not only adds to the sustainability factor but also provides a unique comfort underfoot, a feature not commonly found in traditional flooring options.
The design versatility of Amorim Wise is remarkable. It offers an array of textures, colors, and patterns, allowing homeowners and designers to unleash their creativity. Whether you are refurbishing a classic space or designing a contemporary setting, these floors can adapt to and accentuate any interior design scheme. For design inspiration and ideas, visit Houzz, a platform where you can explore various home design and decorating ideas.
The Practicality of Amorim Wise for Modern Living
In today's fast-paced lifestyle, the practicality of home furnishings is paramount. Amorim Wise flooring is not only aesthetically pleasing but also engineered for ease of installation and maintenance. This makes it a fitting choice for modern homes where time is of the essence. The flooring's resistance to wear and tear, coupled with its ability to withstand the rigors of daily life, ensures that it remains a practical and beautiful part of your home for years to come.
Moreover, Amorim Wise floors are suitable for various climates and conditions, demonstrating versatility and adaptability. Whether you live in a humid coastal area or a dry, cold region, these floors maintain their integrity and appearance, proving to be a wise investment for any homeowner. For maintenance tips and advice, visit Flooring Inc, which offers a comprehensive guide on taking care of different types of flooring.
Health and Safety Aspects of Amorim Wise Flooring
Health and safety are critical considerations in choosing flooring materials. Amorim Wise excels in this area by being hypoallergenic and antimicrobial. This makes it a suitable choice for households with allergy sufferers or young children. The natural composition of these floors contributes to a healthier indoor environment, free from toxins and harmful emissions.
Fire safety is another aspect where Amorim Wise stands out. Its fire-retardant properties add an extra layer of safety to your home, ensuring peace of mind. The materials used in these floors are tested for their reaction to fire, adhering to strict safety standards.
For more information on creating a safe home environment, visit Healthy Building Science, which provides insights into healthy and safe building practices.
The Future of Flooring: Why Amorim Wise is Leading the Way
Looking towards the future, Amorim Wise flooring is setting trends in the flooring industry with its sustainable practices and technological advancements. As more homeowners and builders become conscious of their environmental impact, products like Amorim Wise are becoming the preferred choice. Their commitment to reducing carbon footprints and promoting renewable resources is a step towards a more sustainable future in home building and renovation.
The ongoing innovation in product development ensures that Amorim Wise stays ahead in terms of functionality and style. This positions the brand not just as a flooring option, but as a leader in the sustainable building materials industry. For industry trends and future outlooks, visit Builder Online, a resource for the latest in home building and design trends.
Quite and soundproof

Extra Comfort

Warm under your feet

Healthy

Sustainable

Anti-slip

Easy to install

Easy to maintain

Highly durable

Optimal temperature achievement year-round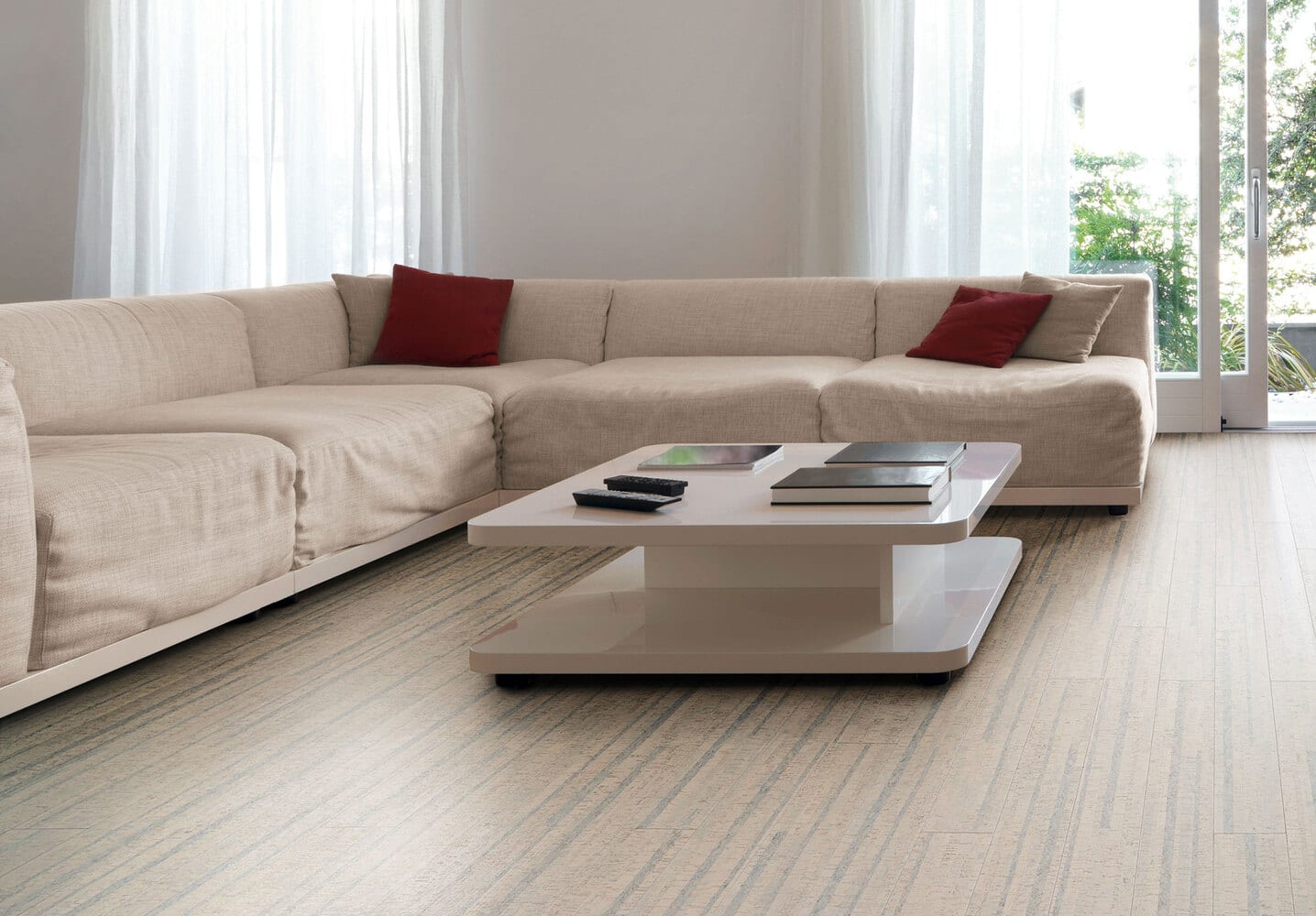 The sustainability of cork has been well-documented. The trees are not harmed in the process, as only the bark is harvested. Cork trees can live up to 200 years and continue to produce cork throughout their lifetime.
Cork is one of the most versatile materials in many applications, such as furniture, packaging, insulation, construction, building products, and more. The benefits of cork include being naturally flexible, resistant to fire and water, anti-bacterial, eco-friendly, hypoallergenic and easy to clean. It is a renewable resource that does not require pesticides, fertilizers or chemicals; it grows organically and is harvested without harming animals or humans. Cork is an excellent insulator, keeping rooms cooler in the summer and warmer in the winter. This helps to reduce energy bills and provides year-round comfort.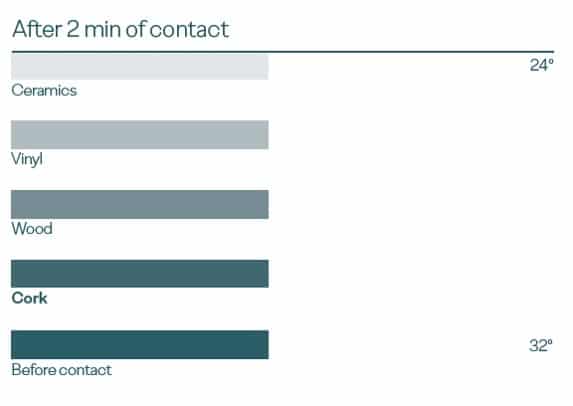 Cork's cellular structure is unique in providing cork with lightness and compressibility while being springy. This means that the surface feels comfortable to walk on and is easy on the feet, knees and back.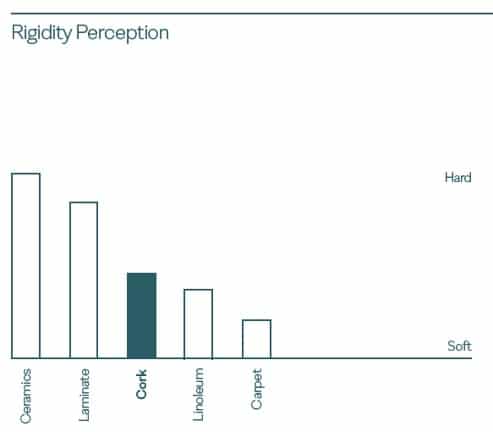 The same light, bouncy quality that makes cork comfortable to walk on also aids soundproofing. Cork absorbs noise more efficiently than any other known material, and it does this by trapping air inside its cells. When you hit something or make a loud noise, the shockwaves travel through the air until they reach the cork cells. The trapped air in the cork's structure absorbs some sound waves and prevents them from passing through the wall.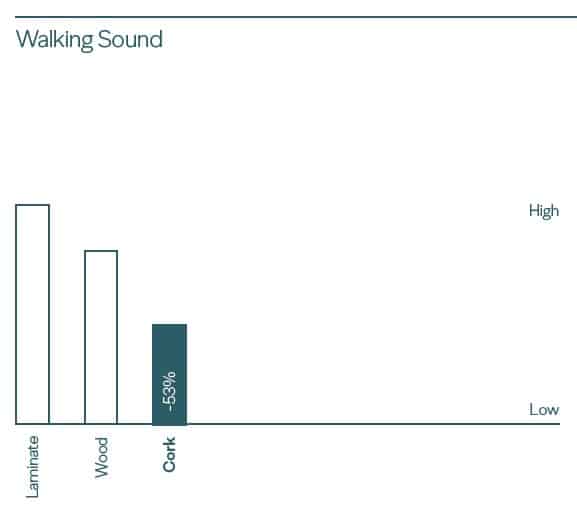 Amorim Cork flooring
Amorim offers their products under two main brands as follows:
In this article, we will focus on the Amorim Wise line of flooring products.
Amorim Wise
Amorim Wise cork flooring is the purest result of a circular economy model that seeks to turn waste and used corks into valuable and sustainable materials. Amorim Wise is the world's first 100% PVC-free cork flooring product. Amorim Wise Flooring is made of 100% natural and renewable cork that provides superior comfort and thermal and acoustical insulation. These floors are 100% recyclable, biodegradable, and hypoallergenic. 
In addition to cork, Amorim Wise uses recycled PET water bottles in their production process. Every 11 square feet of Amorim Wise cork flooring product would contribute to recycling up to 14 half-litre water bottles.
The superior resistance technology wear layer delivers a long life cycle and exceptional durability. This material offers superior comfort, high mechanical strength, and stain-resistant properties to ensure your floor stays good for years!
Amorim Wise has a Cork Rigid Core for reinforced dimensional stability. The superior technology wear layer is highly resistant to indentations, scratches, and everyday wear and tear. The unique, multilayered structure of Amorim Wise cork flooring also provides excellent thermal and acoustical insulation.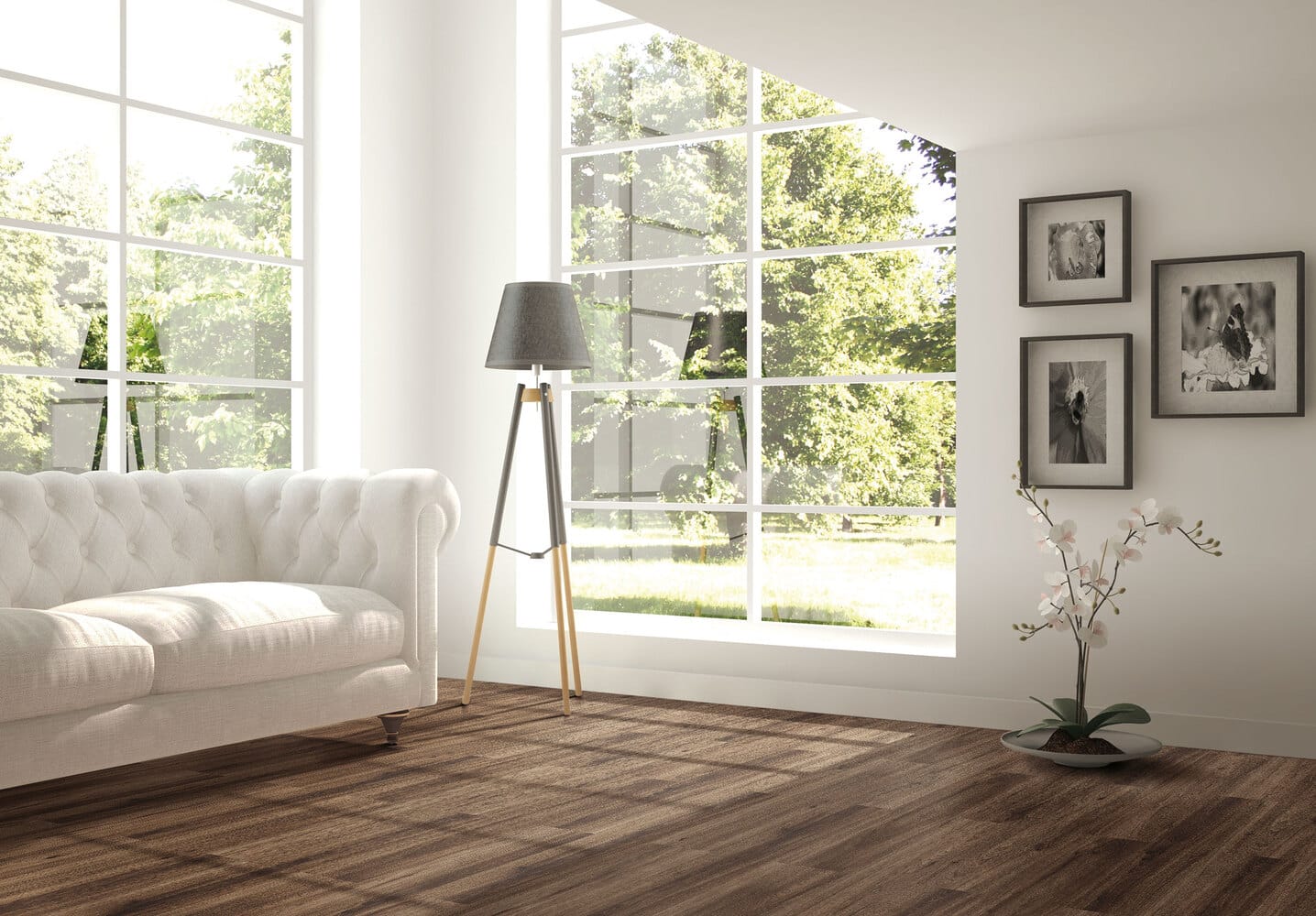 Key Benefits of Amazing Amorim Cork Flooring
Made from cork and recycled PET water bottles
100% PVC free
Remarkable negative Carbon balance
100% recyclable
Waterproof cork flooring
Natural thermal insulation
Impact resistance
Quite – Noise reduction
Improved air quality
Stain resistance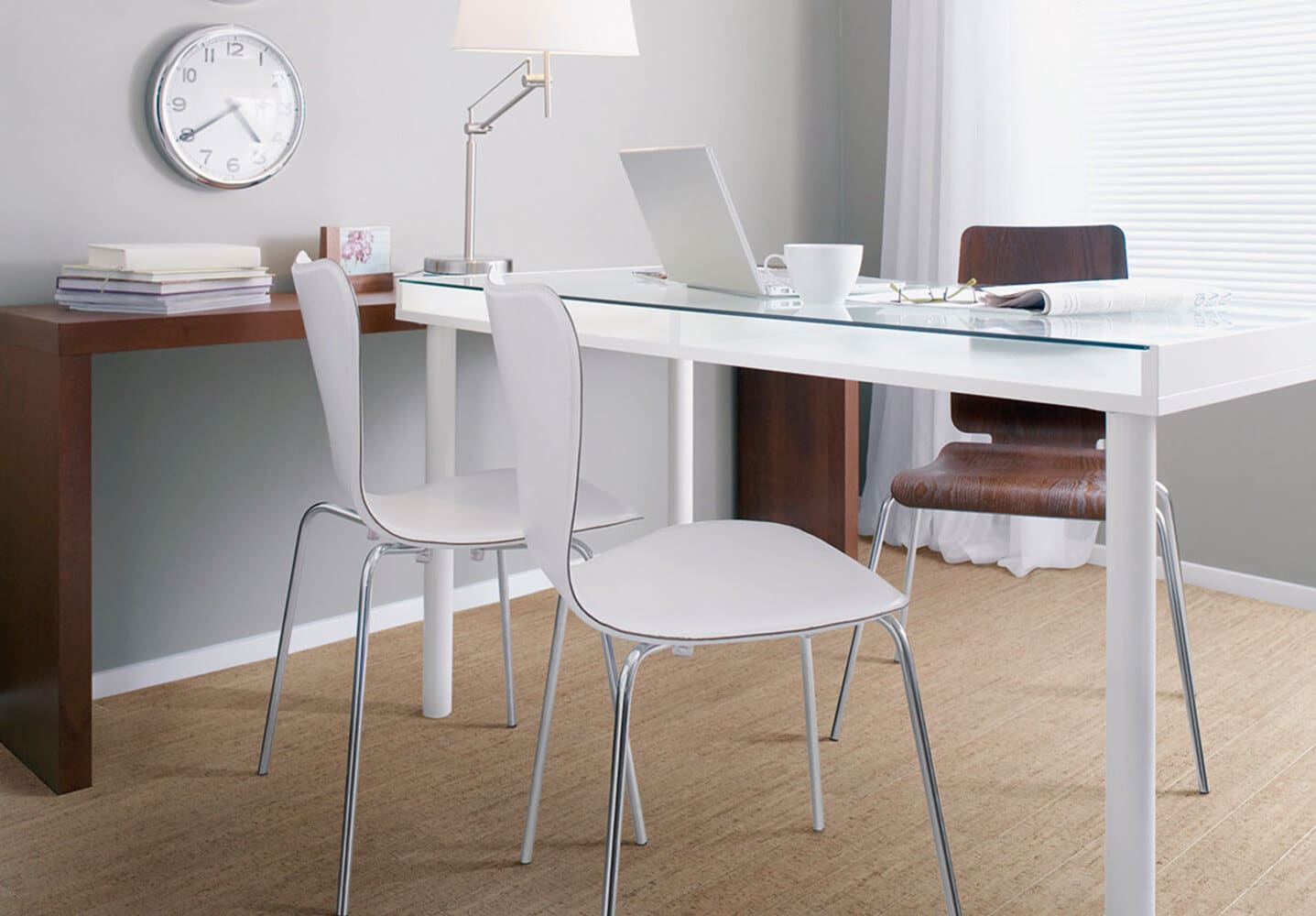 What you need to know about Amorim Wise
Amorim uses cork and recycled materials to produce WISE floors, which reduces the amount of waste produced by manufacturing.
Amorim WISE is made entirely out of natural materials and does not contain harmful chemicals like PVC.
Amorim uses water-based adhesives rather than oil-based ones, and all its products meet the strictest safety regulations. Amorim Wise floors are certified under several programs, including GreenGuard Gold, TUV, and LEED, meeting the strictest criteria regarding air quality.
Amorim WISE Flooring is entirely waterproof, childproof, pet-proof, and eco-friendly.
Cork is a renewable resource, making it a great alternative to other materials like laminate, vinyl, and linoleum.
The glueless installation allows for easy DIY installation. Amorim Wise offers a Floating solution for most of its products. (Cork Pure is a glue-down installation)
Amorim Wise Products
Cork Inspire 700 HRT

Cork Pure

Dekwall

Wood Inspire 700 HRT

Wood Inspire 700 SRT

Wood pro

Stone pure HRT
This article will discuss the two stocked items in Canada: Wood Inspire 700 SRT and Cork Inspire HRT. Both of these products are floating floors with an attached cork underlay. 
Amorim Wood Inspire 700 SRT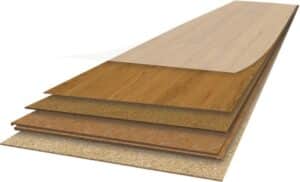 Amorim Wood Inspire 700 SRT Multilayered Cork structure:
SRT Non-PVC protective wear layer

Non-PVC Wood Printed Film visual

Cork inlay

Non- PVC Cork Rigid Core

Integrated Cork underlayment
Wood Inspire 700 SRT is a unique product that combines the best qualities of cork and Wood. Therefore, if you are looking for the beauty of wood with all the advantages of cork, this is the perfect flooring solution. This innovative solution uses cork as a base layer and provides a comfortable surface for people and pets. The Wood inspire 700 SRT has a pattern repeat of 19, making it almost impossible to see any repeat patterns. The wood-like appearance of the floor will enhance the beauty of any room. The micro-bevelled edge gives the flooring a more refined look.
The superior SRT wear layer provides tremendous resistance to wear and tear for commercial use.
The unique SRT (sound reduction technology) is obtained by combining three layers of cork: cork rigid core, cork inlay and cork underlay. The result is an attractive, comfortable and quiet floor. All products in this line offer a sound reduction of 17 dB.

The production process of Wood Inspire 700 SRT enables carbon sequestration of up to -93 kilograms per square meter. Therefore, this product helps to reduce greenhouse gas emissions while improving indoor air quality. This was evaluated by a study conducted by a consultancy firm, EY, back in 2019. This analysis was conducted with a cradle-to-grave approach, which considers all environmental effects throughout the product's lifespan.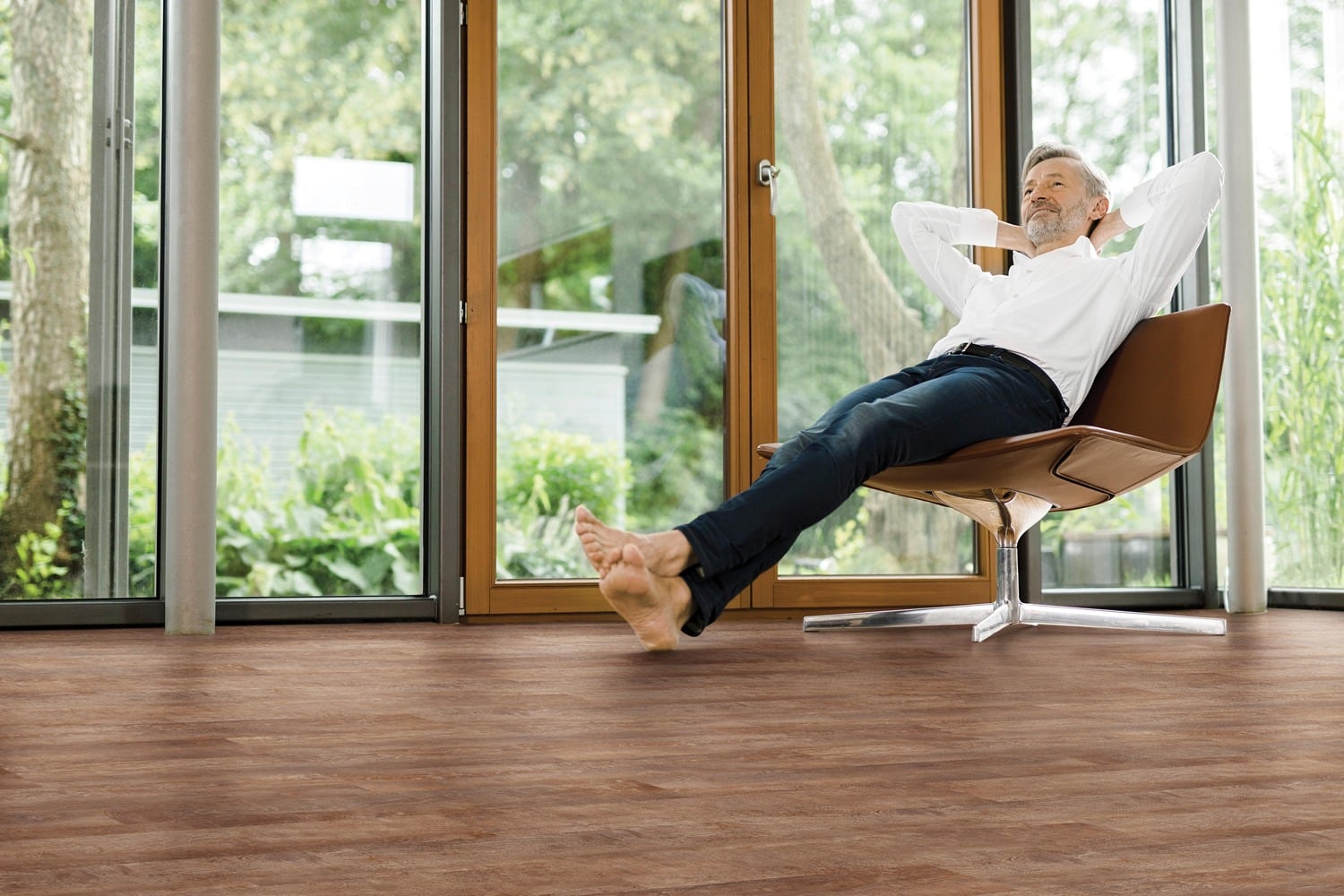 Warranty
Limited lifetime residential warranty and 10-year commercial warranty
Plank Dimension 
1225 x 190mm x 7.3mm | 48 15/64″ x 7 31/64″ x 9/32″
Amorim Cork Inspire 700 HRT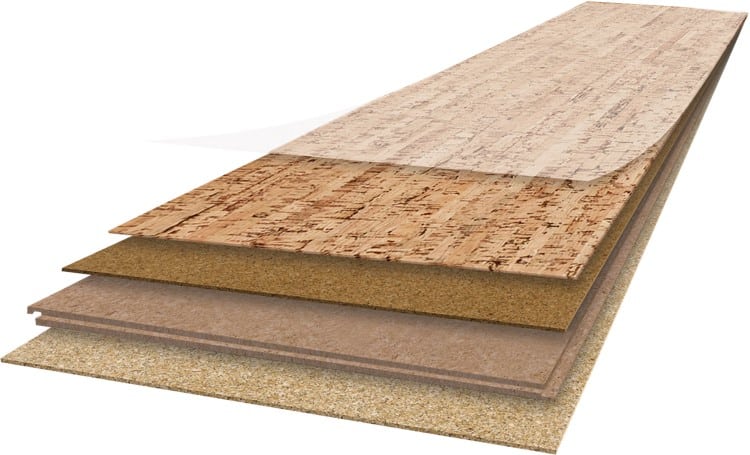 Amorim Cork Inspire 700 HRT Multilayered Cork structure:
HRT Non-PVC protective wear layer

Natural Cork Rigid Core

Cork inlay

Non-PVC Cork Rigid Core

Integrated Cork underlayment
Amorim Cork Inspire 700 HRT showcases cork's natural beauty. The product comprises 100% natural cork. Every board is unique; no pattern repeats with this natural product. This product is for those who appreciate the natural beauty of cork. 
HRT stands for High resistance technology. The HRT is a highly elastic resin, resulting in a natural and flexible surface with superior wear resistance. The HRT finish is resistant to micro scratches and provides a warm touch.

Amorim Cork Inspire 700 HRT enables carbon sequestration of up to -101kg per square meter. The product helps to reduce greenhouse gas emissions while improving indoor air quality. A study conducted in 2019 by a consultancy firm, EY, evaluated the environmental impacts of this product using a cradle-to-grave approach, which considers all environmental effects throughout the product's lifespan.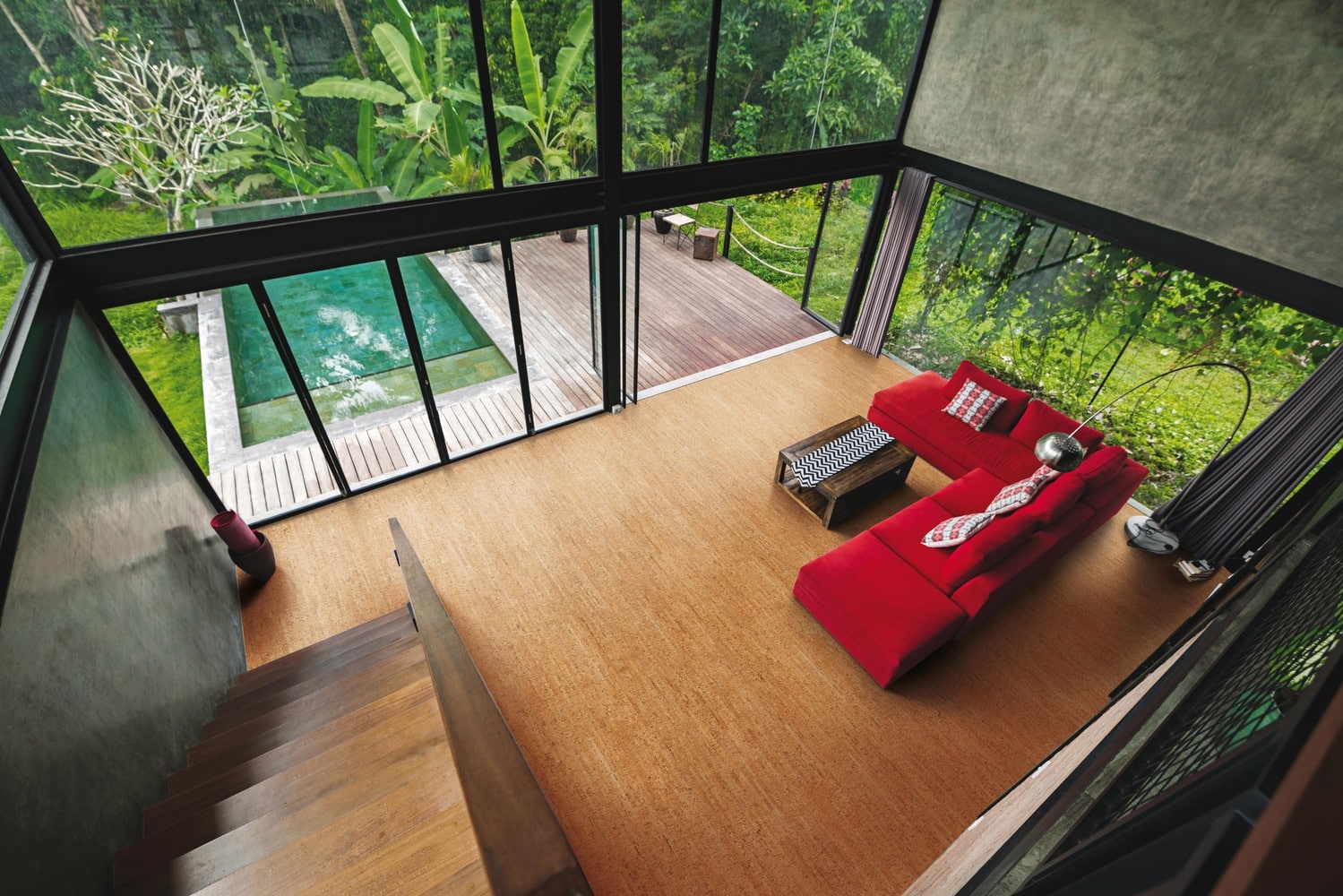 Warranty
Limited lifetime residential warranty and 10-year commercial warranty
Plank Dimension 
1225 x 190mm x 7mm | 48 15/64″ x 7 31/64″ x 9/32″
Maintenance
The maintenance of cork flooring is easy and requires minimal effort. It can be cleaned with a broom or a vacuum, which won't damage the finish. It's best to use a soft-bristled broom for quick sweeps and avoid harsh cleaning solutions. Instead, you can use a mild wood floor cleaner and a damp mop to remove dust and dirt.
Maintenance Checklist
Sweep or vacuum regularly to keep the floor clean

Use a mild neutral cleanser for deep cleaning

Do not use harsh chemicals on Amorim WISE wood floors.
Installation method
Amorim Wise flooring is a floating-style flooring solution. The floating installation method is easy to install and would give you tremendous application versatility. The planks have 2G locking mechanisms and don't need glue to adhere together. Before installing flooring, ensure that the surface is flat and dry. Be sure to acclimate your flooring product for at least 48 hours before installation.
Notable Environmental Certification
STüv-Proficert is a transnational certification for VOC emissions and air quality, certifying that a product complies with different national regulations such as AgBB (German), Belgian VOC Regulation, Finnish M1, Breeam, Leede V4 (Outside North America), RAL-UZ120 and Austrian Eco Label (guideline UZ56).
Blue Angel certifies products and services that follow strict environmental standards and is regarded as an authoritative source for a more sustainable lifestyle. Blue Angel products meet strict environmental performance standards, such as being PVC-free.
GreenGuard certification indicates environmentally friendly products. Amorim wise is awarded the GOLD certificate. Stricter certifications ensure that products are safe for use in schools and hospitals.

Key Considerations Choosing Amorin Wise Cork Flooring for your Home in Metro Vancouver.
1. Sustainability and Eco-Friendliness
With growing environmental concerns, selecting a business that prioritizes sustainability is crucial. Amorim Wise, known for its eco-friendly flooring solutions, sets a standard in this regard. Look for businesses that offer Amorim Wise or similar sustainable products, ensuring they are committed to reducing carbon footprints and promoting renewable resources. This not only supports environmental stewardship but also ensures that the products you choose for your home or office are health-conscious, with minimal ecological impact.
2. Product Quality and Durability
The quality of flooring is paramount. Amorim Wise floors are renowned for their durability and resilience, making them a wise investment. When choosing a business, assess their range of products for quality indicators such as wear resistance, longevity, and the ability to withstand different climatic conditions. High-quality flooring will not only enhance the appearance of your space but will also offer long-term cost-effectiveness due to its durability.
3. Design and Aesthetic Options
A significant advantage of Amorim Wise flooring is its wide range of design options. A business that offers a diverse selection of textures, colors, and patterns will provide more opportunities to find a product that matches your interior design vision. Whether you're looking for a contemporary feel or a classic look, the right business should offer a variety of styles to cater to different aesthetic preferences.
4. Health and Safety Standards
Given the increasing awareness of indoor air quality and its impact on health, choosing a flooring option that is hypoallergenic and free from harmful chemicals is essential. Amorim Wise products are known for their health and safety benefits. Ensure that the business you choose adheres to strict safety standards and offers products that contribute to a safer and healthier living environment.
5. Installation and Maintenance Services
The ease of installation and maintenance of flooring is an important consideration. Businesses offering professional installation services and guidance on proper maintenance will enhance the overall experience and ensure the longevity of your flooring. Look for companies that provide comprehensive services, from installation to aftercare, to ensure that your flooring remains in optimal condition.
6. Customer Reviews and Reputation
In today's digital age, customer reviews and the business's reputation play a crucial role in the decision-making process. Research the company's history, customer feedback, and industry standing to gauge their reliability and service quality. Positive reviews and a strong reputation in the market are indicators of a trustworthy and customer-oriented business.
7. Cost-Effectiveness and Value for Money
While quality and sustainability are important, cost-effectiveness remains a key consideration. Compare prices, but also consider the value you receive in terms of product longevity, environmental impact, and overall satisfaction. A business that offers competitive pricing without compromising on quality and ethical standards is ideal.

Choose Canadian Home Style for your Vancouver flooring projects.
Canadian Home Style is your family-owned and operated flooring retailer with a showroom in North Vancouver, BC. We provide full-service commercial and residential flooring solutions across the Lower Mainland with an extended warranty. We are proud members of the BC Floor Covering Association (BCFCA) and the National Wood Flooring Association (NWFA). In addition, we have won the Consumer's Choice Awards back-to-back in 2021, 2022, 2023, and 2024 for our commitment to business excellence. We are considered the highest-rated flooring experts in Metro Vancouver. We pride ourselves on holding the highest standards in the flooring industry. To uphold our high standards, we have a strict policy of "not selling or displaying any products that we wouldn't want in our own homes." Before we select a product to feature, we carefully assess product quality, off-gassing, warranties, and responsible sourcing. Book now to visit our North Vancouver flooring showroom; we can help you choose the perfect floor for your home or business.
Our mission is to help homeowners create beautiful homes that reflect their lifestyles while reducing energy consumption and conserving resources. We do this by providing our clients with innovative products, services and education. Our vision is to become Canada's leading sustainable flooring solutions provider. Our values include integrity, respect, honesty and transparency. These principles guide us as we strive to provide outstanding customer service.
We believe that our success depends on the success of our clients and their customers. We work hard to ensure our clients get the most out of their investments. Our team consists of highly skilled professionals who are experts in their field. They have years of experience working together and know what works and what doesn't. They understand how to solve problems quickly and efficiently. We are committed to providing excellent customer service. We listen carefully to our client's concerns and suggestions. We take these into account when planning and executing projects. We always strive to exceed expectations.
Why Choose Us?
1. Addressing Carbon Footprint and Climate Change: Canadian Home Style's cork flooring significantly contributes to reducing the carbon footprint. Cork, harvested from the Quercus suber (cork oak tree), is a natural carbon sink. This means that cork oak forests play a vital role in carbon sequestration, actively removing CO2 from the atmosphere, a key factor in mitigating climate change. By choosing cork flooring, you are directly supporting an industry that helps in balancing carbon levels in the environment.
2. The Role of Quercus Suber in Carbon Sequestration: The cork oak tree, Quercus suber, is remarkable for its ability to regenerate its bark, making cork a renewable and sustainable material. The harvesting process does not harm the tree, and it continues to absorb carbon throughout its lifespan, enhancing its role in carbon sequestration. This characteristic of cork makes it an environmentally responsible choice for flooring, directly contributing to global efforts against climate change.
3. Cork Flooring as a Part of Renewable Energy Initiatives: In the context of renewable energy, cork stands out as a material that embodies sustainability. The energy required to process cork is relatively low compared to other flooring materials, further underscoring its environmental friendliness. Canadian Home Style, by offering cork flooring, aligns with broader renewable energy initiatives, providing customers with a product that is both eco-friendly and energy-efficient.
4. The Aesthetic and Functional Benefits of Cork Flooring: Beyond its environmental benefits, cork flooring serves as an optical filter, providing a unique aesthetic appeal that can enhance any interior space. Its natural texture and warmth add an element of organic beauty to homes and offices. Furthermore, cork's natural properties include sound insulation and thermal regulation, making it a comfortable and practical choice for flooring.
5. Corticeira Amorim's Commitment to Quality and Sustainability: Canadian Home Style sources its cork flooring from Corticeira Amorim, a leader in the cork industry known for its commitment to quality and sustainability. This ensures that customers are getting a product that is not only environmentally responsible but also meets high standards of durability and design.
6. Economic Considerations and Price Elasticity of Demand: From an economic standpoint, the price elasticity of demand for cork flooring is an important consideration. As more consumers become aware of the environmental and aesthetic benefits of cork, the demand for this sustainable material is increasing. Canadian Home Style, by offering competitively priced cork flooring, meets this growing demand, providing an affordable yet high-quality option for environmentally conscious consumers.
7. Making an Informed Decision: Choosing cork flooring from Canadian Home Style is an informed decision that aligns with both environmental and personal values. It represents a choice that is conscious of the impact on climate change, supports renewable practices, and acknowledges the importance of carbon sequestration. Additionally, the economic sensibility and aesthetic qualities of cork flooring make it a pragmatic and appealing choice for modern consumers.
Services We Offer:
Main Areas of Service in British Columbia:
North Vancouver
West Vancouver
Burnaby
Coquitlam
Squamish
Whistler
Helpful Resources
Frequently Asked Questions
Is Amorim WISE cork flooring waterproof?
Yes, Amorim Wise cork flooring is 100% waterproof. 
Where is Amorim cork flooring made?
Portugal 
How to clean cork floors?
You can use a mixture of vinegar and water for cleaning cork floors. Amorim also offers soft and spray cleaner products with mild detergents that are safe to use on their floors.
Is cork flooring suitable for kitchens?
Cork flooring is great for kitchen floors because it is durable, easy to clean, and resistant to stains. Also, if you spend much time in your kitchen cooking, you will appreciate the comfort of cork flooring.
How do you install cork flooring on stairs?
You need nosing for your stairs. You need to glue the cork planks to the stairs.
Is cork flooring suitable for basements?
Cork flooring is excellent for basements because it provides insulation from moisture and cold.
How long do cork floors last?
You can expect up to 50 years from your Cork floors. 
What goes under Amorim Wise cork flooring?
You don't need to put anything under your Amorim Wise floors.; the cork underlay is attached. You can always add a 6-mil poly as your vapour barrier for areas where constant moisture can be an issue.
How to Repair Your Amorim WISE 2G Floating Floor?
There are two ways of repairing your Amorim Wise 2G floors as follows:
The easy way: You can replace a plank in the middle by cutting the tong and glueing it back. It would be best if you put weight on the replaced plank allowing the glue to bind. This doesn't void your product warranty by Amorim Wise.
The hard way: You can open up the floor from the nearest wall, replace the damaged plank, and then reinstall the floor. This is the recommended way of replacing a board in a floating-style installation based on North American flooring associations' guidelines. Please contact your local flooring dealer for advice on this matter.
Did you miss our last flooring blog? You can read it here: