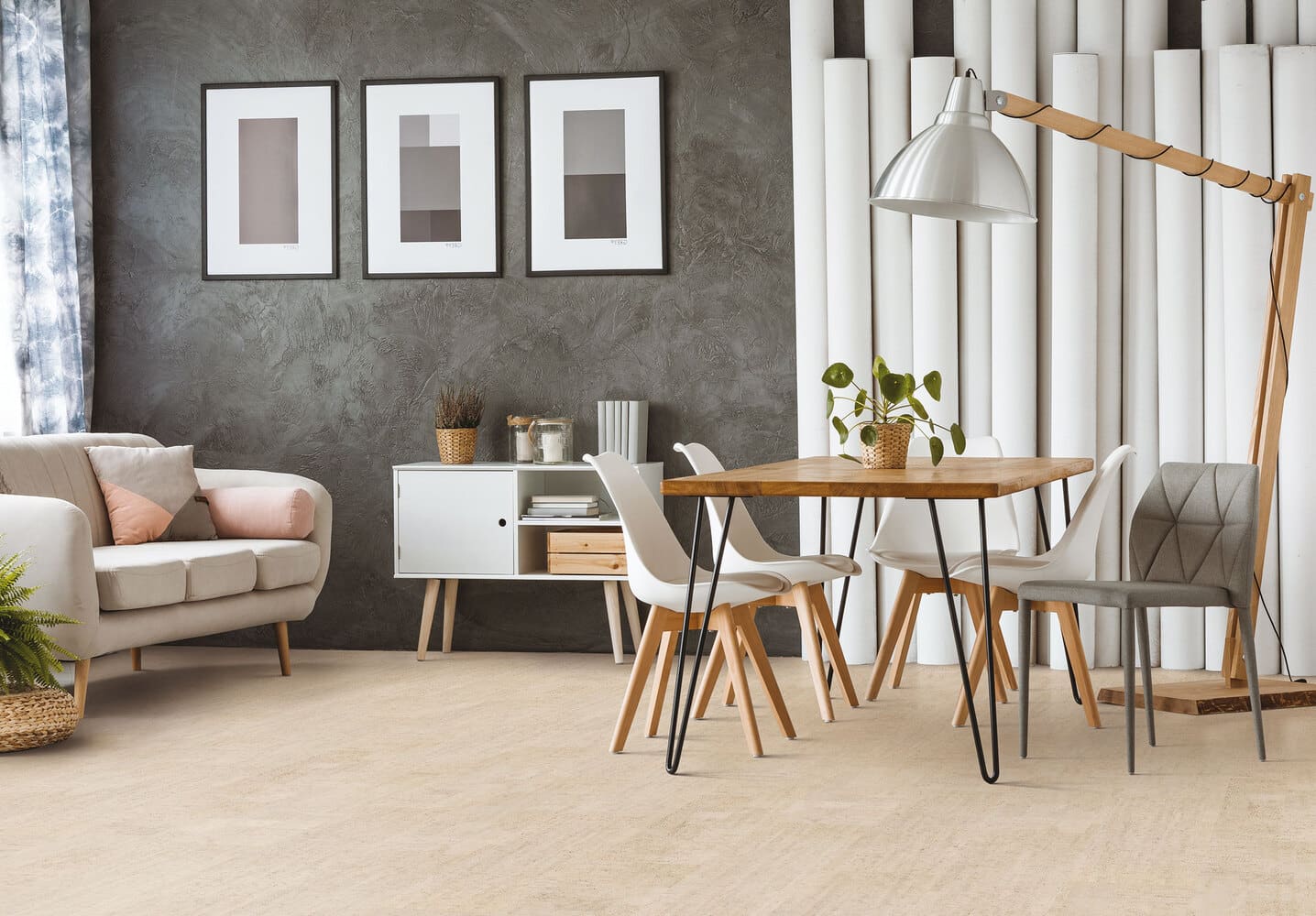 Amorim Wise Flooring Solutions
Amorim has been a family-owned and operated business since it was founded in 1870. It started as a small workshop making cork products. Over the years, Amorim has grown into the world's leader in the cork industry. In 1978, the firm began utilizing by-products from its cork stopper manufacturing process to produce flooring, another significant milestone in its long-term sustainable development strategy. The latest Amorim cork flooring products result from a perfect combination of nature and technology. The company is now equipped with 10 million square meters of manufacturing capacity. Amorim is the world's largest cork producer, and its products are sold in over 100 countries.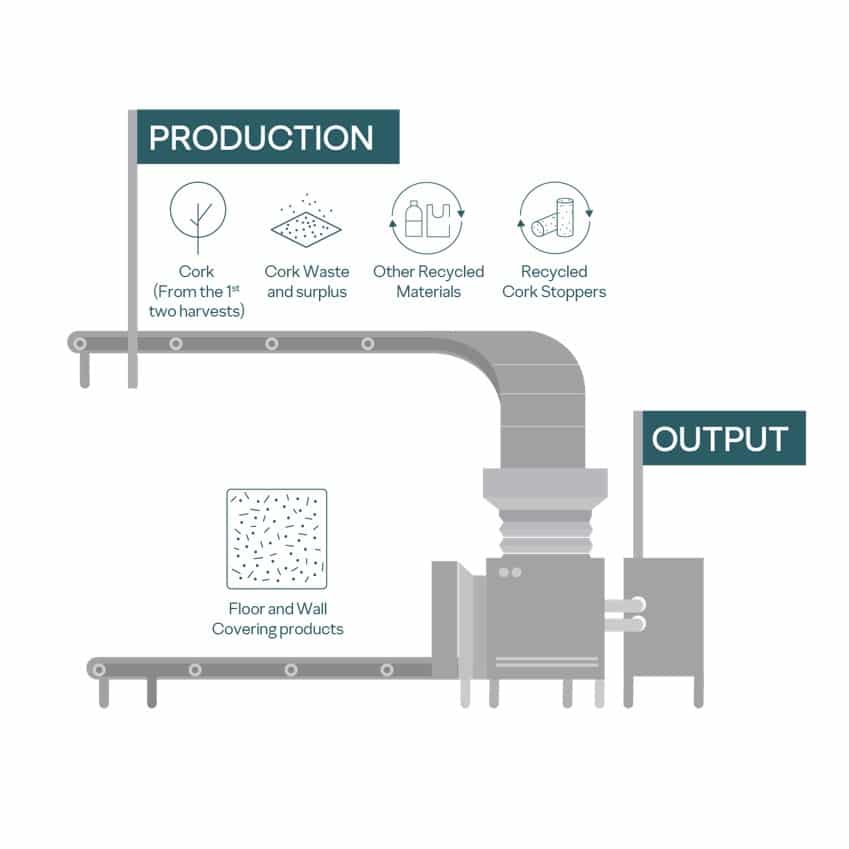 Amorim's products are made from high-quality cork sustainably harvested from Portuguese forests. The company is committed to environmental responsibility, making its products recyclable and biodegradable.
Amorim's Wise flooring line is a new generation of sustainable flooring made from cork. Consider Amorim Wise floor covering if you're looking for a long-lasting, eco-friendly option for your home. These made-in-Portugal flooring products are made 100% from cork and recycled PET plastic bottles. They are not just eco-friendly products with a gorgeous appearance but also durable, making them an excellent choice for high-traffic areas.
Before we get into Amorim flooring products and why this is our preferred cork flooring brand, let's review the cork flooring benefits in general:
Quite and soundproof

Extra Comfort

Warm under your feet

Healthy

Sustainable

Anti-slip

Easy to install

Easy to maintain

Highly durable

Optimal temperature achievement year-round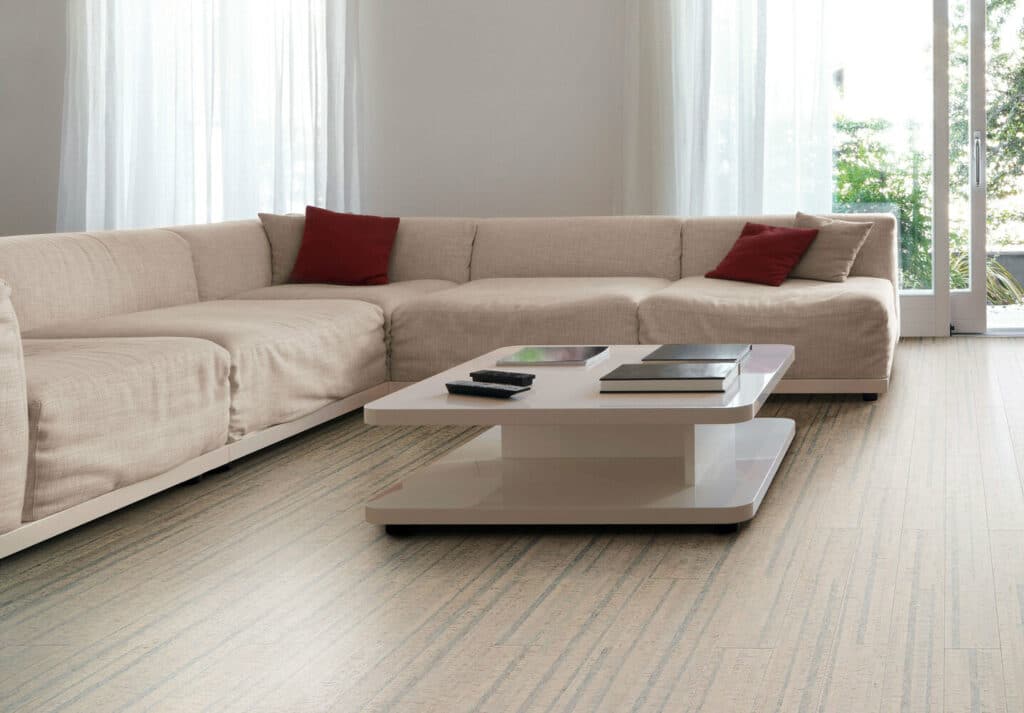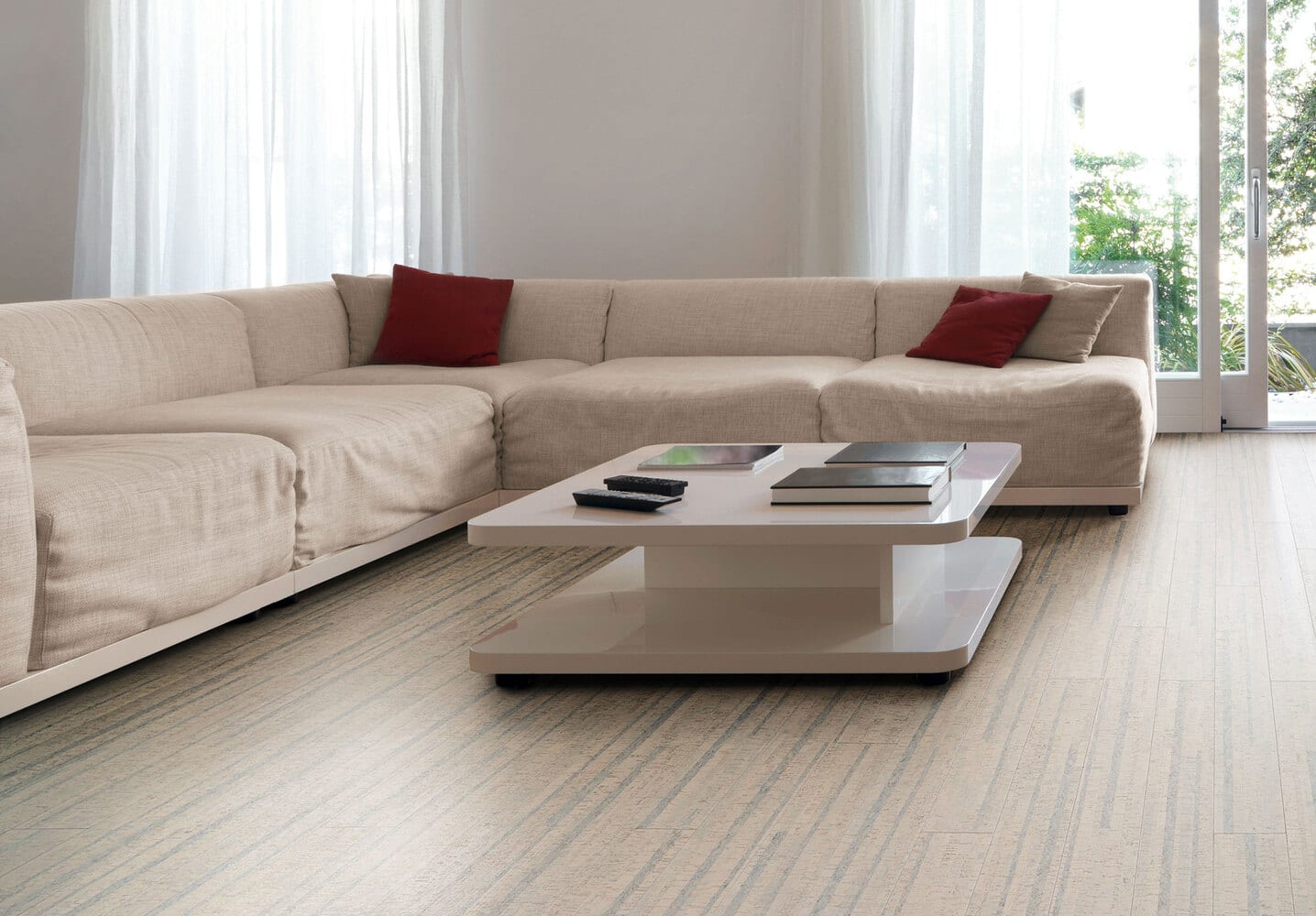 The sustainability of cork has been well-documented. The trees are not harmed in the process, as only the bark is harvested. Cork trees can live up to 200 years and continue to produce cork throughout their lifetime.
Cork is one of the most versatile materials in many applications, such as furniture, packaging, insulation, construction, building products, and more. The benefits of cork include being naturally flexible, resistant to fire and water, anti-bacterial, eco-friendly, hypoallergenic and easy to clean. It is a renewable resource that does not require pesticides, fertilizers or chemicals; it grows organically and is harvested without harming animals or humans. Cork is an excellent insulator, keeping rooms cooler in the summer and warmer in the winter. This helps to reduce energy bills and provides year-round comfort.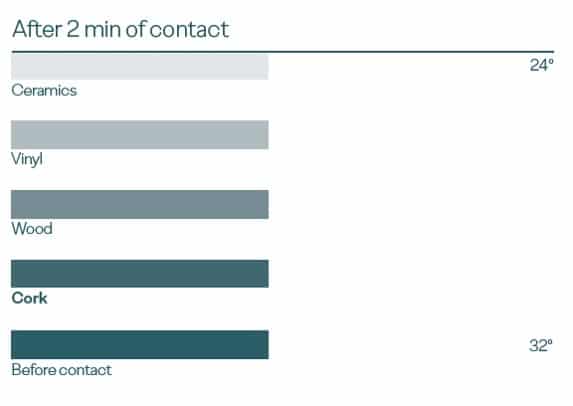 Cork's cellular structure is unique in providing cork with lightness and compressibility while being springy. This means that the surface feels comfortable to walk on and is easy on the feet, knees and back.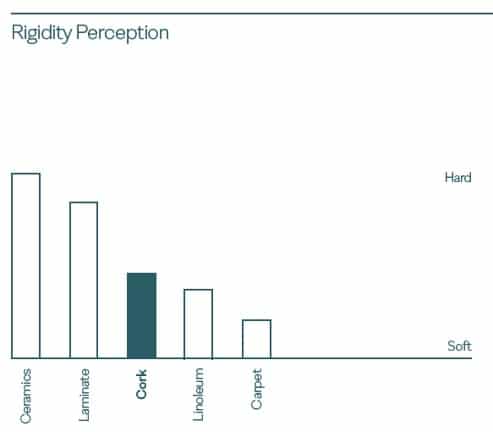 The same light, bouncy quality that makes cork comfortable to walk on also aids soundproofing. Cork absorbs noise more efficiently than any other known material, and it does this by trapping air inside its cells. When you hit something or make a loud noise, the shockwaves travel through the air until they reach the cork cells. The trapped air in the cork's structure absorbs some sound waves and prevents them from passing through the wall.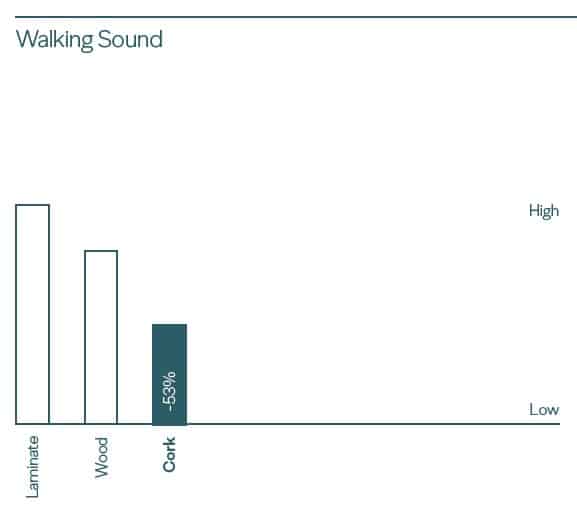 Amorim Cork flooring
Amorim offers their products under two main brands as follows:
In this article, we will focus on the Amorim Wise line of flooring products.
Amorim Wise
Amorim Wise cork flooring is the purest result of a circular economy model that seeks to turn waste and used corks into valuable and sustainable materials. Amorim Wise is the world's first 100% PVC-free cork flooring product. Amorim Wise Flooring is made of 100% natural and renewable cork that provides superior comfort and thermal and acoustical insulation. These floors are 100% recyclable, biodegradable, and hypoallergenic. 
In addition to cork, Amorim Wise uses recycled PET water bottles in their production process. Every 11 square feet of Amorim Wise cork flooring product would contribute to recycling up to 14 half-litre water bottles.
The superior resistance technology wear layer delivers a long life cycle and exceptional durability. This material offers superior comfort, high mechanical strength, and stain-resistant properties to ensure your floor stays good for years!
Amorim Wise has a Cork Rigid Core for reinforced dimensional stability. The superior technology wear layer is highly resistant to indentations, scratches, and everyday wear and tear. The unique, multilayered structure of Amorim Wise cork flooring also provides excellent thermal and acoustical insulation.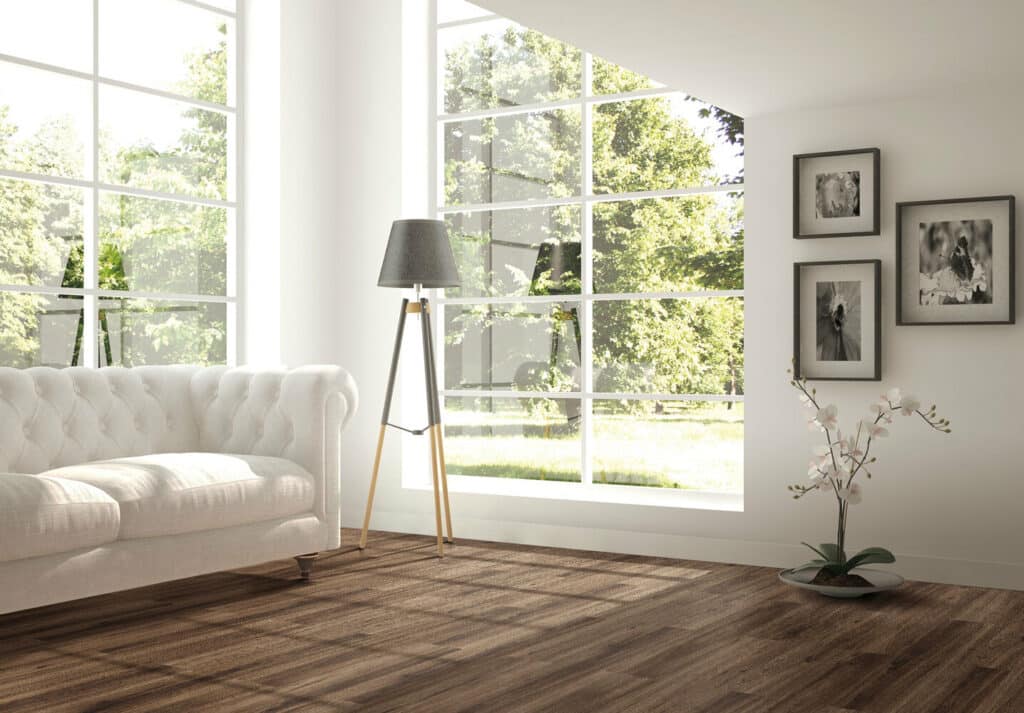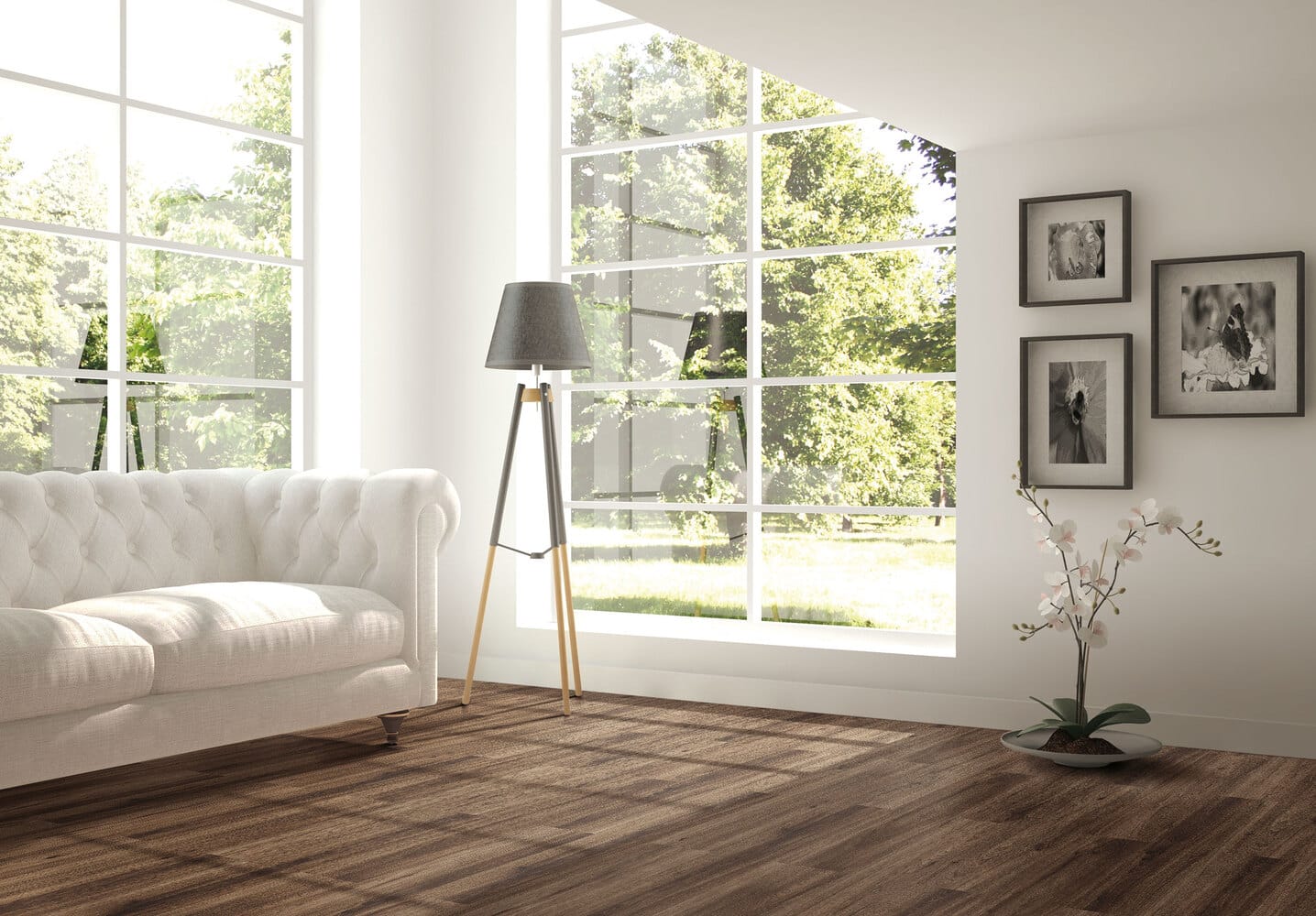 Key Benefits of Amazing Amorim Cork Flooring
Made from cork and recycled PET water bottles
100% PVC free
Remarkable negative Carbon balance
100% recyclable
Waterproof cork flooring
Natural thermal insulation
Impact resistance
Quite – Noise reduction
Improved air quality
Stain resistance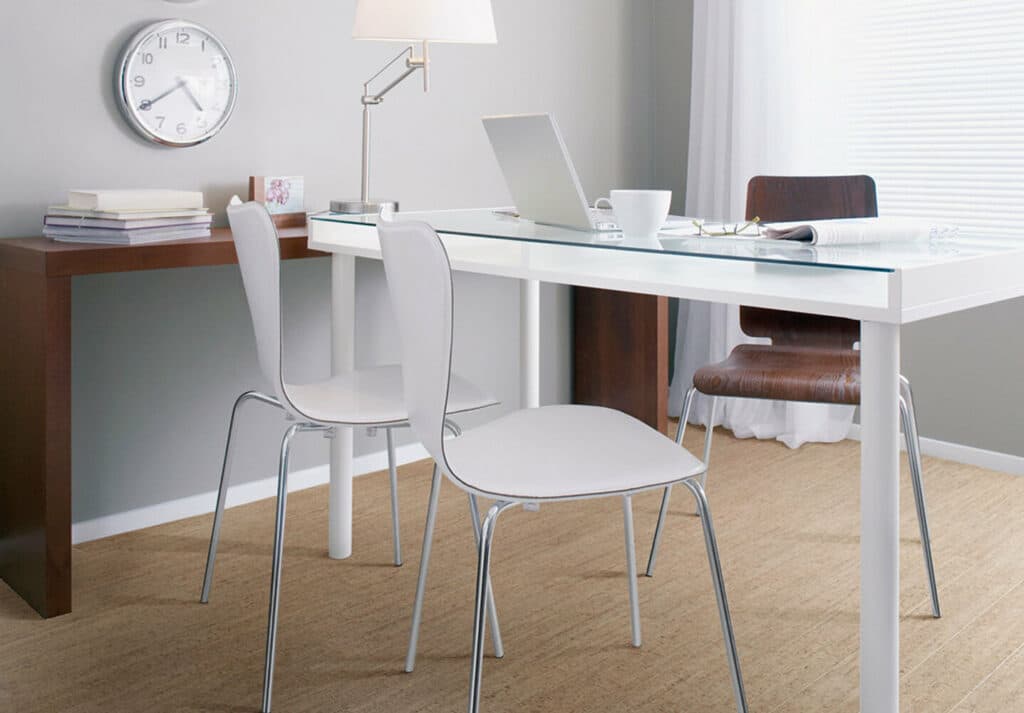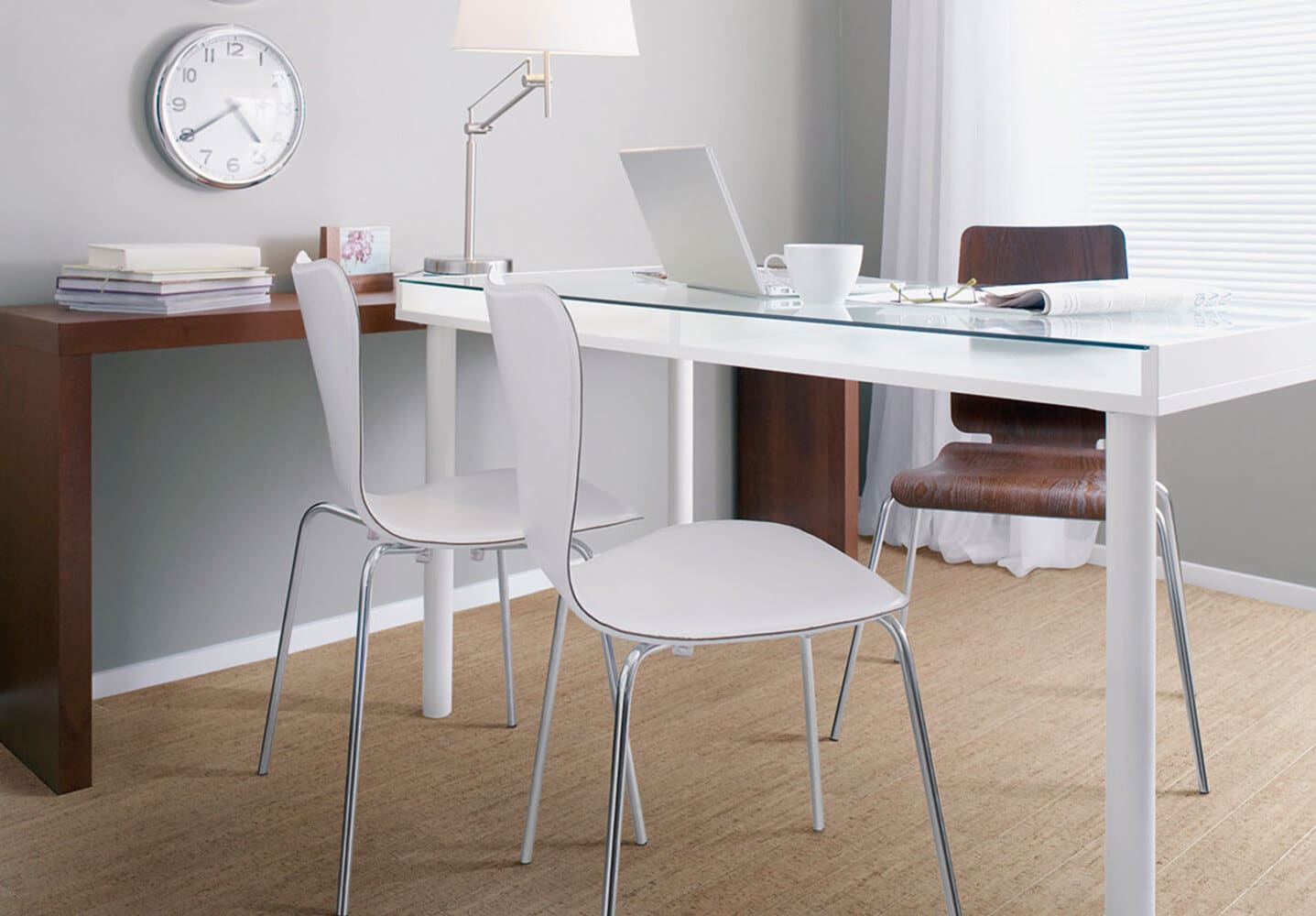 What you need to know about Amorim Wise
Amorim uses cork and recycled materials to produce WISE floors, which reduces the amount of waste produced by manufacturing.
Amorim WISE is made entirely out of natural materials and does not contain harmful chemicals like PVC.
Amorim uses water-based adhesives rather than oil-based ones, and all its products meet the strictest safety regulations. Amorim Wise floors are certified under several programs, including GreenGuard Gold, TUV, and LEED, meeting the strictest criteria regarding air quality.
Amorim WISE Flooring is entirely waterproof, childproof, pet-proof, and eco-friendly.
Cork is a renewable resource, making it a great alternative to other materials like laminate, vinyl, and linoleum.
The glueless installation allows for easy DIY installation. Amorim Wise offers a Floating solution for most of its products. (Cork Pure is a glue-down installation)
Amorim Wise Products
Cork Inspire 700 HRT

Cork Pure

Dekwall

Wood Inspire 700 HRT

Wood Inspire 700 SRT

Wood pro

Stone pure HRT
This article will discuss the two stocked items in Canada: Wood Inspire 700 SRT and Cork Inspire HRT. Both of these products are floating floors with an attached cork underlay. 
Amorim Wood Inspire 700 SRT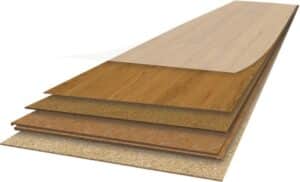 Amorim Wood Inspire 700 SRT Multilayered Cork structure:
SRT Non-PVC protective wear layer

Non-PVC Wood Printed Film visual

Cork inlay

Non- PVC Cork Rigid Core

Integrated Cork underlayment
Wood Inspire 700 SRT is a unique product that combines the best qualities of cork and Wood. Therefore, if you are looking for the beauty of wood with all the advantages of cork, this is the perfect flooring solution. This innovative solution uses cork as a base layer and provides a comfortable surface for people and pets. The Wood inspire 700 SRT has a pattern repeat of 19, making it almost impossible to see any repeat patterns. The wood-like appearance of the floor will enhance the beauty of any room. The micro-bevelled edge gives the flooring a more refined look.
The superior SRT wear layer provides tremendous resistance to wear and tear for commercial use.
The unique SRT (sound reduction technology) is obtained by combining three layers of cork: cork rigid core, cork inlay and cork underlay. The result is an attractive, comfortable and quiet floor. All products in this line offer a sound reduction of 17 dB.

The production process of Wood Inspire 700 SRT enables carbon sequestration of up to -93 kilograms per square meter. Therefore, this product helps to reduce greenhouse gas emissions while improving indoor air quality. This was evaluated by a study conducted by a consultancy firm, EY, back in 2019. This analysis was conducted with a cradle-to-grave approach, which considers all environmental effects throughout the product's lifespan.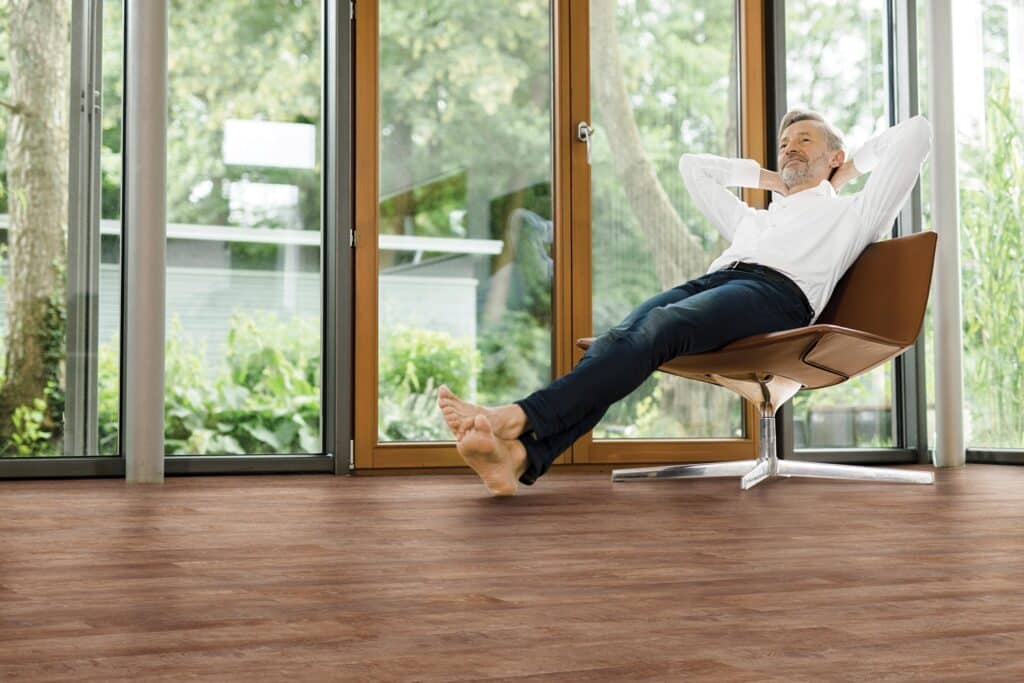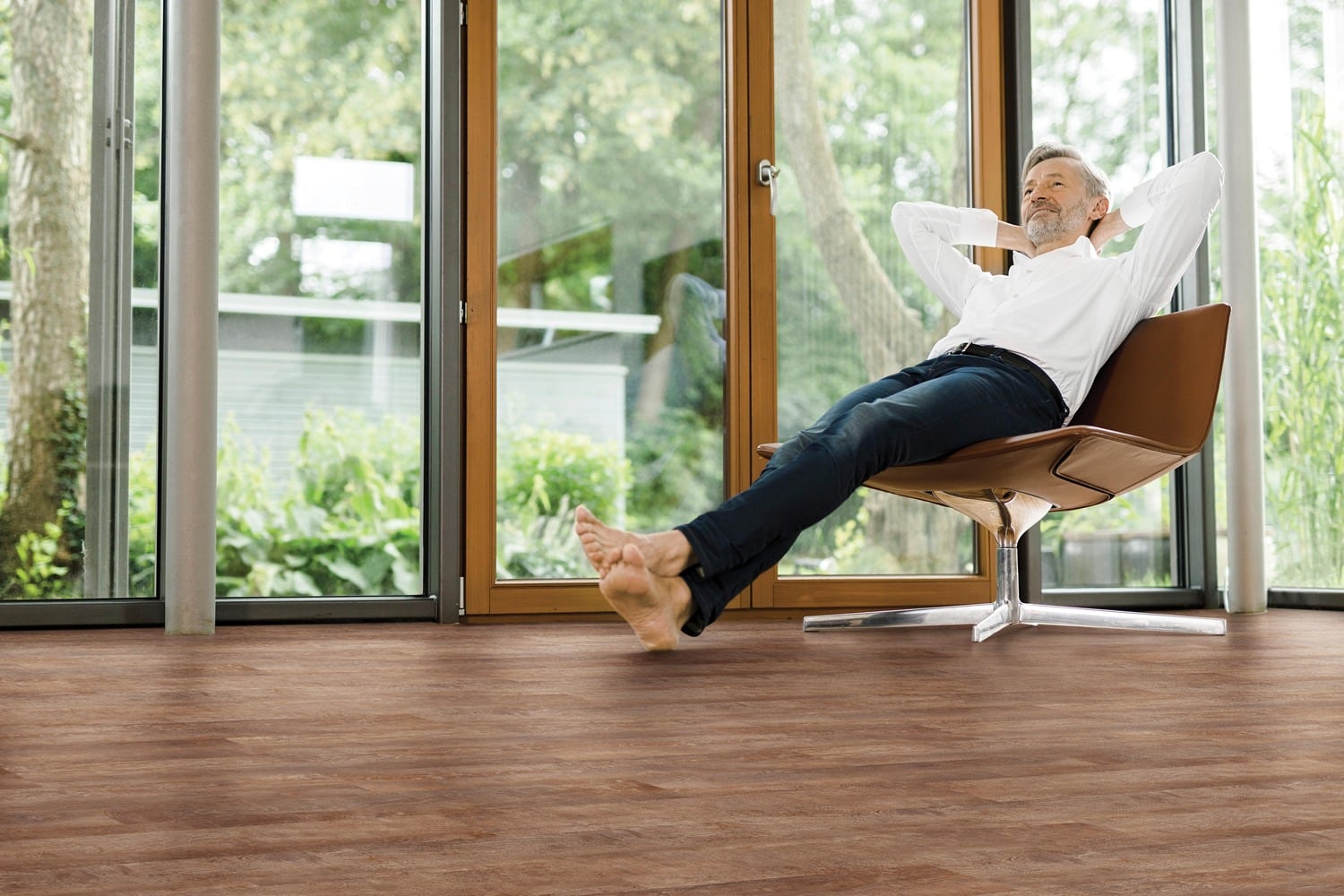 Warranty
Limited lifetime residential warranty and 10-year commercial warranty
Plank Dimension 
1225 x 190mm x 7.3mm | 48 15/64″ x 7 31/64″ x 9/32″
Amorim Cork Inspire 700 HRT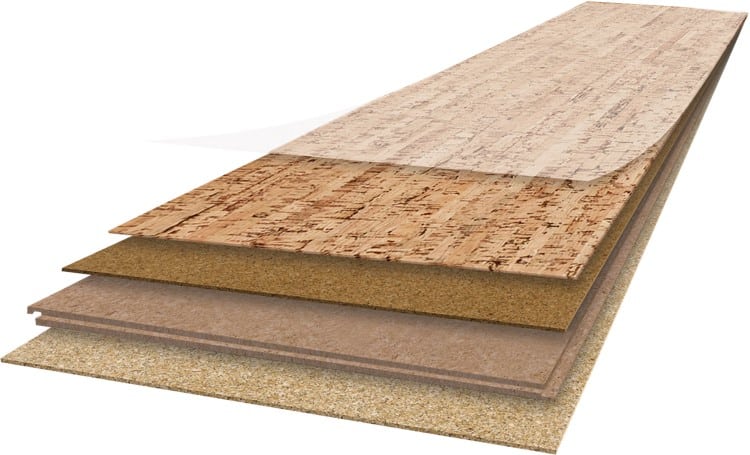 Amorim Cork Inspire 700 HRT Multilayered Cork structure:
HRT Non-PVC protective wear layer

Natural Cork Rigid Core

Cork inlay

Non-PVC Cork Rigid Core

Integrated Cork underlayment
Amorim Cork Inspire 700 HRT showcases cork's natural beauty. The product comprises 100% natural cork. Every board is unique; no pattern repeats with this natural product. This product is for those who appreciate the natural beauty of cork. 
HRT stands for High resistance technology. The HRT is a highly elastic resin, resulting in a natural and flexible surface with superior wear resistance. The HRT finish is resistant to micro scratches and provides a warm touch.

Amorim Cork Inspire 700 HRT enables carbon sequestration of up to -101kg per square meter. The product helps to reduce greenhouse gas emissions while improving indoor air quality. A study conducted in 2019 by a consultancy firm, EY, evaluated the environmental impacts of this product using a cradle-to-grave approach, which considers all environmental effects throughout the product's lifespan.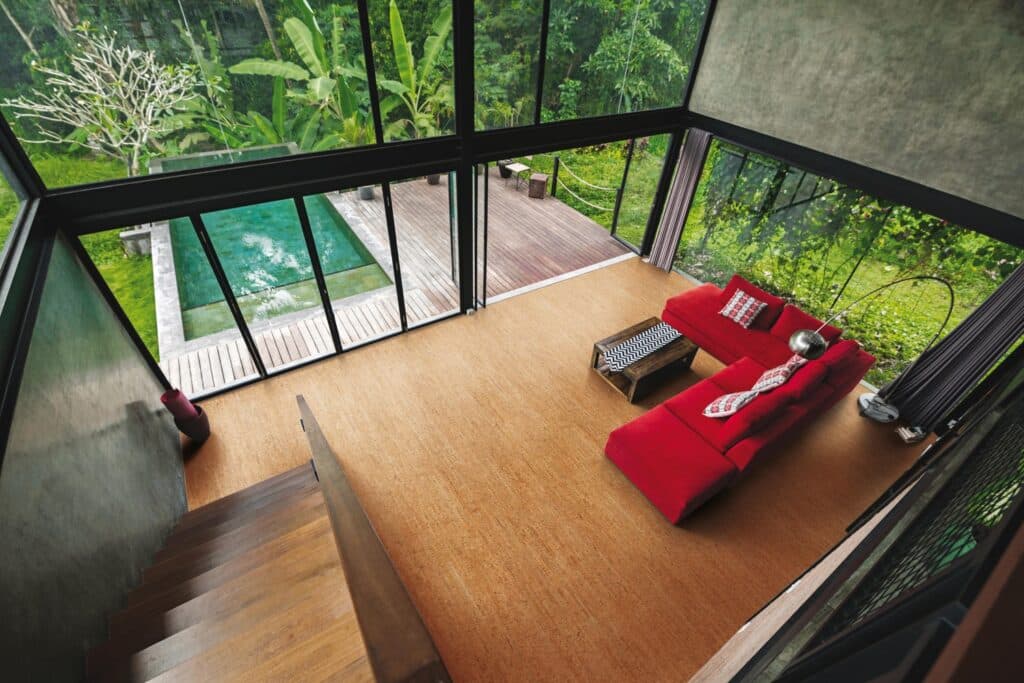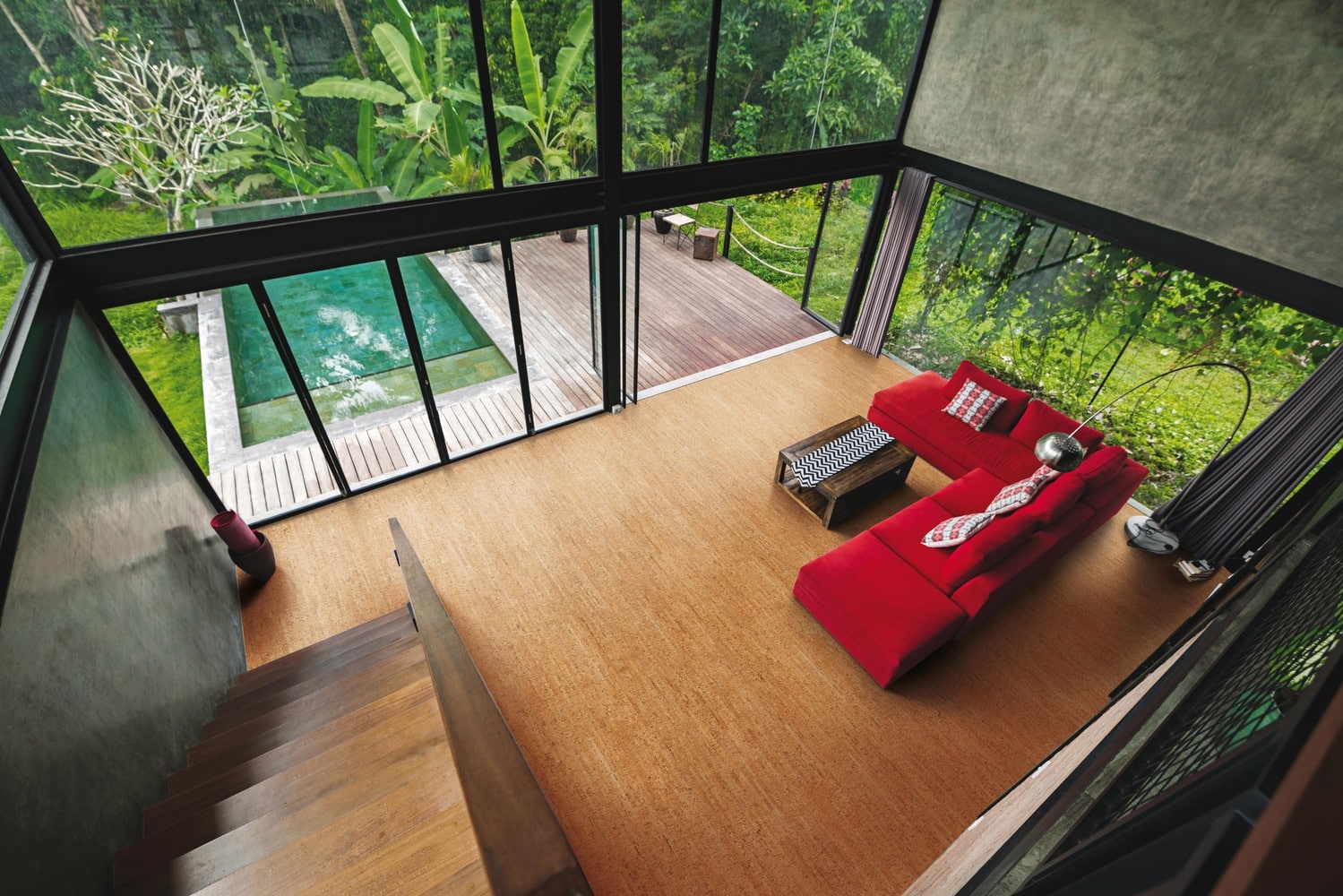 Warranty
Limited lifetime residential warranty and 10-year commercial warranty
Plank Dimension 
1225 x 190mm x 7mm | 48 15/64″ x 7 31/64″ x 9/32″
Maintenance
The maintenance of cork flooring is easy and requires minimal effort. It can be cleaned with a broom or a vacuum, which won't damage the finish. It's best to use a soft-bristled broom for quick sweeps and avoid harsh cleaning solutions. Instead, you can use a mild wood floor cleaner and a damp mop to remove dust and dirt.
Maintenance Checklist
Sweep or vacuum regularly to keep the floor clean

Use a mild neutral cleanser for deep cleaning

Do not use harsh chemicals on Amorim WISE wood floors.
Installation method
Amorim Wise flooring is a floating-style flooring solution. The floating installation method is easy to install and would give you tremendous application versatility. The planks have 2G locking mechanisms and don't need glue to adhere together. Before installing flooring, ensure that the surface is flat and dry. Be sure to acclimate your flooring product for at least 48 hours before installation.
Notable Environmental Certification
STüv-Proficert is a transnational certification for VOC emissions and air quality, certifying that a product complies with different national regulations such as AgBB (German), Belgian VOC Regulation, Finnish M1, Breeam, Leede V4 (Outside North America), RAL-UZ120 and Austrian Eco Label (guideline UZ56).
Blue Angel certifies products and services that follow strict environmental standards and is regarded as an authoritative source for a more sustainable lifestyle. Blue Angel products meet strict environmental performance standards, such as being PVC-free.
GreenGuard certification indicates environmentally friendly products. Amorim wise is awarded the GOLD certificate. Stricter certifications ensure that products are safe for use in schools and hospitals.

Canadian Home Style is your family-owned and operated flooring retailer with a showroom in North Vancouver, BC. We provide full-service commercial and residential flooring solutions across the Lower Mainland with an extended warranty. We are proud members of the BC Floor Covering Association (BCFCA) and the National Wood Flooring Association (NWFA). In addition, we have won the Consumer's Choice Awards back-to-back in 2021 and 2022 for our commitment to business excellence. We are considered the highest-rated Vancouver flooring experts. We pride ourselves on holding the highest standards in the flooring industry. To uphold our high standards, we have a strict policy of "not selling or displaying any products that we wouldn't want in our own homes." Before we select a product to feature, we carefully assess product quality, off-gassing, warranties, and responsible sourcing. Book now to visit our North Vancouver showroom; we can help you choose the perfect floor for your home or business.
Canadian Home Style is your exclusive dealer of Amorim Wise flooring in North Shore. We are a proud partner of Amorim Wise cork flooring, as their environmental and sustainable approach matches ours. Come and see our full display of this beautiful line of flooring, and we can tell you all about it. Our knowledgeable and experienced staff will work with you to find the perfect Amorim Wise flooring solution for your home. We are dedicated to providing you with the highest quality service in the flooring industry.
Services We Offer:
Main Areas of Service in British Columbia:
North Vancouver
West Vancouver
Burnaby
Coquitlam
Squamish
Whistler
Helpful Resources
Frequently Asked Questions
Is Amorim WISE cork flooring waterproof?
Yes, Amorim Wise cork flooring is 100% waterproof. 
Where is Amorim cork flooring made?
Portugal 
How to clean cork floors?
You can use a mixture of vinegar and water for cleaning cork floors. Amorim also offers soft and spray cleaner products with mild detergents that are safe to use on their floors.
Is cork flooring suitable for kitchens?
Cork flooring is great for kitchen floors because it is durable, easy to clean, and resistant to stains. Also, if you spend much time in your kitchen cooking, you will appreciate the comfort of cork flooring.
How do you install cork flooring on stairs?
You need nosing for your stairs. You need to glue the cork planks to the stairs.
Is cork flooring suitable for basements?
Cork flooring is excellent for basements because it provides insulation from moisture and cold.
How long do cork floors last?
You can expect up to 50 years from your Cork floors. 
What goes under Amorim Wise cork flooring?
You don't need to put anything under your Amorim Wise floors.; the cork underlay is attached. You can always add a 6-mil poly as your vapour barrier for areas where constant moisture can be an issue.
How to Repair Your Amorim WISE 2G Floating Floor?
There are two ways of repairing your Amorim Wise 2G floors as follows:
The easy way: You can replace a plank in the middle by cutting the tong and glueing it back. It would be best if you put weight on the replaced plank allowing the glue to bind. This doesn't void your product warranty by Amorim Wise.
The hard way: You can open up the floor from the nearest wall, replace the damaged plank, and then reinstall the floor. This is the recommended way of replacing a board in a floating-style installation based on North American flooring associations' guidelines. Please contact your local flooring dealer for advice on this matter.
Did you miss our last flooring blog? You can read it here: