What Factors to Consider Before Choosing Wall-to-Wall Carpeting for Your Vancouver Home 
When choosing wall-to-wall carpeting, there are many factors to consider. These include cost, durability, ease of installation, and even style. But before making any decisions, you should also consider how well each type of carpet will fit your home's décor.
Many types of carpets are available, from traditional to contemporary styles. Each has its pros and cons, so make sure you choose wisely. In this post, we'll go over the top five factors to consider when selecting wall-to-wall flooring.
Here are some reasons why you might want to consider wall-to-wall carpeting.
1. It's easy to clean.
You don't have to worry about scrubbing dirt from grout lines or cleaning up spills. Just vacuum regularly and spot-treat stains as needed.
2. It's comfortable.
If you've kids or pets, carpets offer a softer landing than hard floors. Plus, they help keep rooms cooler in summer and warmer in winter.
3. It's versatile.
Wall-to-wall carpet makes it easier to change decorating themes without ripening old rugs. If you decide to go bolder with colour later, you can easily swap out your current carpet for something else.
4. It's resilient.
Carpets are typically made from durable materials that can withstand wear and tear so that they won't show signs of age as quickly as other flooring options.
5. It's affordable.
Carpet is generally much cheaper than wood or tile, but you don't have to sacrifice quality for budget. You can find a variety of carpets in different price ranges.
6. It's quieter.
Carpeting absorbs sound, which helps reduce noise levels throughout your home. This is especially handy if you have kids or pets running around or loud neighbours nearby.
7. It adds warmth and colour to any room.
Carpeting can be as stylish as hard surface flooring and comes in various colours and patterns. Wall-to-wall carpet adds colour to your room while also providing a cozy feeling.

What factors do you need to consider before choosing wall-to-wall carpeting?
Colour of the carpet
The first thing that you must know is how much space you want to cover. The size of your room determines the area covered by the carpet. It would be best if you also thought about the colour of the carpet. You should buy neutral colours like white, cream, tan, gray, etc. They look great in any home décor. In addition, these colours don't show dirt easily.
If you plan to install wall-to-wall carpeting in your living room, make sure that you pick a carpet that fits well with the rest of the furniture. A big mistake people often make is installing wall-to-wall carpeting that doesn't match their sofa or chairs. This makes the whole room look messy and uncoordinated.
Carpet style and pile
The other factor you need to consider is the style and pile of the carpet. Different types of carpets, like Berber, shag, and cut-pile carpets, offer different levels of comfort. Also, think about the durability of each type of carpet. Berber carpets are highly durable and show excellent anti-crush properties, while shag and cut-pile carpets are more prone to crushing.
The fibre of the Carpet
It is also essential to consider the material used in making the carpet. Some materials are made from natural fibres, while others are synthetic ones. Natural fibres such as wool tend to last longer than synthetic materials. Also, if you live in cold climates, you should opt for wool carpets rather than nylon ones. Wool carpets are warmer and keep you warm during winter months.
Durability and Maintenance
Apart from the type of material, it is also important to consider how durable your wall-to-wall carpeting will be. If you plan to keep it for a long time, go for high-quality carpets that are stain-resistant and easy to clean.
The density of a carpet tells us how closely the individual fibres are spaced. Higher densities mean the fibres are closer together, making the carpet stronger and less susceptible to wear. Carpets with high densities tend to last longer than ones with low densities.
Face weight refers to the weight of a single square yard of carpet. A carpet with a lower face weight is lighter than one with a higher face weight. A carpet with a higher face weight tends to be softer and more comfortable to walk on. Carpets with a higher face weight generally cost more than those with a lower face weight.
Tuft twist refers to the way that the individual fibres are twisted. The higher the twist, the more durable the carpet will be. Carpets with higher twists tend to be harder to wear than those with lower twists.
When buying carpets, it would be best to look at all three of these factors. Choose a carpet with a higher density, a higher face weight and a higher tuft twist.
Stain protection is also another critical factor to consider when choosing carpets. Some carpets have unique treatments that make them resistant to stains and spills. This helps to keep your carpets looking new and clean for longer. Especially for heavy traffic areas, it is recommended to buy carpets with stain protection as they are more durable and easier to clean.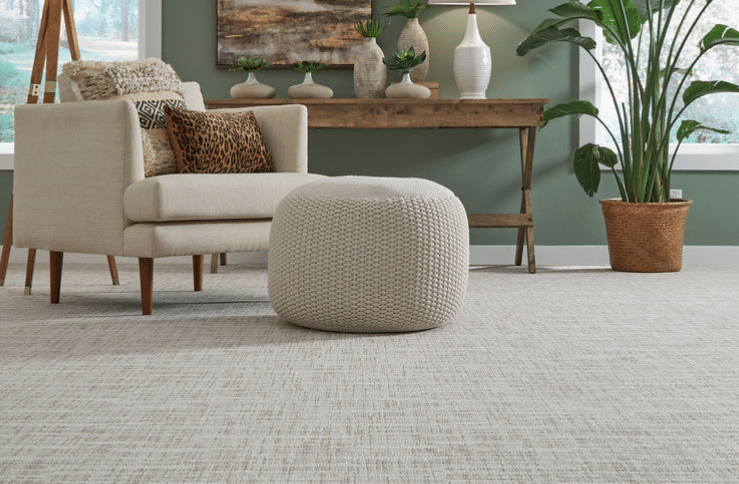 Wall to Wall Carpet Warranty
Carpet warranties are one way to determine whether a particular carpet brand is worth buying. Carpet warranties are typically offered by manufacturers, retailers, and installers. They usually cover a specific number of years, such as 10 or 20, and offer some guarantee against damage caused by wear and tear. For example, a warranty might state that the carpet will remain stain free for up to 30 years.
A good warranty is important because it gives consumers confidence about the quality of the product. A poor warranty could lead someone to buy a less expensive alternative. In addition, a good warranty indicates that the manufacturer takes customer satisfaction seriously.
Best Carpet Brands in terms of Warranties
It's not always about the carpet manufacturer and warranty but also the retailer or installer you choose to purchase and install your carpet. Make sure to ask questions about their warranties as well.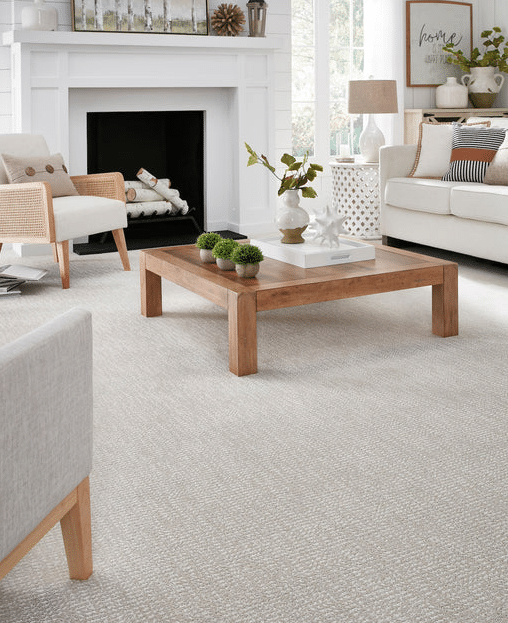 Wall-to-wall carpeting installation costs
Depending on the fibre used and the design, wall-to-wall carpeting martial can range from $2.50 to $21 per square foot in Metro Vancouver. On top of that, you'd need the underlay, which can range anywhere from $.50 to $2.00 SF. Wall-to-wall carpet installation can vary from $1.00 to $2.00 per square foot in Metro Vancouver, British Columbia, depending on the job's complexity and the installer's experience. Good carpet installers are not cheap, but they are worth the extra money. Find a carpet dealer that will give you an excellent carpet selection at a reasonable price and one that can offer you proper installation.
The overall cost of wall-to-wall carpeting depends on the type and size of the rooms in your house. This is because carpet comes in rolls of 12′ width for synthetic or 13'2″ width for woo. Therefore, the room's size would dictate the carpet's waste ratio. Therefore, determining the square footage needed is not easy as other flooring products.
Hiring the right flooring project manager to minimize water without compromising seam locations is crucial.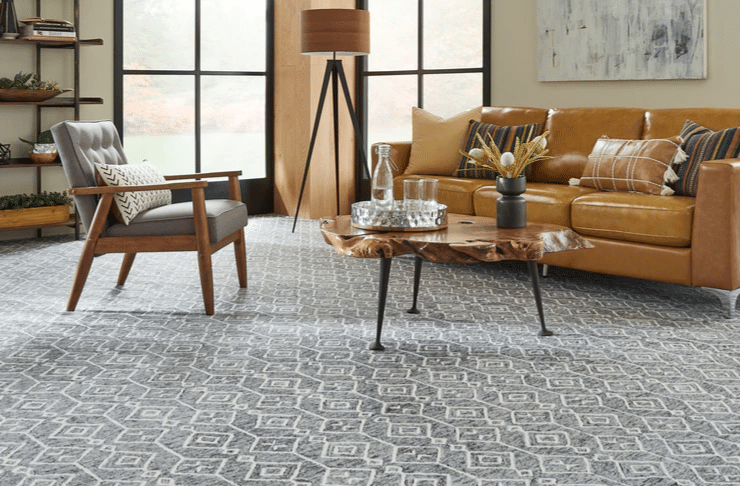 Carpet padding
When it comes to wall-to-wall carpeting, you should also consider the type of carpet padding you want. Padding is essential as it helps make your carpets more comfortable and durable. It also adds insulation, reducing energy costs. Different types of padding are available, such as foam and rubber padding. Make sure to choose the one that best suits your needs.
Overall, considering all factors, wall-to-wall carpeting can be cost-effective for people looking for durable and comfortable flooring. If you're careful about your choice of carpet material, colour, design, density and maintenance, you can install a carpet that will last for many years. With the proper care, your wall-to-wall carpeting should remain a beautiful and comfortable part of your home for years to come.
Why Should I choose Wall-to-Wall Carpeting for my home?
Wall to Wall Carpeting will give you Coziness, Warmth and Beauty.
Adding wall-to-wall carpeting to your home will not only enhance its appearance, but it will also offer warmth and comfort. This flooring is a natural insulator, preventing air from escaping the room. It also absorbs noise and inhibits slips and falls by cushioning the surface. This makes it an excellent choice for elderly people with limited mobility. Besides being comfortable underfoot, wall-to-wall carpeting can also help you unify the design of a room. It is usually available in neutral colours that go with most types of furniture.
While wall-to-wall carpeting is comfortable to walk on, it is not the best choice for every room. Some rooms, such as bathrooms or kitchens, may not be suitable for carpeting. The reason for this is the dampness and heat in these rooms. It is best to choose a neutral, insulating surface in these rooms.

Wall to Wall Carpeting will give you excellent sound absorption.
The main benefit of carpet is its ability to absorb sound. The fibers act like tiny springs when compressed, allowing them to bounce back quickly when struck. Because of this, carpet absorbs sound energy rather than transmitting it. In addition, carpet's softness helps reduce impact forces.
Carpets are quieter than hard floors, especially if they are covered with vinyl tiles. However, carpet still makes some noises under certain conditions. For example, when walking across a carpeted surface, one hears a "thump" due to the repeated compression and rebound of the carpet fibres. When running barefoot, one often hears a "clickety-clack" sound due to the contact between the soles of the feet and the carpet.
When people walk on carpet, the pressure exerted on their feet causes the carpet to compress slightly, causing the fibres to spring back up again. This bouncing action produces a loud "thump". If you run on carpet, your feet make a similar clicking noise as they strike it. The thumping sounds become muffled if you place a rug on top of a hardwood floor. The reason is that the rug acts as a cushion, absorbing much of the force of the footsteps.
Before choosing wall-to-wall carpeting, please take into account all the factors involved in it. Wall-to-wall carpeting is perfect if you're looking for a durable and comfortable flooring option that adds character and style to your home. It provides excellent sound absorption and insulation benefits, making it a great option for those who want a cozy and quiet atmosphere in their home. See us at our North Vancouver showroom and take some beautiful carpet samples home to help you decide what type of carpet best fits your home in Vancouver.
We look forward to helping you create a cozy and comfortable living space! We are Vancouver's premiem carpet dealer.
Choose Canadian Home Style for your Vancouver flooring projects.
Canadian Home Style is your family-owned and operated flooring retailer with a showroom in North Vancouver, BC. We provide full-service commercial and residential flooring solutions across the Lower Mainland with an extended warranty. We are proud members of the BC Floor Covering Association (BCFCA) and the National Wood Flooring Association (NWFA). In addition, we have won the Consumer's Choice Awards back-to-back in 2021, 2022, and 2023 for our commitment to business excellence. We are considered the highest-rated flooring experts in Metro Vancouver. We pride ourselves on holding the highest standards in the flooring industry. To uphold our high standards, we have a strict policy of "not selling or displaying any products that we wouldn't want in our own homes." Before we select a product to feature, we carefully assess product quality, off-gassing, warranties, and responsible sourcing. Book now to visit our North Vancouver flooring showroom; we can help you choose the perfect floor for your home or business.
Our mission is to help homeowners create beautiful homes that reflect their lifestyles while reducing energy consumption and conserving resources. We do this by providing our clients with innovative products, services and education. Our vision is to become Canada's leading sustainable flooring solutions provider. Our values include integrity, respect, honesty and transparency. These principles guide us as we strive to provide outstanding customer service.
We believe that our success depends on the success of our clients and their customers. We work hard to ensure our clients get the most out of their investments. Our team consists of highly skilled professionals who are experts in their field. They have years of experience working together and know what works and what doesn't. They understand how to solve problems quickly and efficiently. We are committed to providing excellent customer service. We listen carefully to our client's concerns and suggestions. We take these into account when planning and executing projects. We always strive to exceed expectations.
Services We Offer:
Main Areas of Service in British Columbia:
Carpet Flooring Statistics
Frequently Asked Questions about Wall-Wall Carpeting:
How do I choose a wall-to-wall carpet?
When choosing wall-to-wall carpeting, there are several factors to consider. The material of the carpet should be taken into account as well as its colour, pattern and texture. You'll also need to determine your budget and the type of padding you want for added comfort and insulation. If possible, bring a sample home for testing before making a purchase. Be sure to consider the traffic in the room and choose a carpet that can handle it. Finally, compare several types of carpets from different manufacturers and decide which one best suits your needs.
What is the best kind of wall-to-wall carpet?
Wool is widely considered to be the best choice for wall-to-wall carpeting. It is naturally flame-retardant and durable to withstand heavy foot traffic. Wool carpets are also soft and luxurious under the feet, providing extra comfort and insulation. Nylon is another popular option because it is resistant to stains and fading. Synthetic fibres such as polyester are also suitable for wall-to-wall carpeting, and they come in a wide range of colours and styles. Be sure to choose neutral colours that go with most types of furniture.
What are the advantages of wall-to-wall carpeting?
Wall-to-wall carpeting provides several advantages. It helps to reduce noise levels, adds extra warmth to the room during winter months, and makes for a cozy atmosphere. Carpet also absorbs impact forces and prevents slips on hard surfaces. In addition, wall-to-wall carpeting is an economical flooring option that comes in various styles and colours, giving you the freedom to pick a design that best suits your tastes. Finally, wall-to-wall carpeting is easy to install and maintain.
What factors determine the quality of a carpet?
The quality of a carpet is determined by several factors, such as the type of fibre used, the density of the pile, and the weight of the yarn. The amount of twist in each strand affects how it will wear and its overall appearance. High-quality carpets are durable and resistant to stains, fading, and abrasion. The backing of a carpet is also important as it helps to protect the fibres and allows them to remain upright. Finally, consider whether the carpet is certified by a reputable organization such as Greenguard or Green Label Plus. These certifications indicate that the carpet meets emissions and indoor air quality standards.
What thickness of carpet is best?
60-ounce carpet is the most popular option for wall-to-wall carpeting. This thickness provides a good balance between comfort and durability. If you're looking for added softness and insulation, choose a thicker pile, such as 80 or 100 ounces. However, remember that carpets with thicker piles are more prone to crushing from foot traffic.
How long should wall-to-wall carpet last?
A wall-to-wall carpet's lifespan depends on the material's quality, the type of backing used, and the room's traffic. High-quality carpets made from wool or nylon can last up to 30 years with proper care and maintenance. Proper installation is also essential to ensure that your carpet lasts as long as possible.
Please read our last flooring article here: