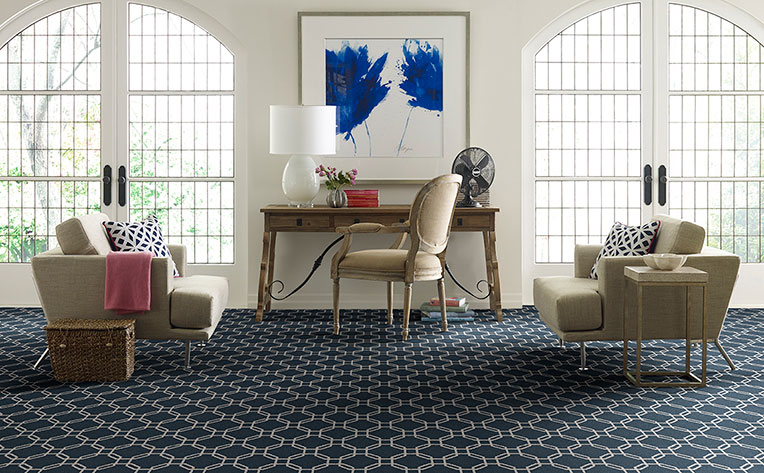 Benefits of Carpet flooring takeaways:
Carpet adds beauty and style to any room.
Carpet is a very popular floor covering, which provides a sense of comfort and luxury.
Carpets trap dust, pollen, and other particles. Carpet improves indoor air quality by filtering out pollutants.
Carpets offer good insulation and therefore reduce energy consumption.
Carpet is safer than other floors.
A carpeted floor will reduce the risk of slipping and falling.
Carpet does excellent soundproofing.
The floor covering that covers most of our homes is one of our biggest investments. Whether it's a roomy family home or a small apartment, choosing the perfect carpeting can help define the feel of a space. Carpets come in different shapes, sizes, and materials, each offering a unique style and personality. Carpet provides extra insulation beneath your feet and gives you a warmer feeling in the winter. It's definitely considered the softest among all flooring surfaces.
Various richly coloured carpets offer a warm palette, while others feature striking geometric designs. Neutral carpets provide a blank canvas for adding colour with accent pillows, throw blankets, and artwork. For those seeking a little more excitement, patterned carpets bring energy into a room. Bold stripes, abstract prints, and animal motifs can transform a space.
How carpet flooring adds warmth and beauty to any room
Carpet Flooring is one of the most popular types of floor covering used in homes today. It's easy to install and maintain, and it looks great in just about every type of home decor. Carpet Flooring comes in many different styles, colours, textures, patterns, and sizes. You'll find carpets from traditional designs like Oriental rugs, Persian carpets, Turkish carpets, Moroccan carpets, Indian carpets, Tibetan carpets, Chinese carpets, and African carpets to modern styles like contemporary carpets, transitional carpets, and shag carpets.
The best way to decide what kind of carpet you want is to look at your living space and consider what features you'd like to see in your new carpet. For example, consider wool carpet if you want something warm and cozy. Choose a colourful patterned wall-to-wall synthetic carpet if you prefer a bright and cheery atmosphere. And if you want to add some texture and pattern to your space, go for a shaggy carpet. They are so comfortable and can add a unique look to any room.
Carpet Flooring is also easy to maintain. Vacuum regularly with the right vacuum, and you can enjoy your beautiful carpet for years. With the proper care, you won't have to worry about stains or dirt setting in. And if you ever need to clean it, there are many market cleaners specifically designed for carpets.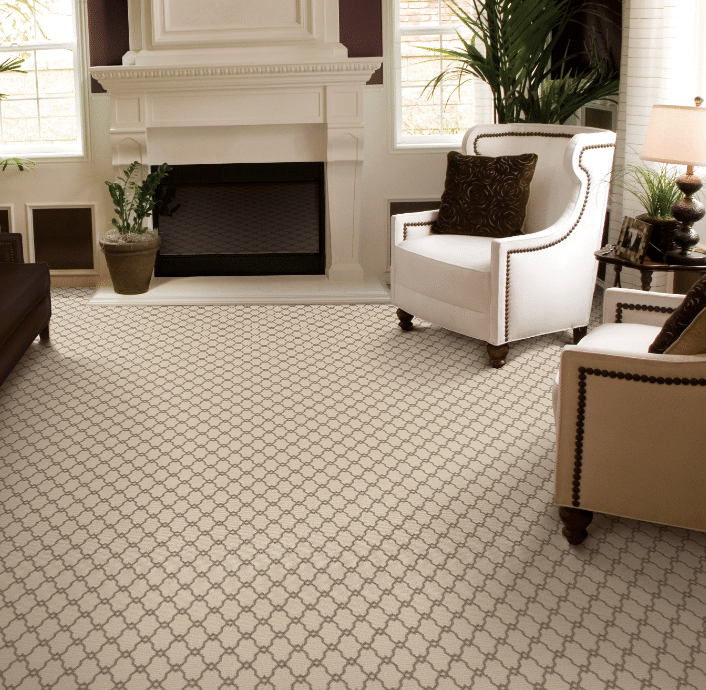 Less expensive than hardwood floors!
If you want to install new flooring in your home, carpet costs much less than hardwood floors. Both materials cost between $4 and $20 per square foot in Metro Vancouver. There are many good brands of both materials. If you are unsure which type is right for your home, Canadian Home Style offers a variety of carpet styles and hardwood options.
Carpet installation doesn't have surprises like other flooring options, such as hardwood, laminate, and luxury vinyl flooring. There's no levelling involved with the carpet. Typically, the installation process is much simpler and faster than hardwood flooring.
The cost of carpet installation is less than that of hardwood flooring. A standard installation process costs about 1 to 2 dollars per square foot, while hardwood installation costs anywhere from $3 to $15 per square foot.
Carpet Improves Indoor Air Quality of your home.
Carpet helps to improve indoor air quality by trapping dust and pollen. This helps to reduce the number of allergens in the air which can contribute to allergies and asthma. Of course, regular vacuuming is needed to keep the air clean, but it's still an excellent way to reduce allergens in your home.
Hard surfaces are notorious for letting dust and allergens accumulate. Installing carpets is an environmentally-friendly way to enhance the air quality in any space.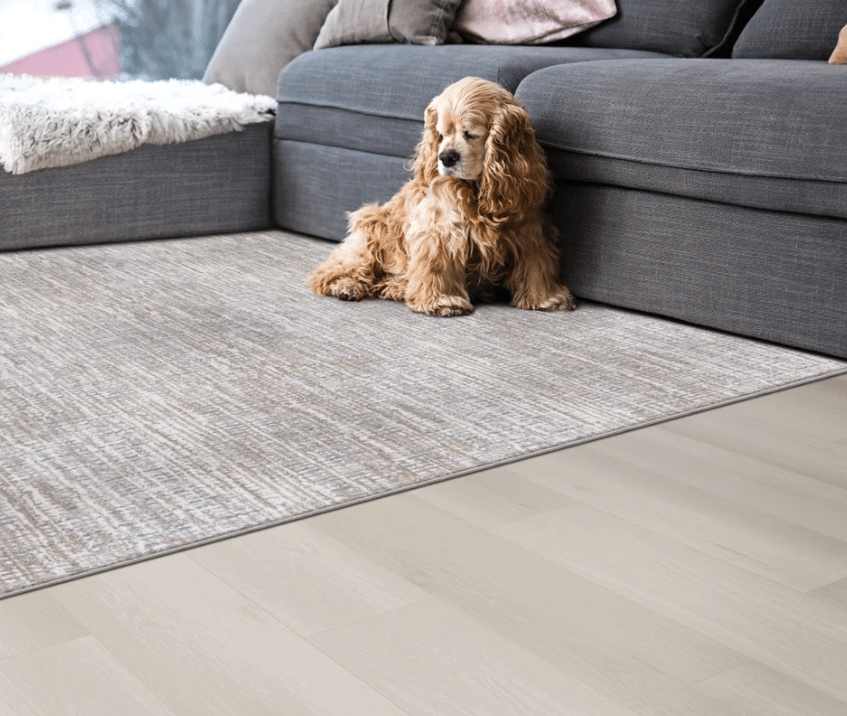 Less labour-intensive to maintain compared to other flooring surfaces.
Compared to hard surface flooring, carpeting is less labour-intensive to maintain. Moreover, new technologies have allowed for the recycling of old carpets. In fact, 121 million pounds of worn carpet were recycled into new carpets. This makes them greener than some hard surfaces, such as laminate luxury vinyl flooring options.
Carpeting is an ideal choice for households that want a floor that offers safety and a comfortable feel. It can prevent slips and falls and is less expensive to maintain than hardwood flooring. Nearly 85% of households in the United States have carpeting. The most popular types are wool and nylon carpets. Wool tends to last longer and is more stain-resistant than nylon. However, carpets made of nylon tend to lose their bright colour after seven to eight years.
Carpet provides thermal Insulation for your home.
Carpet also provides a soft feel and insulating factor, making a house warmer. This can save on the cost of heating in cold winter months. This would result in energy savings and less strain on the environment. The Thermal resistance of carpet is 3.5 times greater than other flooring materials, making it an excellent choice for your home.
You would be less likely to break items on carpet.
If you're a mom or dad worried about your kids tripping and breaking items, carpet is an excellent choice for your home. It provides cushioning underfoot and is a good option for younger kids who are just learning to walk. It's also great for absorbing sound and reducing injuries from falls. In addition, carpet has antimicrobial properties, making it less likely to harbour bacteria that cause stains or mould.
Compared to tile, carpet is less likely to break items when dropped. However, tile can be more expensive to replace than carpet. Moreover, tile can be a permanent option, so you will have to do a lot of work to remove it. Furthermore, tiles may not be durable if you purchase low-quality ones. They may also have grout lines that can be difficult to clean. Finally, cheap carpets may have a lower stain resistance than tile.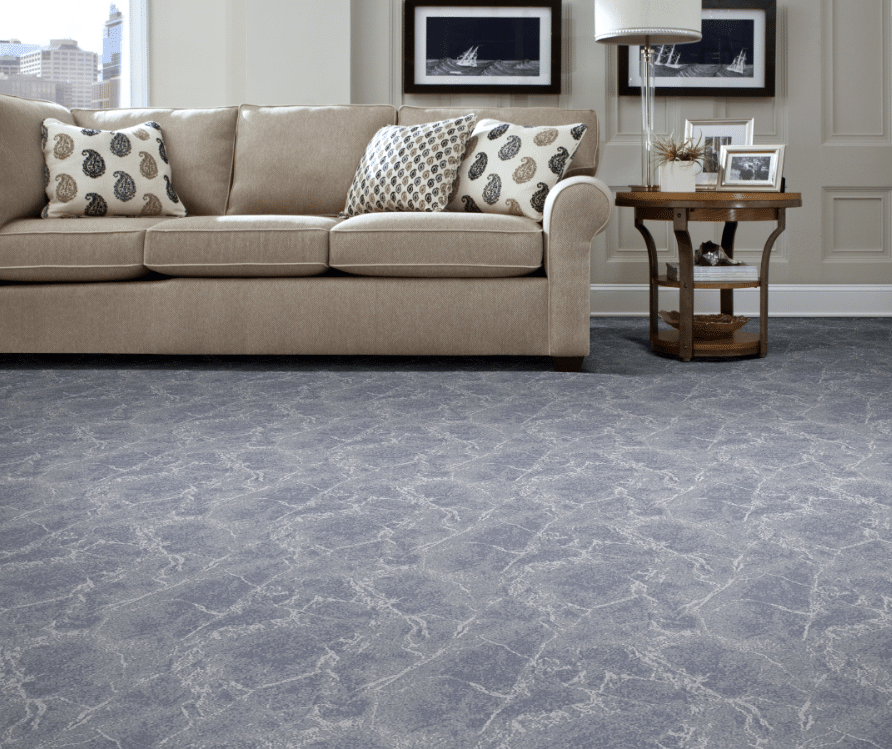 Carpet flooring reduces noise pollution.
Carpet can be a sound-absorbing material, reducing noise levels in living areas and reducing echoes. Compared to hard floorings, such as laminate or hardwood, carpet absorbs sounds more effectively, reducing volume and harshness. In fact, research shows that carpets can reduce noise pollution by 50% or more.
Noise is caused by impact and vibrations, such as stepping on a floor or setting down an object. The subfloor amplifies this noise, so it is essential to have suitable sound-absorbing surfaces. Carpets absorb impact noise and reduce the sound at the point of impact, resulting in less amplification and echoes.
Carpets are also effective in controlling noise within buildings. They reduce impact sound transmission and surface noise generation in multi-story buildings. Correctly specified carpet and carpet cushion combinations will meet most sound absorption needs in indoor environments. The combination is proven to reduce noise pollution by up to 20 decibels.
The pile structure of carpets helps to absorb sound and absorb vibrations. The noise reduction coefficient, or NRC, is an indicator of this. The NRC value of a typical broadloom carpet is 0.35, which absorbs about 35% of sound. The NRC rating of a carpet depends mainly on its thickness and the underlayment used underneath it. Carpets that are installed with an underlay will nearly double their NRC rating.
Noise is one of the most common forms of pollution. Loud, continuous noise can cause hearing loss and other physical effects, including stress, anxiety, and digestive problems. Studies have shown that people are less attentive and alert when exposed to excessive noise.

Carpet is an excellent option in commercial spaces.
Modular carpet tile is the preferred flooring option for commercial spaces. It is durable, easy to install and maintain, and cost-effective. In addition, modular carpet tile can withstand heavy traffic and is resistant to stains and wear.
Modular carpet tile can be easily replaced if damaged or stained, making it ideal for high-traffic areas. It also can be laid in various patterns, creating a unique look for your space. Modular carpet is available in many colours and styles, so it's easy to find the one that suits your style.
Carpet has been used in commercial spaces for many years and is known for its durability. It also provides cushioning, increasing comfort and reducing the risk of falls. Moreover, it is easy to clean and can resist stains and wear. Modular carpet tile is the perfect flooring option for commercial spaces, as it is durable, cost-effective, and easy to maintain.
Carpet fibres:
Natural:
Wool is the most common natural carpet fibre and offers superior comfort, insulation, and durability. It is a breathable material that helps to regulate the temperature in any indoor environment. Wool carpets are also naturally fire-resistant, providing an extra layer of safety in the home.
Synthetic Materials:
Nylon is the most popular synthetic fibre used for carpets. It is highly durable, resistant to stains and wear, and easy to clean. Nylon also has a good NRC rating, making it an excellent choice for soundproofing.
Polyester carpet is durable, stain resistant, and easy to clean. Polyester carpets are great for kids' rooms because they're soft and comfortable. They're also ideal for allergy sufferers who may be sensitive to wool. Carpet fibres are made of polymers, meaning they're long chains of molecules linked together. The length of these chains determines the strength and durability of the fibre. When you purchase a carpet, you buy a product manufactured using polyethylene terephthalate (PET) plastic. PET is a polymer used to manufacture everything from soda bottles to clothing. Because PET is lightweight, flexible, and strong, it is a perfect material for carpets. And since it doesn't absorb water, it won't rot or mildew.
Polypropylene (PP) is a synthetic fibre used in carpeting because it's durable, stain resistant, and easy to clean. Polypropylene is also lightweight, making it ideal for use in commercial applications such as common rooms or offices.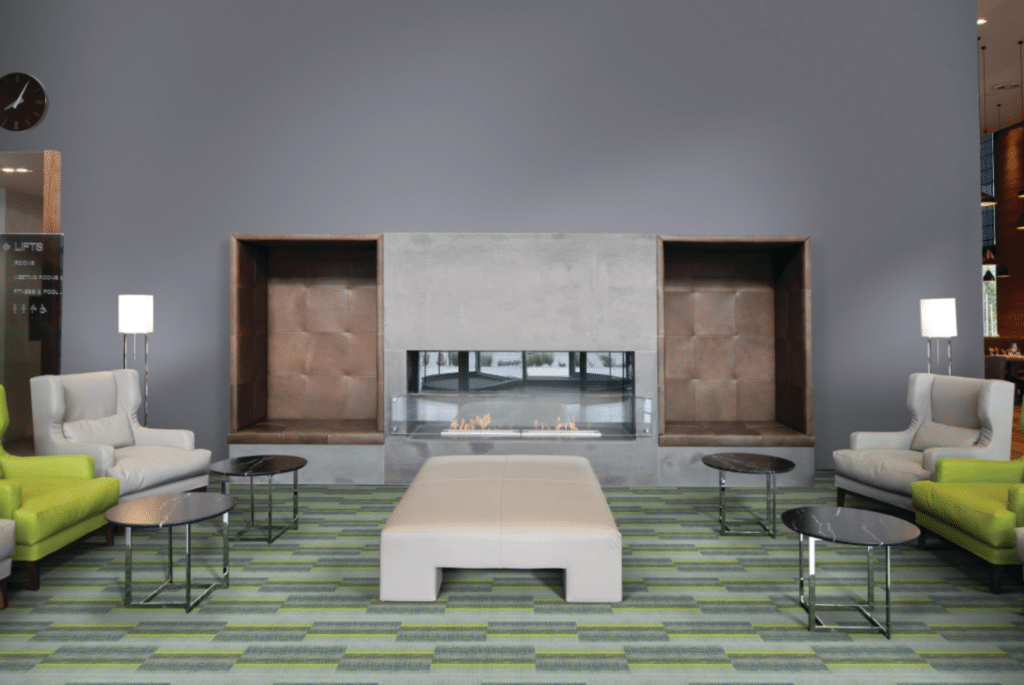 Cons of Carpet flooring
While carpet is cheaper to install, it isn't nearly as durable. Hardwood floors are made from sturdy materials that can last 50 to 100 years if properly cared for. On the other hand, the carpet is only as durable as the quality of the material. Basic grades only last 10 and 15 years, while higher-quality carpets can last up to 35 years.
Another significant advantage of hardwood flooring is its higher resale value. A study published by USA Today found that 54% of homebuyers would pay a premium for a home with hardwood floors. In addition, a study by HGTV found that hardwood floors were the most popular home improvement request.
Although hardwood floors have higher initial costs, the long-term value of hardwood flooring is well worth it. If you have the time, you can install hardwood flooring yourself. However, this task is not for beginners and requires detailed skills. You'll need to hire a professional if you're uncomfortable doing it yourself.
The cost of carpet installation is less than that of hardwood flooring. A standard installation process costs about 1 to 2 dollars per square foot, while hardwood installation costs anywhere from $3 to $15 per square foot.
Choose Canadian Home Style for your Vancouver flooring projects.
Canadian Home Style is your family-owned and operated flooring retailer with a showroom in North Vancouver, BC. We provide full-service commercial and residential flooring solutions across the Lower Mainland with an extended warranty. We are proud members of the BC Floor Covering Association (BCFCA) and the National Wood Flooring Association (NWFA). In addition, we have won the Consumer's Choice Awards back-to-back in 2021, 2022, and 2023 for our commitment to business excellence. We are considered the highest-rated flooring experts in Metro Vancouver. We pride ourselves on holding the highest standards in the flooring industry. To uphold our high standards, we have a strict policy of "not selling or displaying any products that we wouldn't want in our own homes." Before we select a product to feature, we carefully assess product quality, off-gassing, warranties, and responsible sourcing. Book now to visit our North Vancouver flooring showroom; we can help you choose the perfect floor for your home or business.
Our mission is to help homeowners create beautiful homes that reflect their lifestyles while reducing energy consumption and conserving resources. We do this by providing our clients with innovative products, services and education. Our vision is to become Canada's leading sustainable flooring solutions provider. Our values include integrity, respect, honesty and transparency. These principles guide us as we strive to provide outstanding customer service.
We believe that our success depends on the success of our clients and their customers. We work hard to ensure our clients get the most out of their investments. Our team consists of highly skilled professionals who are experts in their field. They have years of experience working together and know what works and what doesn't. They understand how to solve problems quickly and efficiently. We are committed to providing excellent customer service. We listen carefully to our client's concerns and suggestions. We take these into account when planning and executing projects. We always strive to exceed expectations.
Services We Offer:
Main Areas of Service in British Columbia:
Carpet Flooring Statistics
Frequently Asked Questions about flooring.
How much would it be to lay a 1500 square foot of flooring? Vancouver with hard-surface flooring.
Laminate, hardwood and luxury vinyl flooring would cost $2 to $30 per square feet for the materials. You will need to cut 10% of the waste.
Sublayment costs range between $0.25 – $1.50 per sq. foot.
Installation would cost between $2.00 to $6.00 SF depending on the installer's expertise and type of installation.
Baseboards must be removed and reinstalled. This will cost you anywhere from $2.00 to $3.50 per linear foot.
Your existing floor needs to be removed and taken to the transfer station. Floor removal for carpet or floating floors can be as expensive as $0.50 to $1.50.
A subfloor leveling may be required to conform to industry standards. A subfloor that isn't level can result in a cost of $0.50-3 per square feet.
Do not forget to include any additional trims such a transition or shoe bases. These would increase the cost.
What kind of floor is waterproof and what type?
You have two options for waterproof flooring: luxury vinyl flooring and tiles. Waterproof flooring is ideal for any room – from bathrooms and kitchens to laundry rooms and basements. Waterproof flooring should be a priority if you have kids, pets, or live in areas that see a lot.
Which floor is the most affordable?
Carpet is often the cheapest flooring material. Carpet is often sold in large rolls, which can cover large areas quickly. You don't need to level or prepare your subfloors for carpet installation. Lastly, you don't need to remove and reinstall your baseboards for carpet installation.
How To
How to install a floor in your Vancouver home?
You should have your floors installed by professionals. A mistake can result in higher costs.
Take care when removing old flooring. If your flooring is carpet, or a floating flooring, it can be very expensive to remove.
Buy extra material to account waste. 10% is the standard. It would be best to consider cutting waste more when you have stairs and hallways.
If you live in a strata-building, make sure to hire a professional flooring company or licensed flooring installer.
Install the planks to ensure that the longer sides of your primary windows follow the planks.
Before installing any product or delivering it, take note of the ambient conditions. In humid areas like full bathrooms or laundry rooms, you should not install laminate flooring or hardwood flooring.
Your flooring material should be allowed to adjust to room temperature for at minimum 48 hours before it is installed. Some wood species take three to four times longer to adjust.
Inspect each plank for damage before you begin the installation. Do not install damaged planks.
You must ensure that your subfloors are level and flat. Your subfloor must be leveled to industry standards. Uneven subfloors can cause problems, including telegraph wire effects, hollow spots, etc.
Vancouver's strata buildings are seeking IIC and STC numbers that exceed 72. Be sure to get the strata regulations before you make any commitments.
The majority of strata buildings in Metro Vancouver require at least $2,000,000 in liability coverage and good standing with Work-Safe BC from your flooring company. These documents must be obtained from your flooring contractor.
Use felt pads to prevent scratches on your furniture as soon as it's installed.
Read our last flooring article here: