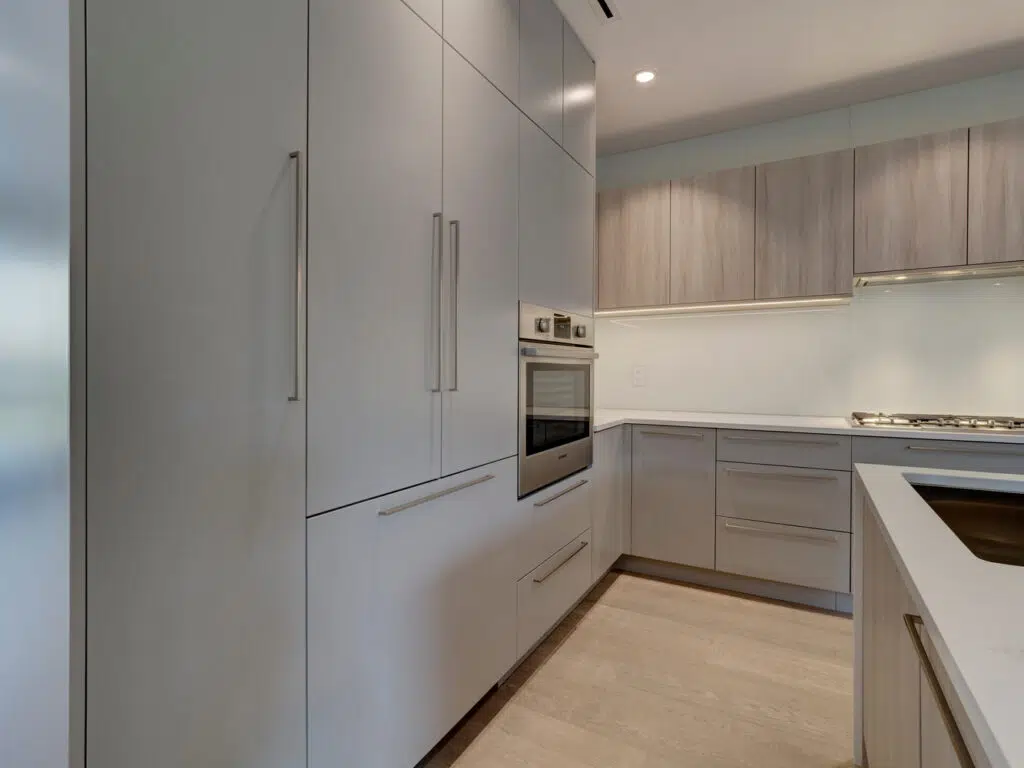 If you're thinking of redoing your kitchen cabinets or building your own, you will undoubtedly come across MDF as a material option. But what exactly is MDF and how should it be used in cabinet doors?
This comprehensive guide will deeply dive into everything you need to know about MDF cabinet doors. Whether you're considering using MDF for your own cabinetry or want to learn why it's chosen for so many cabinets out there, I've got all the answers in one place! So read on to learn more about the pros and cons of MDF versus other materials.
What is an MDF Kitchen Cabinet Door made of?
MDF kitchen cabinet doors are a popular choice for home remodelling projects. MDF, or Medium Density Fiberboard, offers a durable and attractive option with smooth surfaces and minimal grain to give the painted cabinet door a high-end finish. This material is denser than hardwood, making it perfect for machining with high-speed CNC cutting tools that can produce varied 3-D profiles for all cabinet doors.
MDF kitchen cabinet doors offer many advantages over other materials on the market, such as being stronger than most conventional woods, having consistent uniformity throughout all elements of the board, edges that cut very cleanly and finishing sharp without chipping or burring – great for intricate designs. By pre-drilling holes before inserting screws, you can easily secure the door confidently. Plus, MDF doesn't hold moisture, making it ideal when creating rooms in high-humidity areas or areas prone to water exposure, such as kitchens or bathrooms. MDF gives you the highest quality kitchen cabinets without compromising strength and design.
Which is Better: Solid Wood or MDF Cabinet Doors?
Solid wood cabinet doors are made of hardwoods such as maple, oak or cherry. These types of wood doors offer a traditional design that showcases hardwood's beauty and sturdiness. If you're looking for a classic look for your home with solid wood cabinet doors that are as durable and timeless as beautiful.
Despite their strength and resilience, solid wood can still be prone to damage in high humidity levels because of the expansion and contraction it goes through; this can eventually lead to hairline fractures on the painted surface that cause paint chips. The question is how to protect your furniture from the damaging effects of high humidity and prevent hairline fractures. Well, MDF is the answer.
On the other hand, MDF cabinet doors are more resistant to humidity changes. Unlike solid woods that can split apart due to expansion and contraction, MDF cabinet doors won't show signs of wear over time. They're perfect for remodelling projects requiring painted finishes since using an oil-based primer will prevent warping over time. MDF is usually much less expensive than solid wood, so if you're on a budget, this might be the best choice. Therefore, installing MDF cabinet doors is the most cost-effective way to increase your home's value.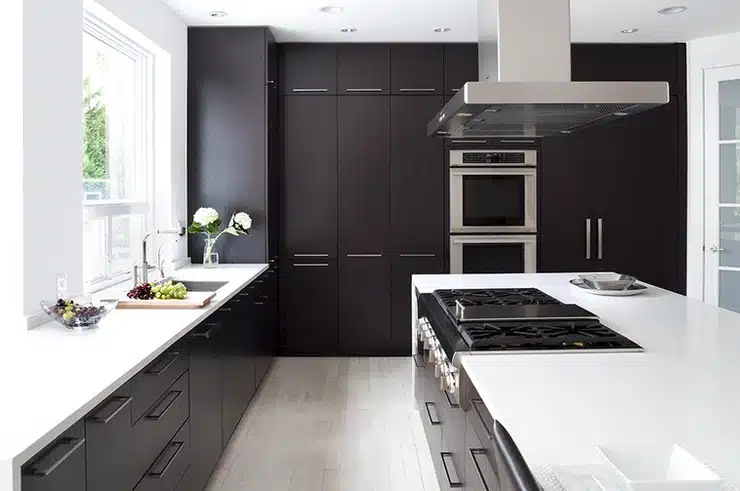 Pros of MDF Cabinet Doors
Due to their consistent density, MDF cabinet doors are more stable and less likely to crack or warp than solid wood doors. They expand and contract with changes in temperature and humidity, making them perfect for environments that experience fluctuations in either element. They also have smoother finishes, allowing you to better customize the look of the cabinet by applying different stains, varnish or paint without running the risk of noticeable grain patterns. At your fingertips, you have an affordable and long-lasting option for kitchen cabinetry that you can customize for style and function – MDF cabinet doors.
MDF can also be drilled and cut without damage, thanks to its high compressive strength, giving you more freedom when customizing your cabinet doors in terms of shape. When it comes to cost-effectiveness, MDF stands out as it is often cheaper than solid wood, allowing you to get a better bang for your buck! With all these advantages considered, it's no wonder why MDF cabinet doors are so popular!
Quick takeaways:
Cons of MDF Cabinet Doors
MDF Cabinet doors are a popular and budget-friendly choice for many homeowners when remodelling their kitchens. However, there are some cons associated with MDF that everyone should consider before making this purchase. Find out what you need to know about MDF cabinet doors before making a purchase and why it is not always the best option.
One con is that MDF doors can get scratched easily, and these scratches cannot be repaired. Another con is that MDF is not as strong as plywood or solid wood, and extreme heat can damage the core materials. For those planning to use these cabinets outdoors, this material is not a good option either because it can swell if it comes in contact with water.
Finally, MDF contains VOCs (volatile organic compounds), which are known to have a negative effect on your health, and the fine particles in MDF make it unsuitable for holding screws. So you'll need to pre-drill any holes for them to accept the screws successfully.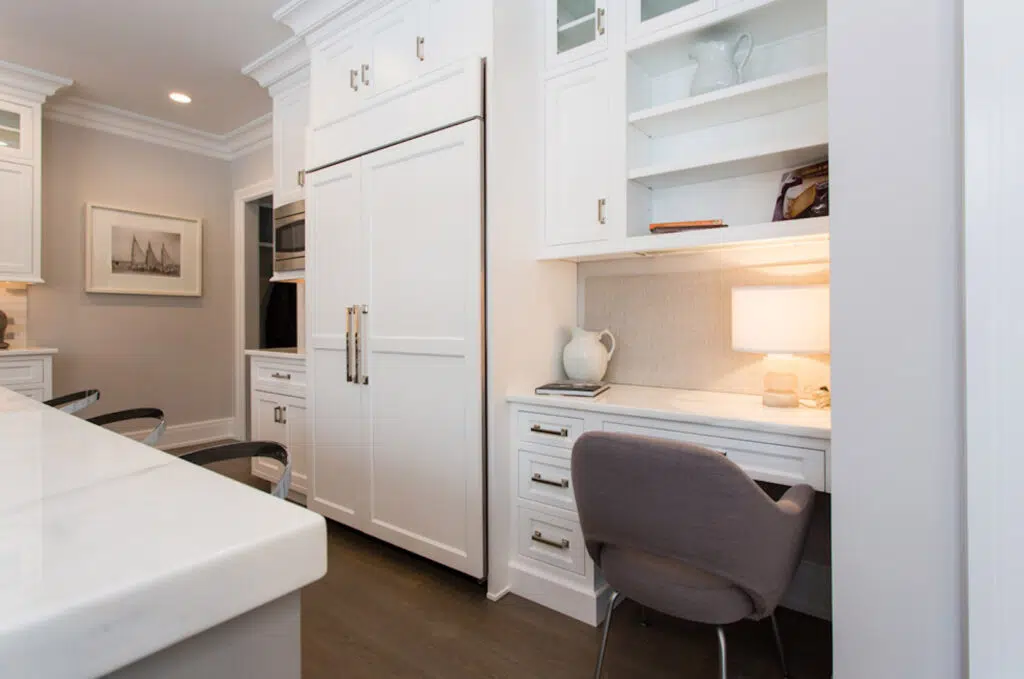 Discover how to reduce cost without compromising quality by using MDF Cabinet Doors.
Simplifying cost effectiveness without sacrificing quality is a crucial objective. But how is it achieved? With MDF Cabinet Doors, of course!
Merging affordability with durability, MDF Cabinet Doors make the perfect solution for anyone searching for long-lasting materials that come with an unbeatable price tag. Unlock savings with unbeatable durability – MDF Cabinet Doors are designed for longevity and built for affordability.
These doors offer a comprehensive combination of functionality and aesthetics. Thanks to their high strength-to-weight ratio, they are easy to install and have strong design flexibility. Allowing complete customization according to your unique specifications at a fraction of the cost of their wooden counterparts, these cabinet doors can provide your space with an updated look in no time at all!
MDF cabinet doors also require minimal maintenance and upkeep since they are less susceptible to cracking, warping or suffering from exposure to moisture when compared to other types of door materials. This makes them a great choice for any environment where you want stunning visuals without having the hassle of upkeep. Say goodbye to cracking, warping and moisture damage with our MDF cabinet doors. Get beautiful visuals without the fuss.
Discover how to use MDF cabinet doors to modernize your home with a personal touch.
Unlock the power of personalization and take your home environment to the next level with MDF cabinet doors. Transcend ordinary designs and explore amazing ways to reshape your living space with a unique touch. Whether customizing kitchen cupboards, redesigning laundry room cabinets or adding a style to bathroom vanity units, MDF cabinet doors are sure to unlock beautiful results for any type of project.
Go beyond trends and simple stylistic approaches that ordinary households use by embracing the creative potential of MDF cabinet doors. Utilize their combination of strength, stability and affordability to curate truly personalized aesthetic solutions that make more than just an impression – they evoke emotion. Nothing expresses your individuality better than a well-conceived piece made from MDF material which is easy to work with but still provides the highest levels of quality. Get the most out of MDF, enhance your expression and evoke emotion with personalized cabinet door solutions.
Push boundaries with this timeless approach to interior design and make something special using MDF cabinet door ideas such as clever pantry storage units or distinctive built-ins for hallways or bedrooms that showcase your personality. From intricate details like application mouldings right up through classic louvre textures, these pre-fabricated components can be arranged into whatever layout you desire while providing complete control over how much customization you want in each area of your home. Unlock your home's full potential and take interior design to the next level with Canadian Home Style quality MDF doors in Vancouver.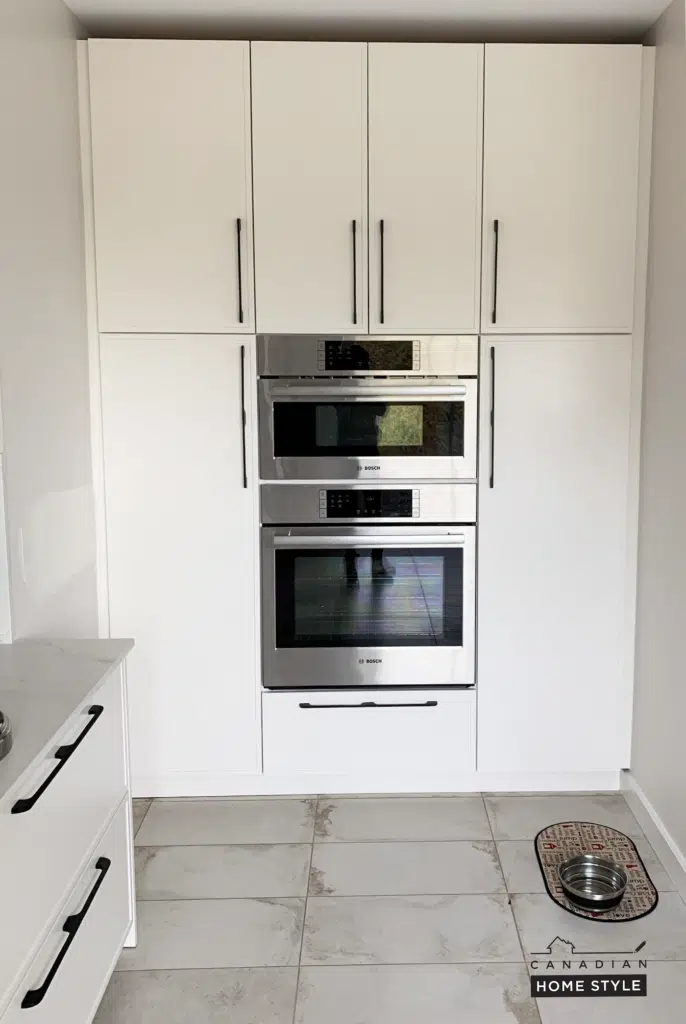 Premium MDF cabinet doors from Cabico Custom Cabinetry
Premium is at the heart of everything Cabico Custom Cabinetry offers. Cabico's high-quality MDF Cabinet doors boast superior craftsmanship, offering the perfect balance between form and function. Designed to both last and look fantastic, Cabico Cabinet Doors are lightweight yet durable enough for everyday use.
Not only does medium-density fiberboard (MDF) provide a consistently smooth surface for painting or staining, but our cabinet doors also feature beautifully crafted 5-piece raised panel designs that will be sure to add character and dimension to any kitchen.
Cabico's engineering process ensures each door is tailored with exact measurements, giving you a customized fit no matter the size. The precision crafting of the MDF cabinet doors from Cabico Custom Cabinetry makes them suitable for any design style – from traditional to modern – which adds additional convenience for those renovating their kitchens.
The superior quality of our MDF Cabinet Doors gives them an extra edge compared to other cabinetry offerings available on the market. Let us help make your dream kitchen a reality with beautiful, durable and long-lasting cabinetry that's sure to boost the value of your home!
Frequently Asked Questions about MDF Cabinet doors:
Is MDF Waterproof on its own?
Unfortunately, the answer is no. On its own, MDF isn't waterproof as it's important to note that it is entirely made of wood fibres which can absorb moisture in certain conditions.
However, there are ways to make it more water-resistant by painting or coating the surface of your cabinet doors with a sealant or other protective finish. This will help increase the water resistance to make it suitable for use in high-humidity areas such as bathrooms and kitchens. Additionally, many people use MDF in cottages because it can hold up well in hot and humid conditions while still looking great.
So while MDF itself isn't waterproof on its own, with the proper treatment, you can make them highly resistant and an ideal choice for areas prone to steam or moisture build-up.
Is MDF Stronger than Plywood?
When choosing the right material for cabinet doors, many are often left wondering if MDF is stronger than plywood. The answer is a little complicated because it depends on the application and usage. Generally speaking, plywood is considered to be stronger than MDF. This is because the cross-graining of plywood makes it an ideal choice for areas in the home that are subjected to weight, such as floor sheeting or cabinet wall construction.
MDF, on the other hand, has a uniform composition lengthwise and crossways which makes it more stable but not as strong as plywood when pressure is applied. That being said, MDF can be used in specific applications that don't require too much strength or pressure, such as in your cabinet doors, where strength isn't really an issue.
Is MDF a Sustainable Product?
Yes, medium-density fibreboard (MDF) is indeed a sustainable product! It is made using wood products that might otherwise be discarded, making it an environmentally friendly use of wood fiber. MDF is usually considered a recyclable item which can either be utilized to form other wooden products or kept away from landfills.
MDF cabinet doors are durable and long-lasting, but they are also eco-friendly as they don't require any new trees to be harvested in order to make them. By choosing MDF Cabinet Doors you are doing your part to help preserve our forests and reduce landfill waste.
Canadian Home Style is your family-owned and operated custom cabinetry retailer with a showroom in North Vancouver, BC. We are the official dealer of Cabico custom cabinetry in the Lower Mainland, providing complete kitchen renovations with an extended lifetime warranty. We always keep up to date with the latest trends and are proud members of the NKBA, National Kitchen and Bath Association.  In addition, we have won the Consumer's Choice Awards back-to-back in 2021, 2022 and 2023 for our commitment to business excellence. We are considered one of the highest-rated kitchen and bath design and renovation experts in Metro Vancouver. Book now to visit our North Vancouver showroom, where you can get expert advice from one of our kitchen and bath designers. We're happy to be a part of your journey with your next kitchen renovation project in Metro Vancouver.
Our mission is to help homeowners create beautiful homes that reflect their lifestyles while reducing energy consumption and conserving resources. We do this by providing our clients with innovative products, services and education. Our vision is to become Canada's leading sustainable kitchen design and custom cabinetry solutions provider. Our values include integrity, respect, honesty and transparency. These principles guide us as we strive to provide outstanding customer service.
We believe that our success depends on the success of our clients and their customers. We work hard to ensure our clients get the most out of their investments. Our team consists of highly skilled professionals who are experts in their field. They have years of experience working together and know what works and what doesn't. They understand how to solve problems quickly and efficiently. We are committed to providing excellent customer service. We listen carefully to our client's concerns and suggestions. We take these into account when planning and executing projects. We always strive to exceed expectations.
Services We Offer:
Main Areas of Service in British Columbia:
Frequently Kitchen Renovation Asked Questions
In the kitchen, where should pots or pans go?
Pots and saucepans should be stored in the cupboard directly above the stove. This allows them to be easily accessed when they are needed and helps keep your kitchen clean and clutter-free. You might also want to consider a pot rack that will help you keep your pots & pans organized and in easy reach.
What layout is most functional for a kitchen?
A functional kitchen layout includes an island that has a sink, stove top, microwave, refrigerator, dishwasher and stove. A L-shaped kitchen with an island layout is the best in kitchen design.
How can I determine my budget for a kitchen remodel?
To help you budget, here are some guidelines:
This will allow you to develop a budget that fits your kitchen renovation. You should keep in mind that the cost of your kitchen renovation will depend on the materials and the scope of your project.
What are the steps in re-modelling a kitchen
Plan your kitchen remodel. Decide what to change and how much to spend.
Find a contractor. Compare bids from different contractors to find the one you feel most comfortable.
Demolition. This is where the fun begins! Rip out the old cabinets, countertops, and appliances.
Installation. Installation.
Finishing touches. Your kitchen remodel is complete when you add finishing touches such as new hardware or paint.
What is the best time to remodel your kitchen?
Statistics
External Links
How To
Kitchen Remodeling: How Much Does it Cost in 2022? [12 Tips to Help You Save Money]
How much can you spend on a brand new kitchen? The average cost of a kitchen project ranges from $40,000 to $100,000, depending on how ample your space is and what features you want. Consider upgrading your home to increase its market value if you are planning on selling soon.
These are our top 12 tips for cutting costs and maintaining quality.
Purchase appliances secondhand
DIY projects
Repurpose old furniture
Save scrap materials
Hire a pro to do the work
Donate your stuff
Sell online
Get creative with paint colors
Go green
Keep it simple
Make it unique
Flexibility is important