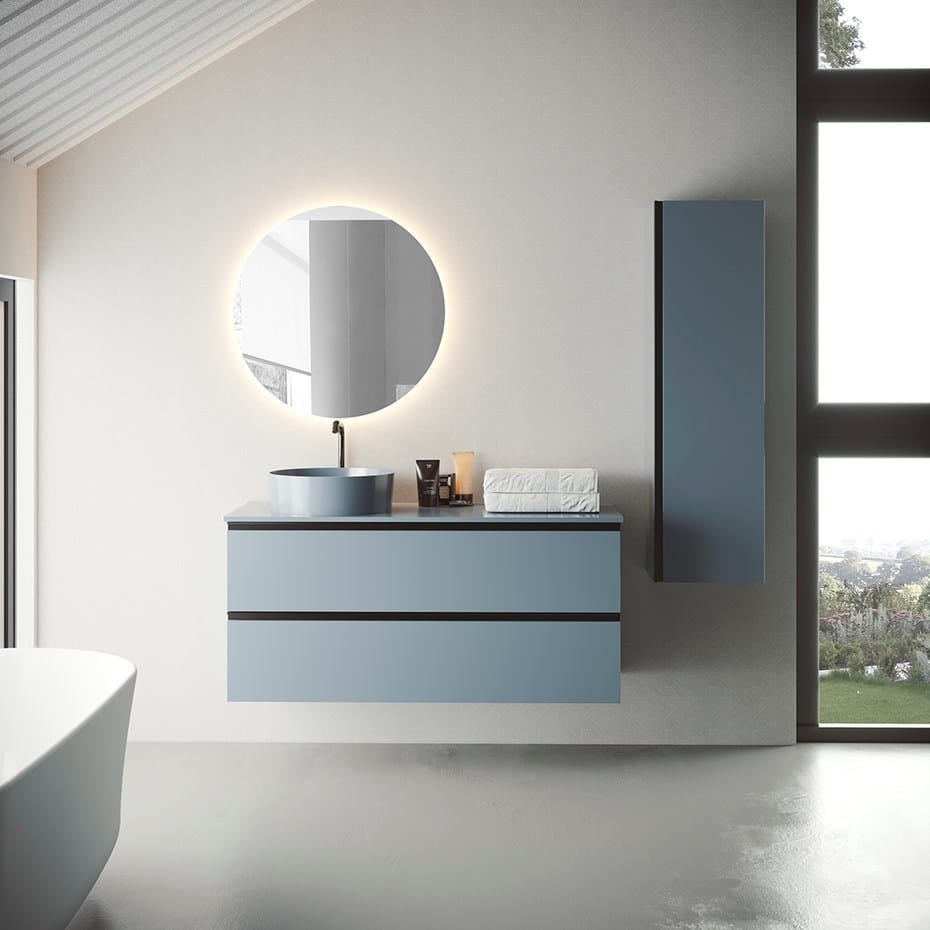 When it comes to enhancing your bathroom, many different pieces of furniture are available. These include storage units, mirrors, corner cabinets, over-the-toilet shelves, and corner cabinets. These pieces of furniture are a great way to organize your bathroom while adding style. To ensure you have the right furniture, consider the design and size of your bathroom first.
Storage units
One of the most valuable features of bathroom furniture is its ability to double as storage. Using storage units to store towels and other items near the sink will save valuable counter space. Additionally, these items can be easily accessible when you need them. These items can also be kept dry in a glass display case next to the sink. Other storage options include wall-mounted towel holders, which save space and are also a stylish addition to any washroom.
Choosing the right storage units for your bathroom furniture can be a challenge. It is essential to consider the room's size and the objects you're planning to store. If the room is small, consider using tall storage bins. Low-lip bins can cause long bottles to spill, but tall ones will prevent this from happening. Alternatively, you can consider using the hooks on the back of your doors to create a space-saving storage solution. This option is easier to install because you don't have to drill holes.
Over-the-toilet cabinets are another option for bathroom storage. These cabinets are typically taller than other bathroom furniture and can be paired with other SystemBuild cabinets to create a built-in cabinet display. Some of these cabinets can be over six feet tall and feature four adjustable shelves. Another storage option is a bathroom cabinet that fits over the toilet and has three rows of shelves.
Wall-mounted cabinets can also provide storage space. Rather than having large linens or towels on display, you can use wall-mounted racks for small toiletries and shower essentials. You can also place a magnetic memo board on the bathroom door to keep your grooming tools and beauty and cosmetic products within reach. However, you should ensure that the door is easily closed when you're not using it.
Mirrors
Mirrors are an important element of bathroom furniture. A variety of styles and shapes can enhance the look and feel of a bathroom. Some are simple, frameless mirrors that blend modern appeal with a classic appearance. Other options include mirrors with elaborate frames. The size, shape, and colour of a mirror are important considerations for selecting the right one for your bathroom.
Bathrooms with high ceilings may look out of place with mirrors that go full height. Mirrors that extend up can be unwieldy and interfere with floating shelves and wall-mounted light fixtures. For best results, choose mirrors at least one or two inches shorter than the width of your vanity.
Mirrors in bathroom furniture should be at eye level. Most experts recommend placing them five inches away from the sink or a few inches above the faucet. They should also be about four feet off the floor. You should also keep in mind the size of the mirror and whether it fits with your vanity lighting. If you have a wide vanity, you might wonder if it's better to hang a single large mirror over the vanity or two smaller ones over each sink. This depends on your personal preferences and the size of your bathroom.
Mirrors in bathroom furniture can be a great way to create a bigger feeling of space. They reflect light in the room, making it look brighter without extra lighting sources. Mirrors are also great for bathrooms because they can serve as medicine cabinets.
Corner cabinets
Corner cabinets are a great way to increase storage space in a bathroom. They are ideal for bathrooms but can also be used in living rooms and other places where space is at a premium. A corner cabinet is also an excellent way to store small items. It can be purchased with an adjustable shelf or without one.
While bathroom corner cabinets provide additional storage, they are also an attractive focal point. They can also be customized for a unique look. Choose bright colours to add a strong visual impact to the space. You can even add paint or washi tape to your cabinet to make it unique. Depending on your preferences, you can customize your corner cabinet with cool hardware.
Bathroom cabinets can be hung or mounted and provide space-efficient storage. This type of furniture can also help you to maintain a clutter-free bathroom. You can complement it with a linen storage cabinet to complete the look. A corner cabinet is an excellent choice when you have a limited amount of space.
A tall corner cabinet can provide you with ample storage. This cabinet is perfect for bathrooms with lower ceilings. It also provides an easy way to reach things while in the bathtub. You can even purchase one in an espresso finish for added warmth. These cabinets are also great for children's bathrooms.
Over-the-toilet shelves
Storage is essential to your bathroom, and over-the-toilet shelves are a vital part of any bathroom design. The space above a toilet is an excellent spot for storage, and you can use it to create an open-shelf system, a vanity, or even a place to store toilet paper. Bathroom projects are not as complex as kitchen renovations, but you can still create a functional and beautiful storage area for your bathroom.
Adding a shelf over your toilet can help to make the room look more spacious. Not only does it help to organize your things, but it can also help prevent clutter. Over-the-toilet shelves in bathroom furniture provide a great space to store candles, towels, and other necessities. They are also great for narrow spaces.
You can also use over-the-toilet shelves to display art or decorative items. These bathroom furniture pieces don't require many tools to install. You can even find a great deal at your local hardware store. Many of these items are in stock at these stores, so you don't have to wait for them to arrive.
Over-the-toilet shelves can be as slender or as tall as you'd like. One type of over-the-toilet shelving is made of reclaimed barn wood and rests on pipe supports. These shelves can be decorated with farmhouse-style accents.
You can create a whimsical look by choosing a shelf over the toilet that is open in the middle. Wooden shelves with backboards or slats are perfect for hanging bath products. Alternatively, a ladder-type shelf adds height to the toilet space. This allows you to hang larger towels and even decorative plants.
Towel racks
Towel racks are an important part of bathroom furniture. They hold several towels at once, making them an excellent space-saver and increasing accessibility, comfort, and overall design quality. They are ideal for any bathroom, regardless of size and number of users. They also help keep the bathroom clean and keep towels dry. This is important for your health since damp towels can spread bacteria.
Towel racks come in many different colours, designs, and materials. You can find metallic racks that never go out of style and look great with almost any colour. A black towel rack will stand out in a light bathroom, and a wooden towel rack will add warmth to a cold bathroom.
There are also heated towel racks available. These provide an additional benefit, preventing mould and bacteria from growing on damp towels. These heated bars also improve the quality of your bathroom design. And they are relatively inexpensive. Purchasing a heated towel bar can add value to your home. A heated towel bar can add more storage space to your bathroom while maintaining a clean, sanitary environment.
You can use a ladder if you don't have the space to install a towel rack. The lower rungs can store hand towels and small buckets of bathroom accessories. This works well in a small bathroom. This type of towel storage is ideal for drying damp towels.
Canadian Home Style is your family-owned and operated bathroom remodeler in North Vancouver, BC. We hold the highest standards in the industry and provide complete bathroom renovations across the Lower Mainland with an extended warranty. We always keep up to date with the latest trends and are proud members of the NKBA National Kitchen and Bath Association. In addition, we have won the Consumer's Choice Awards back-to-back in 2021, 2022, and 2023 for our commitment to business excellence. We are considered one of the highest-rated kitchen and bath design and renovation experts in Metro Vancouver. Book now to visit our North Vancouver showroom, where you can get expert advice from one of our kitchen and bath designers. We're happy to be a part of your journey with your next bathroom renovation project in Metro Vancouver.
Our mission is to help homeowners create beautiful homes that reflect their lifestyles while reducing energy consumption and conserving resources. We do this by providing our clients with innovative products, services and education. Our vision is to become Canada's leading sustainable kitchen and bath design and renovation provider. Our values include integrity, respect, honesty and transparency. These principles guide us as we strive to provide outstanding customer service.
We believe that our success depends on the success of our clients and their customers. We work hard to ensure our clients get the most out of their investments. Our team consists of highly skilled professionals who are experts in their field. They have years of experience working together and know what works and what doesn't. They understand how to solve problems quickly and efficiently. We are committed to providing excellent customer service. We listen carefully to our client's concerns and suggestions. We take these into account when planning and executing projects. We always strive to exceed expectations.
Services We Offer:
Main Areas of Service in British Columbia:
Frequently Asked Questions
How much is it to replace a bathtub?
A complete shower re/re project in Vancouver (British Columbia) can cost upwards of $10,000. This is for a full project that would include:
Shower base (including drain)
Floor and wall tiles
Glass shower door or shower curtain
Fixtures (shower head, taps, soap dish, etc.)
Plumbing work
Waterproofing and tiling
Ventilation
Permits
How do you do a facelift in a bathroom?
It's not enough to replace fixtures and fittings when renovating a bathroom. It's about creating a welcoming environment for people to feel at home. You can make your bathroom more welcoming if you want to create a relaxed environment for your guests and yourself.
Here are some ideas:
Add plants. They will help to purify the air and provide natural beauty. There are many indoor plants to choose from: succulents and mosses; cacti, ferns and succulents.
Be sure to have the right lighting. Lighting is an important part of creating an inviting space. Use indirect light sources over direct. These will diffuse the light and provide soft illumination.
Make sure you have a comfortable place to sit. This could be a bench, or a small desk. To display artwork or photos, you could mount shelves to the wall. Adding a mirror to reflect light around the room will help brighten it.
You might want to add a hook for your bathrobe, or coat.
We offer a wealth of information about bathroom designs and remodelling services. If you need help planning your renovation, our experts would be happy to offer advice. Give us a ring today!
How long does a complete bathroom remodel take in Vancouver, British Columbia.
A bathroom renovation takes between four and five working weeks. The project may take longer if inspections or permits are needed. The size and complexity of your renovation may impact the timeline.
Should floor tiles be darker than walls?
Not necessarily. For the floor and walls, we would recommend the use of the same tile. If you want to use two tiles on the floor, the darker one should be used. Modern bathrooms are minimalistic.
How can you remodel a bathroom while keeping your budget tight?
The first step would be to take an inventory of what you have available. This should include everything from toilets, showers, sinks, mirrors, towel racks, lighting fixtures, etc.
Once you've compiled the list you will need to determine if any items may be salvageable. If they aren't salvageable, they must be repaired.
Next, you need to decide how much each item is worth. Once you have a rough idea of how much you want to spend on each item you can start shopping for replacement parts online.
Finally, you can update your bathroom once you have your new parts. This may include painting the walls, tiling the floors, or replacing old fixtures with new ones. No matter which route you choose, make sure you stick to your budget and don't spend more than what you originally planned.
Can I Install A Bidet In A Small Bathroom?
A bidet can be installed in a small, enclosed bathroom. But there are a few things that you need to remember before you do this. First, you need to think carefully about where the bidet will be located. It should be close to the toilet but not too far. Second, the size and type of bidet you choose must be appropriate for the size of your bathroom. Finally, it would be best if you made sure that the plumbing in your bathroom can accommodate a bidet. It is always best not to try to install a bidet inside a small bathroom without consulting a professional.
What will be the most popular bathroom design in 2023
The bathroom industry is changing rapidly as consumers demand higher-quality products at lower prices.
The next generation of bathroom design will focus on materials and finishes that are sustainable, safe, and healthy.
These include waterless urinals and low-flow toilets.
This trend will also emphasize health and wellbeing by offering shower heads and other devices that promote better hygiene.
Statistics
External Links
How To
How to hire a contractor in a bathroom remodeling project
There are many steps involved in bathroom remodeling. These include hiring the right contractor, selecting materials, getting estimates, signing contracts and then starting the work. This is because you don't want to make any mistakes but also want to get it done quickly. Here are some tips that can help you in your search for the right contractor to handle your bathroom remodelling job.
Start looking online. You have many options for bathroom remodeling. There are many websites that allow you to search for contractors, such as Trustedpros and Houzz. Most sites will allow you to enter your zip code and see which local contractors have received good reviews. Make sure to check their portfolio and google reviews.
Ask family and friends. Your family and friends probably know someone who has done a bathroom remodel. If they are open to sharing their experience, you might be able to recommend a contractor. You might be eligible to receive a referral fee if they refer you.
Look into forums on the internet. You can find many forums for bathroom remodelling on Facebook. Here, people can post photos of their projects and get advice. Reddit and Pinterest are two other popular places.
Do extensive research. Verify the credentials of anyone you hire to do the job. Look at their licenses, insurance, and other relevant information. You should also take note of past jobs. Are they experienced in doing bathrooms? Are they familiar with bathrooms of similar size?
Did you miss our previous article…
https://canadianhomestyle.com/bathroom-renovation/how-to-design-a-spa-like-bathroom/