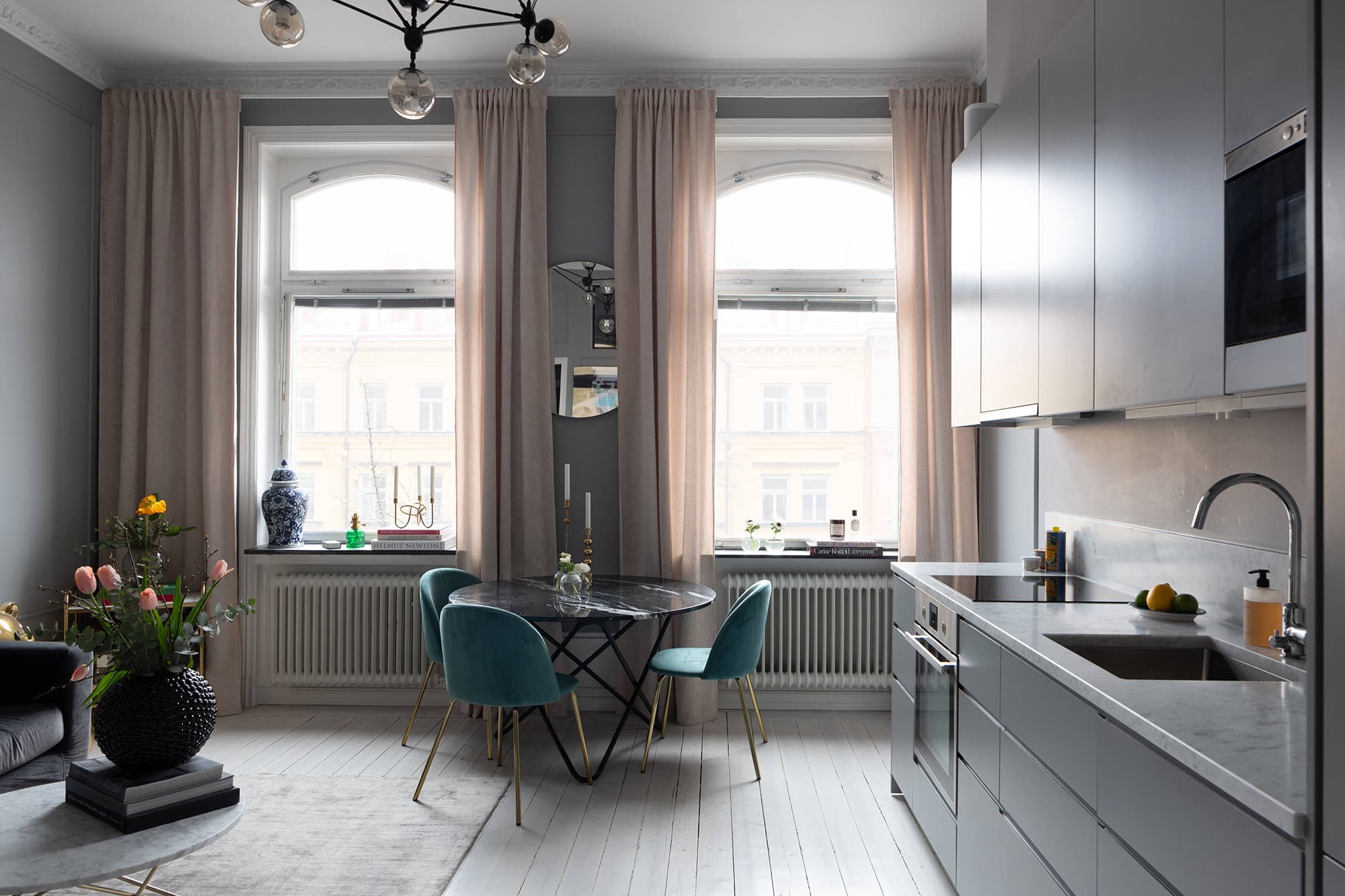 Who says you can't go dark gray in your kitchen?
Galvanized by a stunning Swedish apartment design, we've been prompted to share our newfound knowledge of how to artfully incorporate dark gray into the designs of your kitchen or bathroom. Don't be intimidated; it takes no more than a few easy steps to master!
If you like gray in 2023, opt for darker tones such as steel gray or charcoal brown. They will provide an effective foundation upon which you can build further.
Pick out tones that complement each other yet still maintain an air of sophistication. A great trick is to mix smooth suede with glossy surfaces like copper and marble for an attractive contrast. Also adding details like window frames and cabinets make perfect accents for injecting extra personality into the room.
Utilize both natural and artificial elements to give the place its own unique aura. Layering focal points across textured furniture, sleek countertops and rich wood all contribute to making a stylish atmosphere while still being practical.
So don't worry, transforming your room into a showpiece is surprisingly less daunting than it looks! With these simple guidelines, you'll soon be able to transform any kitchen or bathroom into one that rivals fine Swedish design. Enjoy!
A Swedish masterpiece!!!
The small, one-bedroom apartment in Sweden was painted in dark gray. This brings out the elegance of the turn-of-the-century details. The walls are soft gray and highlight the white mouldings and floorboards. They also bring out the original heaters and the lovely rounded windows that let in so much light.
The original apartment was one large room. However, during remodelling, interior designers created a wall to divide the bedroom from the living area. A glass partition was added above the door to ensure that the bedroom has some daylight.
Medium gray walls are lighter than the dark gray walls in this apartment but still add some character and moodiness to the interior.
Dark gray living room with minimal design
Instead of using one dark gray accent wall for the whole place, we have painted it all in the same colour. This includes the built-in kitchen. The apartment has a sophisticated and elegant tone-on-tone design.
The minimalist appearance of the push-to-open kitchen cabinets pairs well with the white marble countertops, and thin marble backsplash that protects the gray walls.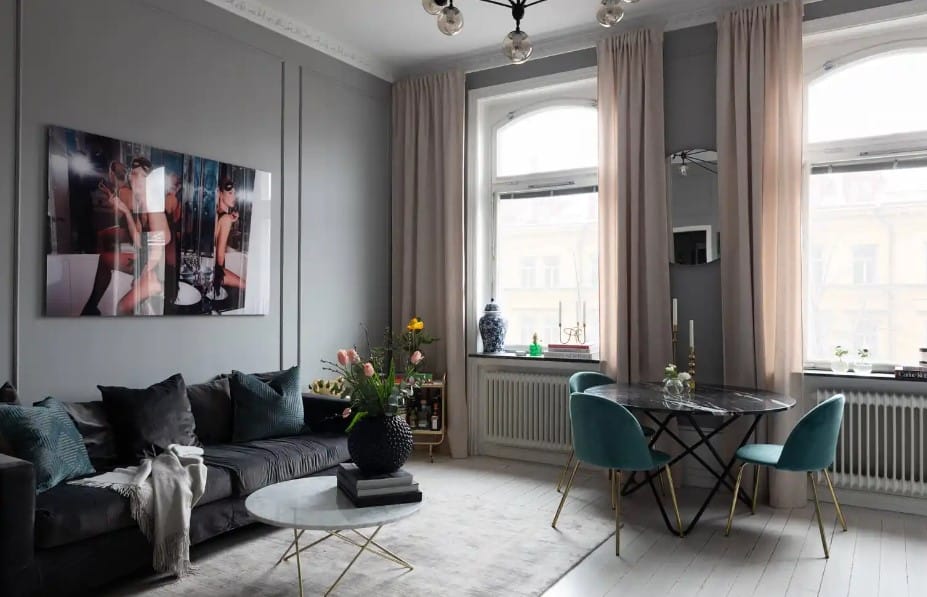 The kitchen takes up almost the entire wall. Both the top and bottom cabinets offer lots of storage space which is crucial for small apartments.
The kitchen looks great with the stainless steel faucets and appliances. However, the upper cabinets do not reach the ceiling so that you can still see the crown moulding above.
Living and dining areas with sophisticated looks
The living room, dining area, and kitchen are all in the same space. However, it doesn't feel cramped and still allows for all the functionalities you need to make your home a home.
Dark charcoal velvet sofa and the gray and green velvet throw pillows bring out the darker tones of the walls. The light gray area rug adds lightness to the space. The space is lightened by the light-soaped hardwood flooring. It seems to reflect natural light from the windows.
The living room has a small dining area that is strategically placed between the windows. These beautiful curtains are made of sheer beige to reflect the sunlight coming in.
The O table design is Ox Denmarq's coffee and dining tables. I love how the green of the throw pillows comes back into the Gubi green velvet Beetle chair, it adds a nice touch.
The brass accents add a sophisticated touch to the neutral colours and gray walls throughout the room. This focal point of the space's living room is also made up of brass and bright colours.
The wardrobe is hidden behind velvet curtains in a bedroom that fits into a niche.
The gray bedroom was placed in the small space created by adding a wall to the space. However, you will notice that there is no door that allows light to flow between the rooms. The bedroom has at least some daylight thanks to its open layout and the glass panels at the top.
The wardrobe was hidden behind a gorgeous velvet curtain. It goes from wall to wall, floor to ceiling, and I love how the blue velvet reflects in the throw.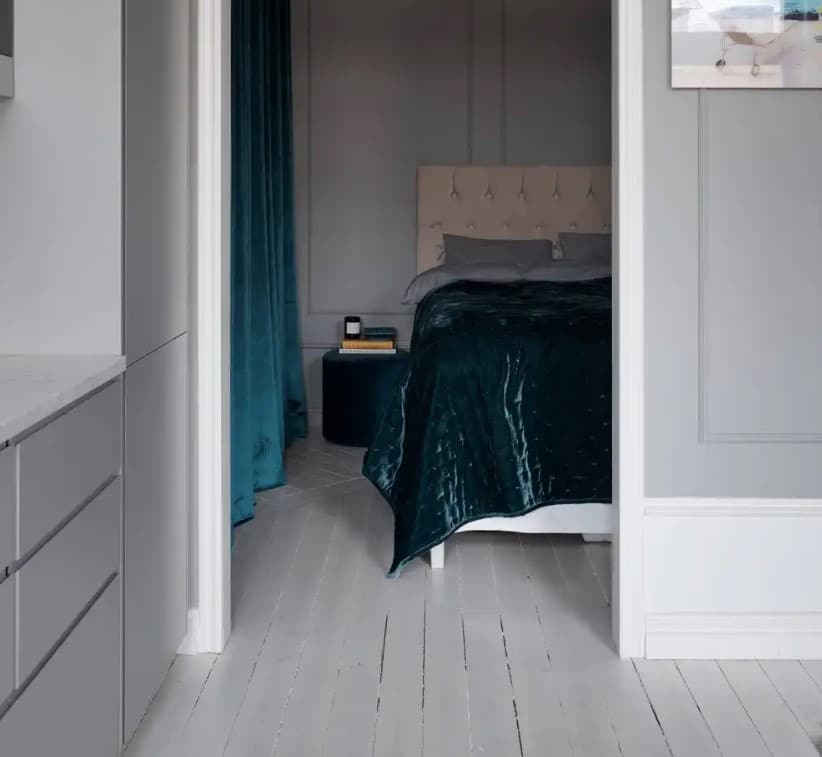 The hallway has a tone-on-tone, dark gray look
The hallway features a charcoal gray wall tone that has been combined with a tall wardrobe in the same color and a lower sideboard. The hallway is not exposed to daylight so the XL mirror in the center of the room serves two purposes. It allows you to inspect your outfit before you leave the apartment and also reflects some sunlight from the windows, making the space seem larger.
The brass accent pieces in the hallway add visual interest to gray walls. I also love how the brass is incorporated into the handles of tall wardrobe doors for a modern look.
References:
By: cocolapine
Title: Dark gray walls in an elegant one-bedroom apartment
Sourced From: cocolapinedesign.com/2023/03/18/dark-gray-walls-one-bedroom-apartment/
Published Date: 03-19-2023
Canadian Home Style is your family-owned and operated custom cabinetry retailer with a showroom in North Vancouver, BC. We are the official dealer of Cabico custom cabinetry in the Lower Mainland, providing complete kitchen renovations with an extended lifetime warranty. We always keep up to date with the latest trends and are proud members of the NKBA, National Kitchen and Bath Association.  In addition, we have won the Consumer's Choice Awards back-to-back in 2021, 2022 and 2023 for our commitment to business excellence. We are considered one of the highest-rated kitchen and bath design and renovation experts in Metro Vancouver. Book now to visit our North Vancouver showroom, where you can get expert advice from one of our kitchen and bath designers. We're happy to be a part of your journey with your next kitchen renovation project in Metro Vancouver.
Our mission is to help homeowners create beautiful homes that reflect their lifestyles while reducing energy consumption and conserving resources. We do this by providing our clients with innovative products, services and education. Our vision is to become Canada's leading sustainable kitchen design and custom cabinetry solutions provider. Our values include integrity, respect, honesty and transparency. These principles guide us as we strive to provide outstanding customer service.
We believe that our success depends on the success of our clients and their customers. We work hard to ensure our clients get the most out of their investments. Our team consists of highly skilled professionals who are experts in their field. They have years of experience working together and know what works and what doesn't. They understand how to solve problems quickly and efficiently. We are committed to providing excellent customer service. We listen carefully to our client's concerns and suggestions. We take these into account when planning and executing projects. We always strive to exceed expectations.
Services We Offer:
Main Areas of Service in British Columbia:
Frequently Asked Questions
What is a timeless kitchen backsplash design?
A subway tile backsplash is timeless. A full-height backsplash is recommended for kitchens. This would allow you to run the countertop as your backsplash all the way up to your upper cabinets. This creates the illusion of a larger kitchen.
Do I really need to remodel my kitchen?
A kitchen remodel is a significant investment, so it's essential to carefully consider whether or not it's suitable for your home. It is important to evaluate the age and condition your current kitchen, as well your family's and lifestyle needs, as well your budget.
Remodeling your kitchen can make it functional and modern. Remodels can be a great way to add more storage and counter space for your growing family. A well-designed, functional kitchen can help increase your home's value.
But a kitchen remodel may not be the best option. It doesn't make sense to renovate your kitchen if it is in good condition. Instead, you can focus on small changes that will increase the space's appeal without spending a fortune.
So, how do you know if a kitchen remodel is right for you? Here are some questions to consider:
Is your current kitchen functional? If your kitchen is cramped, has insufficient storage, or doesn't suit your family's needs, a remodel can provide the solutions you're looking for.
Is it time to update your kitchen? A kitchen remodel may be in order if you have old appliances or cabinets that are falling apart. A complete kitchen remodel will likely be necessary to fix these problems.
Do you want to add more value to your house? You may be looking to sell or upgrade your kitchen. A well-designed kitchen can make your home more appealing to potential buyers and increase its resale value.
What is your budget for a kitchen remodel? A kitchen remodel can be costly so it is important to establish a realistic budget. When estimating the cost of your project, be sure to include labor, materials, permits, and other costs.
If you answered yes to any of these questions, a kitchen remodel might be right for you. Talk to a qualified contractor to discuss your plans. It is possible to create the kitchen you desire with careful planning.
How long should a kitchen remodeling project take?
Once the cabinets arrive, the work should be completed in three weeks. However, custom cabinet design and manufacturing can take up to months. It can take several months to complete the entire process, from beginning to end.
Statistics
External Links
How To
These are the 8 Steps to Kitchen Remodeling For Beginners
These are the steps to follow when starting a DFY program for beginners:
Remodeling your kitchen is as easy as three steps. First, determine whether you are looking to complete a full renovation or simply replace fixtures and appliances. The second step is to determine what type of kitchen design best suits your lifestyle. You can choose to have the project done by professionals or DIY.
Next, decide what type of kitchen you want. Are you looking for a traditional kitchen that includes cabinets, countertops, and all the appliances? Or perhaps you prefer modern designs with sleek lines and minimal storage space? Do you have an idea for a large island or a breakfast nook? The final step is to hire a professional to complete the installation.
The kitchen is the heartbeat of every home. However, many homeowners feel overwhelmed at the number of decisions they must make before starting their project. There are several easy ways you can get started.
Decide if your goal is to remodel or replace. This is the first step. If you're looking to remove the existing space and begin from scratch, it's important to account for demolition costs, new cabinets countertops, flooring, appliances, lighting, and other expenses.
You Need to Calculate Your Budget. This includes everything, including the cost of labor and materials as well as the budget you have available.
Choose Your Layout – Once you've determined how much you can spend, the next step is deciding where you would like to place your new kitchen. There are many layouts available, including open concept and peninsula, galley, U-shape or L-shaped, corner, corner, U-shape and U-shape. Each layout has its own pros and cons so it is important to choose the one that suits your needs.
Select Your Materials. – Now that you've decided the layout of your new kitchen, it's time for you to choose the materials. This covers everything from cabinets and countertops, to flooring and lighting. There are many options. It is important that you research and choose the best material for your requirements.
Hire professionals – After you have chosen your materials, you will need to find a professional that specializes in kitchen construction. A professional contractor will ensure that everything goes smoothly from design through to installation. A good contractor will also offer follow-up services so that you don't have any worries during the installation process.
Enjoy! You've made it through the final stages of your kitchen remodel. Enjoy! If you're happy with your new kitchen, it won't be hard to spend hours creating delicious meals. You can still test your kitchen if you're not certain. It will give you a better idea of whether or not your remodel was worth the effort.
Helpful Resources: