The modern kitchen is an ever-evolving space. As the hub of activity in many households, homeowners must ensure that their kitchens are up-to-date and provide a comfortable atmosphere. In this regard, lighting plays a significant role in creating ambience and providing practical illumination for tasks such as cooking and cleaning. Coincidentally, 2023 promises to be an exciting year for new ideas and technology regarding kitchen lighting solutions.
As an experienced consultant on contemporary kitchen design concepts at Canadian Home Style, I have seen first-hand how important creative light fixtures can be in transforming a room from functional to fabulous. There has been a surge in innovative designs within this field over recent years – with manufacturers introducing state-of-the-art products combining style and energy efficiency. With this article, I will present some of the most striking trends we expect to see more of next year: illuminating your home with practicality and personality!
From sustainable LED bulbs to minimalist pendant lights, there are lots of options available when considering modern kitchen lighting ideas for 2023. Read on below to discover what you should consider adding to your kitchen renovation plans – whether you want subtle accents or bold statement pieces!
Definition Of Modern Kitchen Lighting
Modern kitchen lighting is an important element of any renovation or remodelling project. It sets the tone for the entire space and can affect a room's look and feel. While there are many different styles of lighting, modern kitchen lighting has become increasingly popular in recent years due to its combination of functionality and aesthetics. This type of lighting often incorporates sleek lines, bright colours, and bold shapes that create a distinct visual impact.
When defining modern kitchen lighting, it's important to note that this style does not necessarily adhere strictly to one design philosophy. Instead, it combines elements from multiple eras with contemporary touches to create something unique yet timeless. Common design principles include minimalism, symmetry, balance, clean lines, and natural materials such as wood and metal accents. Additionally, modern kitchen lighting may incorporate energy-efficient features such as LED bulbs and motion sensors to maximize efficiency while providing ample illumination throughout the space.
In addition to these traditional characteristics, some more cutting-edge innovations have begun appearing in recent trends, including voice-activated switches, touch-sensitive light panels, dimmers with accent lights for task areas like islands or work surfaces; even fixtures using intelligent colour-changing technology which allows users to customize their environment depending on mood or occasion. Each of these options provides homeowners with a greater degree of control over their kitchens' aesthetic appeal than ever before.
The types of modern kitchen lighting available today offer endless possibilities for personalization according to individual tastes and lifestyle needs. Whether looking for classic elegance or something more daringly avant-garde – whether seeking subtle ambiance or dramatic effect – advancements in technology have made finding what you need easier than ever. As we move into the future of interior design, possibilities expand exponentially; trends point towards continued innovation in quality products combined with new technologies that will take functional beauty within the home far beyond our current boundaries…transitioning us seamlessly into discussing emerging trends in kitchen lighting for 2023.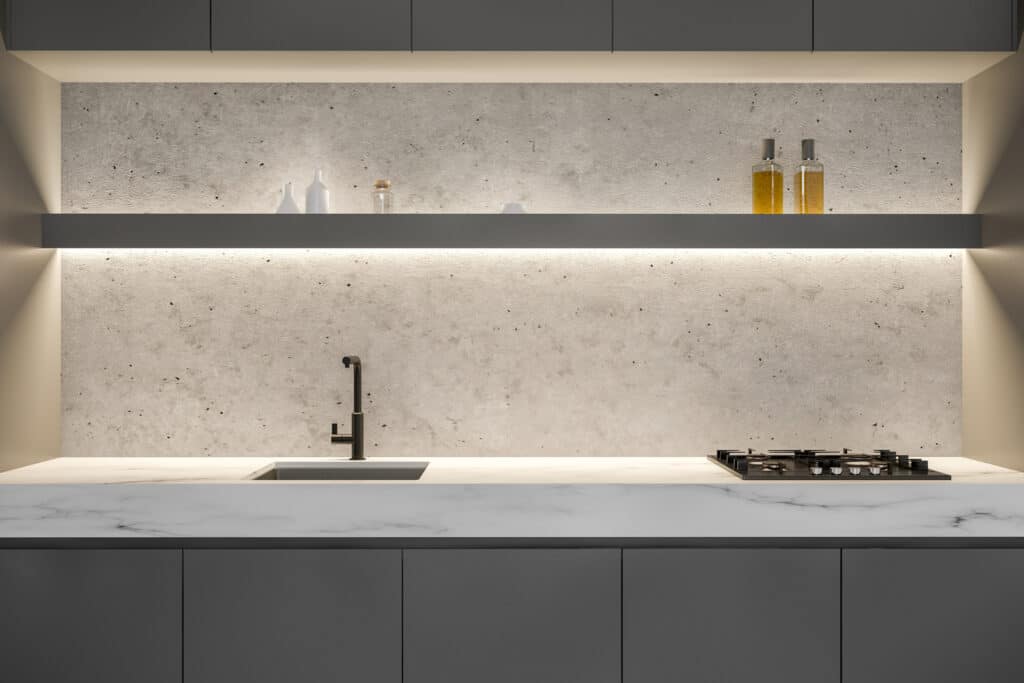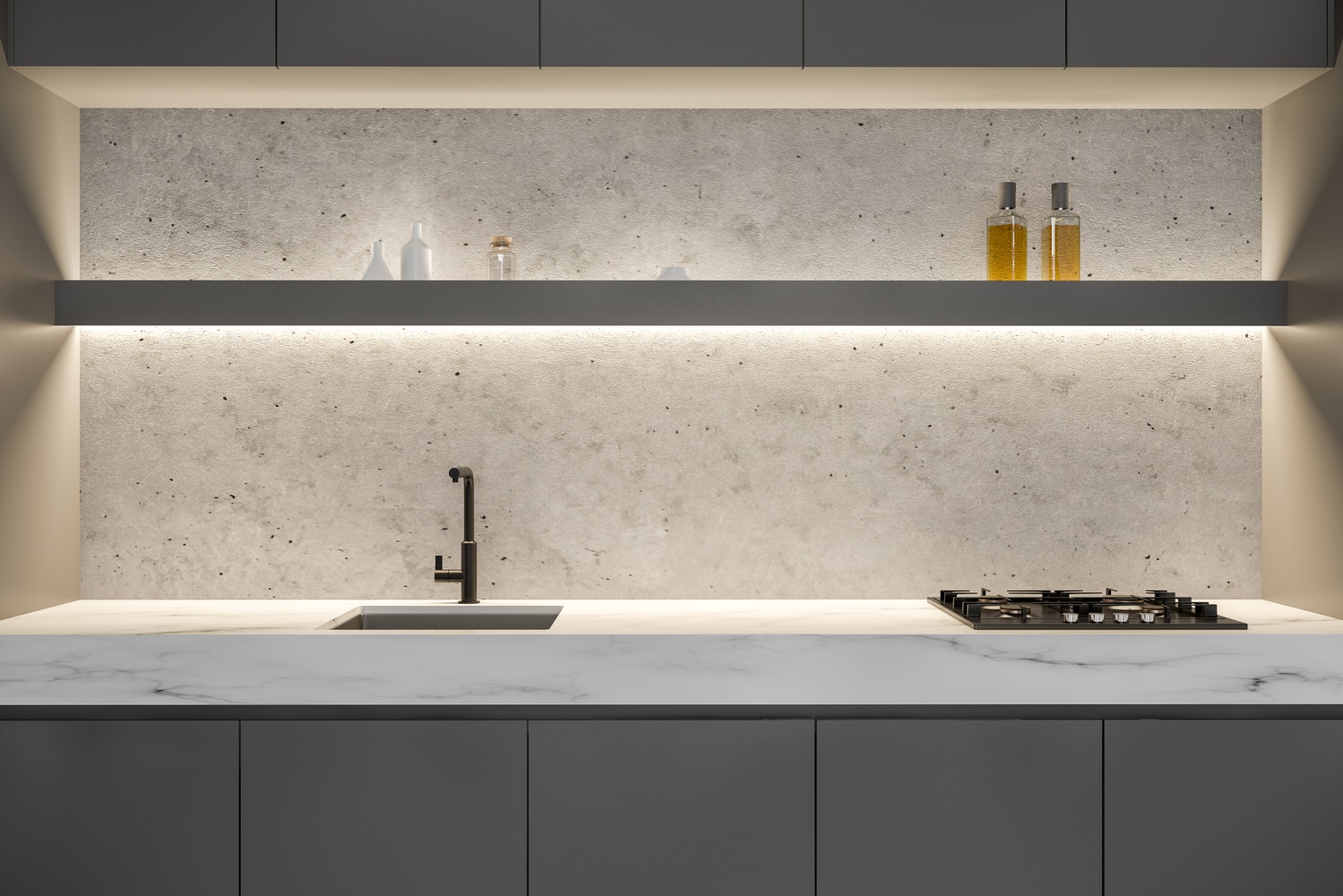 Trends In Lighting For 2023
As the consumer demand for modern kitchen lighting continues to grow, so do the trends in lighting design. 2023 will be a year of innovation and experimentation with advanced technologies pushing the boundaries of what is possible when creating an ideal ambiance for your home's kitchen. In general illumination, ambient lighting remains the preferred choice as it creates a warm glow throughout the space while providing enough visibility for everyday activities. However, more homeowners are increasingly looking towards task-specific lights such as under cabinet or pendant fixtures for targeted illumination and accents over traditional overhead lighting.
LED lights have become extremely popular when considering light sources due to their energy efficiency and long life span. They come in many shapes and sizes, allowing you to customize your kitchen's look without worrying about replacing bulbs too often or spending too much on electricity bills. Smart home technology has also been integrated into some new models, which allow users to control brightness, colour temperature, dimming levels, or even set preprogrammed scenes from their smartphones or voice assistants like Alexa or Google Home.
To complete any kitchen lighting setup, accent lighting is becoming vital to highlight unique features within the room, such as artwork or furniture pieces. This can be done through track systems utilizing recessed halogen spots that create pools of focused light around these objects when needed. Wall sconces can bring warmth and intimacy along hallways and corridors leading up to the main cooking area while remaining out of sight if desired. With all these options available today, there is plenty of room for creativity when designing a modern kitchen layout, regardless of budget constraints.
No matter how elaborate one's plans may be. However, careful consideration should always be given to task lighting placements since this light source must provide adequate coverage without hindering movement within the workspace. The position chosen should ensure proper alignment between countertops and cabinets but, at the same time, not overshadow other parts of the kitchen, either visually or practically speaking.
Task Lighting Considerations
When it comes to task lighting considerations for a modern kitchen in 2023, the primary focus should be on identifying the most common tasks that will take place within the space and assessing how each one can best be illuminated. As such, thoughtful consideration must also be given to where and how lighting fixtures should be placed to achieve optimal visibility and light intensity for each task.
For instance, when it comes to meal preparation activities like chopping vegetables or mixing ingredients, specific placement of overhead lights and/or wall-mounted fixtures can ensure adequate illumination without any glare or harsh shadows across surfaces. Similarly, under-cabinet lighting strips are ideal for providing clear sightlines during food prep work while minimizing shadows created by lower-hanging cabinets.
Adjustable track lighting systems may provide precision control over light levels for more intricate culinary efforts, such as decorating cakes or creating detailed dishes with multiple components. Hence, users have full visibility of their creations from all angles. Meanwhile, additional accent spotlights can help draw attention to artwork or decorations displayed in the kitchen area. Regardless of which type of fixture is chosen, careful thought needs to ensure proper light intensity is achieved to facilitate the completion of every task at hand.
The same holds for family gathering spaces in the kitchen, too – soft pendant lights hung low over islands, or dining tables help create inviting atmospheres for socializing and entertaining guests while still allowing plenty of room for participating adults and children alike to move around freely underneath them. Keeping these various lighting factors in mind when planning your modern kitchen ensures that all necessary tasks can be easily completed while delivering a stylishly illuminated look come 2023.
Ambient Lighting Considerations: Lighting colour temperature plays an important role in setting the right mood throughout this multifunctional living space…
Ambient Lighting Considerations
In the modern kitchen, ambient lighting is an important part of a successful design. It can provide overall illumination and set the mood for the entire space. To create effective ambient lighting solutions for 2023, it's essential to consider both existing fixtures and innovations in light sources. Here are three key pieces of advice on how to use ambient lighting effectively:
Think about effects – Ambient lighting should create certain effects within your kitchen space. Consider using warm or cool tones depending on your desired atmosphere, and choose fixtures that will complement those colours accordingly.
Choose appropriate fixtures -The right ambient light fixture depends on several factors, including size, shape and bulb type. Take into account where you'll install them as well as their wattage before making any final decisions.
Look for innovative solutions– When selecting ambient lights, think beyond traditional options such as recessed lights or adjustable spots and explore more creative alternatives like track lighting or pendant lamps with multiple bulbs for added drama in your kitchen design scheme.
Overall, there are many ways to create interesting ambient lighting effects in your kitchen while achieving practical goals, such as providing adequate visibility throughout the room without glare or shadows obscuring surfaces or items on display. By carefully considering these elements and other environmental elements, such as natural sunlight during the day, homeowners can find optimal solutions that best suit their needs when creating a comfortable yet stylish atmosphere with ambience in mind. With careful thought into all design aspects, kitchens can become beautiful havens filled with dynamic atmospheres created through cleverly arranged light sources that bring rooms to life!
For further exploration into this topic, the next section examines various light sources available today, offering unique opportunities for setting up one's ideal kitchen environment with both task and ambient lighting considerations.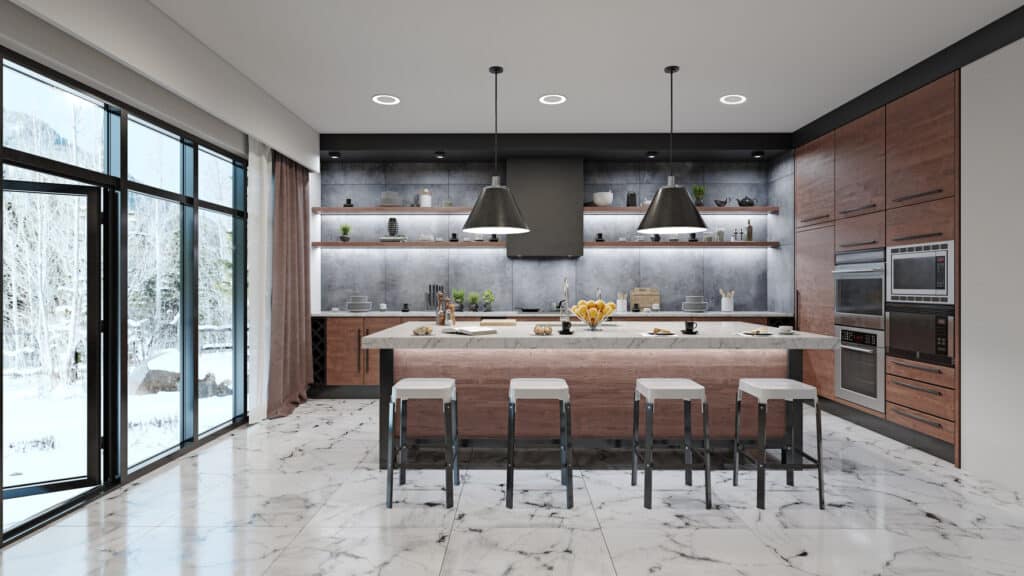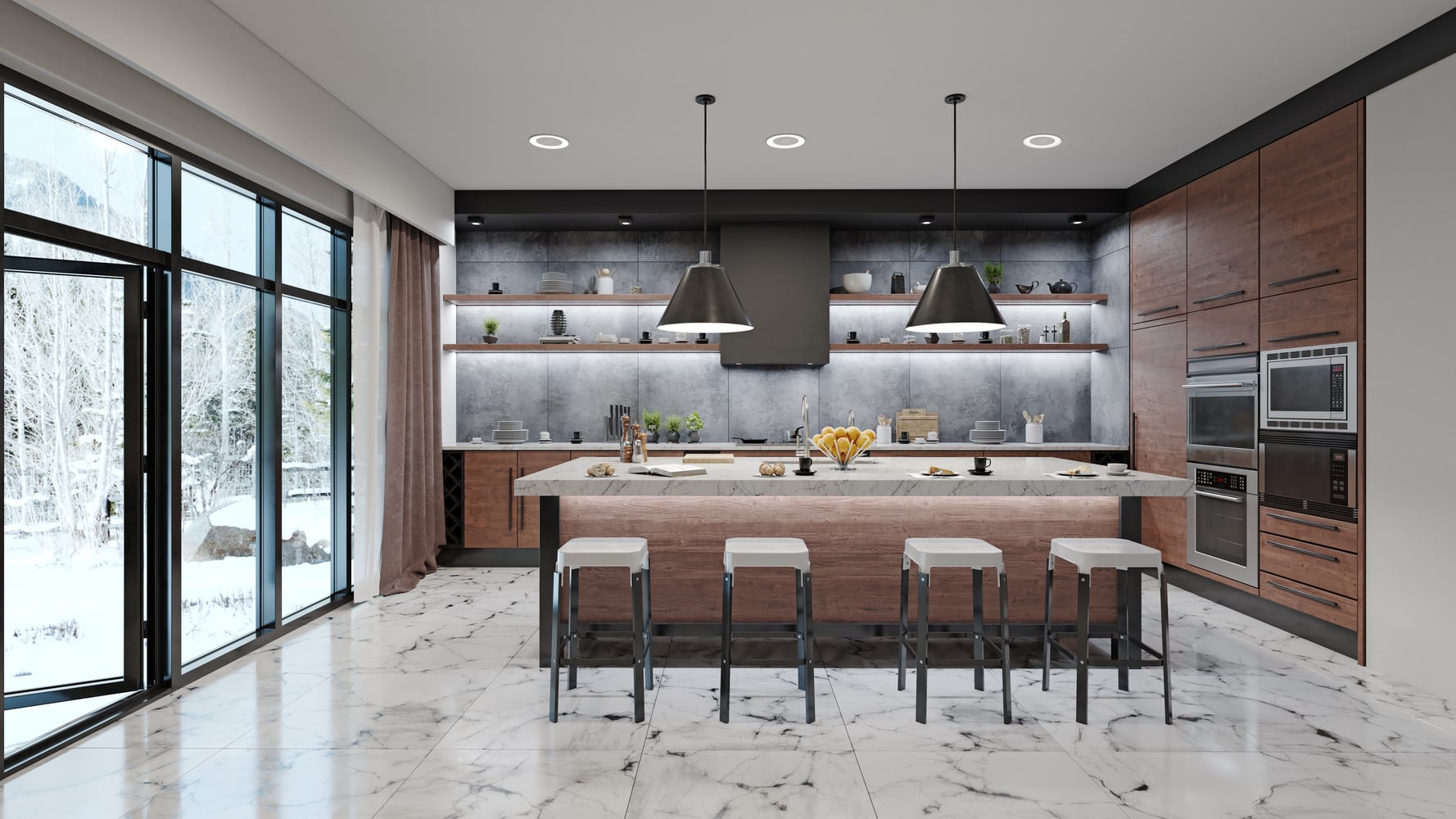 Types Of Light Sources
The modern kitchen requires a variety of light sources to create the desired atmosphere. Halogen bulbs are popular for task lighting, providing an intense white light suitable for activities such as chopping vegetables or reading recipes. Fluorescent tubes can provide a softer, ambient illumination and come in various shapes and sizes to fit different spaces. Natural light is also essential for creating an inviting space; therefore, it is important to consider window treatments when designing your kitchen's layout. Solar lamps can be used outdoors on balconies or patios for convenience and style. Compact fluorescents offer great energy efficiency compared to incandescent bulbs, making them cost-effective in the long run. To sum up, numerous types of lighting available today can help you achieve the look you desire while helping you save money in the process. As we move into 2023, LED lights remain another promising option becoming more accessible each year.
LED Lights
LED lights are a defining characteristic in the future of kitchen lighting. These advanced fixtures have been around since the early 2000s, but in recent years they've experienced an upgrade to become much more efficient and versatile than ever before. Picture yourself stepping into your modern kitchen in 2023, where sleek LED strip lights line the cabinets and countertops, illuminating every corner with their cool white hue. Meanwhile, small LED bulbs accentuate each nook and cranny with various shades of colour depending on your mood or occasion. Enhancing this atmosphere further is a set of contemporary LED wall lights mounted strategically for ambient illumination. Above all else hangs a single statement piece of powerful LEDs – an ultra-modern chandelier or intricate ceiling light fixture designed especially for your space. In short, no matter which type of LED kitchen lights you choose, they will certainly add character while providing reliable lighting solutions well into the future.
Recessed Lighting
Recessed lighting is an excellent choice for modern kitchen lighting ideas due to its versatility and ease of installation. This type of lighting can be used in many different ways, from ambient lighting to accentuating certain areas or objects. Recessed lights can provide an elegant look for the modern kitchen while saving energy.
The following table shows the various types of recessed lights available and their respective advantages:
| Type | Advantages |
| --- | --- |
| Directional Trim | Can focus light on specific items; adjustable beam spread; minimal glare; low wattage use |
| Wall Wash Trim | Creates soft wall wash effect; narrows beam angle if necessary; minimizes glare |
| Eyeball Trim | Adjustable direction with 360-degree rotation; minimal glare; provides targeted illumination |
| Open Reflector Trim | Broaden's beam spread; creates bright 'wash' or 'spotlight' effect |
It is important to consider placement, layout, trim style, and spacing to ensure optimal results when using recessed lighting. Consider your kitchen's design before deciding where each fixture should go. Placement should be based on task needs, such as countertop workspaces or islands that require additional light. The layout depends on the area you are trying to illuminate and how much control you want over brightness levels in that space. After selecting a trim style, determine if multiple fixtures will be needed depending on the room size. Lastly, carefully calculate the distance between fixtures so there is no overlap or gaps in coverage that could cause dark spots within the room.
Considering all these factors, you can create a stunningly lit modern kitchen with both form and function! With careful planning and attention to detail, you can ensure all elements work together harmoniously to achieve your desired aesthetic while achieving maximum efficiency.
Wall Sconces
The theory that modern kitchen lighting should incorporate wall sconces is widely held. However, this idea's reality depends on each home's needs and tastes. Wall sconces are a great way to bring light into otherwise dark spaces and add decorative flair. The range of design and functionality options allows homeowners to find something that suits their unique kitchen aesthetic.
When selecting wall sconce ideas for a kitchen setting, it's essential to consider both form and function. Modern wall sconces have come a long way since traditional candle holders were used centuries ago; contemporary wall sconces offer an array of finishes from rustic bronze to stainless steel, as well as multiple levels of illumination depending on the size and wattage chosen. Furthermore, most designs feature adjustable arms or swivel heads, allowing easy placement in hard-to-reach areas such as above cabinets or behind stovetops.
Wall sconce lighting can be customized with shades like frosted glass globes for diffused ambient light, opaque metal mesh screens for task lighting applications, or any other materials designed to fit your decor preferences. Decorative wall sconces provide an opportunity to add extra visual interest without taking away from the overall warmth and comfort of the kitchen space – think detailed scrollwork accents or delicate floral patterns etched onto brass fixtures!
In addition to making bold statements through the creative use of colour and texture, wall scones can also serve practical purposes when hung near countertops or nearby dining tables where additional overhead light may not be available. This makes them ideal for creating an inviting atmosphere during meals or entertaining guests late into the evening. With so many possibilities, homeowners no longer need to settle for outdated solutions when planning their modern kitchens – they now have access to innovative products tailor-made for every lifestyle and taste! Transitioning seamlessly into pendant lights…
Pendant Lights
Pendant lighting is an essential component of modern kitchen design. A pendant light, or a single hanging fixture hanging from the ceiling, can provide task lighting for island counters and dining areas and ambient lighting over seating areas. They come in various shapes, sizes and styles to meet aesthetic requirements. Kitchen pendants can be used by themselves or with other types of lights to create layers of illumination throughout the space.
The choice of kitchen pendant lights should reflect the overall style and feel of the room – traditional kitchens are likely to opt for classic lantern-style fixtures. In contrast, contemporary rooms will benefit from more minimalist designs, such as geometric forms or industrial-inspired shades. Hanging pendants also offer flexibility when it comes to height – they can be hung at different levels depending on how much light each area needs. Modern pendants may feature integrated LED technology, providing energy efficiency and enough brightness for meal preparation tasks.
When selecting kitchen pendant lights, consider both their decorative impact and their functional purpose within the space. The number of bulbs required depends largely on where they're placed; larger spaces might require multiple fixtures, while smaller ones could get away with just one statement piece above a countertop or dining table. Many options are available today, from timeless classics like glass globes to more adventurous choices such as sculptural pieces made from metal or woodwork.
Due to its versatility and capacity for making bold design statements, pendant lighting will remain popular among homeowners looking to update their kitchens in 2023 and beyond. With careful consideration and selection, these easy-to-install fixtures will bring character and functionality into any kitchen setting – transitioning seamlessly into the next section about track lights without saying 'step.'
Track Lights
Track lighting is an innovative, cost-effective lighting solution for modern kitchens. Track lights are installed on a continuous track and can be used to highlight kitchen areas or provide general illumination. This type of light fixture offers flexibility regarding design possibilities and installation locations.
When it comes to tracking light installation, there are several options available that can accommodate almost any situation. For instance, single tracks can run along walls or ceiling beams, while multiple tracks can be combined into larger configurations such as L-, U-, and T-shaped designs. Tracks also come in various lengths to span large open spaces like loft apartments or studios with high ceilings.
Various styles of track lighting fixtures exist, including monorail systems with lights hanging below the rail system, traditional linear systems with individual lamps mounted onto rails, and low voltage plug-in systems allowing users to customize their own layouts by simply plugging in components at different points along the track. Additionally, many manufacturers offer dimmable features that give users greater control over the light emitted from each lamp.
Regarding track lights design, countless choices are available, ranging from sleek contemporary models featuring brushed stainless steel finishes to classic Victorian styles crafted with crystal glass shades in warm colours like amber and red. Regardless of style preference, all track lights serve as a practical yet stylish source of ambient lighting that will continue trending well into 2023 and beyond. Moving forward, under-cabinet lighting presents another viable option for modern kitchen environments….
Under-Cabinet Lighting
Under-cabinet lighting is a great way to illuminate your kitchen space. From the subtle glow of task lighting to the dramatic effect of accent lighting, under-cabinet lights are becoming increasingly popular in modern kitchen designs. As one of the most important elements for creating a functional yet aesthetically pleasing kitchen, there's no shortage of cabinet lighting options for homeowners today.
For starters, it helps to understand how these light fixtures work best around countertops and other surfaces within kitchen spaces. This includes measuring distances between lights and areas that will be illuminated by them and considering what type of bulbs should be used based on their wattage. For instance, LED strip lighting is often more energy efficient than traditional incandescent bulbs, providing plenty of brightness without generating too much heat. Additionally, dimmable LED strips allow users to adjust levels according to personal preference or tasks performed at any given time, such as cooking meals or entertaining guests.
When planning the layout for under-cabinet lighting, you must consider where exactly you want the light fixtures installed so that they blend seamlessly with surrounding cabinets and surfaces like backsplashes or flooring. If done correctly, this can create an inviting atmosphere that encourages socialization among family members and friends—a key element in many modern kitchen lighting designs! It's also helpful to keep an eye on bulb colour temperature (CCT) and CRI ratings since these two factors play into how warm or cool colours appear throughout your space, something worth noting if you're hoping to achieve a particular ambience inside your home.
In short, under-cabinet lights offer numerous advantages depending on individual needs but require careful consideration to ensure proper installation and placement within the kitchen's overall design scheme. With these considerations in mind, choosing the right type of cabinet lighting solution should become easier regardless of whether you prefer classic styles or contemporary trends. Next, we'll examine the importance of appropriate colour temperatures and CRI ratings when selecting kitchen lighting fixtures.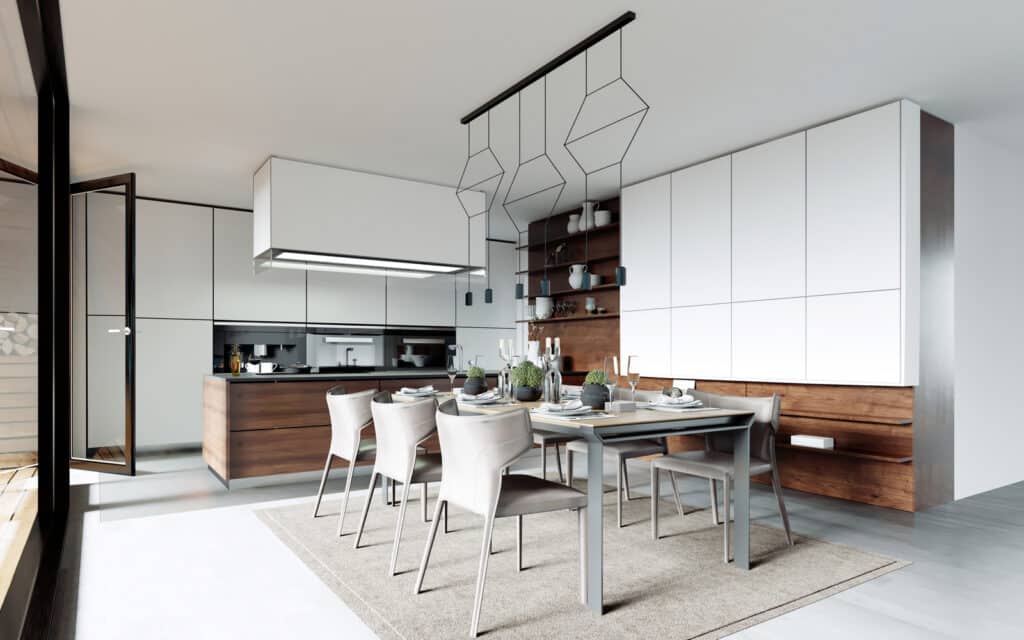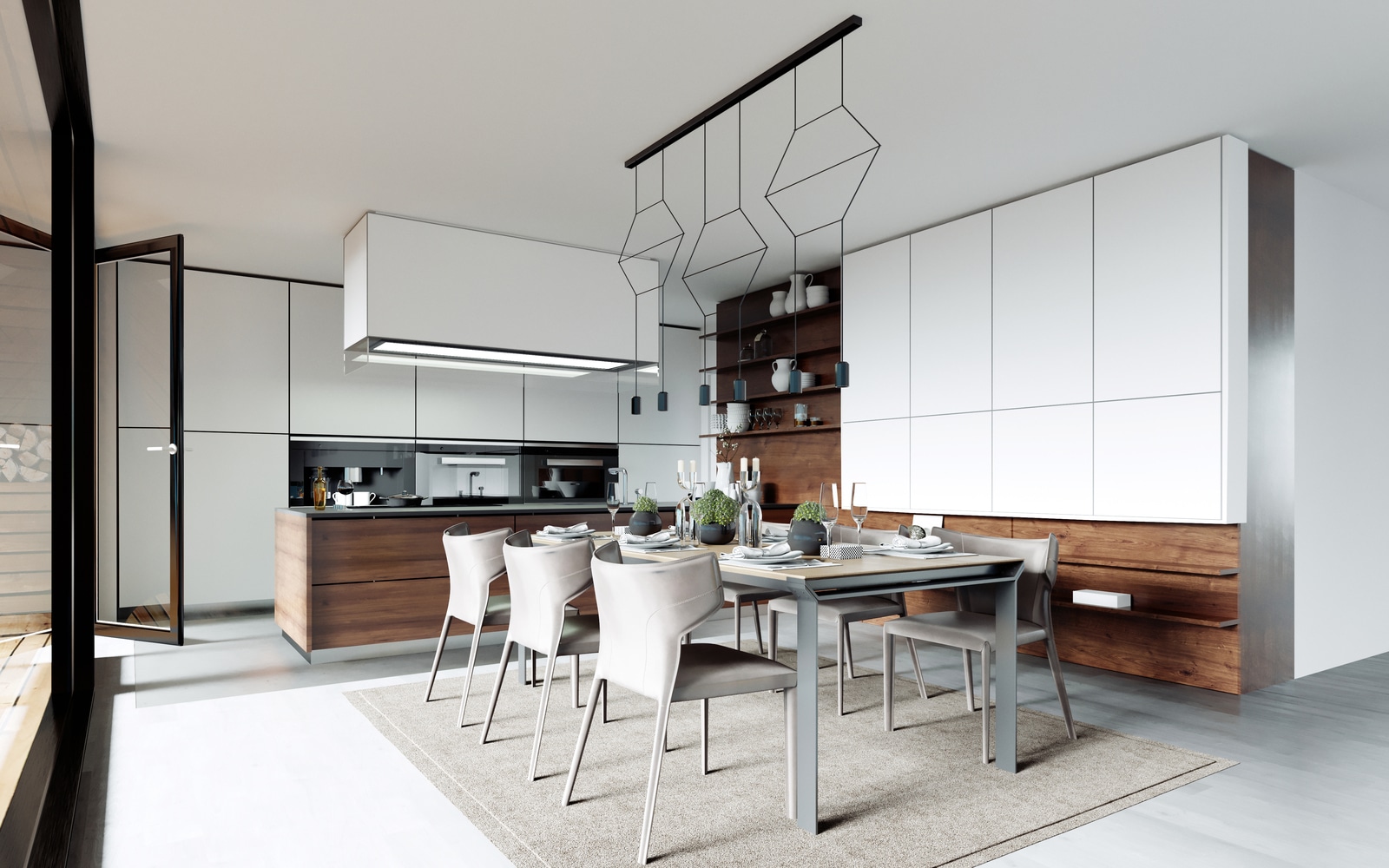 Colour Temperature And Cri Ratings
Regarding modern kitchen lighting, colour temperature and CRI ratings are important factors. Colour temperature is measured in Kelvin (K), which represents the hue of a light source when illuminated. The higher the Kelvin number, the cooler or bluer the light will appear, while lower numbers produce a warmer or yellowish tone. For kitchen design projects, colour temperatures between 2700-3000K are most common due to the warm and inviting ambiance they create in living spaces.
CRI stands for 'Color Rendering Index', which measures how accurately colours appear under certain light sources compared to sunlight. A high CRI score indicates a better ability for colours to appear more vibrant and true-to-life than with lights having a low CRI rating. Kitchen designers typically use LED bulbs with 90+ CRI scores, as these provide excellent illumination without sacrificing the quality of the colour rendition.
Modern kitchens often feature multiple layers of lighting, such as task lighting around work areas combined with ambient lighting that provides overall brightness and accentuates key features like countertop surfaces or backsplashes. With a proper selection of light fixtures based on both colour temperature and CRI ratings, homeowners can achieve optimal visuals throughout their space and highlight its best characteristics.
To take kitchen design one step further, however, integrating smart home technology into your project will allow you to control all aspects of your kitchen's lighting from an app on your phone – including setting schedules for dimming at night or turning off individual lights automatically when no activity has been detected in a particular area after some time.
Integrating Smart Home Technology
The modern kitchen of 2023 is no longer just a place to prepare meals but also an area that integrates smart home technology. Automation devices enable remote control and voice activation, allowing homeowners the convenience of controlling their appliances with minimal effort. The latest innovations in kitchen tech have made it easier than ever to create a truly connected space.
Modern lighting systems are now equipped with sensors that allow homeowners to customize the brightness and temperature accordingly. This feature saves users energy by only using what's necessary for each task or situation. Smart bulbs can even be programmed to turn on and off based on occupancy levels and time of day, providing convenience and peace of mind.
Many automation devices offer additional features such as timers, reminders, alarms, notifications, automatic shut-offs, etc. By integrating these capabilities into your kitchen lighting system, you can ensure efficient use of resources while staying organized. Plus, most apps come with preset scenes that make it easy to adjust settings depending on how much light you need at any given moment.
From integrated voice command systems to motion detectors and automated dimmers – there's no limit to creating a high-tech atmosphere in your kitchen today. For those looking for the ultimate in convenience and efficiency, investing in smart home technology is worth considering when renovating one's kitchen space. Making thoughtful decisions about which products best suit your needs can help streamline processes while ensuring long-term performance satisfaction. Timely updates can further enhance user experience over time. With all this new technology available at our fingertips, creating a highly functional yet aesthetically pleasing kitchen environment that perfectly caters to one's lifestyle needs is possible!
Design Tips To Enhance The Look Of Your Kitchen
It has been said that the kitchen is the heart of the home, and modern lighting can make it even more inviting. Technological advances offer many ways to add a bright and stylish touch to your kitchen design. From ambient fixtures to task lighting, you can easily create an atmosphere that will fit any style or budget. To help you find just the right look for your space, here are some tips on how to incorporate different types of modern kitchen lighting into your decor:
• Ambient Lighting: This type of light helps set the mood and brightness level throughout the room. It should be soft yet provide enough illumination to safely and efficiently complete tasks. Some popular options include recessed lights, track lights, wall sconces and pendant lighting. Consider playing with shadows by adding multiple layers of lighting at varying heights for a truly unique look.
• Task Lighting: Consider both form and function when choosing task-specific lighting solutions such as under cabinet lights or pendant lights above islands and counters. These fixtures should enhance visibility and complement other elements within the kitchen's overall aesthetic.
• Accent Lighting: No matter what type of fixture you choose—from chandeliers to string lights—accent pieces are designed to draw attention to particular areas within a room while providing additional visual interest. Opt for energy-efficient LED bulbs rather than high-wattage incandescent lightbulbs to achieve this effect without overwhelming the space.
Lighting is essential in bringing together all aspects of your kitchen design, from paint colours to textures and materials, creating cohesion between disparate elements for a unified look. Whether you're remodelling an existing space or creating one from scratch, these modern kitchen lighting ideas can help elevate the ambiance regardless of size or budget constraints.
Professional Installation Considerations
As technology continues to evolve in 2023, so must the way kitchen lighting is installed. Professional installation may be necessary for certain kitchen lighting fixtures, which should be considered when choosing a style. Smart home technology has allowed homeowners to install more sophisticated lighting systems that can be easily integrated with existing designs and appliances. It is important to ensure any wiring or electrical work meets current safety regulations as part of professional installation. This helps protect against potential hazards such as sparks, electric shock, and fire.
Professionals also have access to tools unavailable to the homeowner, making it possible for them to complete complex installations quickly and safely. For example, contractors often use specialized wire cutters, screwdrivers, and other tools made specifically for working on kitchen light fixtures. Additionally, professionals know how best to fit each type of fixture within various layouts without causing damage or interfering with other components in the space.
It is important to note that many factors must be considered when installing new kitchen lighting fixtures, including power requirements, ventilation needs, aesthetic preferences and budget constraints. A qualified contractor can advise on these issues, ensuring the desired outcome while staying within the allotted financial resources. They possess the technical know-how to create attractive yet functional lighting solutions tailored to your home's needs.
When selecting a contractor, ensure they meet all licensing requirements and carry appropriate insurance coverage in case something goes wrong during installation. Ask questions about the experience level and review their portfolio before deciding who will do the job immediately. First, try taking into account the latest 2023 trends in smart home technologies incorporated in modern kitchen design ideas besides traditional ones used by most people today around the globe worldwide.
Frequently Asked Questions
How Much Does It Cost To Install Modern Kitchen Lighting?
Unsurprisingly, modern kitchen lighting has become one of the most sought-after topics for interior design in 2023. It is no surprise how expensive installing modern kitchen lighting can be. With various options available and energy-efficient solutions on the market, understanding your project's cost is vital before starting any installation.
As an expert consultant on kitchen lighting, I understand the potential costs of installing modern kitchen lighting and the importance of investing in efficient solutions to save money in the long run. Several factors must be considered when considering your budget for such a task.
Firstly, if you're looking at replacing existing lights or adding additional ones, you should factor this into your budget accordingly. Secondly, depending on the type of light fixture chosen and its intended purpose – whether it be ambient, task or accent – certain fixtures may require more wiring than others so this should also be considered when calculating overall costs. Finally, given the rise of LED technology over recent years, many customers opt to pay a little extra for better efficiency ratings from their new lights, something worth considering if you're hoping to reduce energy bills moving forward.
When planning any installation involving electrical work, it is always wise to seek professional advice from experienced electricians who can provide valuable insights regarding safety protocols and applicable building regulations. Not only will they ensure each step is done correctly, but they could also even help identify ways to make savings along the way by offering alternative installations or cheaper products while still achieving satisfactory results.
In short, knowing exactly what your project requires and being informed about all relevant aspects beforehand are key elements in ensuring you get value for money when making decisions concerning modern kitchen lighting projects in 2023.
What Are The Pros And Cons Of Each Type Of Light Source?
When it comes to modern kitchen lighting, there are several types of light sources available. Each has pros and cons when deciding on the best type for a particular situation. LEDs, fluorescent lights, halogen bulbs, solar lamps and incandescent fixtures all offer different brightness levels, efficiency, cost and life expectancy levels.
LEDs provide an ideal balance between energy efficiency and long-lasting illumination. They also emit very little heat compared to other forms of lighting. However, they can be expensive upfront and require careful installation to maintain their performance over time. Fluorescent lights provide bright illumination but may suffer from flickering or buzzing noises due to ballast issues. Halogen bulbs produce high-intensity light with excellent colour rendering but have shorter lifespans than LED lamps. Solar lamps are highly efficient but must be placed where direct sunlight is available during most daylight hours to remain operational at night. Incandescent fixtures are generally inexpensive but consume more electricity than any other form of lighting source currently available and generate substantial amounts of heat as a byproduct of operation.
Each type of light source offers unique benefits depending upon the desired application requirements, such as dimming capability or environmental sustainability goals. Moreover, many newer technologies integrate multiple lighting forms into one system, offering increased versatility while consuming less energy. For example, hybrid systems combining LED and fluorescent components can work together synergistically, creating brighter results using fewer watts than would otherwise be necessary when using either technology separately. Additionally, these hybrid solutions often feature adjustable colour temperatures enabling them to transition seamlessly from task lighting applications during daytime hours through cozy ambiance settings during evening activities without sacrificing performance or reliability.
In assessing the various options for modern kitchen lighting ideas for 2023, it is important to consider initial costs associated with purchase and installation and ongoing maintenance expenses related to each option under consideration before concluding what is best suited for any given project needs. Understanding how each type compares relative to one another will help ensure resources invested deliver maximum value throughout years ahead while providing the beautiful aesthetic appeal desired within this essential room environment today's busy family demands now more than ever!
Are There Any Modern Kitchen Lighting Options That Are Energy Efficient?
With the average household spending 6-10% of their energy bill on lighting costs, it is essential to consider modern kitchen lighting options that are stylish and energy efficient. It is possible to find efficient lighting options that meet a variety of needs while still saving money in the long run.
The key to selecting an energy-efficient light source for your kitchen lies in understanding what lights are available and how each can save you money over time. LED lights, CFLs, halogens, and incandescents all have their pros and cons when it comes to energy efficiency:
LED lights are the most expensive upfront but last much longer than other bulbs, which saves significantly on replacement costs;
CFLs use about 70% less energy than traditional bulbs but take a few minutes to reach full brightness;
Halogen bulbs produce more light per watt compared to traditional incandescent bulbs but generate more heat;
Incandescents provide better ambiance than any other bulb, but they consume more electricity.
As a kitchen lighting expert/consultant, I recommend choosing fixtures with integrated LEDs or opting for those that utilize replaceable LED lamps due to their low operating cost and longevity. Additionally, look out for ENERGY STAR® certified products as they guarantee at least 25% higher efficiency levels than standard models. With these tips, you can confidently select modern kitchen lighting fixtures without sacrificing style or breaking the bank.
When searching for efficient lighting solutions, there are several factors worth considering, such as colour temperature (2,700K – 4,000K), lumens output (measurement of brightness), dimming capabilities (for mood setting and reduced power consumption), warranty period (at least two years) and materials used (aluminum or plastic). Ultimately you want your choices to reflect your sense of aesthetics while reducing your long-term expenses, so weigh all variables carefully before deciding.
By researching thoroughly and considering both design elements and functionality features, one can create an innovative space with appropriate modern kitchen lighting ideas that will reduce monthly bills and be aesthetically pleasing for many years to come.
Are There Any Diy Installation Options Available?
DIY installation of modern kitchen lighting is becoming increasingly popular due to its convenience and cost savings. DIY options are an excellent way for homeowners to create custom lighting solutions that fit their needs.
When installing your kitchen lighting, there are several factors to consider. First and foremost is safety; make sure you read all instructions carefully before beginning any project. Secondly, be aware of the wiring type needed for any fixture or switch – this can vary depending on the model and voltage requirements. Additionally, consider local building codes, which may require additional electrical permits or inspections before installation.
Modern kitchen lighting fixtures come in many styles and types, ranging from recessed ceiling lights to pendant lamps to track lighting systems. Each type has its pros and cons, so it's important to determine what kind of effect you want before purchasing any fixtures. For example, recessed lights provide an even light spread but lack versatility as they cannot be aimed at specific objects like artwork or cooking surfaces. In contrast, pendants offer more control over placement but require higher ceilings for optimal illumination. Track lights also add flexibility but need careful planning when considering how much power each bulb requires versus the total wattage capacity of the entire circuit breaker panel.
Regarding ease of installation, some options, such as plug-in under cabinet LED strips, may not require extensive experience with electrical work. In contrast, others such as replacing existing overhead spotlights, involve more knowledge about electricity flow and connections between switches and outlets. Ultimately, most modern kitchen lighting installations should be manageable by competent DIYers if they understand basic electrical principles and follow the manufacturer's instructions closely – especially when dealing with potentially hazardous live circuits!
No matter which type of modern kitchen lighting option you choose, it is important to ensure proper operation by testing all components once installed before using them regularly. Furthermore, always remember that experienced professionals should be consulted whenever possible for complex projects involving multiple elements connected or working off large amounts of electricity since mistakes could lead to dangerous situations in addition to costly repairs down the line
Are There Any Safety Considerations To Take Into Account When Choosing Modern Kitchen Lighting?
When it comes to modern kitchen lighting, the possibilities are endless. From cutting-edge designs that promise a unique flair and style to energy-efficient LED options for long-lasting illumination – there is something for everyone. However, it's important to consider safety considerations before deciding which option best suits your needs.
The installation cost of modern kitchen lighting can vary significantly depending on its complexity. If you are considering an ambitious design or DIY installation project, you must become familiar with any relevant building codes or regulations within your area to ensure safe operation. Furthermore, certain design elements may require extra precautions when installed to protect against hazards posed by water exposure or electric shocks.
In addition to ensuring adequate protection during the installation and use of the light fixtures, it is also necessary to consider their energy efficiency. Kitchen lighting should be designed with sustainability in mind; not only will this help reduce your carbon footprint, but it could also lead to lower costs over time through reduced energy bills. Therefore, researching potential materials used in manufacturing and understanding how they perform over time will provide peace of mind when selecting your lights.
No matter what type of modern kitchen lighting setup you decide for 2023, safety should always remain a top priority! With proper research into the latest technology available and thorough consideration is given to power supply requirements and maintenance expectations, you can rest assured knowing that you have chosen a reliable solution that meets all applicable standards while still providing beautiful results worthy of any home chef's cooking space!
Make 2023 your year with bright kitchen design lighting ideas!
Modern kitchen lighting is a crucial element in any home. As the trends and technology advance, so do the options available for creating an optimal lighting atmosphere that complements your style while providing adequate illumination. With careful consideration of cost, energy efficiency, safety, and DIY installation considerations, homeowners can rest assured they will have bright, beautiful kitchen lighting for years to come.
When it comes to modern kitchen lighting solutions, there are myriad possibilities from which to select. From pendants and chandeliers to recessed lights and LED strips, there is something for everyone depending on specific needs and preferences. Each option has unique benefits and potential drawbacks; therefore, thoroughly researching each choice before making a decision is recommended.
Canadian Home Style is your family-owned and operated custom cabinetry retailer with a showroom in North Vancouver, BC. We are the official dealer of Cabico custom cabinetry in the Lower Mainland, providing complete kitchen renovations with an extended lifetime warranty. We always keep up to date with the latest trends and are proud members of the NKBA, National Kitchen and Bath Association.  In addition, we have won the Consumer's Choice Awards back-to-back in 2021, 2022 and 2023 for our commitment to business excellence. We are considered one of the highest-rated kitchen and bath design and renovation experts in Metro Vancouver. Book now to visit our North Vancouver showroom, where you can get expert advice from one of our kitchen and bath designers. We're happy to be a part of your journey with your next kitchen renovation project in Metro Vancouver.
Our mission is to help homeowners create beautiful homes that reflect their lifestyles while reducing energy consumption and conserving resources. We provide our clients with innovative products, services and education. We aim to become Canada's leading sustainable kitchen design and custom cabinetry solutions provider. Our values include integrity, respect, honesty and transparency. These principles guide us as we strive to provide outstanding customer service.
We believe that our success depends on the success of our clients and their customers. We work hard to ensure our clients get the most out of their investments. Our team consists of highly skilled professionals who are experts in their field. They have years of experience working together and know what works and what doesn't. They understand how to solve problems quickly and efficiently. We are committed to providing excellent customer service. We listen carefully to our client's concerns and suggestions. We take these into account when planning and executing projects. We always strive to exceed expectations.
Services We Offer:
Main Areas of Service in British Columbia:
Helpful Resources for you: