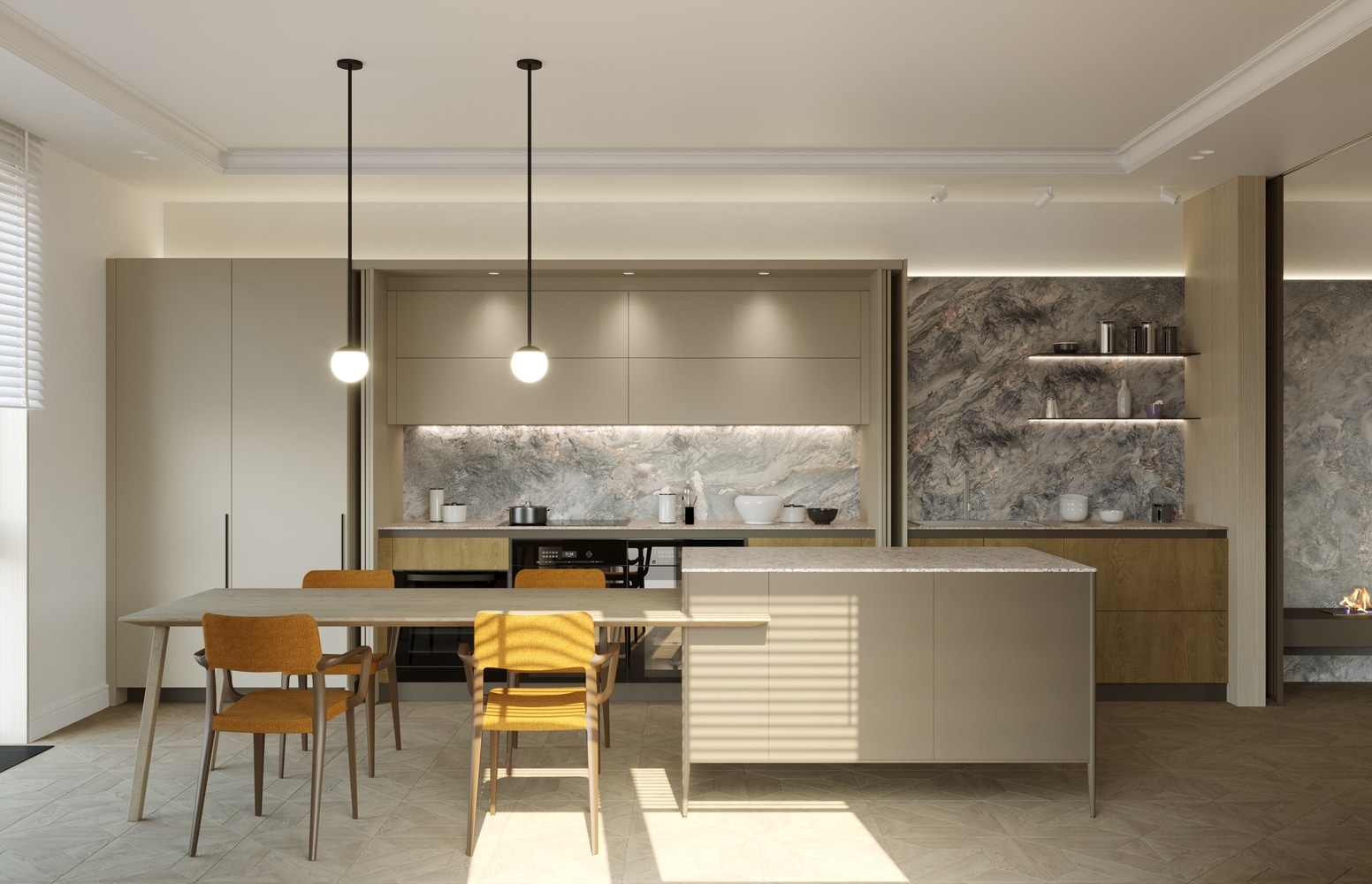 How to Estimate Kitchen Renovation Costs in 2023 in Metro Vancouver
Renovating a kitchen is no small task. It can be costly, time-consuming, and stressful all around. It's important to understand exactly what you want from your remodel before getting started, including the layout, style, and cost considerations. Creating a plan that considers both form and function can help ensure you get the most out of your investment.
Prices for kitchen renovations vary depending on location, trades needed, and the quality of materials used. Kitchen renovations in Vancouver typically cost between $500 and $1500 per square foot. The total cost of a kitchen renovation can range from $50,000 to $150,000. Depending on your overall budget, you may need to consider factors such as an efficient design that maximizes space to make your home feel bigger without breaking the bank or materials such as countertops made with recycled or natural materials that are more budget-friendly than higher-end materials yet still durable enough to last for years.
I understand that I'm not helping you by giving a wide range of $50,000 to $150,000. So, let's try to make sense of all of these.  Numerous factors must be considered before reaching a price tag for any kitchen renovation project. This includes the space's size and materials, labour costs, design fees, and potential structural changes. Obtaining permits or permissions from the city can also add to the project's cost. The age of the home and the complexity of the job must be taken into account when estimating costs as well. The length of time involved in completing the reno, as well as access to the property, could both cause unexpected expenses. As such, knowing all the details is essential for coming up with an accurate budget range.
No matter what you choose, it's important to understand how each aspect of your renovation will affect the total cost so you can remain on top of any overages or under-expenses when budgeting and planning your project. This way, you know exactly what costs are associated with each step in the process and adjustments can be made if needed. Considering all facets, including finances, ensures that at the end of your project, you have a beautiful newly renovated kitchen that meets all your needs without breaking the bank!
Let's assume that you have a good contractor that's not expensive but he does good work. Also, let's go for some sort of Formula that can help us break down the cost for a 10′ x 10′ kitchen:
| | |
| --- | --- |
| What's needed | Cost |
| Rip out | $2000 – $5,000 |
| Custom Cabinetry  | $20,000 – $60,000 |
| Appliances | $10,000 – $30,000 |
| Countertops | $7,000 – $20,000 |
| Plumbing | $2,000 – $6,000 |
| Electrical | $2000 – $5,000 |
| Kitchen Design fees | $1000 |
| Lighting | $1500 – $4,000 |
| Permits | 0 – $2000 |
| Backsplash | $2000 – $5,000 |
| Clean up | $500 – $2,000 |
| Flooring | $2,000 – $10,000 |
| Total average cost | $50,000 – $,150,000 |
It helps to remember that things will likely cost more than expected, so try including a 20-25% cushion in your overall budget. Don't forget about government grants and tax benefits that are available in Canada when renovating your kitchen.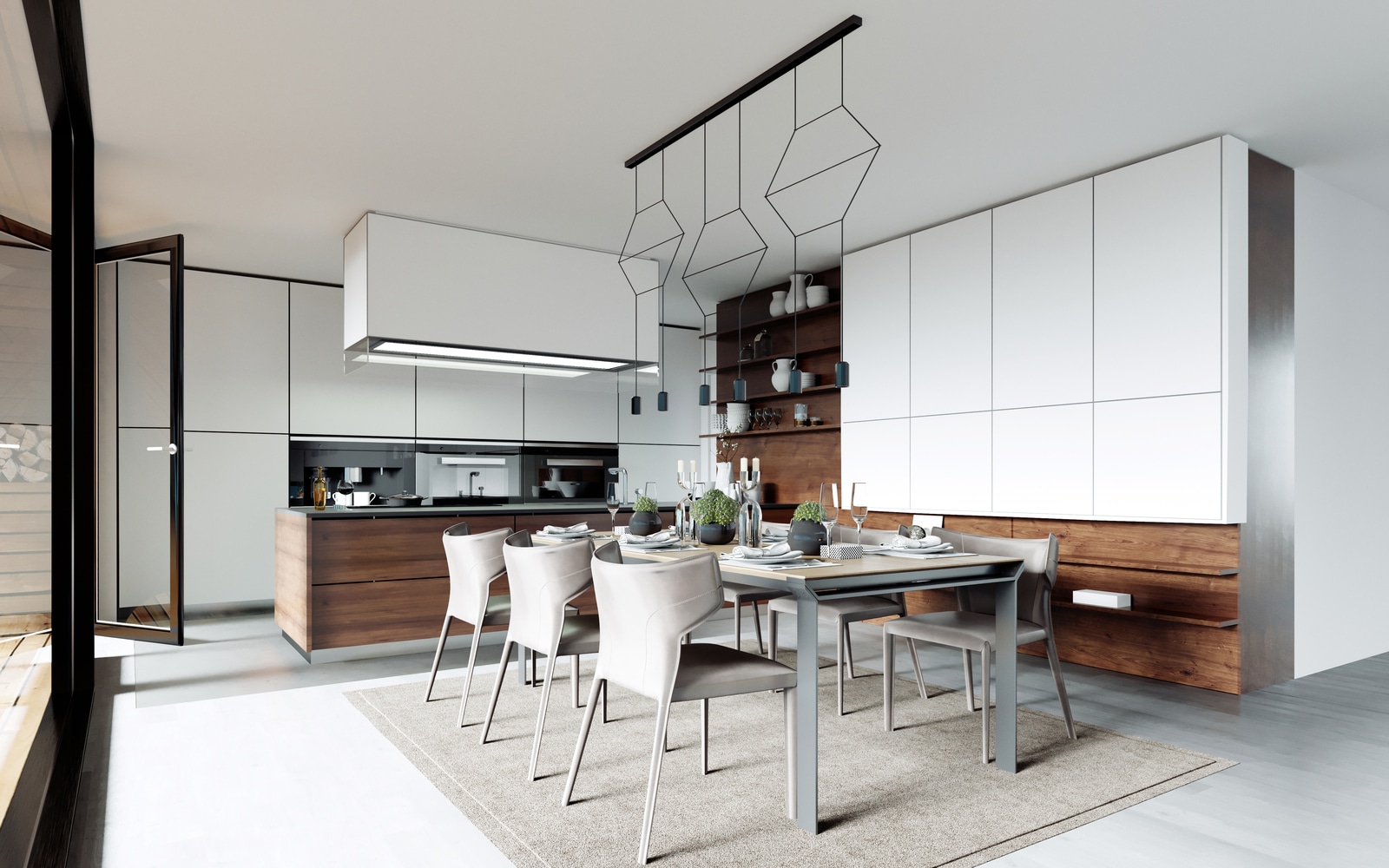 The secret to accurately estimating the costs of Metro Vancouver's kitchen renovation projects!
Accurately estimating kitchen renovation costs is a must for any homeowner undertaking a major project in Metro Vancouver. There are many variables to consider, including materials and finishes, labour costs, allowances for unexpected expenses (e.g. plumbing or carpentry related) and non-negotiable budget items. Keeping track of all these costs requires careful planning right from the outset.
Determine the scope of the work.
Estimating the cost of a kitchen renovation starts with determining the project's scope. You might be embarking on a full-scale renovation or just making smaller changes – either way, you need to consider factors like the size of your kitchen space, its current condition and the changes you'd like to make to calculate the cost accurately.
Aim to know what kind of new cabinets, appliances, floors and countertops you'd like included in your renovation before deciding precisely how much money you are willing to allocate. Knowing what kind of materials, labour and timeframe is involved in each upgrade can help give you a better overall understanding of total costs.
It is also important to consider whether items such as plumbing fixtures and electrical wiring need to be replaced in addition to cabinet installation or floor repairs – these often come with extra expenses that should be considered during budget planning.
Set a realistic budget.
Setting a budget is an integral part of estimating kitchen renovation costs. It will help you decide which type of materials and finishes you can feasibly afford and guide the decisions made during the restoration process. You need to consider what is financially feasible, how much you are willing to shell out, and how vital the remodelling is to you.
Establishing a budget should take into account the existing kitchen structure and existing appliances; removal of old materials; installation of new appliances, cabinets, countertops, and fixtures; any extra electric or gas lines needed; painting or wallcovering; flooring; installation fees (for labour); lighting fixtures; hardware (handles and knobs); as well as decorative accessories.
Research for materials and finishes
Once the scope and budget for a project have been decided, the research for materials and finishes can begin. It's important to list everything you need, from countertops and cabinets to floors and lighting fixtures. Look at all the possible options, and compare prices, taking into account the durability and lifespan of each material.
When researching, shop around, and read reviews online to find out how reliable each product is and what kind of maintenance it requires. Materials such as stone or natural wood might be more expensive, but they tend to last longer than alternatives like laminate and linoleum tile. Appliances should also be considered – try to find options with energy-saving features, as these will help reduce your power bills in the long run.
When forecasting costs for your purchase, consider additional expenses like delivery charges or installation fees. This will help ensure you don't overspend on one part of the project while leaving yourself short elsewhere.
Once you've chosen all the elements needed for your project, remember it's worth taking measurements several times in case there's even a slight discrepancy between spaces in your home that may require custom-made pieces. Remember, good preparation is key so plan and factor in allowances for anything unexpected that could turn up along the way.
Plan for contingencies
No matter how thoroughly you plan, unexpected issues may arise during a renovation. To help mitigate the impact of any potential surprises, set aside some extra cash in your budget for contingencies. This will ensure that you are prepared financially should something unforeseen come up.
It is also essential to consider any possible delays and additional costs associated with the renovation. Even seemingly minor details can create significant delays or increase expenses, so it's crucial to factor such possibilities into your financial planning.
Having both contingencies and additional costs covered in your budget will help make sure that you don't have any nasty surprises when it comes time for the renovation. Make sure that these funds are set aside as early as possible so that if anything does come up, there is no danger of an interruption to the project due to a lack of cash flow.
In addition, having these funds set aside will give you peace of mind throughout the process, knowing that whatever happens, you have those reserves there just in case. Unexpected issues can cause delays or even derail the project entirely, but with proper planning, these risks can be reduced significantly. Make sure you plan for contingencies by setting aside some money specifically for this purpose — it will save you time and money in the long run!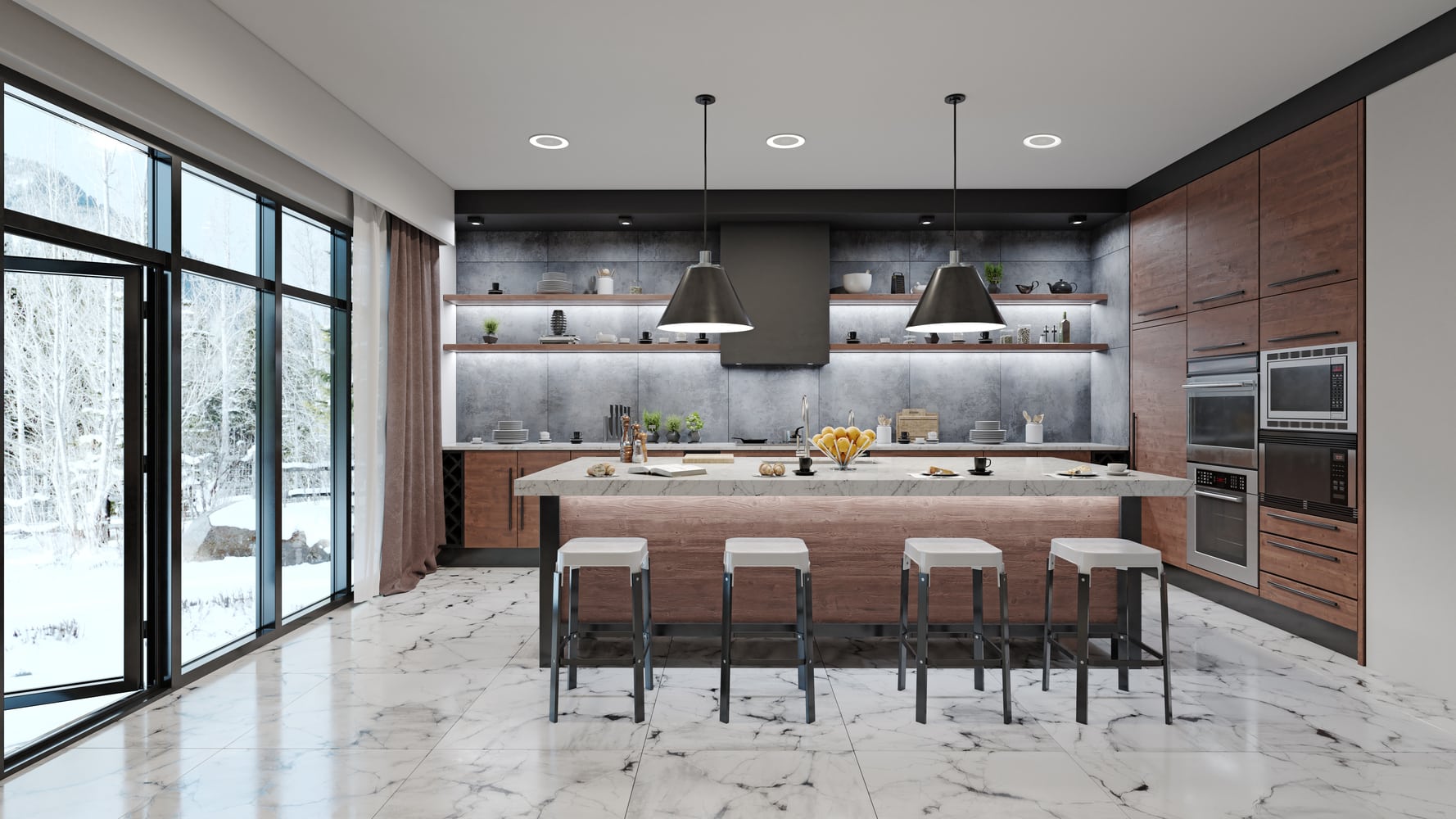 Retaining the old style if you're on a tight budget!
Keeping the old style of your kitchen can lower your kitchen renovation costs by reducing the number of essentials you need to replace. Changing the layout of your kitchen can increase costs since it involves having professionals move plumbing and electrical work. Avoid shifting appliances or staring at walls while redesigning your kitchen to avoid adding too many new expenses.
Avoiding trends if you're on a tight budget!
Trying to keep up with the latest trends in kitchen design can be costly, so avoiding them is important to keep your costs down. Trendy materials and fixtures are often priced higher than they are worth and fall out of fashion quickly. Choose timeless designs, as they will hold up better against time and changing trends. Additionally, trendy kitchens will likely require frequent makeovers, which means more money and stress when managing several projects.
For example, patterned tiles on the backsplash will quickly go out of style, and you won't be able to change them easily. Also, basic subway tiles will get old and outdated pretty quickly. If you want to update your backsplash, consider using a more neutral design and opt for a full-wall backsplash that extends from the countertop to the base cabinets.
Canadian Home Style is your family-owned and operated custom cabinetry retailer with a showroom in North Vancouver, BC. We are the official dealer of Cabico custom cabinetry in the Lower Mainland, providing complete kitchen renovations with an extended lifetime warranty. We always keep up to date with the latest trends and are proud members of the NKBA, National Kitchen and Bath Association.  In addition, we have won the Consumer's Choice Awards back-to-back in 2021, 2022 and 2023 for our commitment to business excellence. We are considered one of the highest-rated kitchen and bath design and renovation experts in Metro Vancouver. Book now to visit our North Vancouver showroom, where you can get expert advice from one of our kitchen and bath designers. We're happy to be a part of your journey with your next kitchen renovation project in Metro Vancouver.
Our mission is to help homeowners create beautiful homes that reflect their lifestyles while reducing energy consumption and conserving resources. We do this by providing our clients with innovative products, services and education. Our vision is to become Canada's leading sustainable kitchen design and custom cabinetry solutions provider. Our values include integrity, respect, honesty and transparency. These principles guide us as we strive to provide outstanding customer service.
We believe that our success depends on the success of our clients and their customers. We work hard to ensure our clients get the most out of their investments. Our team consists of highly skilled professionals who are experts in their field. They have years of experience working together and know what works and what doesn't. They understand how to solve problems quickly and efficiently. We are committed to providing excellent customer service. We listen carefully to our client's concerns and suggestions. We take these into account when planning and executing projects. We always strive to exceed expectations.
Services We Offer:
Main Areas of Service in British Columbia:
Frequently Asked Questions
What is the 5-zone cooking?
The 5-zone kitchen is an innovative design that allows for more efficient cooking with less space. It comprises five individual cooking areas: a sink area, a stove area, a fridge area, a food preparation area, and a dining area. This allows for each cook to have his or her own space and eliminates need for large kitchens with multiple appliances.
Maximil, a German designer of kitchens, invented the 5-zone kitchen. It is often used in European-style kitchens. Families who wish to save time and money by cooking together can benefit from this 5-zone kitchen.
If you are considering a 5-zone kitchen for your home, there are a few things to keep in mind. You will need enough space to accommodate all five zones. Each zone must be ventilated properly to prevent any lingering smells and fumes. Third, each zone should have enough space to allow for movement.
A 5-zone kitchen is a great option for a more functional and elegant kitchen. This kitchen can be a valuable addition to any home with the right planning.
What are the benefits of the 5-zone kitchen?
There are several benefits to the 5-zone kitchen, including:
Improved efficiency: Each cook has their space to work in which reduces the need for multiple appliances to be moved.
It is more elegant – the 5-zone Kitchen is used often in European-style kitchens.
Better ventilation – Every zone in the kitchen is adequately ventilated. This reduces the risk of lingering smells or fumes.
Improved layout – The kitchen layout should allow for easy movement between zones.
The 5-zone kitchen can offer a stylish, efficient option for creating a beautiful kitchen. This kitchen can be a great addition in any home with the right planning.
What is a timeless kitchen backsplash?
Subway tile backsplashes are timeless. A full-height backsplash is recommended for kitchens. This would allow you to run the countertop as your backsplash all the way up to your upper cabinets. This creates a feeling of a bigger kitchen.
How do I organize an open concept kitchen?
Organizing an open space is important to establish a clear workflow. It is important to keep all appliances nearby. Having these items close together makes cleaning easier. Keep all cooking utensils close together for easy access. Keep food storage near the point of use. It will be easier to grab what you want and place it away.
When remodelling a kitchen, do you do floors or cabinets first?
It all depends on how you install your floor. Before installing floating flooring, your counter and cabinets must be installed first. Install your glue-down or nails-down flooring first, then your cabinets. It is a good idea to consult a professional before deciding which option you prefer for your kitchen.
These are the basic layouts for a kitchen.
The basic kitchen layouts that are available include L-shaped or U-shaped, Tshaped, open-concept, and T-shaped. These designs will depend on the area and number of appliances. You might find these kitchen layouts useful in creating a functional design for your kitchen.
L-Shaped Design: The L shaped kitchen is the most common layout. It's easy to customize and efficient. This layout is ideal for small to medium-sized kitchens as it doesn't need a lot of space. If you have enough space, you can add an island.
U-Shaped Kitchen: The U-shaped kitchen is perfect for medium to large-sized kitchens because it offers many counter space and storage options. Although this layout can be modified with an island it's not required.
T-Shaped Kitchen. This kitchen design is ideal for large kitchens. It offers lots of counter space and is very versatile. This layout can be customized with an island, but it's unnecessary.
Open-Concept Kitchen: The open-concept kitchen is perfect for large rooms or homes where you want to create an open and airy feel. This layout doesn't have walls or boundaries and is great for entertaining.
How to save money on kitchen remodel costs
Here are some tips for kitchen remodeling that can save you money.

Do your research.

Before you start any kitchen remodeling project, you must do your research first. This will give a clear understanding of your goals for your kitchen remodel. Research will help you find cost-saving options.

Set up a budget.

After you have an idea of the goals and objectives for your kitchen remodel, you can create a budget. This will help determine how much you can spend on the project. It is also important that you stick to your budget to avoid overspending.

Look around for discounts and deals.

Look for bargains and savings when you shop for materials or appliances. This will allow for you to save money when renovating your kitchen.

Find a reliable contractor.

If you are looking for a contractor to remodel your kitchen, make sure they have a great track record and are reputable. You can get high-quality work done at a reasonable cost by a reputable contractor.

Do the work yourself.

You might be able do the work yourself, if you have the skills. This will save you money on kitchen remodeling costs, and it will give you satisfaction knowing that you did the work yourself.
These tips will save you money on kitchen remodels.
Is it a good idea to leave during a kitchen renovation?
If you love to eat takeout, you don't have to leave. If you have children or pets, it might be a good idea to stay at a relative's house or friend's house while the renovation is underway. It will be easier for you to keep your pets safe and not worry about them getting hurt or in danger. Also, it will make your life easier if there isn't any construction noise or dust. If you decide to move out, get a written estimate from your contractor of how long the job will take. That way, you can plan your relocation around their timeline.
Statistics
External Links
How To
These are ten small kitchen renovations that you can do by yourself.
Ideas for small kitchen renovations you can do yourself. DIY Home Improvement Tips For the Average Joe
A small kitchen renovation isn't always something you want to tackle. You can make your home feel brand new by doing this. There are many ways to make your kitchen more beautiful without spending a lot of money. Here are some ideas for small kitchen renovations that you can do by yourself.
You can add a backsplash to your kitchen. It adds colour and style while making your kitchen look bigger and cleaner.
Re-install old cabinets – Cabinets can add value to your kitchen. Cabinets protect walls from spills, splashes, and stains. They also give your kitchen a sophisticated look. If your cabinet doors are looking worn, it is time to replace them.
Paint your kitchen. Not only will it improve the look of your kitchen, but you'll also save money. You can give your kitchen a new look and make it more modern by painting it. You will find it much easier to clean.
Update your appliances – Updating your appliances is an excellent idea because it won't just increase their lifespan but also make them look newer. You can update the appliance that you are most familiar with if you have a specific appliance in mind. Otherwise, you can ask someone who knows how to install these appliances.
Add a Bar – Another great idea is to add a bar area to your kitchen. Not only does it provide additional work surface, but it's also a perfect place to entertain guests.
To create a breakfast spot, you don't need to spend a fortune. You only need a small table with chairs. You can also add cushions to make it more comfy.
Add a pantry – A pantry is a necessity in any kitchen. It is an ideal place to store food, recipes, and other essentials.
Install an island – A island is a great addition to your kitchen. It adds spaciousness to your kitchen, and also provides ample workspace. When combined with wood flooring, it can look very appealing.
Add a wine rack – Wine racks are usually found in restaurants and wine bars. You can also use them at home. They come in different designs and sizes. You can choose the best one for your kitchen.
Helpful Resources for you: