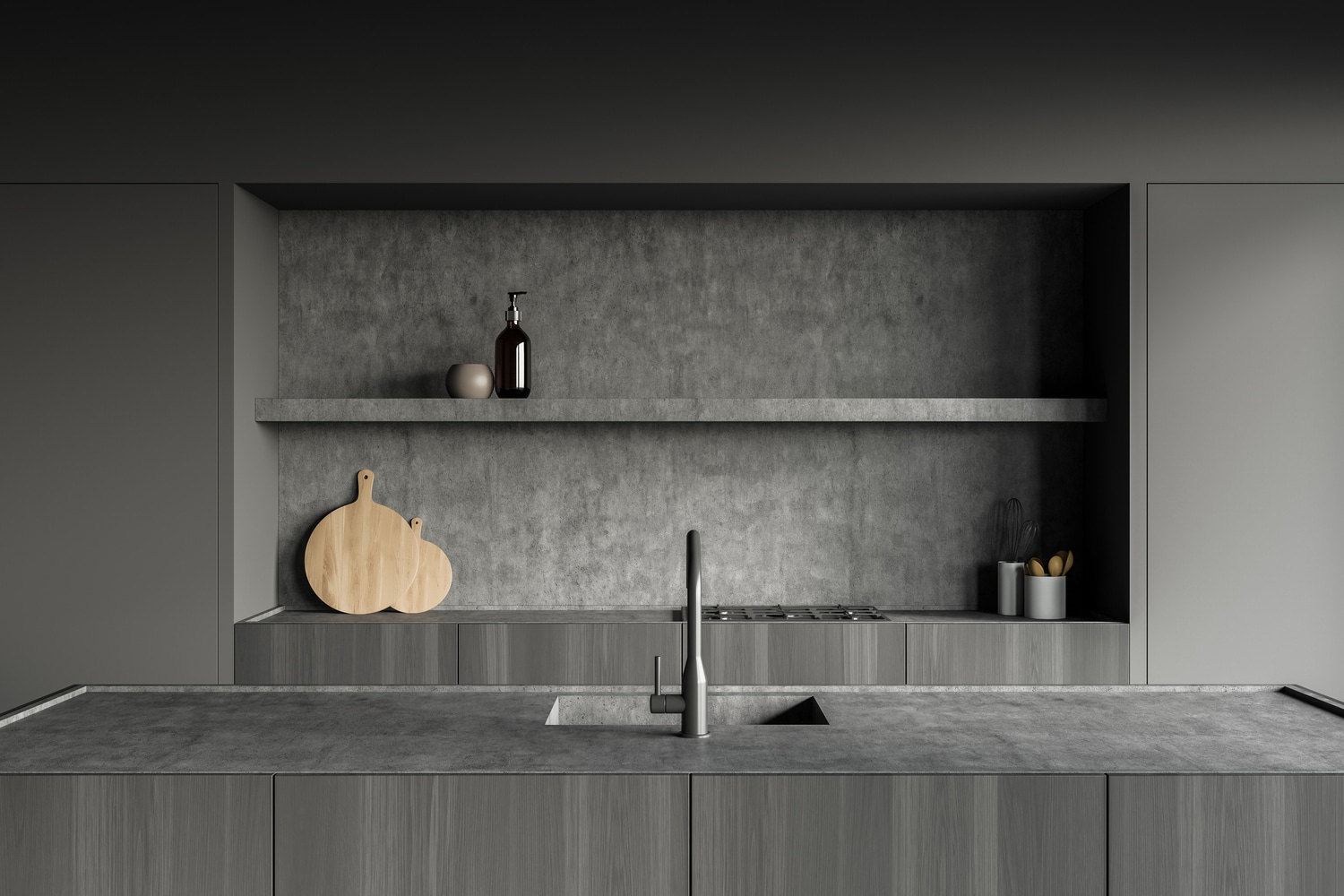 Are you looking to upgrade your home kitchen in 2023 with the latest design trends?
Kitchen renovations involve more than just updating décor and replacing appliances. In 2023, they involve merging multiple rooms into one, adding functionality, and utilizing often-overlooked spaces.
Islands are growing in importance and versatility. They are not just for looks but also to increase capabilities, from storage to extra sinks or dishwashers. Moreover, islands transform as needs change, like adding a breakfast bar or a walk-in pantry when space permits.
Built-ins are also becoming popular as homeowners maximize wall space from ovens and stoves to customizing shelving for items like cookware and plates.
Smart technology is transforming our homes, giving us more control and possibilities than ever before. Homeowners can tap into voice or motion-activated solutions for a simple and efficient way to manage their space.
Given the advancements in home renovation, investing in the kitchen can be a powerful choice. It's an opportunity to upgrade not just convenience but the overall value and modernity of your home.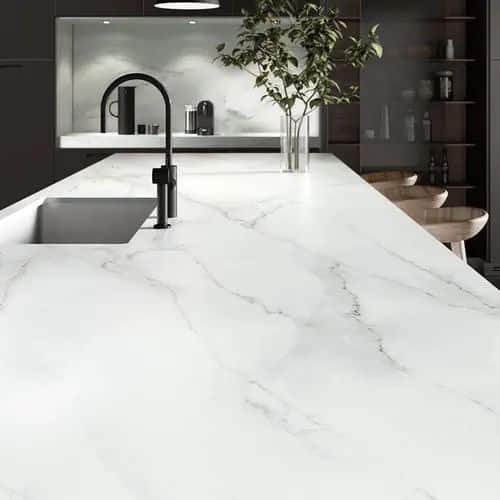 The most impressive kitchen design trends for 2023 that will transform your living space.
The following trends are the key components of transforming a drab cooking space into an awe-inspiring masterpiece. Technology, eco-friendly designs and health-promoting undertakings form the basis for these exciting innovations that have never been seen before.
Technology that brings functionality and well-being
The way they combine the aesthetic with functionality is something we couldn't have dreamt of years ago.
It's exciting to see how much our kitchen designs have transformed over time and will only improve.
As technology advances, there will be even more opportunities for unprecedented change in our homes.
Now, we can have ovens that steam cook and air-fry with dedicated areas for mobile devices charging and viewing. Plus, motion-sensing faucets make everyday tasks easier and more efficient.
Smart home design goes beyond comfort – it also serves a functional purpose by making life easier through automated processes and improved energy efficiency, allowing us to live healthier lives in an enjoyable environment.
Homeowners and buyers today are looking for kitchens that provide convenience, efficiency, and cleanliness. Cutting-edge technology such as robotic assistants, voice control options, interactive displays, pre-set dietary goals, automated cooking equipment and touchless appliances allow kitchens to be truly interactive and smarter than ever. These welcome capabilities help people stay healthy and save time on everyday tasks.
As a bonus, many of these appliances come with built-in sanitizing features like Microban antimicrobial coating and even UV-light garbage disposals to ensure extra peace of mind regarding kitchen cleanliness. With these technologies at our disposal, modern kitchens lead the way into a brighter future.

Sustainability is at the forefront in 2023!
These days, sustainability matters more than ever in the home kitchen. By designing an eco-friendly kitchen, homeowners can invest in energy-efficient products and reduce their carbon footprint while gaining a beautiful interior space.
In summer or winter, the sun's light is a source of free energy. Maximize daylight in your kitchen design by including many windows and glass doors facing the outside to make the most of it. Look specifically for high-performance low-E windows to reduce energy costs and block out unwanted heat.
In addition to more natural lighting, introduce planters with edible plants or herbs inside and around your kitchen. Not only do they make gorgeous decor pieces, but they give you access to fresh food as well!
Combining high-performance insulation materials, proper ventilation systems, and smart temperature controls are also key elements of an eco-friendly kitchen design. Low-flow faucets can help conserve water, while motion sensor lighting reduces electricity usage.
Creating an eco-friendly kitchen isn't just good for the environment – it's good for your wallet too! Choose sustainable products like certified wood cabinets to prevent deforestation and look for appliances that adhere to green standards. You can save on energy bills and feel confident knowing you're responsibly conserving resources!
Energy-efficient appliances are another fundamental component of sustainable kitchen design. Homeowners can significantly reduce their energy usage by investing in appliances with energy star ratings and Energy Star-qualified washing machines specifically designed for water conservation and using less water and electricity per load. Many modern appliances now feature solar panels that directly transfer solar energy into usable power used to run various household items like lights or dishwashers.
Another important factor when creating a green kitchen is incorporating materials with Eco-friendly production processes, such as salvaged wood for countertops or floors made from recycled materials rather than virgin resources like plastic or metal tiles. Additionally, bamboo flooring has grown from fringe to one of the most popular sustainable flooring options today due to its rapid growth rate and minimal environmental impact during production.
Homeowners that are looking for more sustainable solutions in their homes are also using popular products such as 100% LED lights, electric radiant flooring, energy-efficient appliances rated 6+ stars on Energy Star's scale instead of older 4 or 5 stars standards, and EPA WaterSense faucets which feature low flow rates that help conserve water without sacrificing performance significantly reducing shower running times if those fixtures are present in your bathroom areas too.
Furthermore, some homeowners opt for home automation systems which allow them to control certain electrical items remotely with just a few clicks via smartphones apps providing accurate readings on how much electricity they're consuming day by day, allowing them to make conscious decisions at any given moment while consuming resources responsibly within reasonable limits.
All these options contribute towards creating a truly sustainable living environment with beautiful eco-friendly kitchens – something we should all strive for!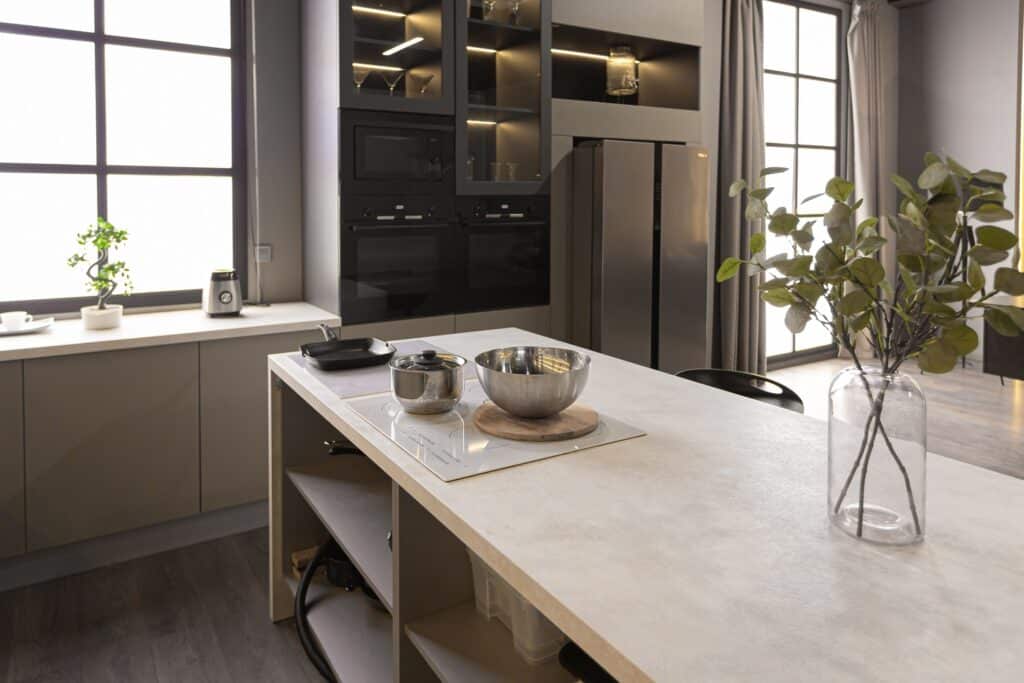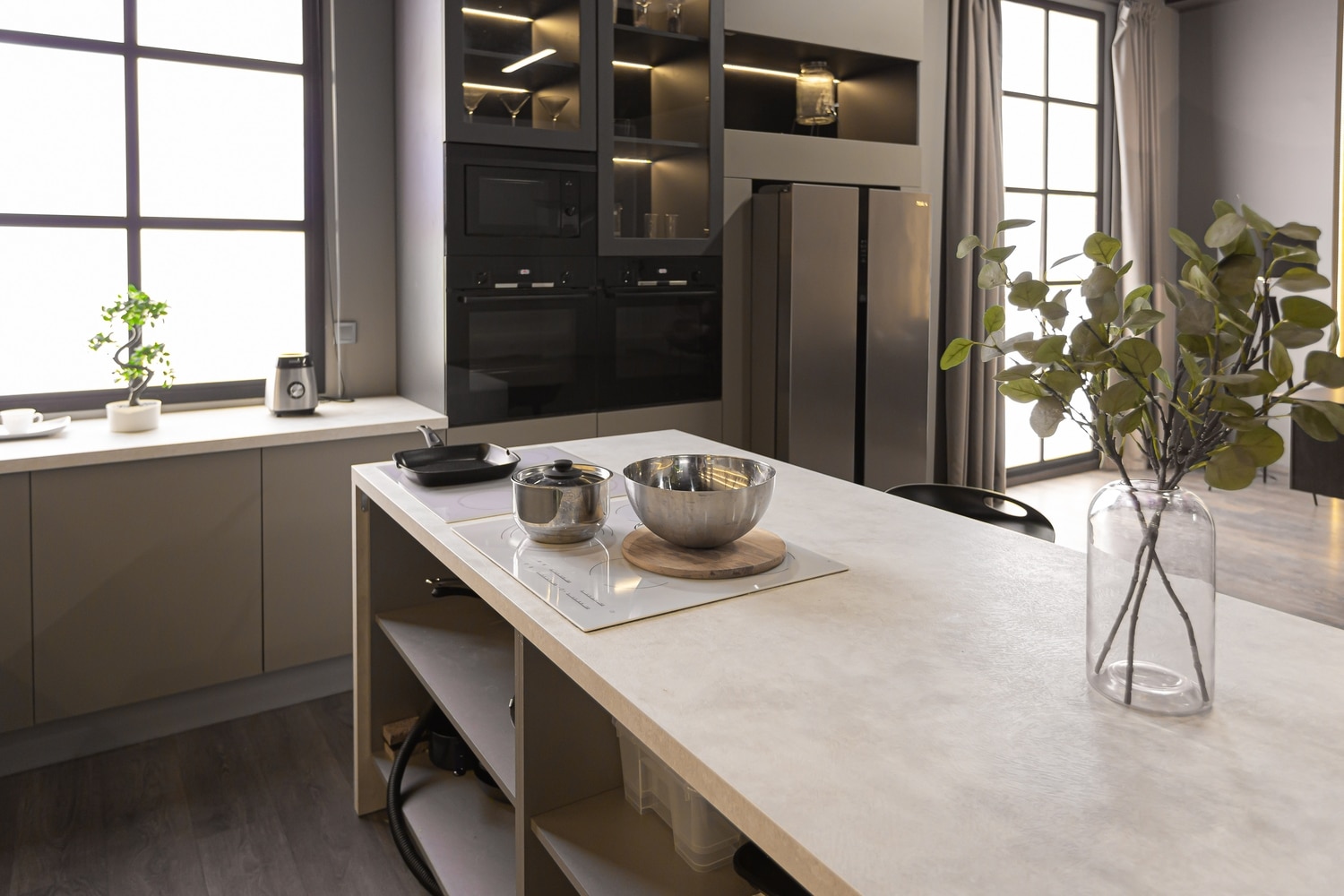 Bringing Wellness to Your Kitchen is not a trend anymore!
Creating an optimal environment for physical and mental health starts with design. Knowing the impact of our environment on our well-being helps us make thoughtful choices that can improve our lives, from the colours we paint our walls to the degree of messiness we can tolerate. That holds especially true when it comes to kitchen design.
How can we design our kitchen to cultivate health, wellness and productivity?
Colour choice plays a significant role in overall feelings of contentment as well – warm tones evoke feelings of comfort, while bright shades energize and promote productivity. Whatever the colour or style preference, achieving aesthetic harmony will further promote well-being in the kitchen. Colour can make all the difference in your kitchen's well-being design.
Kitchen appliances are increasingly designed for optimal ergonomics and convenience. Hoods now feature noise-reducing effects for quieter food preparation, and refrigerators offer adjustable shelving heights so multiple items can fit in limited space. Smart fridges connect to medical devices, so food replenishment is no longer a chore. LED lightbulb speakers and marble countertops bring calm to the kitchen with serotonin-conditioning tones, offering beautiful visuals when you reminisce on older cookbook recipes. Trends can also bring mental tranquillity at home. 2023 is the year to upgrade your kitchen with trendsetting technology that optimizes ergonomics and reduces noise for an entirely new cooking experience.
These pioneering trends are on the brink like never before set to shape our kitchens in the photo finish fashion full or astonishment – both aesthetically pleasing while serving practical purposes we could never have imagined years ago!
Canadian Home Style is your family-owned and operated custom cabinetry retailer with a showroom in North Vancouver, BC. We are the official dealer of Cabico custom cabinetry in the Lower Mainland, providing complete kitchen renovations with an extended lifetime warranty. We always keep up to date with the latest trends and are proud members of the NKBA, National Kitchen and Bath Association. In addition, we have won the Consumer's Choice Awards back-to-back in 2021, 2022 and 2023 for our commitment to business excellence. We are considered one of the highest-rated kitchen and bath design and renovation experts in Metro Vancouver. Book now to visit our North Vancouver showroom, where you can get expert advice from one of our kitchen and bath designers. We're happy to be a part of your journey with your next kitchen renovation project in Metro Vancouver.
Our mission is to help homeowners create beautiful homes that reflect their lifestyles while reducing energy consumption and conserving resources. We do this by providing our clients with innovative products, services and education. Our vision is to become Canada's leading sustainable kitchen design and custom cabinetry solutions provider. Our values include integrity, respect, honesty and transparency. These principles guide us as we strive to provide outstanding customer service.
We believe that our success depends on the success of our clients and their customers. We work hard to ensure our clients get the most out of their investments. Our team consists of highly skilled professionals who are experts in their field. They have years of experience working together and know what works and what doesn't. They understand how to solve problems quickly and efficiently. We are committed to providing excellent customer service. We listen carefully to our client's concerns and suggestions. We take these into account when planning and executing projects. We always strive to exceed expectations.
Frequently Asked Questions:
What is the kitchen trend for 2023?
The palette of choice for 2023 is wood, quartz, copper and concrete, emphasizing eco-friendly production techniques. Simple furnishings with clean lines are in demand as minimalism becomes more popular amongst urban dwellers.
For appliances, sleek technological advances and smart features rule the roost. Connect home capabilities let you control features such as energy efficiency while voice assistance ensures even the busiest of cooks can enjoy modern convenience.
Finally, outfitting kitchens with centralized colour schemes adds visual cohesion with matching elements such as containers, utensils and chairs that present a unified appearance for an inviting culinary experience. All in all, this trend embodies simple luxury and unpretentious sophistication coupled together for a harmonic flow throughout your kitchen in 2023.
What colour are kitchen cabinets in for 2023?
2023 is the year to embrace earthy, natural tones in everything from interiors to fashion. We'll see lots of warm shades of brown, ochre and terracotta, as well as muted greens in soft pastels or bold statements like sage and forest green.
Simplicity will also be on-trend in 2023. Clean whites are a great option for minimalists who want an elegant look without the fuss, while black adds a timeless touch that works with nearly any style.
Deep blue and indigo hues can create stunning visual appeal for those looking for a bit of drama in their decor. Whatever colour palette you choose, keep it fresh and modern with unexpected accents of new trends like dusty rose or ultramarine blue.
In 2023, kitchen cabinets will be about more than just colour.
The trend will continue to prioritize quality and sustainability features like reusability and eco-friendly materials with eye-catching aesthetic elements such as unique shapes and finishes.
Rather than one standard style or colour, the goal is to create a truly individualized kitchen space that reflects the taste and personality of the user.
Surface treatments such as concrete, exotic hardwoods, stain-resistant laminates, distressed metal, patina coatings and more are becoming increasingly popular in cabinets.
To top it off, expect vibrant colours combined with mid-tone neutrals to produce a range of hues reflective of each homeowner's personal preferences.
From bold primary tones to muted pastels, integrated palettes complimented by interesting textures will dominate in 2023.
Helpful Resources: 
You can find our last kitchen renovation article here: