Signature Kitchen Suite is an example of respecting food at all levels. The brand recognizes those who produce and prepare it, from performance to intelligent design and precision to those who enjoy the fruits. These details and dedication keep the brand True to food and well-being. Now, Signature Kitchen Suite has introduced the 48-inch Built-in French Door Refrigerator/Freezer, providing never-before-seen capacity and functionality – imagine the possibilities!
The 48-inch French Door Refrigerator/Freezer can be used by large families, entertainers, or home chefs. It is an ideal choice for those who are looking to save money, as well as having a sleek design. The 5-mode convertible drawer is a standout feature that lets you choose the temperature zone that best suits what you are storing. You can choose Chilled Wine or Fridge/Deli for cold drinks and Meats/Seafood and Meats/Seafood. You can also lower the temperature to make the unit an additional freezer. This allows you to customize the appliance's functionality, increasing food freshness and longevity. Dual compressors and a striking metal interior enhance additional food preservation.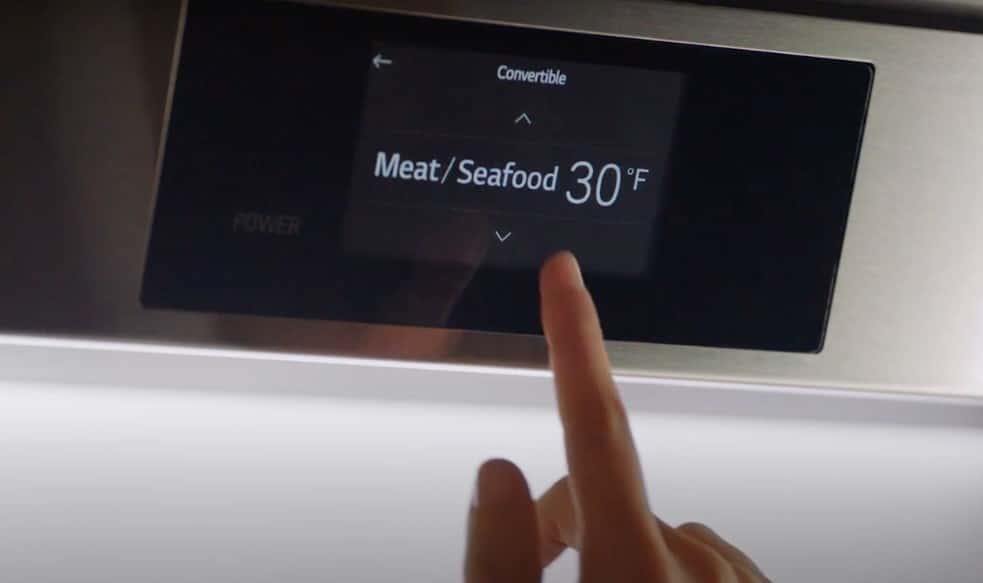 Signature Kitchen Suite's latest episode, True to Food with Mark Bittman, features Kaitlin Guierin (owner and pastry chef at Lagniappe Bakery) in New Orleans. Guerin emphasizes the importance of fresh ingredients and the ability to control temperature and time in the kitchen. These key elements determine how long it takes to make different parts of her pastries, whether hours or days. Guerin shares that the desserts she makes are only as good as the ingredients they contain. Signature Kitchen Suite's high-tech refrigeration keeps them at their best for longer periods. After the components are prepared, the desserts can be stored at different temperatures and for different periods using temperature zones. Guerlin said that pastries are controlled to maintain their texture and flavour. It is an art form to do what she does and how she does it. Signature Kitchen Suite eliminates the worry about freshness and helps Lagniappe Bakery succeed.
Signature Kitchen Suite invests a lot in designing appliances to enhance your quality of life. What can you do in your kitchen to improve well-being, reduce stress and enhance food preservation? We looked forward to spring and spoke with experts Blair Costello and Diana Ryu. They shared their tips on how to create an environment that is joyful, inviting us to spend time there.
The 48-inch French Door Refrigerator/Freezer's ample capacity is impressive, with enough space to accommodate the largest trays and tallest of bottles. You can say goodbye to wasting space and putting leftovers in the basement fridge.
It is easy to see what stock you have by the overall design. Blair Costello of Vera Iconica Architecture designs retreats, workplaces, and other life experiences focused on holistic wellness and health. There are many seasonal vegetables and fruits this month. Costello says that being part of the cooking process improves digestion and strengthens your relationship with food and yourself. He recommends having a variety of whole grains and legumes in your pantry to boost nutrition and provide the tools to make changes to meals regularly. While fresh foods can be many things, boring is not one.
Costello said, "Digestion starts with the eyes. So put healthier snacks (fresh fruits, vegetables, bread, etc.). These habits can be encouraged by focusing on your eyesight. Costello said, "Our mind is connected to our body through small environmental nudges." What you eat will affect your body's function, mental function and state. Quality food is worth investing in. Wellness in the kitchen space revolves around the quality of the ingredients. I place a lot of emphasis on local produce and pastured meats.
The 48-inch French Door Refrigerator/Freezer has something extra for ice lovers. You can choose slow-melting, spherical Craft Ice or traditional ice with the dual ice maker. This is the perfect way to elevate your cocktail game. Enjoy this feature to relax with your after-work drink or entertain with ease.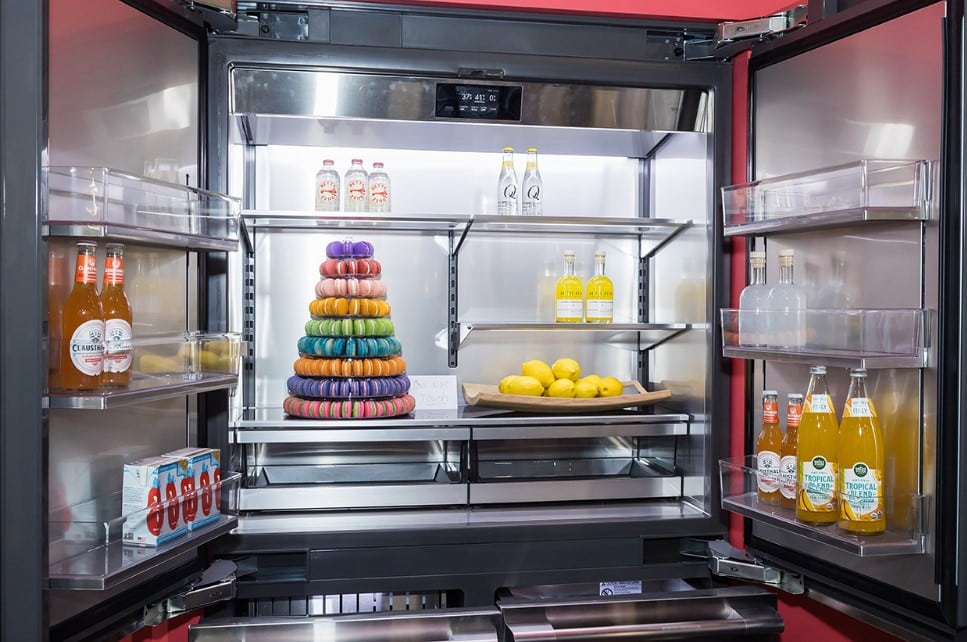 Signature Kitchen Suite's Lift and Go Drawers simplify meal prep and grocery shopping. The drawers make it easy to interact with the appliance and require little lifting effort. They also make it easier to clean up spillages and other accidental spillages, which we all appreciate when dealing with messy messes.
Sarah Barnard is WELL AP + LEEDAP AP and a leading designer for personalized, sustainable spaces that support emotional, mental, and physical well-being. Barnard recommends spring cleaning to create a more efficient kitchen that will reduce friction. It could be as simple as knowing the location of frequently used items and keeping countertops clean to ensure a peaceful start when cooking. It might also mean organizing your pantry and removing belongings to make more space. Barnard says that it is important to make sure the kitchen is not just a utility place but also includes joy. High-quality kitchen speakers can make cooking more enjoyable if music is a part of the experience.
Good light and a view of nature can bring more health into your kitchens. You don't have to tear down an exterior wall or install floor-to-ceiling windows. There are ways to make these elements part of your cooking area. You can take advantage of windows in your kitchen by opening the blinds and curtains to let in the spring air, if possible. Suppose those windows face a green space or backyard; even better.
Diana Ryu owns Namu Home Goods. Name Home Goods aims to showcase wood's natural beauty and charm by sourcing high-quality woodwork from Korea. A table lamp can brighten the space, which we have seen more often in kitchens. It can add warmth and comfort to the room, which can greatly help those dark mornings.
Ryu suggests that you create a relaxing ritual. Ryu says, "I have an incense chamber that I light each morning when I turn on my kettle for tea." The ritual of lighting incense and then hearing the water boil is what I enjoy. It's a great way to ease into the day.
A windowsill garden is a great way to incorporate nature into your cooking. It can add vitamins and flavour to favourite dishes and is easy to set up. Barnard stated that she loves growing her produce and that the experience has made cooking more enjoyable. Barnard said, "I keep a small garden on my windowsill. It contains herbs and plants that I have grown from vegetable scraps. This allows me to see my garden from my kitchen. This makes gardening feel more like an active part of my food preparation. I must know my food's origin and include it in my kitchen design.
Costello suggests that cookware with Teflon or other nonstick coatings should be avoided when enamelled cast iron, carbon and stainless steel cookware are safe. Buy heirloom bakeware and cookware. It will be the best for your health (from a toxic standpoint) and make you more versatile for entertaining or weeknight meals.
Many people view the kitchen as a place where art is not welcome. But we disagree with this because it brings joy, as Barnard mentioned. Ryu suggests that it doesn't necessarily have to be fine art. Ryu suggests a quick spring update that includes "Prints, beautiful ceramic plates and cups made by small artists, pretty spoons, forks, and lots of large bowls on the counter full of fruits and vegetables." These are attractive and healthy. Barnard also suggests that the visible storage of produce can encourage prioritization, which Barnard recommends making a habit.
The warmer spring weather lets you get out of hibernation and optimize your kitchen space. Ryu and Barnard agree that the positive experience circles back to who you're surrounding yourself with, with Ryu adding, "There's nothing better for our health than a loving community." Technology, like that used in the 48-inch French Door Refrigerator/Freezer, can help further improve these times spent together with its capacity and capabilities. Barnard shared that having more options in refrigeration systems can make hosting easier. This gives guests more freedom and allows hosts to socialize more, which is a huge benefit. Guerin, a pastry chef, agreed there is always a reason to celebrate and enjoy good food with family and friends.
The 48-inch French Door Refrigerator/Freezer can be panel-ready with or without stainless steel panels. Signature Kitchen Suite's refrigeration products can preserve food at the right temperature, allowing for greater flexibility and reducing time in the kitchen. To learn more, visit signaturekitchensuite.com.
References:
By: Kelly Beall
Title: Wellness Experts Agree: Innovative Technologies Make for a Healthier, Modern Kitchen With Signature Kitchen Suite
Sourced From: design-milk.com/welcome-wellness-into-the-kitchen-with-signature-kitchen-suites-48-inch-built-in-french-door-refrigerator-freezer/?utm_source=rss&utm_medium=rss&utm_campaign=welcome-wellness-into-the-kitchen-with-signature-kitchen-suites-48-inch-built-in-french-door-refrigerator-freezer
Published Date: 03-13-2023
Canadian Home Style is your family-owned and operated custom cabinetry retailer with a showroom in North Vancouver, BC. We are the official dealer of Cabico custom cabinetry in the Lower Mainland, providing complete kitchen renovations with an extended lifetime warranty. We always keep up to date with the latest trends and are proud members of the NKBA, National Kitchen and Bath Association.  In addition, we have won the Consumer's Choice Awards back-to-back in 2021, 2022 and 2023 for our commitment to business excellence. We are considered one of the highest-rated kitchen and bath design and renovation experts in Metro Vancouver. Book now to visit our North Vancouver showroom, where you can get expert advice from one of our kitchen and bath designers. We're happy to be a part of your journey with your next kitchen renovation project in Metro Vancouver.
Our mission is to help homeowners create beautiful homes that reflect their lifestyles while reducing energy consumption and conserving resources. We provide our clients with innovative products, services and education. We aim to become Canada's leading sustainable kitchen design and custom cabinetry solutions provider. Our values include integrity, respect, honesty and transparency. These principles guide us as we strive to provide outstanding customer service.
We believe that our success depends on the success of our clients and their customers. We work hard to ensure our clients get the most out of their investments. Our team consists of highly skilled professionals who are experts in their field. They have years of experience working together and know what works and what doesn't. They understand how to solve problems quickly and efficiently. We are committed to providing excellent customer service. We listen carefully to our client's concerns and suggestions. We take these into account when planning and executing projects. We always strive to exceed expectations.
Services We Offer:
Main Areas of Service in British Columbia:
Frequently Asked Questions
How can you design an open-concept kitchen layout?
A simple workflow is the best way to organize an open-concept area. It is important to keep all appliances in close proximity. Having these items close together makes cleaning easier. It is a good idea to keep your cooking utensils in close proximity so that they are easy to reach. Finally, keep food storage close to the point of use. This will make it easy to grab what is needed and then put it away.
How long does a kitchen renovation take to complete?
Once the cabinets are manufactured, the process should take around three weeks. However, it can take months to design or manufacture custom cabinets. The whole process can take several month from start to completion.
Planning a kitchen renovation?
There are many options, whether you are renovating an existing space or creating a new dream kitchen.
Take some time to find inspiration online before you get started. Look online for inspiration photos. Note down design ideas. Then sit down with a pen and paper and figure out exactly where you'd like to put each element.
Now think of ways to improve upon these spaces. What would you do differently? What would you change? Ask someone who is an expert in your field to help you get creative.
Once you know what you want to achieve, it's now time to start. Start with the basics. Eliminate any clutter. Don't keep appliances that aren't being used frequently. Replace old fixtures with newer models.
Next, you need to find areas in your kitchen where storage is limited. This means finding places where there isn't room for storage or countertops. You can think of ways to maximize these spaces. These spots could be turned into wine cellars, or pantries.
Make sure to think about lighting. Are there any areas that could use a brighter light source? Maybe a wall sconce could brighten up a dark corner.
Once you have compiled your list of improvements, the fun begins: implementing them.
So don't worry if you don't know everything at first. Just keep working until you've got it all figured out. You will never be satisfied unless you love using it every day.
Is it possible to place a refrigerator in the kitchen?
To be easily accessible, the refrigerator should be placed right next to your sink. It should not be blocked by traffic or too close to a stove.
Vancouver's climate is white-colored kitchens an option?
Vancouver homeowners love white kitchens. They brighten up spaces and give them a modern look. However, since we don't get a lot of sunshine in Metro Vancouver, it's best to incorporate natural elements such as wood to bring as much warmth as possible into your space.
What is a realistic budget for a kitchen remodel in Metro Vancouver?
$50,000 is a realistic budget for a kitchen remodel in Metro Vancouver. This would include new appliances, countertops and cabinets, flooring, as well as lighting.
Statistics
External Links
How To
How to design your kitchen layout
Although there's no perfect layout for a kitchen, some layouts work well in certain spaces. These are some ideas to help you design the kitchen layout that works best in your space.
Start with the essentials. The first step is determining what you need in your kitchen and what can be sacrificed. You don't necessarily need a large stove, oven, or other appliances if your cooking isn't very extensive.
Take into account the traffic flow. Consider how your family uses the space and how it flows. You will need to make sure there is enough space for everyone to move about freely, without bumping into one another.
Maximize storage. The third step in optimizing storage is to maximize your kitchen layout. This includes both food storage, and cookware storage. It is important to make sure everything is in its right place and easily accessible.
Include your personal style. Fourth, incorporate your style into the kitchen design. This includes everything, including the countertops and flooring as well as the appliances and appliances. You can choose finishes and materials that reflect your personal style.
A professional is recommended. Fifth and final is to consult a professional chef. They will help you to create a layout that fits all of your needs.
Helpful Resources:
Did you miss our previous article…
https://canadianhomestyle.com/?p=8694