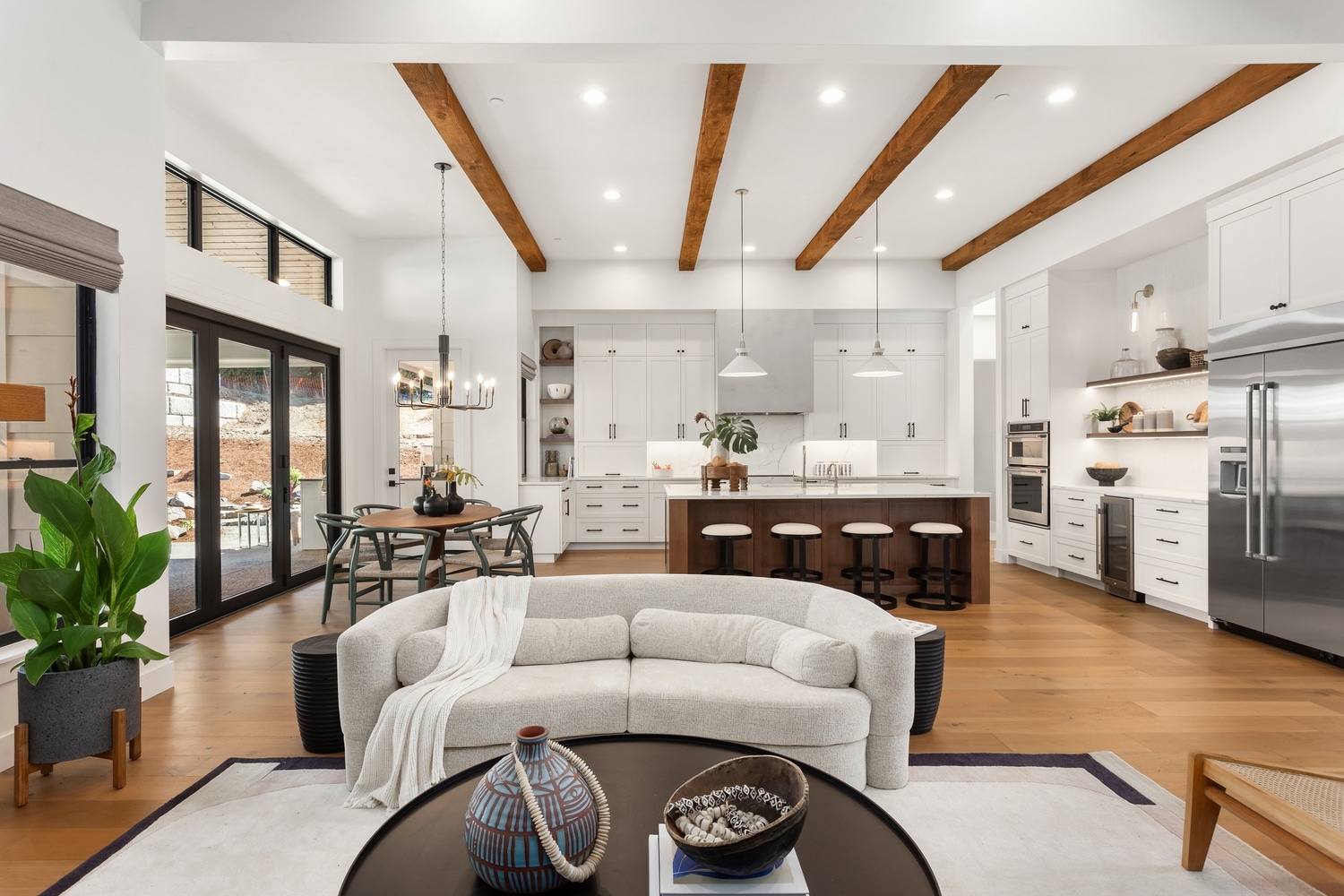 Open concept spaces are those spaces that allow multiple activities to take place at once. They are usually large enough to accommodate several different functions, such as cooking, eating, cleaning, etc. In addition, they often include a lot of natural light, which makes them feel bigger than they are.
Open-Concept key takeaways:
Open kitchens encourage easy flow throughout the home.
Open kitchens allow for more natural light in the house.
Open kitchens are great for entertaining.
Open kitchen designs considerably maximize space and create a functional kitchen layout.
A well-designed open kitchen will look gorgeous and function perfectly.
Open shelves allow you to see what's inside while keeping the clutter out of sight.
Open-concept designs allow for flexible layouts.
Don't be afraid to work within your home's structure's confines.
A well-designed island brings focus to the room and creates a sense of calmness.
An island adds functionality to a kitchen without taking away from its beauty.
Open kitchens don't require wall-mounted cabinets. Eliminating wall-mounted cabinets creates more room in the kitchen.
A smaller kitchen doesn't mean less storage space. Instead, maximize your space by adding an island or other work surfaces.
An island adds extra seating without taking away any countertop space.
Adding an island will increase your kitchen value.
Mixing different materials makes your kitchen unique and interesting
Don't worry about matching everything perfectly – mix things up!
Use contrasting materials to create a unique look.
Statement lighting helps define each area.
Pendants and chandeliers work well together.
Removing walls and open-concept floor plans
Removing a wall can create an open feel if you have a closed-off kitchen. This option is great if you're looking for more natural lighting and improved traffic flow. It also allows for more communication and aging-in-place features. However, before doing this, consider all the pros and cons.
An open-concept home is defined as having no or few internal walls. To make this happen, you must remove any internal walls shared with other areas. If the walls are load-bearing, you'll need to hire a professional. In addition, you'll want to ensure that there are no structural issues with the new open layout.
While it may seem like a great idea to remove walls and make the kitchen more spacious, consider the potential costs. Whether you're remodelling an existing kitchen or building a new one, consider the costs involved in removing the walls and relocating utilities. In addition, you'll want to consider the home's structural integrity before you start demolition.
What are the key elements of an open-concept kitchen?
1) A kitchen that is integrated into the living space. This means you don't have to go out of your way to get from one room to another. You walk through the kitchen.
2) The kitchen should be large enough to accommodate everyone who lives there. It shouldn't feel cramped.
3) There should be plenty of natural light. If you live in a sunny area, this is even more important than if you live somewhere else.
4) All appliances should be close together so they are easy to access.
5) The kitchen should be well-lit. You want to be able to see what you're doing at night.
6) The kitchen should be clean and clutter-free.
Open kitchens encourage easy flow throughout the home.
Open kitchens typically combine your living room and dining room with your kitchen. This makes it easier to move around the kitchen without going through another door. It also allows people to walk into the kitchen when they enter house easily. The kitchen should be designed so there is no obstruction between the kitchen and living areas.
The kitchen should be accessible from every part of the house. You should be able to access your kitchen from anywhere in the house. If you want to cook dinner at night, you shouldn't have to leave the family room just because you're hungry.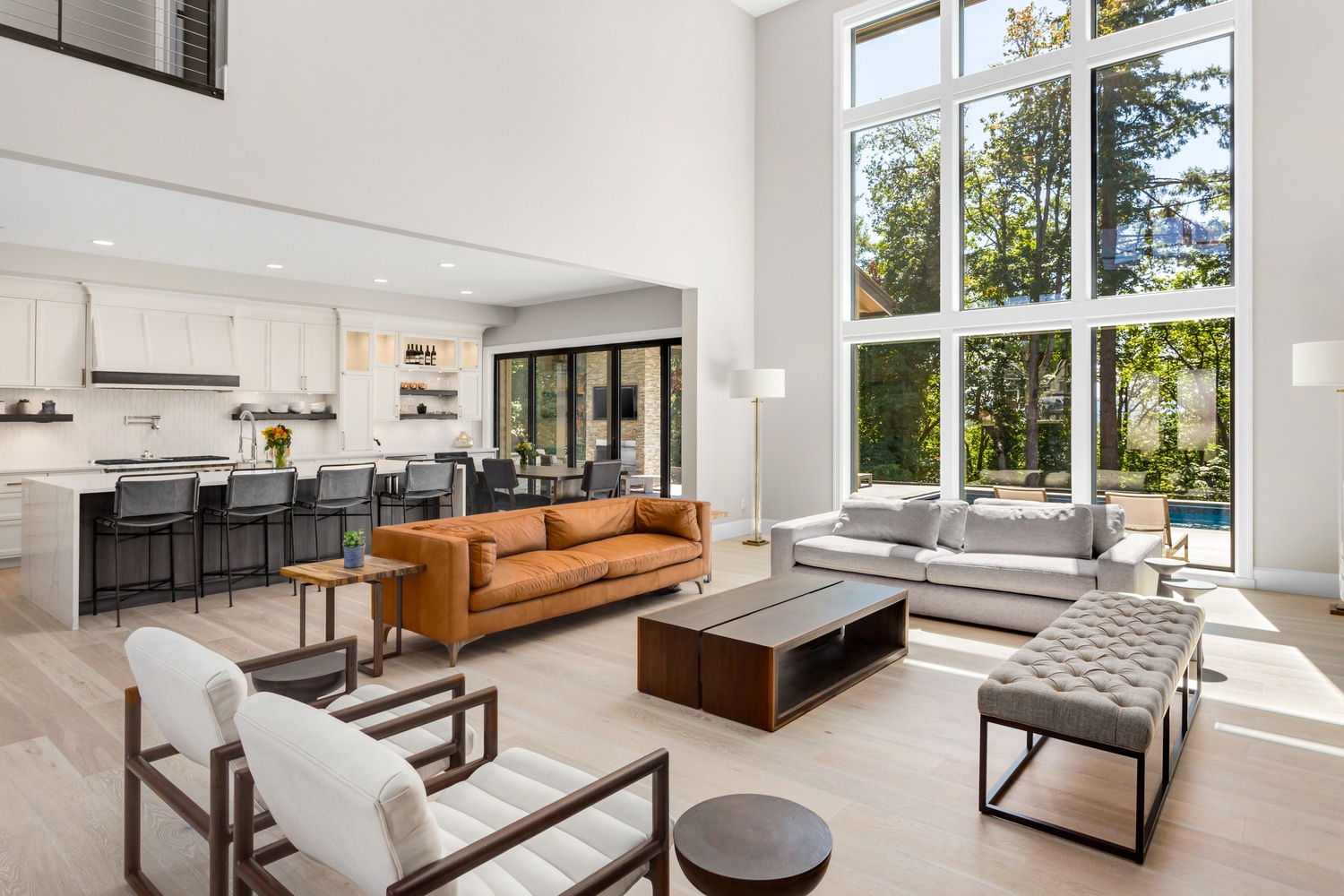 Open kitchens allow for more natural light in the house.
Open kitchens allow for more natural lighting in the home. This means that natural light is abundant throughout the day. Natural light helps reduce energy costs because it allows homeowners to lower the temperature inside their homes without turning on any additional lights.
Natural light also reduces the amount of artificial light needed to illuminate rooms during the evening hours. Artificial light tends to cause eye strain and headaches among those who spend long periods indoors.
In addition, natural light makes the home's interior feel warmer and cozier. This is important because most people tend to prefer living spaces that are warm and inviting rather than cold and sterile.
The benefits of open kitchen designs are numerous. However, these benefits do come with a price tag. To achieve the desired effect, kitchen designers often have to sacrifice space. For example, when designing open kitchens, designers typically choose to remove countertops and appliances. As a result, the kitchen becomes smaller, and the overall footprint of the room increases. This may seem minor, but it can make a big difference in the kitchen's overall look and feel.
Another drawback to open kitchen design is that it requires a lot of maintenance. Because the kitchen is exposed to the elements, it is prone to dirt and dust buildup. To prevent this problem, homeowners usually have to clean the kitchen regularly. Cleaning the kitchen is a tedious task, which can quickly become overwhelming.
Open-concept kitchens are great for entertaining.
Open kitchen design is a trend that allows people to cook together while having fun. The open kitchen concept brings people closer to their food, making them feel like they are part of the process. It makes them feel more involved and helps them learn how to prepare healthy meals.
The open kitchen concept is a way to make your house a social space where you can share recipes, tips, ideas, and experiences with friends and family. This type of kitchen encourages everyone to participate in the meal preparation process. You don't just eat what's served; you help yourself to some fresh ingredients from the fridge and then choose what to put on the table.
When designing your kitchen, think about the following points:
• Make sure there is enough room for everyone to move around freely.
• Keep the kitchen clean and tidy.
• Use natural light whenever possible.
• Consider adding a bar area if you want to serve drinks.
Open kitchen designs considerably maximize space and create a functional kitchen layout.
One of the apparent benefits of having an open-concept kitchen in the house is the added space. If you're looking to maximize every inch of your kitchen, knocking down dividing walls can add any number or square footage into a space that needs it the most.
It's important to know exactly how much space you would ideally need for an open-concept kitchen. If you're looking to install an open-concept kitchen in one of your homes, there are some things you'll want to consider before making a move. First, what does "open concept" mean to you?
Open concept means having room for everyone to enjoy cooking together. It doesn't necessarily mean that you have to sacrifice privacy. In fact, it could actually increase it.
Open-concept designs allow for flexible layouts.
Open-concept design allows for flexibility in layout, which means there are fewer limits on arranging your cabinets. This makes it easier to create more dynamic space because you can rearrange elements without worrying about breaking any rules.
The open concept also allows you to experiment with different kitchen layouts. If you find yourself stuck trying to figure out where to place your fridge, for example, or how to make it look right, you can move it elsewhere.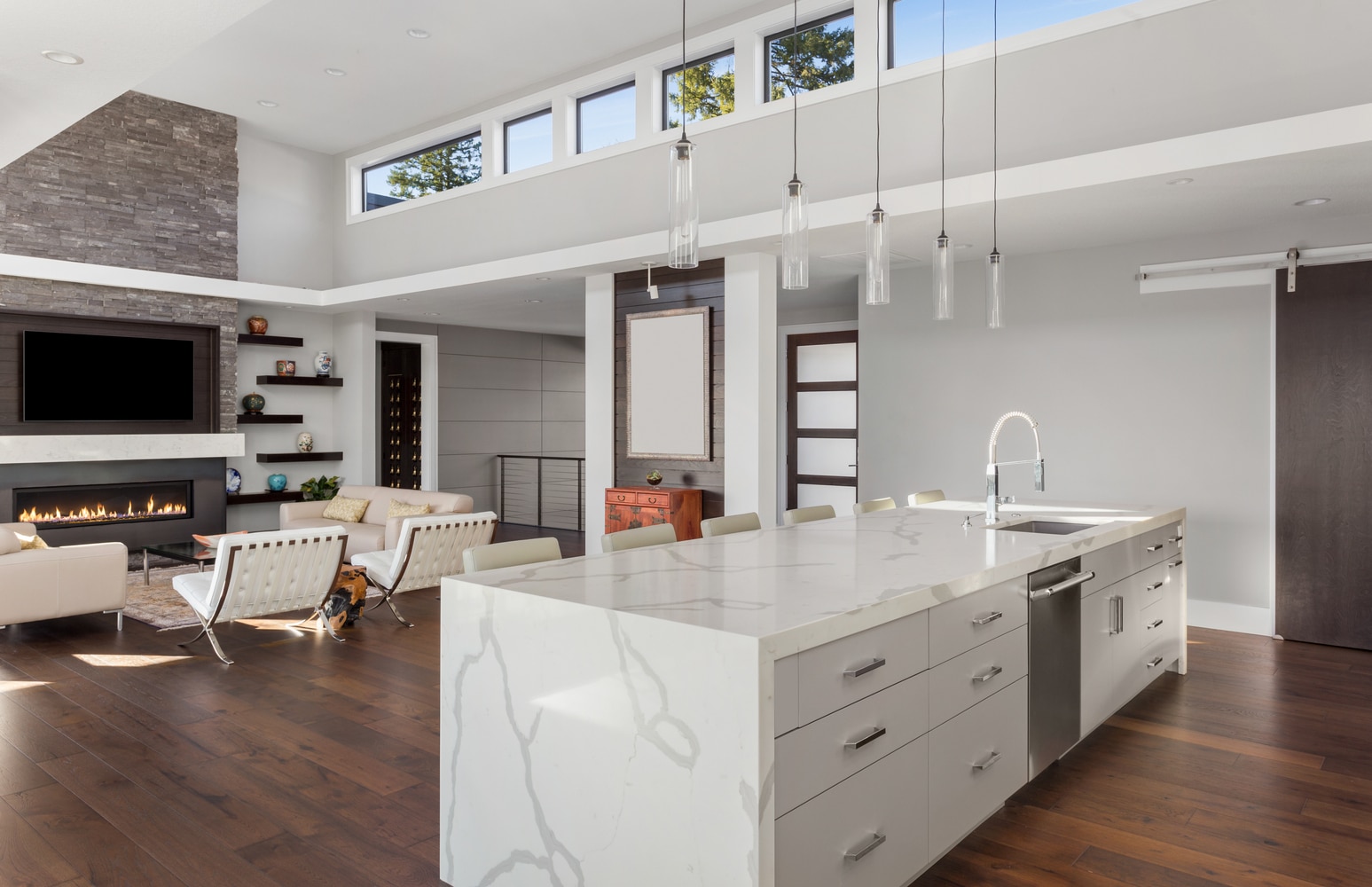 If storage is not your priority, consider no wall-mounted cabinets in your design.
Open kitchens don't require wall-mounted cabinets. Eliminating wall-mounted kitchen cabinets creates more room in the kitchen. You can add some open shelves instead. Don't be afraid to work within your home's structure's confines. There are no rules that you cannot bend when it comes to designing a functional kitchen.
We've been conditioned to believe that we must make our homes look pretty. But there's nothing wrong with making them function well too.
The problem with most kitchens is that they lack functionality. They may look nice, but they don't do much for us. So why not create a space where we can cook, eat, entertain, and relax?
You don't need to go crazy with design elements. It would be best if you didn't try to match the existing cabinetry. Instead, focus on creating an environment that makes sense.
A great way to do this is to eliminate any unnecessary clutter. If you have a lot of stuff lying around, you'll find yourself tripping over it. This isn't ideal because it means you won't be able to move quickly.
Instead, keep things organized. Get rid of excess items and put away those that aren't used often. Then, organize the remaining items according to how frequently they're needed.
This will help you avoid wasting time searching for misplaced items. Plus, it will give you more space to work with.
A Kitchen island or a kitchen table?
The answer is a kitchen island all the way!
Islands add functionality to kitchens without taking away from their beauty. An island creates a natural barrier and helps in creating zones separating the kitchen and family room. They help in dividing the space into smaller sections. Islands help in providing privacy and security. It provides a place where you can cook your food and relax while cooking. An island can be used to provide additional storage space. You can use them to store pots, pans, utensils, appliances, tools, books, magazines, newspapers etc. The island can be used to keep things clean. You can put a sink there, so you don't have to wash dishes on the countertop. You can use islands to make your kitchen look beautiful. You can decorate the island with flowers, plants, candles, vases, mirrors, paintings etc. In addition, an island adds extra seating without taking away any countertop space, an essential component of social open-concept kitchens.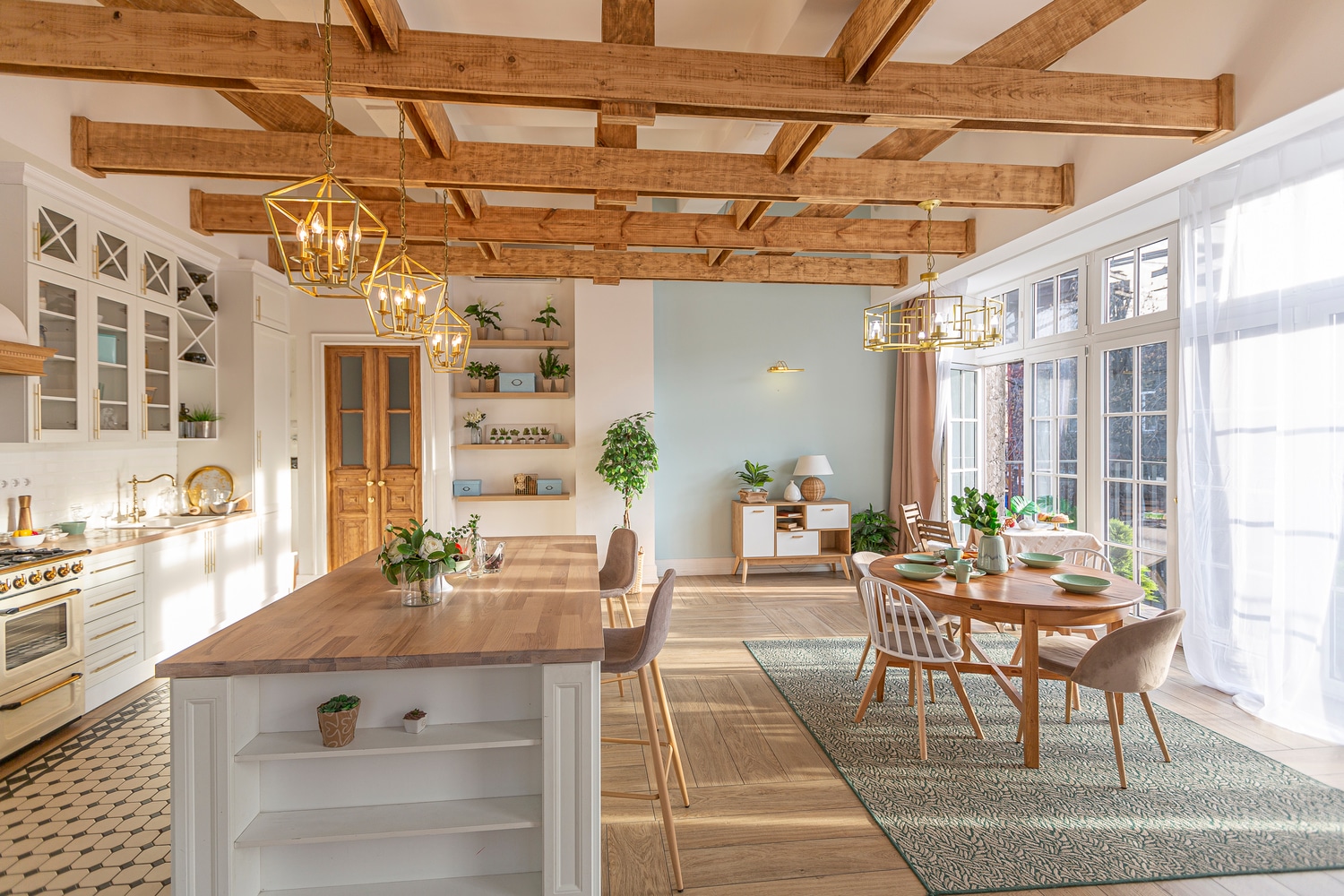 Adding texture to an open-concept kitchen
Adding texture to an open-concept kitchen is as essential as selecting accent colours. Natural textures such as natural wood or bamboo shades on windows create visual interest and help the space feel more comfortable. In addition, open-concept kitchens have less wall space than traditional kitchens, making it even more crucial to layer texture throughout the room.
Adding texture to an open-concept kitchen is a great way to create a unique style without clogging the space. It can also add a dramatic element to a kitchen with pops of colour. Black and gold accents can give the space a chic and sophisticated look, and the colour palette can extend throughout the adjoining areas of the house.
One way to bring in texture is by mixing different materials. Don't worry about matching everything perfectly – mix things up! Use contrasting materials to create a unique look.
The key here is to keep things interesting. If you stick to one type of material throughout your project, you may lose sight of the overall goal. By keeping things varied, you can avoid a boring design.
You can also experiment with different colours. Try using two or three shades instead of just one. This gives your design a more complex appearance. Another option is to use complementary colours. These are colours that contrast each other. A black background paired with gold accents creates a strong impact. Mixing textures can also help make your design more flexible.
In conclusion, open-concept kitchens have been around since the 1970s, but their popularity has recently increased. They offer many advantages over closed kitchen layouts, including better flow between rooms, easier cleaning, and greater flexibility when designing the space. Open-concept kitchen design also allows for a lot of natural light, which makes them ideal for homes with large windows. And if you're looking for a modern kitchen for your home, consider adding an open-concept kitchen to give your house a fresh, modern feel.
Create your next gorgeous kitchen in Vancouver, BC, with an open-concept kitchen remodel in 2023. We're here to help you every step of the way in creating your unique, fluid living space.
Canadian Home Style is your family-owned and operated custom cabinetry retailer with a showroom in North Vancouver, BC. We are the official dealer of Cabico custom cabinetry in the Lower Mainland, providing complete kitchen renovations with an extended lifetime warranty. We always keep up to date with the latest trends and are proud members of the NKBA, National Kitchen and Bath Association.  In addition, we have won the Consumer's Choice Awards back-to-back in 2021, 2022 and 2023 for our commitment to business excellence. We are considered one of the highest-rated kitchen and bath design and renovation experts in Metro Vancouver. Book now to visit our North Vancouver showroom, where you can get expert advice from one of our kitchen and bath designers. We're happy to be a part of your journey with your next kitchen renovation project in Metro Vancouver.
Our mission is to help homeowners create beautiful homes that reflect their lifestyles while reducing energy consumption and conserving resources. We do this by providing our clients with innovative products, services and education. Our vision is to become Canada's leading sustainable kitchen design and custom cabinetry solutions provider. Our values include integrity, respect, honesty and transparency. These principles guide us as we strive to provide outstanding customer service.
We believe that our success depends on the success of our clients and their customers. We work hard to ensure our clients get the most out of their investments. Our team consists of highly skilled professionals who are experts in their field. They have years of experience working together and know what works and what doesn't. They understand how to solve problems quickly and efficiently. We are committed to providing excellent customer service. We listen carefully to our client's concerns and suggestions. We take these into account when planning and executing projects. We always strive to exceed expectations.
Services We Offer:
Main Areas of Service in British Columbia:
Frequently Asked Questions
What's the best way to renovate a kitchen?
Both plumbing and electrical rough-ins
Drywalling
Painting
Countertop installation
Backsplash installation
Appliances
Can you DIY a Kitchen Renovation?
You might wonder if it is possible to do a kitchen remodel yourself. The answer is yes, but there are some things to remember.
First, a kitchen remodeling project can be very time-consuming. Basic plumbing and carpentry skills are essential before you can begin. It's also necessary to decide which aspects you want to change in your kitchen, such a storage area, replacement of old appliances or improved lighting.
After planning your kitchen renovation, you can start shopping for the materials. You'll need to decide on cabinets, countertops, flooring, and appliances.
A good idea is to think about the layout of your kitchen before you go shopping. This will help you determine how much space you need and what type of layout would work best in your kitchen.
There are many choices in cabinets. There are two types of cabinets available: Ready-to-assemble (RTA), or custom. RTA cabinets are available in a variety of styles and colours, and they tend to be less expensive than custom cabinets.
It is essential that you ensure safety and security during large-scale renovations. For example, you might want to check the local building codes for renovations.
While you may be tempted to tackle a large-scale renovation on your own, it is recommended to seek help from professionals. It is possible to save both time as well as money by hiring qualified contractors. A professional can help you ensure that your project runs smoothly.
How can you arrange an open-concept kitchen design?
It is best to have a simple workflow to organize an open-concept space. This means that all appliances should be placed close together. It is easier to clean these items if they are close together. To make it easier to find your cooking utensils, keep them close to each other. Food storage should be kept close to the point where it is needed. This will make things easier when you are trying to grab the items you need.
What are some of the common mistakes with a kitchen renovation?
A kitchen installed in an inappropriate location might not work.
Putting the dishwasher too far away from the sink may result in wet floors.
Placing the fridge next to the oven can make it hard to open the fridge door.
A lack of counter space can cause problems.
Another common error is not having enough storage. Ensure you have enough cabinets and shelves for all kitchen gadgets and appliances.
It is difficult to choose the right appliances for a kitchen remodel.
You want them to be space-friendly and energy-efficient.
A mistake is not hiring a professional to assist with the design. They can make sure everything is scaled correctly and fits in the space.
It is common to try to do too many kitchen renovations yourself. Knowing your limits and when to call a professional is essential for a successful kitchen renovation.
It is a mistake to not plan for enough money. Kitchens are expensive. Make sure you have enough funds to cover the whole project.
It is a mistake to not have a clear vision of the style and layout you desire. Before you start a renovation, it is important to know what style, layout, or finishes you desire.
These are some of the most common mistakes made when renovating a kitchen. To avoid making these errors, consult a professional before you start your project. It is possible to have a successful renovation of your kitchen if you plan and execute well.
Are open-concept Kitchens going out style?
Because they are modern and easy to use, open-concept kitchens remain popular. For many reasons, some homeowners choose to return to more traditional kitchen designs.
Open-concept cooking can be very noisy. An open-concept cooking area can make it difficult to clean, due to the amount of dust and cooking fumes that circulate through the house.
Family members who love to cook together will appreciate open-plan kitchens. If your children love to play in the kitchen and aren't listening to their parents, open-concept kitchens could be a nightmare. If you're considering an open-concept kitchen, carefully weigh the pros and cons before making a decision.
What Do I Really Need to Remodel My Kitchen?
A kitchen remodel is a significant investment, so it's essential to carefully consider whether or not it's suitable for your home. When remodeling your kitchen, there are many things to consider, such as the age and condition it is in, the needs of your family, and your budget.
Remodeling can be a great idea to bring your kitchen up-to-date and make it more useful. If your family is growing, a remodel could provide more storage space and counter space. A well-designed, functional kitchen can help increase your home's value.
But a kitchen remodel may not be the best option. A kitchen remodel is not necessary if your kitchen is in good order and you are happy with the layout. Instead, make small changes to improve the space's look and feel without spending too much.
So, how do you know if a kitchen remodel is right for you? These are some questions you should ask yourself:
Is your current kitchen functional? Remodeling can be a great option if your kitchen is outdated, inefficiently stored, or not functional.
Is your kitchen in dire need for repair? It may be time to replace your outdated appliances or cabinets. This will likely mean a kitchen remodel.
Are you looking to increase the value of your home? No matter if you are looking to sell your house in the near future, a kitchen remodel can be a major investment. A well-designed, attractive kitchen can make your house more appealing to potential buyers. It will also increase its resale market value.
What's your budget? You need to set a realistic budget before you start a kitchen remodel. When estimating your project's total cost, make sure you include the costs of labor and permits.
A kitchen remodel may be the right choice for you if you answered "yes" to any of these questions. To get started, talk to a professional contractor. It is possible to create the kitchen you desire with careful planning.
These are the four most basic kitchen layouts.
The basic kitchen layouts are L-shaped U-shaped T-shaped, Ushaped, and Open-concept. These designs will depend on the area and number of appliances. Consider these different layouts when designing a functional kitchen for your home.
L-Shaped Cooking Area: The L-shaped Kitchen is a popular design because it is both efficient and easily customizable. This layout is ideal for small to medium-sized kitchens as it doesn't need a lot of space. If you have the room, you can add an islands to this layout.
U-Shaped Kitchen. This kitchen design is perfect for large to medium-sized kitchens. You can customize this layout with an island but it is not necessary.
T-Shaped Kitchen. Large kitchens will love the T-shaped design. This layout can be customized with an island, but it's unnecessary.
Open-Concept Design Kitchen: An open-concept design kitchen is great for large rooms and homes that you wish to create a light, open feel. This layout has no walls or boundaries, so it's perfect for entertaining.
Statistics
External Links
How To
How to design a kitchen layout
There's no perfect kitchen layout, but specific layouts work better for specific spaces. These are some ideas to help you design the kitchen layout that works best in your space.
Start with the basics. Start by identifying what you will need in your kitchen. You don't necessarily need a large stove, oven, or other appliances if your cooking isn't very extensive.
The traffic flow is important. Consider how your family uses the space and how it flows. You will need to make sure there is enough space for everyone to move about freely, without bumping into one another.
Maximize storage. The third step involves maximising storage space in your kitchen. This includes food storage as well as cookware storage. You'll want to ensure everything has a place and is easily accessible.
Integrate your style. The fourth step is to incorporate your personal style into the kitchen layout. This covers everything, from countertops and cabinets to flooring and appliances. Choose finishes and materials that reflect you style.
Work with a professional. Working with a professional kitchen designer is the fifth step. They will be able to help you create a layout which meets all your requirements and works within your space.
Read our last kitchen renovation article here at…
https://canadianhomestyle.com/kitchen-renovation/transforming-a-small-kitchen-into-a-socializing-space/