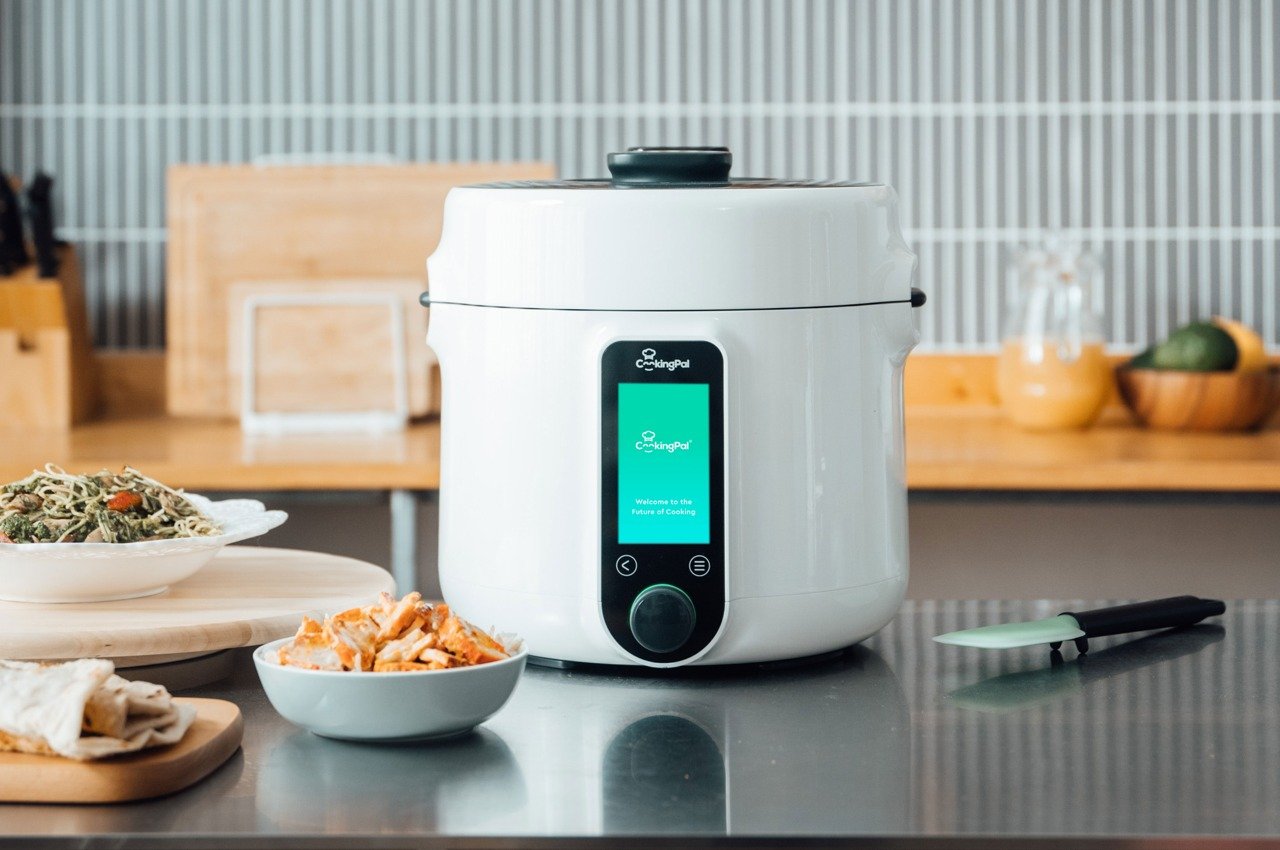 Kitchen and bath news: Best kitchen appliances to help amateur home cooks kickstart their pro-level cooking journey
If you're a passionate cooking lover or recently kickstarted your cooking journey and want to accelerate it even further, you've reached the right place. Having an efficient and streamlined cooking process is the key to preparing dishes that taste excellent! And the number one aid you need in having an effortless process is an arsenal of great kitchen appliances.  Cooking can be increasingly fun and simplified with the right kitchen tools and appliances. The right products can reduce your prep time in half, make the little cooking tasks much easier, and help you with tedious and complicated techniques. From a minimal Japanese folding knife to a compact induction cooker that fits every conceivable cooking method in its modular, stackable design, these innovative and exceptional kitchen appliances are all you need.
1. The Pronto
Rather aptly named the Pronto, this relatively compact gadget handles every part of the cooking process, from weighing to sautéing, slow-cooking, simmering, reheating, and even air-frying thanks to its modular companion, the Alto.
Why is it noteworthy?
With its small footprint and multipurpose design, the dynamic duo of Pronto and Alto occupy a fraction of the countertop space and let you prep elaborate meals without all the messy dishes and dread-inducing clean-up. Pronto and Alto were designed to take the effort out of cooking, so you can focus on the most important part… eating!
What we like
Multipurpose design
Make meal prep easier, faster, and smarter
What we dislike
There is a learning curve involved in getting used to the design
2. The Slide Toaster
The toasting process begins in the Slide toaster with an LED ring indicating the toasting level and completion. The slide-up tray has a translucent design element to it so that you can keep an eye on the toast turning perfectly brown to your delight Level of the toast crispness can be set with an adjustment dial like all other toasters we've seen countless times. Audio indications ably aid this to keep the user well-informed.
Why is it noteworthy?
Harry Rigler wants to reinvent the trusted image of the toaster with a detour to the soft form design of this household kitchen appliance. That too keeps in mind the requirements of modern users, and the present as well as future design progression of kitchen interiors. Rather than being a pop-up toaster like most out there, this is the Slide toaster which rolls the toasting grill to the side like a rollable smartphone. The tray slides out – you put in the bread and slide it back in.
What we like
Audio indications to update the user on their toast
Unique slide-up tray
What we dislike
The radically changed design may not be easily accepted in households
3. The Monolith
Designed by Italian kitchen brand Falmec and designers Studio Ferriani, the Monolith is an extractor hood that can be integrated into the benchtop, and also used as a nifty storage space for utensils.
Why is it noteworthy?
The extractor hood is a part of the Elements Collection and features a 90-centimeter-long suction element. It has also been equipped with differently sized storage units that can be placed and arranged in different custom configurations.
What we like
Integrates storage units
Sleek clean aesthetics
What we dislike
Bulky + space-consuming design
4. The Oku Knife
Scottish artist and metal worker Kathleen Reilly designed the 'Oku Knife'. Inspired by Japanese table settings, the Oku knife features a rather intriguing handle that is folded 90 degrees from its blade. Chopstick resets informed the design.
Why is it noteworthy?
Oku features a unique folded shape that lets the handle be placed on a surface, with the blade sitting perpendicularly away from that particular surface. You can even rest the knife's blade along the edge of a cutting board or plate.
What we like
The knife can be hooked onto the rim of a plate, creating intimacy between the two objects whilst improving cleanliness and maintaining stability
What we dislike
The design may seem pointless or unnecessary to some people.
5. The Cookmate
The Cookmate is a rather innovative and nifty kitchen appliance that is all-in-one. It can be used for prep, cooking, and serving. It features a modular design with stackable pieces that allow the cooktop to function as a pan, crock pot, or even a steamer – providing you with a variety of healthy cooking techniques.
Why is it noteworthy?
The Cookmate looks at the cooking process as something that goes from idea to ingredient to table. Rather than focusing on just the cooking, this induction cooktop (although it seems highly reductive to call it just that) considers every aspect of the cooking process. This isn't just clever, holistic design thinking, it also helps the Cookmate be more universally applicable so you save effort, energy, and space with other utensils.
What we like
Features an integrated weighing scale
It can be split into 6 parts
What we dislike
It's still a concept!
6. Small Living Kitchens
Falper has dipped its toes into kitchen design with the Small Living Kitchens concept. With the Small Living Kitchens, Falper wanted to transform the experience of kitchens in small homes. It includes islands that are designed to make tiny kitchens feel spacious and luxurious. It brings the sophisticated layouts of larger kitchens to small homes in a more compact and streamlined form.
Why is it noteworthy?
Falper worked alongside designer Andrea Federici to create the Small Living Kitchens. The units can be placed into compact spaces starting from 2.5 square meters. It has been equipped with three elements – islands, storage units, and tall units. These elements can be configured in multiple different ways, according to your need and requirement.
What we like
Comes in three models
Designed to merge harmoniously with all kinds of homes and apartments
What we dislike
The aesthetics of the kitchen are a bit simple
7. LoopKitchen
How about transforming our kitchens into sustainable spaces as well? Seems like Danish startup Stykka comes from the same school of thought since they designed their innovative 'LoopKitchen'.
Why is it noteworthy?
Crafted from birch plywood, LoopKitchen is a minimal and contemporary kitchen designed with recyclable parts, in an attempt to increase its lifespan. Although LoopKitchen is built primarily from birch plywood, the kitchen fronts can be finished in birch as well, or a Forbo linoleum which is available in 20 colors.
What we like
Designed with recyclable parts
Each physical manifestation of LoopKitchen has a digital twin
What we dislike
Not well suited for small compact kitchens
Space-consuming design
8. Mill
Mill is a trash can that not only keeps your leftovers from becoming too spoiled and stinky and turns them into actual chicken feed. And you don't have to even leave your house for all of this to happen. The concept for this circular food waste device is from a former Apple engineer and the co-founder of Google Nest, Matt Rogers.
Why is it noteworthy?
This way the fish, produce, eggs, rinds, seeds, bones and other food waste that you throw away can become food for chickens. Even things like napkins, filters, and paper towels can get in on the fun.
What we like
It also shrinks the waste so you won't have an overflowing trash can
There's also a coconut-based charcoal odor filter that will prevent your kitchen from stinking up
What we dislike
It is a bit expensive
Only available on a subscription basis
9. The Maruzara
Shaped like a small round plate instead of the typical rectangular sheet of metal, this grater is meant to sit on the table rather than be held up in the air like almost all other graters. Its small design makes it perfect to be placed right on the table, and the unique pattern of the blades gives it a distinctive look even when it's just sitting unused.
Why is it noteworthy?
That blade arrangement isn't just for show, though. Unlike a regular grater with rows of blades, you make circular movements to grate ingredients. Rather than falling through holes, the grated pieces accumulate at the sides in full, fluffy lumps. Rather than being tiring and burdensome, the repetitive action becomes almost a mindful practice that puts you in the moment.
What we like
Comes with a silicon rubber base that stops it from slipping on the table while you make your circling motions
What we dislike
It's designed primarily for wasabi and daikon radish, making it a bit limited
Some people may prefer the form and structure of a traditional grater
10. The Electrolux Adapted
The Electrolux Adapted is the kitchen essential of the future – compact, sleek, and ideal for tiny homes, this masterful concept is for the 'singletons' who want to make the most of a small kitchen. If you want to use the countertop for some real cooking, and don't feel like cramping it with a gazillion appliances, then Adapted is the product for you!
Why is it noteworthy?
Electrolux Adapted is a premium hub that utilizes the vertical space in a kitchen to organize and hold all the important appliances you need daily. The system comprises standardized modules mounted effortlessly on a backplate, eliminating the need for tools usually required for installation. The backplate supplies all the modules with water and electricity to support highly customizable arrangments.
What we like
It can either be mounted on a wall or placed as a free-standing product with an add-on furniture frame
All the modules are connected via an Electrolux app, allowing them to be used simultaneously or in sync, and enabling users to create their routines
What we dislike
It's still a concept!
The post Best kitchen appliances to help amateur home cooks kickstart their pro level cooking journey first appeared on Yanko Design.
References:
By: Srishti Mitra
Title: Best kitchen appliances to help amateur home cooks kickstart their pro level cooking journey
Sourced From: www.yankodesign.com/2023/03/18/best-kitchen-appliances-to-help-amateur-home-cooks-kickstart-their-pro-level-cooking-journey/
Published Date: 03-21-2023
Canadian Home Style is your family-owned and operated custom cabinetry retailer with a showroom in North Vancouver, BC. We are the official dealer of Cabico custom cabinetry in the Lower Mainland, providing complete kitchen renovations with an extended lifetime warranty. We always keep up to date with the latest trends and are proud members of the NKBA, National Kitchen and Bath Association.  In addition, we have won the Consumer's Choice Awards back-to-back in 2021, 2022 and 2023 for our commitment to business excellence. We are considered one of the highest-rated kitchen and bath design and renovation experts in Metro Vancouver. Book now to visit our North Vancouver showroom, where you can get expert advice from one of our kitchen and bath designers. We're happy to be a part of your journey with your next kitchen renovation project in Metro Vancouver.
Our mission is to help homeowners create beautiful homes that reflect their lifestyles while reducing energy consumption and conserving resources. We do this by providing our clients with innovative products, services and education. Our vision is to become Canada's leading sustainable kitchen design and custom cabinetry solutions provider. Our values include integrity, respect, honesty and transparency. These principles guide us as we strive to provide outstanding customer service.
We believe that our success depends on the success of our clients and their customers. We work hard to ensure our clients get the most out of their investments. Our team consists of highly skilled professionals who are experts in their field. They have years of experience working together and know what works and what doesn't. They understand how to solve problems quickly and efficiently. We are committed to providing excellent customer service. We listen carefully to our client's concerns and suggestions. We take these into account when planning and executing projects. We always strive to exceed expectations.
Services We Offer:
Main Areas of Service in British Columbia:
Frequently Asked Questions
What Do I Really Need to Remodel My Kitchen?
Remodeling your kitchen can be a large investment. Make sure you carefully assess whether it is right for you. You should consider many things when remodeling your kitchen. These include the age of your current kitchen and how it's been maintained, your family's lifestyle and budget, as well as your financial resources.
A remodel can bring life back to your kitchen if it is in need of repair or updating. If your family grows, a remodel may provide additional storage and counter area. A well-designed, functional kitchen can help increase your home's value.
On the other hand, a kitchen remodel is not always the best solution. A kitchen remodel is not necessary if your kitchen is in good order and you are happy with the layout. Instead, you can focus on small changes that will increase the space's appeal without spending a fortune.
So, how do you know if a kitchen remodel is right for you? Here are some questions that you can ask:
Is your current kitchen functional? Remodeling your kitchen can help you get the space you need.
Are your kitchen cabinets in dire need of repairs? Perhaps it is time to upgrade your kitchen. To fix these issues, a full kitchen remodel is likely to be required.
Are you looking for ways to increase your home's value? A kitchen remodel can be a significant investment, whether you plan to sell your home shortly or not. A well-designed kitchen can increase the appeal of your home and its resale potential.
What's your budget A kitchen remodel is expensive. You should set a realistic price range before you get started. Be sure to factor in the cost of materials, labour, and permits when estimating the total cost of your project.
If the answer is yes to any one of these questions, then a kitchen remodeling project might be right for your needs. Talk to a qualified contractor about your plans to get started. With careful planning and execution, you can build the kitchen of your dreams.
Can a stove and a fridge be side by sides?
Yes, they can be side by side if there is enough space for both appliances. It is not a good idea in kitchen design. It can cause wasted space in the kitchen and make it cramped. It's better to place the stove and refrigerator in different areas of your kitchen. This makes it easier to work efficiently and gives the kitchen a larger feel.
How do you design a kitchen renovation?
Since every kitchen renovation is unique and requires a different approach, there is no right or wrong answer. The first step to designing a kitchen remodel is to understand your goals and needs.
This might involve meeting with an architect or professional designer for ideas and measurements, or creating a moodboard or inspiration folder that includes images of kitchens that you love.
Once you have a good sense of what you want to achieve, you can begin planning your budget and collecting estimates from potential contractors. To ensure that you don't get off track, it is essential to set a timeline and avoid stressful surprises.
Working with an architect or professional kitchen designer will allow them to take charge of the design planning. It is important to be clear about your goals from the beginning. This will ensure that the final design meets all your expectations and that you are happy with the result.
When measuring your kitchen space, including the overall square footage and the dimensions of individual areas like countertops, cabinets, appliances, windows, and doors. You can also take note of any existing structural elements, such as support beams and load-bearing wall. To visualize how your new design will work together, it is a good idea to create a floorplan layout.
It is easy to narrow your search for kitchen design ideas by creating a mood board or an inspiration folder. You can find beautiful images of kitchens on Pinterest. Spend some time looking. You can also cut out pages from magazines to collect fabric swatches, paint chips and other visual elements that you like. This will provide you with valuable information as you begin to plan your renovation.
Once you have a plan in place for your new kitchen, you can begin to consider the budget and timeline. How much money do you have to spend on this project? What are your must has and what do you prefer to have? When do you need the renovation to be completed? These questions will help guide you through the planning process.
If you plan to renovate your kitchen yourself, consider the cost for materials, appliances, cabinets and countertops. The project's time frame and potential disruptions to your life will also need to be considered. A contractor will provide a detailed estimate with all costs and a schedule for completion if you are hiring them.
It is important to establish a timeline for your kitchen remodel in order to stay on track and avoid any unexpected surprises. Once you have a clear idea of when each phase should occur, it is possible to start putting together a detailed schedule. You should allow for some flexibility to accommodate unexpected delays.
By following these steps, you can develop a clear plan for your kitchen renovation. This will help ensure that the final result is everything you've been dreaming of and that the process runs smoothly from start to finish.
In the kitchen, where should pots or pans go?
Pots and saucepans should be stored in the cupboard directly above the stove. You can easily find them when you need them. This also keeps your kitchen's counters clean and neat. You might also want to consider a pot rack that will help you keep your pots & pans organized and in easy reach.
How can you not regret your kitchen remodeling?
Be patient; the renovation process takes time.
It is a huge undertaking that can significantly affect your daily life. Do your research before you start. This comprehensive guide will assist you in avoiding any regrets as you renovate your kitchen.
Consider your lifestyle first.
Select the best materials for your goals and budget.
The right countertop is not only beautiful, but also easy to maintain.
Choose the right appliance in terms of size and style.
You can choose the backsplash that best suits your needs.
You should inspect the interior of your cabinets, walls, and drawers.
Throughout the process, communicate with your contractor or kitchen designer.
You can customize your storage solution to suit your gadgets and appliances
Don't get your lighting lightly.
Don't ignore kitchen ergonomics!
Make sure you don't use up any space in your kitchen design.
Pick the right cabinet finish and colour.
Before you commit, plan.
Hiring the right people is key to the success of your job.
Don't forget you need a place for your garbage.
Statistics
External Links
How To
These are ten small kitchen renovations that you can do by yourself.
Small kitchen remodeling ideas you can do by yourself.
A small kitchen remodeling project is not always something you'd like to tackle. If you're looking to make your home feel new, this is the right thing to do. It's possible to do many things in your kitchen without spending a lot. Here are some kitchen remodeling ideas that you could do yourself.
Add a backsplash to your kitchen – If there are no tiles around the sink or countertop, then a backsplash will be the best option. The backsplash adds style and colour to your kitchen and makes it appear larger and cleaner.
Replace old cabinets – Cabinets add a lot of value to your kitchen. They keep your walls safe from water, spills, and stains. They are elegant and give your kitchen a refined look. If your cabinet door frames look worn, replace them.
Paint your kitchen. Paint can transform the look and cost of your kitchen. Painting your kitchen gives it a new life and makes it look more modern. You will find it much easier to clean.
Upgrade your appliances – It will increase the lifespan of your appliances and make them look better. You can update the appliance that you are most familiar with if you have a specific appliance in mind. Or, you can find someone who can install these appliances.
Add a bar – Adding a bar area in your kitchen is another good idea. You'll be able to entertain your guests and have additional work space.
To create a breakfast spot, you don't need to spend a fortune. All you need is a small dining table and some chairs. You can even add some cushions to make it more comfortable.
Add a pantry – A pantry is a must-have in any kitchen. It's a great place to store food, dishes, and other things.
Install an island. An island gives your kitchen more space and offers ample work surfaces. It looks great when paired with wood flooring.
Add a wine rack – Wine racks are usually found in restaurants and wine bars. But you can also use them in your home. There are many options for sizes and designs. You can choose what best suits your kitchen.
Helpful Resources:
Did you miss our previous article…
https://canadianhomestyle.com/?p=9755