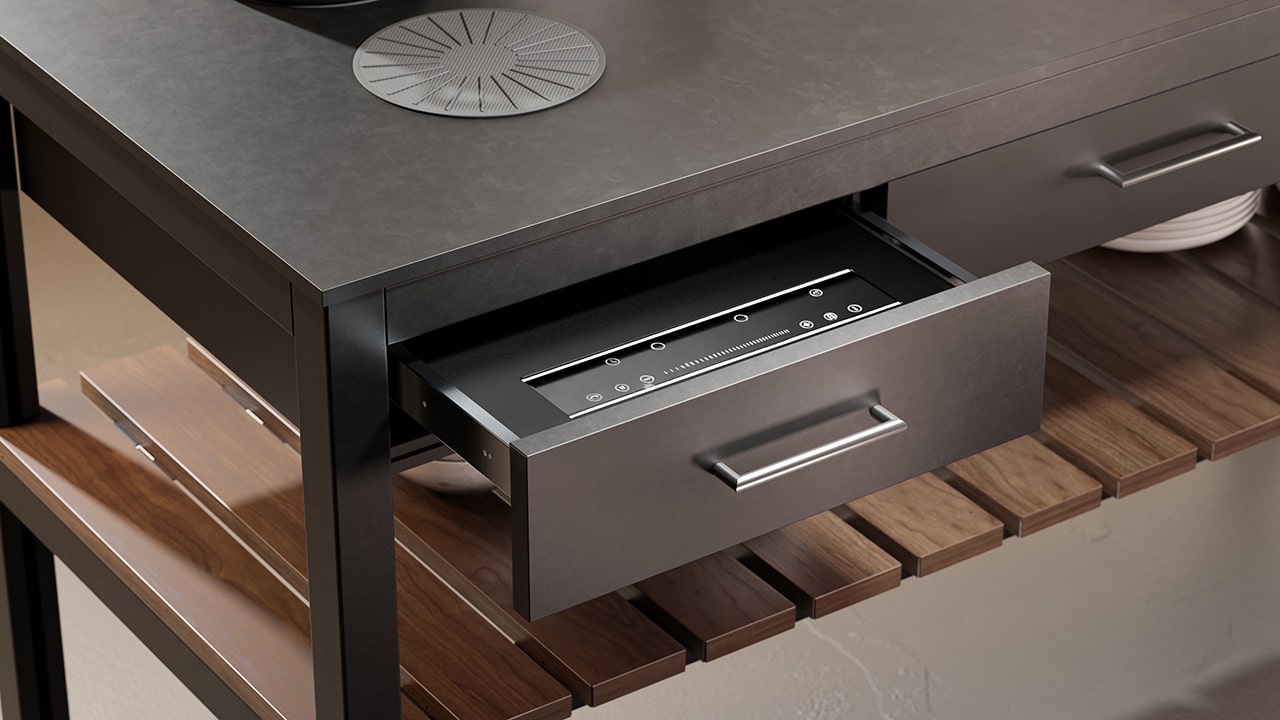 Kitchen and bath news: Stainless Steel Cosmopolitan Table Series for your Kitchen Renovation
Connecticut-based Danver Stainless Steel Outdoor Kitchens has revolutionized outdoor cooking. With their new Cosmopolitan Table Collection, we can now enjoy alfresco cooking.
This sensational collection created for both small spaces and large is the commitment to innovation they are renowned for.
It's a versatile solution designed with decades of smart engineering!
These beautiful tables only use minimal footprints while still providing users with lots of options to enhance their outdoor living experiences.
The tables come in many different shapes, sizes, and materials to customize your kitchen space.
Beyond that, each table comes with stovetops, built-in refrigerators, wet bars as well as storage cabinets for user convenience.
Danver emphasizes diversity by providing an array of unique finishes and an impressive palette of vibrant colours that bring a fresh look to any yard or deck!
Their exceptional level of design and functionality makes them the perfect addition to any outdoor living space looking for a chic upgrade.
The Danish modern aesthetic of Danver's Cosmopolitan collection makes meal preparation, cooking, and storage a breeze. Designed by Daniel Germani, the collection includes six sleek tables crafted with functionality in mind.
Features including two or four stovetop burners, soft-close drawers, and a convenient pass-through shelf give you more space and convenience throughout your kitchen.
Whether you are an avid chef or just enjoy hosting dinner parties, the Cosmopolitan collection is sure to take care of all your hosting needs. The combination of aesthetic appeal and ample storage make this a classic choice for any home kitchen.
Mitch Slater, president and owner of Danver says that the Cosmopolitan collection captures their trademark style of balancing form with function – allowing endless customization options tailored to individual preferences.
Stunningly sleek and sophisticated, the Cosmopolitan Cook and BuffetCook are two gems in the collection. Both feature optional integration of Invisacook induction technology; offering you a unique way to cook.
The Cosmopolitan Cook, with its convenient drawer in the left corner, is great for small spaces not fit for grills or serving tables. Plus it has built-in warming capacity!
For something even more luxurious, try the Cosmopolitan Buffet. Now you can fit induction burners into your cabinet for extra cooking capabilities.
Take your culinary prowess to the next level with these cosmo-approved pieces! You'll be inspired to explore delicious recipes and impress your guests with culinary creations that have never been seen before.
Cosmopolitan Prep Table includes under-table and pass-through storage. It can serve as a kitchen island or workspace. It has wood-inspired slats adding an adorning detail as its stainless steel build and powder coat finish offer a long-lasting, low-maintenance outdoor cooking solution. The Cosmopolitan Dining Table is similar to the Prep Table but features a narrower shelf to allow more legroom and seats four people.
References:
By: Priya Chauhan
Title: Stainless Steel Cosmopolitan Table Series to Make Alfresco Cooking More Fun
Sourced From: www.homecrux.com/danver-cosmopolitan-table-collection-outdoor-kitchen/192997/
Published Date: 03-19-2023
Choose Canadian Home Style for your Vancouver kitchen renovation projects.
Canadian Home Style is your family-owned and operated custom cabinetry retailer with a showroom in North Vancouver, BC. We are the official dealer of Cabico custom cabinetry in the Lower Mainland, providing complete kitchen renovations with an extended lifetime warranty. We always keep up to date with the latest trends and are proud members of the NKBA, National Kitchen and Bath Association.  In addition, we have won the Consumer's Choice Awards back-to-back in 2021, 2022 and 2023 for our commitment to business excellence. We are considered one of the highest-rated kitchen and bath design and renovation experts in Metro Vancouver. Book now to visit our North Vancouver showroom, where you can get expert advice from one of our kitchen and bath designers. We're happy to be a part of your journey with your next kitchen renovation project in Metro Vancouver.
Our mission is to help homeowners create beautiful homes that reflect their lifestyles while reducing energy consumption and conserving resources. We do this by providing our clients with innovative products, services and education. Our vision is to become Canada's leading sustainable kitchen design and custom cabinetry solutions provider. Our values include integrity, respect, honesty and transparency. These principles guide us as we strive to provide outstanding customer service.
We believe that our success depends on the success of our clients and their customers. We work hard to ensure our clients get the most out of their investments. Our team consists of highly skilled professionals who are experts in their field. They have years of experience working together and know what works and what doesn't. They understand how to solve problems quickly and efficiently. We are committed to providing excellent customer service. We listen carefully to our client's concerns and suggestions. We take these into account when planning and executing projects. We always strive to exceed expectations.
Services We Offer:
Main Areas of Service in British Columbia:
Frequently Asked Questions
What countertops go best with white kitchen cabinets?
White kitchens allow you to be very bold with your countertops. Quartz countertops are the latest trend in kitchen design. These are our top choices for quartz countertops to match white kitchens.
Concrete grey comes in many shades
Bold Granite patterns
Veiny marble-like designs
Bright and striking colours such sunflower yellow or oceanblue are available
Is a white kitchen a good idea for Vancouver's climate?
Vancouver homeowners love white kitchens. This is because they are brightening up the space and creating a modern appearance. To bring warmth into your space, however, you should consider natural elements such wood as there isn't much sunshine in Metro Vancouver.
Which colour is best for white kitchens?
While a white kitchen looks great in a variety of colours, walnut works well with it. The natural wood tones will add warmth to the space, and the two colours will complement each other well. Black and grey can be a great choice if your preference is for something more subtle. If you're looking to make a bold statement, choose a bright color like yellow or red. Whichever route you choose, ensure the rest of your decor ties in with your choice so that the space looks cohesive.
Should cabinets be lighter/dimmer than walls?
There are no rules for This. This will be a personal decision and will vary depending on the dimensions, shape, and design of your kitchen. The general idea is that if your kitchen is small, dark cabinets can make it feel even smaller and more cramped. A lighter cabinet will make the space feel bigger and brighten it.
For large kitchens, dark cabinets can create a cozy and intimate atmosphere. However, lighter cabinets will keep the space bright and open.
It's your decision to create the kitchen you desire and to pick the cabinet color that best suits that look. Talk to a professional designer for guidance if you're not sure.
How to Reduce Kitchen Remodeling Costs
Here are some tips for kitchen remodeling that can save you money.

Do your research.

You must first do your research before you start any kitchen renovation project. This will give a clear understanding of your goals for your kitchen remodel. Also, research can help you to identify cost-saving opportunities.

Create and budget.

Once you have an idea about what you want from your kitchen remodel project, it is time to set a budget. This will help determine how much you can spend on the project. To avoid spending too much, it is important to stick to your budget.

Check out other websites for specials and discounts.

Look for bargains and savings when you shop for materials or appliances. This will save you money when remodeling your kitchen.

Hire a reputable contractor.

If you are looking for a contractor to remodel your kitchen, make sure they have a great track record and are reputable. Reputable contractors will be able to provide high quality workmanship at a competitive price.

Do the work.

If you have the necessary skills, you may be able to do the work yourself. This will save you money on kitchen remodeling costs, and it will give you satisfaction knowing that you did the work yourself.
Following these tips can help you save money on your kitchen remodel costs.
What are some of the cons of an open concept kitchen?
Privacy is the biggest problem. You can't hide your mess from guests when you have an open-concept cooking area. If you are passionate about cooking, it might be a problem to have too many people around. An open kitchen is difficult to keep clean, especially if you don't have an area for cooking and eating. If you have limited space, an open-concept design kitchen might not be the best choice.
Statistics
External Links
How To
What is the Cost of Kitchen Remodeling in 2022 [12 Tips to Help You Save Money]
How much will you spend on a new kitchen? The average cost for a new kitchen is $40,000 to $100,000, depending upon how big your space is or what features you desire. Upgrades can help you get top dollar for your home if it's time to sell.
Here are our top 12 ways to cut costs without compromising quality.
Purchase appliances secondhand
DIY projects
Repurpose old furniture
Use salvaged materials
Hiring a professional to complete the job
Donate your stuff
Sell online
Use paint colors to get creative
Go green
Keep it simple
Make it unique
Be flexible
Helpful Resources: