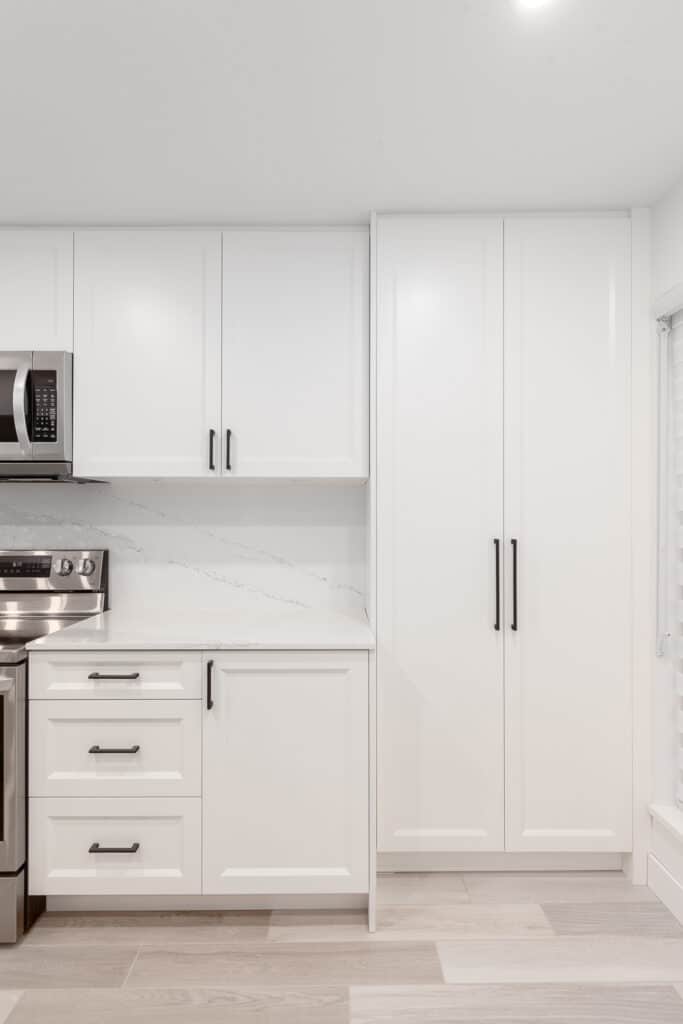 A kitchen remodel doesn't necessarily mean significant structural changes. There are many ways to remodel a space without altering its function or appearance. A remodel can include minor changes like adding new features or making the room look better. You can change many things about your kitchen without spending too much money.
A Handy Checklist for Remodelling a Kitchen Without A Total Gut Rehab
1. Repaint Cabinets – Paint is one of the cheapest and easiest ways to change the look of any room. Giving your cabinets a new coat of paint can give your kitchen an entirely different feel while protecting them from scratches and dirt.
2. Replace Countertops – New countertops can drastically change the look of your kitchen while also providing added durability and protection. Consider a laminate or quartz countertop to update the look of your kitchen without breaking the bank.
3. Change Out Your Fixtures – Changing your faucets, handles, and other fixtures can give your kitchen a refreshed and updated look. Consider adding new lighting fixtures to brighten up the room or swapping out an old sink and faucet for something more modern.
4. Upgrade Appliances – While replacing all of your appliances is often expensive, you can upgrade some of them without breaking the bank. New energy-efficient appliances will save you money in the long run, and can add a stylish touch to your kitchen.
5. Add New Finishes & Accessories – Adding new accessories such as cabinet knobs, drawer pulls, and decorative tiles can give your kitchen an entirely new look without renovating. You can also install new flooring or a backsplash to give the room an updated feel.
6. You can replace your backsplash without doing a full gut rehab. A backsplash is an easy way to update the look of your kitchen without taking on a large-scale renovation project. You can add tile, stone, or even paint over existing tiles for a brand-new look.
7. Replacing cabinet hardware is an easy and affordable way to spruce up your kitchen. Swapping out old knobs, handles, and hinges can give your cabinets a whole new look without the expense of replacing them entirely.
8. Adding a runner or area rug is another great way to give your kitchen a new look without doing a full gut remodel. A runner or rug can add colour and texture to the room while helping protect the floor from scratches.
9. Adding an island can give your kitchen a new look and function without breaking the bank. An island can provide guests with extra counter space, storage, or seating.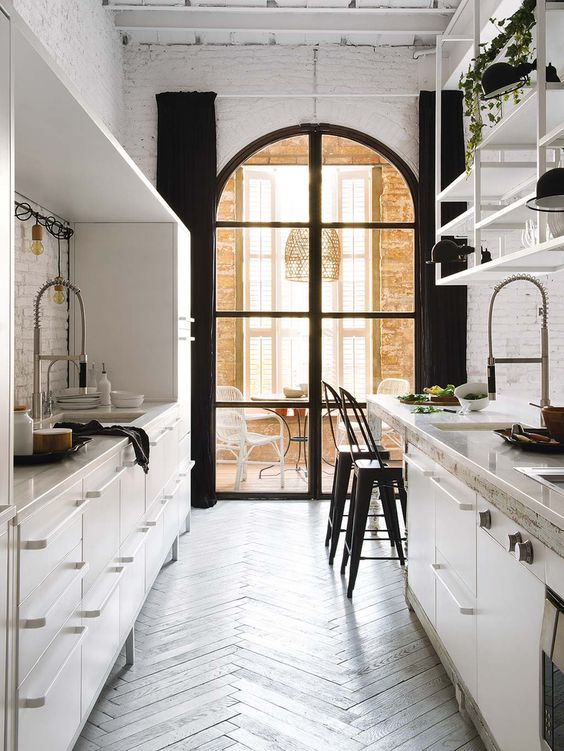 Major Remodel versus Minor Remodel
The cost of kitchen remodelling can add up quickly, especially when you're planning major structural changes. A Major kitchen renovation can cost up to $100,000, with an average cost of $40,000 in Metro Vancouver. This would include building permit costs, kitchen appliances, custom cabinetry, countertop, plumbing and light fixtures, all labour costs etc. On the other hand, minor kitchen renovations can cost as little as $5,000 for simple cosmetic upgrades. Depending on your budget and needs, you may be able to remodel your kitchen without doing a total gut rehab.
If you're considering remodelling your kitchen without completing a gut rehab, you'll need to follow a few tips to keep costs down. The first thing to do is to plan your renovation ahead of time. Most remodelling experts recommend sticking to a budget and game plan and avoiding adding features and extras that will quickly blow your budget. This way, you won't have to deal with the cascading effect of price increases.
Additionally, you can save on costs by doing some of the work yourself. With a little bit of research and elbow grease, you can complete a lot of the remodel tasks without hiring expensive contractors. An affordable kitchen update means focusing on the basics, like paint and fixtures, rather than large-scale structural changes. With some work and creative thinking, you can achieve that beautiful kitchen of your dreams without doing a gut rehab.
Repainting your kitchen cabinets can make a big difference.
Painting cabinets isn't a quick fix, but it does save money over replacing them. Repainting kitchen cabinets is a great way to give your kitchen a new look. But there are some things you need to know before you get started. Oak cabinets, for instance, have open pores and will show through paint and finishes. To prevent this, you should fill the pores before painting. You can apply several high-build primer coats, sanding in between coats, or spackling. However, spackling can be complex, especially if your cabinets have curved surfaces or moulded edges.
Before starting your painting project, remove all food from your cabinets. Use a grease-cutting cleanser to remove any traces of food. If you must leave some items, store them in a separate room. Put them back once the paint is dry.
Quality paints and sanding techniques are crucial to ensuring kitchen cabinets' longevity. You'd be surprised what kind of impact can a fresh coat of paint can impact the overall look and feel of your kitchen.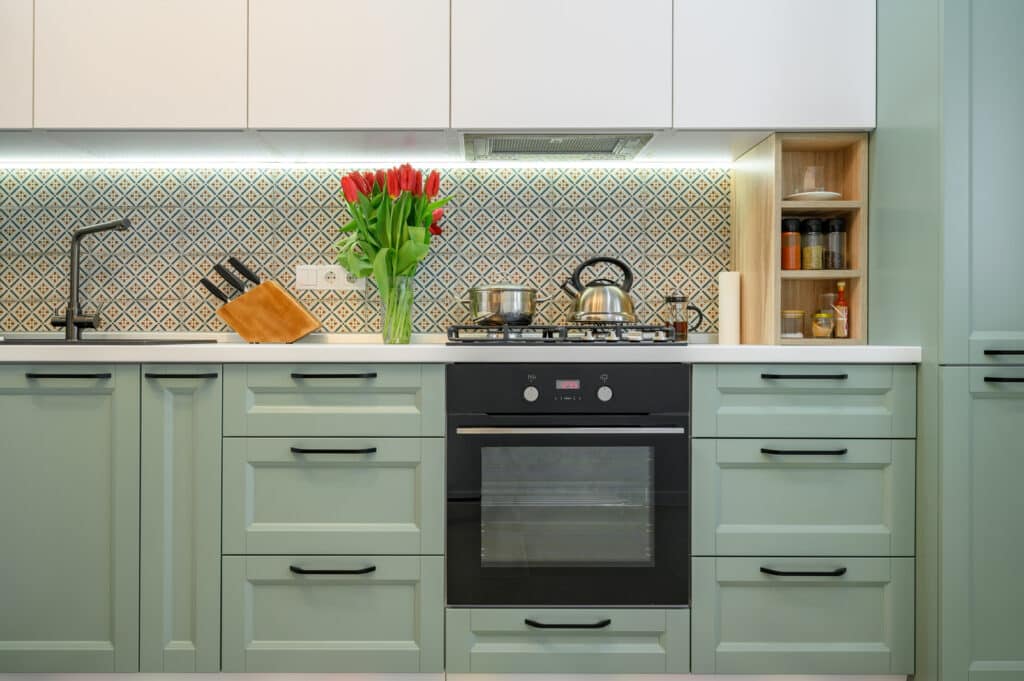 Replacing your countertop can also give your kitchen a major facelift without the expense of a full-scale renovation.
We usually recommend quartz countertops as opposed to natural stones.
Quartz countertops are becoming increasingly popular due to their durability and aesthetically pleasing look. Quartz is a man-made material resistant to scratches, heat and stains. Unlike natural stone countertops, quartz is non-porous, making it extremely easy to clean and maintain. It also comes in various colours and patterns, so you can create the exact look you desire for your kitchen. Quartz countertops are generally more expensive than laminate countertops, but they are less expensive than your average granite or marble countertops.
Different countertop materials
Recommended Quartz brands:
Changing your old fixtures is a difference-maker when you're on a budget
Replacing your old fixtures with modern ones can give your kitchen a new look without breaking the bank. If you have outdated hardware, faucets and lighting, replacing them can make a big difference in the overall feel of your kitchen. You may also consider adding more light by installing pot lights or hanging pendant lights over a kitchen island or sink.
Replacing your kitchen appliances can also add a fresh look to your kitchen.
Replacing your kitchen appliances is one of the most dramatic ways to update the look of any kitchen. Stainless or black stainless steel appliances can give any kitchen a modern, stylish look. And if you're looking for something more eye-catching, consider adding a brightly coloured refrigerator or range.
Newer models are also more energy-efficient than older models, so replacing your kitchen appliances can save you money in the long run. Before purchasing new appliances, measure the space and make sure you have enough room for them. Also, compare different features of various brands to find out which one best suits your needs. Lastly, check customer reviews and get an idea of each brand's reliability. Replacing your kitchen appliances can be expensive, but it's worth it if you want to give your kitchen an entirely new look.
Add New Finishes & Accessories can brighten up your kitchen and is an affordable way to give it a makeover.
Adding a smart garbage disposal, a soap dispenser, a new faucet, and a pot filler are all great ways to spruce up your kitchen with minimal effort. You can add unique accessories like storage racks, shelves, or wall art to brighten the space. Also, consider adding new accessories like pot racks or hooks for hanging utensils; these additions keep the kitchen organized and neat.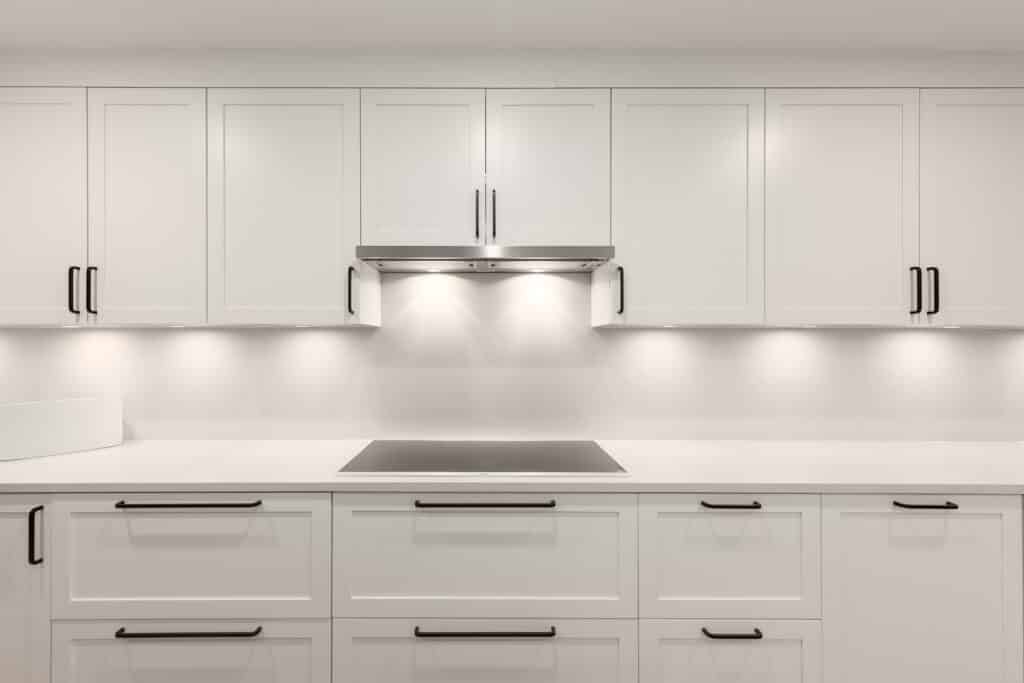 Replacing a backsplash can dramatically impact your kitchen's overall look.
Replacing a kitchen backsplash can dramatically change the look of the space without tearing out the existing tiles. You can purchase tiles in large slabs and apply them directly onto the old tile. You can also purchase a metal backsplash and install it on top with liquid nails or another adhesive. This is an inexpensive way to update your kitchen backsplash without tearing it out and wasting time on demolition.
Wooden backsplashes are another attractive choice to create a rustic look. If you'd like to create a more organic look, consider using different types of wood for a unique design. You can purchase tongue-and-groove pieces at a home improvement store or even reclaim an old piece of wood for an authentic and unique look.
Replacing cabinet hardware can make a huge difference in the overall look of your kitchen.
Replacing cabinet hardware in your kitchen is relatively simple. Before you get started, you need to measure the length of your cabinet doors and ensure they are the same thickness. Some types of hardware have a specific distance between holes, so ensure the distance you measure matches the distance between the holes on the old hardware. Remove the old hardware from the inside of the cabinet using a screwdriver or drill. Then, fill in the hole with putty. It should match the colour of the cabinet wood. If the wood isn't the original colour, you'll need to find a middle-ground colour to match.
Matte black hardware is a classic and timeless look. However, there are many different finishes, such as brushed nickel or brass. Consider the overall look and feel of your kitchen when choosing a finish. Brushed nickel is perfect for a timeless, neutral look, while brass looks great with more traditional or farmhouse decor.
Adding a runner can bring a touch of colour and texture to your kitchen.
Adding a runner to your kitchen is a simple way to add colour, texture, and warmth to the room. Runners are a great option because they are inexpensive yet will immediately update the room's appearance. Choosing a kitchen runner can also help you create contrast in your kitchen's design, as most kitchens have little wall space and are neutral in colour. Runners can also add a pop of colour between the cabinets and the island, which will help your kitchen look more polished.

Add an Island to your kitchen if you have the space.
A kitchen island can help create a sense of privacy and seclusion. If you have the space for it, adding an island can help to separate your kitchen from other areas of your home. An island also provides additional countertop and storage space which is always useful in a kitchen.
When choosing an island, consider its size, shape, colour and material. Make sure the island matches the overall style of your kitchen and that it is appropriately sized for the space. The island should be ergonomic, so you can comfortably work on it.
Finally, install an outlet in or near the island to make it a functional workspace. This will help you keep all your kitchen appliances close together and accessible. Adding an island to your kitchen can add additional functionality and style, so it's a great way to refresh the look and feel of your kitchen.
Canadian Home Style is your family-owned and operated custom cabinetry retailer with a showroom in North Vancouver, BC. We are the official dealer of Cabico custom cabinetry in the Lower Mainland, providing complete kitchen renovations with an extended lifetime warranty. We always keep up to date with the latest trends and are proud members of the NKBA, National Kitchen and Bath Association.  In addition, we have won the Consumer's Choice Awards back-to-back in 2021, 2022 and 2023 for our commitment to business excellence. We are considered one of the highest-rated kitchen and bath design and renovation experts in Metro Vancouver. Book now to visit our North Vancouver showroom, where you can get expert advice from one of our kitchen and bath designers. We're happy to be a part of your journey with your next kitchen renovation project in Metro Vancouver.
Our mission is to help homeowners create beautiful homes that reflect their lifestyles while reducing energy consumption and conserving resources. We do this by providing our clients with innovative products, services and education. Our vision is to become Canada's leading sustainable kitchen design and custom cabinetry solutions provider. Our values include integrity, respect, honesty and transparency. These principles guide us as we strive to provide outstanding customer service.
We believe that our success depends on the success of our clients and their customers. We work hard to ensure our clients get the most out of their investments. Our team consists of highly skilled professionals who are experts in their field. They have years of experience working together and know what works and what doesn't. They understand how to solve problems quickly and efficiently. We are committed to providing excellent customer service. We listen carefully to our client's concerns and suggestions. We take these into account when planning and executing projects. We always strive to exceed expectations.
Services We Offer:
Main Areas of Service in British Columbia:
Frequently Asked Questions
How can you design an open-concept kitchen layout?
A simple workflow is the best way to organize an open-concept area. This means having all appliances close together. This makes it easier to clean. Also, keep all cooking utensils near each other for easy access. Keep food storage near the point of use. This will make things easier when you are trying to grab the items you need.
What is the 5-zone Kitchen?
The 5-zone Kitchen is an innovative design that makes it possible to cook more efficiently with less space. The 5-zone kitchen has five separate cooking areas: a sink, stove, fridge, food preparation, and dining. This gives each cook their own area to work in, and reduces the need to have a large kitchen that has multiple appliances.
Maximil, a German chef and designer, invented the 5-zone Kitchen. It is used often in European-style European kitchens. This can be a great option for families that want to cook together and save time.
These are some important things to remember if you are thinking about a 5-zone cooking area for your home. First, there will be enough space to accommodate all five zones. To avoid lingering smells or fumes in the kitchen, every zone must have adequate ventilation. Third, the kitchen layout should be such that it allows for easy movement between each zone.
The 5-zone kitchen is an excellent choice for those looking for a more efficient and stylish cooking space. The 5-zone kitchen is a great addition for any home when planned well.
What are some of the benefits of the 5-zone cooking?
There are several benefits to the 5-zone kitchen, including:
Improved efficiency – Each cook has their very own area to work in. This eliminates the need of moving between several appliances.
More stylish – The 5-zone kitchen is commonly used in European-styled kitchens. This can add an elegant touch to your home.
Better ventilation – Each area is adequately ventilated. This prevents lingering smells and fumes in your kitchen.
improved layout – the kitchen layout should be such that it allows for easy movement between each zone.
A 5-zone kitchen is a great option for anyone who wants a more functional and elegant kitchen. This kitchen can be a great addition in any home with the right planning.
Can you DIY a Kitchen Renovation?
It's possible that you could do the kitchen renovation yourself if you aren't too experienced. There are some things you should remember.
A kitchen renovation is a large project. Make sure you have enough time and energy to complete it. Basic plumbing and carpentry skills are essential before you can begin. It's also necessary to decide which aspects you want to change in your kitchen, such a storage area, replacement of old appliances or improved lighting.
Once you've planned your kitchen renovation, it's time to start shopping for materials. It's time to choose cabinets, countertops and flooring.
This is an excellent idea. This will allow for you to decide how much space you require and what layout would work best in the kitchen.
There are many choices when it comes to cabinets. There are two types of cabinets available: Ready-to-assemble (RTA), or custom. RTA cabinets come in various styles and colours and are usually less expensive than custom cabinets.
You must ensure that you take every precaution to protect yourself and your family before embarking on large-scale renovations. For example, you might want to check the local building codes for renovations.
It is tempting to try to complete a large-scale remodel on your own. But it is better to get professional assistance. It is possible to save both time as well as money by hiring qualified contractors. Additionally, working with a professional will ensure that the project runs smoothly.
When remodelling a kitchen, what should I pick first?
This question is not easy to answer because everyone has different priorities. You need to think about the layout of your room, the appliances you are looking for, the style of countertops and cabinets you like, and the storage needs that you may have.
Once you've decided on your must-haves, you can look at different kitchen designs to see what options are available. If you're working with a limited budget, it's often best to start with the big-ticket items like appliances and cabinets, then fill in with minor details like paint colours and light fixtures.
It is important to take things one by one so that your kitchen remodel goes exactly as you planned.
How can I make my white kitchen more interesting?
You can make your white kitchen even more fun. You can add colour to your backsplash tiles and appliances. Wood elements can also be used to warm up a white kitchen. For a warm, natural glow to white surfaces, you can use warm LED lighting. Whatever path you choose to take, remember to personalize your kitchen.
Statistics
External Links
How To
How do I choose a kitchen contractor?
The following tips should help you make a good decision when choosing a Kitchen Remodel contractor.
Ask around to find out what friends have to say about their experiences dealing with different contractors. This is a great way to get honest feedback from people who know the contractors well. Ask them about the quality of workmanship, professionalism, cleanliness, and punctuality. You might also ask them about any problems they had with the contractor. If they had problems with the contractor, how did they solve them?
Ask for quotes from different companies. Give a detailed description of the project and explain why it is important to you to hire someone else. Tell them you're looking for someone who specializes in kitchen remodels. It is possible to include details such as the size and type of materials used. You should tell them exactly what finish you desire (i.e., countertops and cabinets, backsplash, flooring). Be sure to specify any additional work you require during the project. For example, do you want new appliances installed? Are you looking to have a certain style of cabinets? Would you like to have a special feature such as a wine fridge or built-in oven?
Ask the company about worker's and workers' compensation insurance. Look online to determine if the contractor has any trade associations. It is always best to choose a company that is a member of a respected organization.
Schedule a meeting with the contractor to discuss your project in detail. Ask questions about their experience, qualifications, methods, and other details. Find out how they approach your project and what type of timeline they plan to use.
Ask for references from past clients. Don't take a contractor's word for it. Ask for references. Refer to his references and contact the people he recommends. Let them know that you would like to talk to them about their positive experiences with this contractor.
You can see past customer reviews on sites such as Yelp, Angie's List and Houzz. Many homeowners use these websites to leave reviews after completing projects. So, if you see many positive reviews, you can rest assured that you'll get a quality job.
For a detailed plan of your kitchen remodel, consider hiring a designer. An experienced designer will have a better understanding of what looks best in your particular kitchen. The latest trends in kitchen design will be mastered by the designer.