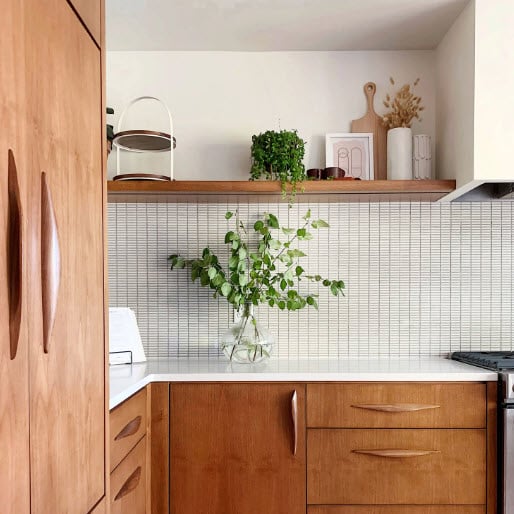 The Charm of Mid Century Modern Kitchens:
A Timeless Appeal Mid Century Modern kitchen designs are celebrated for their clean lines, functional layouts, and timeless allure. Originating in the mid-20th century, this design philosophy blends simplicity with sophistication, creating spaces that are stylish yet practical. Key elements include flat-panel cabinets, organic forms, and minimal ornamentation.
Mid Century Modern kitchens typically feature a seamless blend of different textures, ranging from woods to metals and even fabric. The surface finishes are devoid of excessive details and instead focus on functionality and ease of maintenance, creating a clean and clutter-free space that oozes sophistication. Dashes of stainless steel in flat-panel cabinets, hardwood flooring, and quartz countertops not only augment the aesthetic appeal, but also ensure longevity.
One striking feature of Mid Century Modern kitchen design is the focus on organic forms. Tables, chairs, and even cabinetry bear softer, rounded edges that simulate natural shapes, transforming the kitchen into a welcoming and warm space. The simplicity of the form does not compromise function, but rather, it enhances the kitchen's usability.
Minimal ornamentation also plays a crucial role in this design approach. Rather than heavy, ornate detail, sleekness and straightforwardness form the crux. The aim is to create an uncluttered environment that breathes ease and tranquility, further amplified by the careful use of natural light. Large windows, skylights, and plenty of task lighting lend an atmosphere of airy pleasantness.
When it comes to color, Mid Century Modern kitchens typically lean towards neutral shades such as whites, greys, and beiges. These color choices form a brilliant canvas for the kitchen, making it feel open and more spacious. This, however, doesn't stop homeowners from putting their creative foot forward. A bold dash of vibrant color, say, a red vintage refrigerator or blue retro stools, can bring in the charm of the bygone era and break the monotony.
Ultimately, the Mid Century Modern kitchen is about striking a perfect balance between style and functionality where practicality meets the aesthetic. The clever fusion of form and function creates a unique and appealing design that continues to be a popular choice for homeowners across all eras. Whether you're renovating your existing kitchen or designing a new one, this may be the right style for you – a kitchen that seamlessly blends into the modern day while paying homage to the mid-twentieth century.For inspiration on combining different materials in kitchen design, Houzz offers a wealth of ideas. Neutral color palettes, accented with vibrant colors, and the use of natural light are other hallmarks of this style.
Integrating Modern Appliances in Mid Century Kitchen Designs
Integrating contemporary appliances enhances functionality without compromising the Mid Century aesthetic. Stainless steel appliances can seamlessly blend into this style, maintaining a balance between old and new.
When integrating modern appliances into a Mid Century kitchen, avoid overwhelming the vintage appeal with cutting-edge technology. Keeping a streamlined, cool aesthetic is paramount to maintaining the authenticity of the design period. This style prioritizes sleek lines and clutter-free spaces, so inbuilt stainless steel refrigerators, dishwashers, or ovens can be a smart, unobtrusive option.
Opt for neutral or metallic finishes for your modern appliances. These finishes have a timeless appeal, ensuring that they do not stick out uncomfortably among the Mid Century decor. Stark black and intense white can create a too-strong contrast with the warm, retro palette. Instead, brushed or glossy stainless steel, muted gold, or champagne can keep the continuity.
Also, consider the size and design features of the appliances. With Mid Century design, less is more. Hence, oversized appliances can mar the pristine aesthetic. Choose from models known for their slim, unobtrusive profile, and don't forget that the most sophisticated appliances are those that manage to combine modern function with vintage style.
Technology-wise, pay attention to the balance of convenience and nostalgia. Opt for smart devices that toe the line between the charm of '50s design and the efficacy of 21st-century technology. In this regard, a retro-styled fridge with energy-efficient features, a classic range with a convection oven, or a vintage-looking dishwasher with settings for all types of modern dishware can be an excellent fusion.
For making your Mid Century style kitchen smart, an investment in devices designed to reduce kitchen clutter, like wireless charging stations or under-the-cabinet lighting, is significant. Websites like CNET continually update their pages with reviews of smart devices. A deep dive into the pages of such websites will be immensely beneficial before remodeling, ensuring your revamped kitchen will retain its classic charm while providing a modern, efficient culinary experience.For the latest in smart kitchen technologies, websites like CNET provide reviews and updates. The key is ensuring that modern appliances complement the classic Mid Century charm.
Creative Use of Materials and Textures in Mid Century Kitchens
A mix of wood, metal, and glass is characteristic of Mid Century Modern kitchens, providing a rich visual and tactile experience. Wood cabinets in teak or walnut add natural beauty.
Stone and cork are other materials you might find in a Mid-Century Modern kitchen, often used for countertops or floors. Stone, especially terrazzo or granite, provides an earthy balance to the warm tones of the wood, while cork brings in an unusual textural element.
Functionality is paramount, so layouts are straightforward and efficient. Countertops are usually wide, providing ample space for food preparation and showcasing kitchen appliances. The integration of modern appliances within minimalist designs keeps spaces uncluttered, giving the kitchen a sleek, modern look.
Lighting fixtures often mirror the geometric shapes found in Mid Century Modern design – think globe pendant lights or lamps with clean, angular lines. These fixtures serve both as a centerpiece and a source of crisp, focused light.
In terms of color, the Mid Century Modern aesthetic typically leans towards earthy, muted tones inspired by nature. Deep greens, warm browns, and blush pinks are a common palette, but there's also a place for bolder choices like burnt oranges or turquoise blues. These might appear in the form of tile backsplashes, appliances, or retro-inspired upholstery for dining furniture.
When it comes to flooring, cork and linoleum are popular choices, but in a more contemporary version of this style, you might also see polished concrete. These materials not only maintain the vintage appeal of the Mid Century Modern kitchen but also ensure durability and simple upkeep. Remember, though, that the overall principle of this design trend is functionality meeting beauty – so each choice should serve a practical purpose as well as contributing to the aesthetic."
Wall storage and open shelves are another core feature of Mid Century Modern kitchens. They provide practical spots for dishes, glassware, and cookbooks while allowing the opportunity to display interesting kitchenware or art, adding personal touches that really make the space your own.
Coordinate with vintage, Mid Century Modern-inspired accessories and accents. A chrome toaster or mixer, modish tea kettle, retro-inspired clock, or even a vintage radio can add that extra bit of charm and authenticity to your kitchen.
Ultimately, the Mid Century Modern kitchen is a place for creativity and character. Mixing and matching different materials, colors, and finishes to suit your own tastes will result in a space that is not only beautifully stylish but also uniquely yours.For ideas on metal accents and fixtures, This Old House offers practical advice. Glass in cabinet doors and backsplashes contributes to an open feel, while different materials and textures add depth and interest.
Optimizing Space and Layout in Your Mid Century Kitchen
Optimizing space and layout is vital in Mid Century Modern kitchen design. U-shaped or L-shaped layouts offer ample counter space and facilitate movement. An island can be a central feature for additional workspace.
Following the principles of Mid Century Modern design, the cabinetry should consist of smooth lines and minimalist aesthetics. Flush flat-front cabinets create an understated elegance, fitting seamlessly into the design scheme. However, similarly to the countertop space, the storage areas need to be functional. Amplitude and accessibility are two significant components for efficient kitchen storage solutions.
Furthermore, the choice of materials is pivotal in maintaining the style of Mid Century Modern design. Woods like teak, walnut, or oak give that warmth and authenticity associated with the mid-century period. However, the overall look should not be overly wooden. It should harmonize with other materials, such as stainless steel and glass, contributing to the open, airy feel of the space.
The power of lighting should never be underestimated in kitchen design. Incorporating pendant lights or undercabinet lighting can illuminate workspace areas, aiding not only in functional tasks but also building an inviting atmosphere. For example, George Nelson's iconic bubble pendants are representative of this era and have the potential to enhance the kitchen atmosphere significantly.
Meanwhile, color schemes in Mid Century Modern kitchen designs are typically subdued. It is common to see brown hues, cream tones, and pastel colors. However, a splash of vibrant color, such as orange or turquoise, could be added for a bold, defining detail that breaks the neutral palette without overwhelming the overall look.
Lastly, appliances and fixtures should merge form and function in true Mid Century Modern style. You would often see appliances integrated into cabinetry and camouflaged within the overall design rather than acting as prominent features. Fixtures such as taps and handles should mimic the sleek lines of the cabinetry for a cohesive feel.
Ultimately, a Mid Century Modern kitchen design should express a sense of balance between vintage charm and forward-thinking functionality, seamlessly uniting form and function while catering to the 21st-century lifestyle. It should be a place that is not only practical but also offers a welcoming, comfortable space for gathering and entertaining.
Open shelving enhances the sense of space, and for more shelving ideas, Better Homes & Gardens is a great resource. Proper space planning ensures the kitchen is not only aesthetically pleasing but also functional.
A practical approach: Mid-Century Modern Kitchen Design
Do you love mid-century modern design? Are you looking for inspiration for your next kitchen remodel?
This article will look at creating a mid-century modern kitchen from scratch using only materials found around your house. We'll also review several popular designs you can copy for yourself. Mid-century modern kitchens are timeless, functional spaces that make great homes. They're simple, clean, and elegant. And they're perfect for anyone who loves mid-century modern design. Read on if you've always wanted to build a mid-century modern home. This guide will teach you everything you need to know to get started.
Mid-century modern kitchen must-haves:
Sleek lines
Lots of natural light
A touch of bright colours
Quartz or marble countertops
Subway tile backsplash
Mid-Century Modern Kitchen Designs Throughout History
Mid-century modern design was popular during the 1950s and 1960s, combining elements from several styles, including Art Deco, Bauhaus, International Style, Streamline Moderne, and others. The term "mid-century" refers to roughly 1945 and 1965. Mid-century modern design can change your life forever.
The most common features of mid-century modern design were clean lines, simple shapes, and materials such as glass, chrome, stainless steel, wood, concrete, and tile. Some designers incorporated industrial elements into their work, such as exposed pipes, ductwork, and ventilation systems. Today, you can still apply these principles to your kitchen designs.
In addition to its popularity in architecture, furniture, interior decoration, and home appliances, mid-century modern design influenced fashion, graphic design, film, photography, and music. It became especially prominent in California, where many architects and designers worked in this style. This is how Mid-century Modern Design has become the new trend in fashion.
Mid-century modernism is still very much alive today. Many people who live in cities now prefer urban environments and often seek homes designed in the mid-century modern style. In recent years, some companies have begun marketing products specifically designed to look like mid-century modern pieces. Learn more about what mid-century modern looks like and how you can incorporate it into your home or office.
How mid-century modern kitchen design has changed our lives forever.
Mid Century Modern Kitchen Design has been one of the most popular trends since the 1950s. It was a style that combined clean lines and functionalism. Mid Century Modern kitchens were designed to look like they belonged in the future. They had futuristic designs that looked like they came from outer space. This trend continued into the 1970s when designers began to add more natural elements such as stone, brick, and wood. In the 1980s, designers began combining these styles and making them even more unique. Today, there are many ways to incorporate this style into your home. You can do so through furniture, lighting, appliances, and accessories.
What makes mid-century modern kitchen designs so appealing?
Mid-century kitchens were designed for function over form. They were functional spaces where families could cook together efficiently. This meant there was very little space wasted, and the design had to be functional. This is why mid-century kitchen designs are still relevant today. They are simple, efficient, and timeless. They use minimal materials yet still look stylish and modern. Mid-century kitchens also tend to be airy and open due to light colours, large windows, and open spaces.
The result? A style that looks great, but it would probably look dated if we tried to recreate it now. But don't worry; Kitchen designers are taking inspiration from this period and creating contemporary versions of the same ideas. How can you achieve this?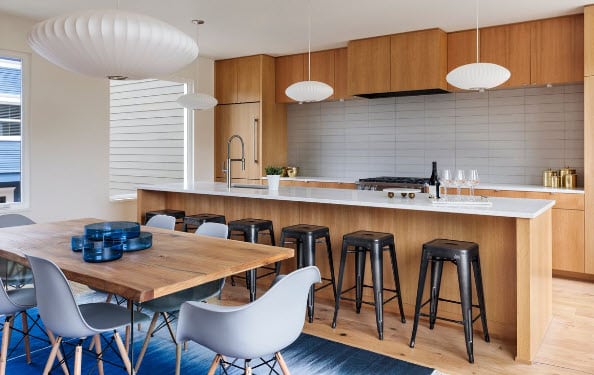 Show how an innovative kitchen can transform your home into a mid-century modern masterpiece.
Modern kitchens were first introduced in the 1950s when they became popular due to their space-saving design. The idea was to make cooking easier and more convenient. They were designed to fit into smaller spaces than traditional kitchens. This is how modern kitchen designs have evolved since their initial introduction.
Today, modern kitchens have embraced the classic charm of mid-century style. Boasting sleek silhouettes with subtle colour palettes that accentuate warm wood tones and natural elements, these stylish spaces will whisk you away to an era when sophistication was paramount.
How modern kitchen designs have evolved and continue to evolve.
Modern kitchen design is ever-changing and constantly inspiring. From classic, timeless style to open concept layouts of today, there are countless possibilities for creating a contemporary culinary space that fits your individual needs. Mid-century modern kitchens emphasize simplicity with minimalist materials in muted shades – perfect for those who want the ultimate uncluttered look!
Some examples of mid-century kitchens combined with modern design:
Effortless Chic combines mid-century with Scandinavian elements.
Step into a world of effortless elegance and timeless style. A combination of Scandinavian minimalism and mid-century modern sophistication creates an inviting kitchen with classic and contemporary features alike. Wood, stainless steel, and glass – the design elements are united to create this modern masterpiece, while muted hues evoke a tranquil atmosphere perfect for cooking and conversation alike.

Industrial & Organic offers a unique twist on modern kitchen design.
Combining industrial style with natural elements creates a mid-century modern kitchen that is both stylish and functional. Sleek stainless steel appliances, abundant wood cabinetry and a striking brick backsplash offer an edgy yet homey feel, while warm lighting adds atmosphere and character.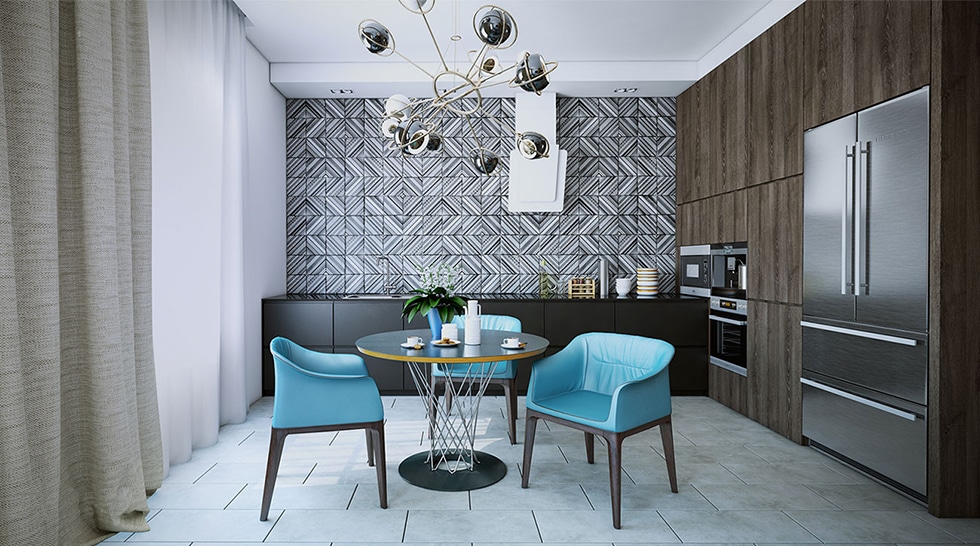 Electric Orange is a great way to explore modern colour trends in mid-century kitchen designs.
In a midcentury modern kitchen, bold colours like Electric Orange can significantly impact. This warm, vivacious shade is ideal for bringing an energetic flair to furniture, wallpaper, and decor. It also goes well with wood panelling and other midcentury modern touches. Orange can bring life and energy to your environment.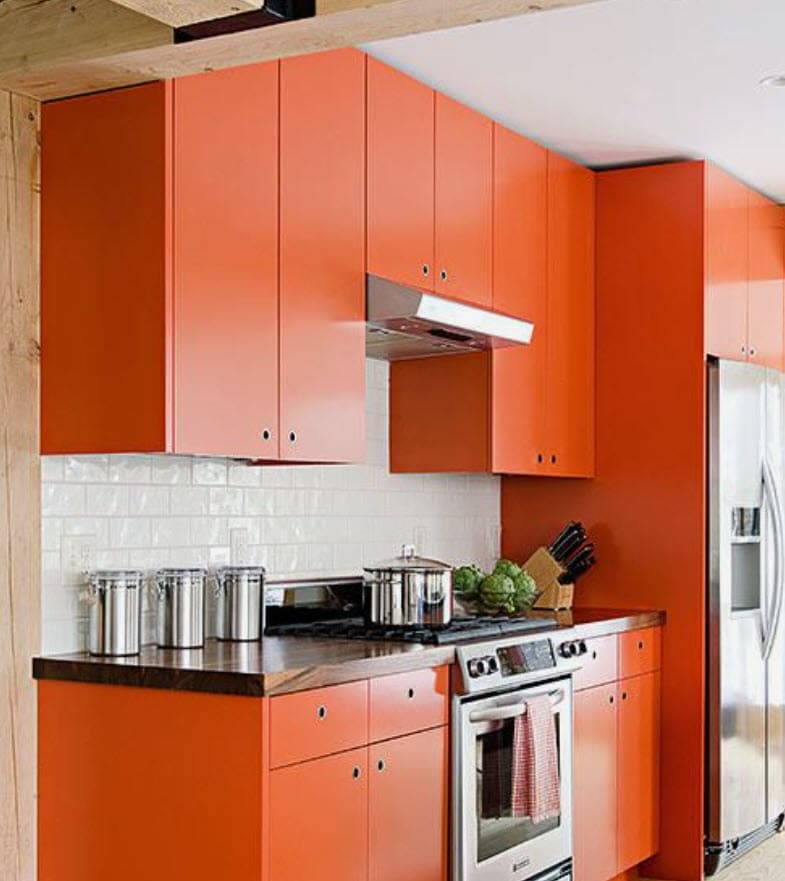 Make sure to incorporate the following features for your mid-century kitchen:
Stone flooring is a great way to complete your mid-century kitchen.
A stone floor is an essential feature in mid-century modern kitchen designs. These floors are typically made from slate, travertine, terrazzo, or bluestone. However, several modern tile designs give the same look for a lower cost. For a mid-century theme kitchen, stone remains the best way to create a unique and stylish kitchen space at home.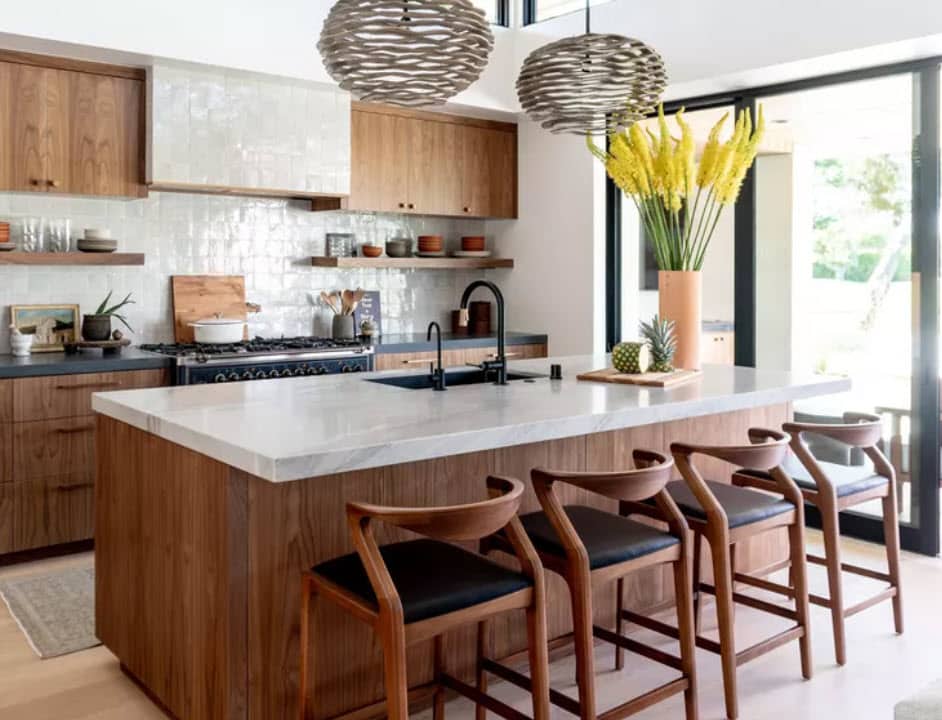 A neutral colour palette remains the best way to create a classic mid-century kitchen.
A mid-century modern kitchen can be decorated with a neutral colour palette. This style is flexible and works well with any homeowner's tastes. Typically, neutral colours are used with brighter hues, such as the electric orange we discussed. Another colour is light green. For example, a kitchen with dark cabinets can be decorated with light blue accents. Light green is another good choice because it balances out the heaviness of wood.
Similarly, a kitchen can be decorated using cool gray shades. Amazing Gray is a neutral taupe colour that is perfect for the kitchen. This shade can be used on walls and furniture, and appliances. It is an excellent complement to white and wood tones and works well as a backdrop for dark colour accents. The amazing grey colour scheme is an excellent choice for mid-century kitchens.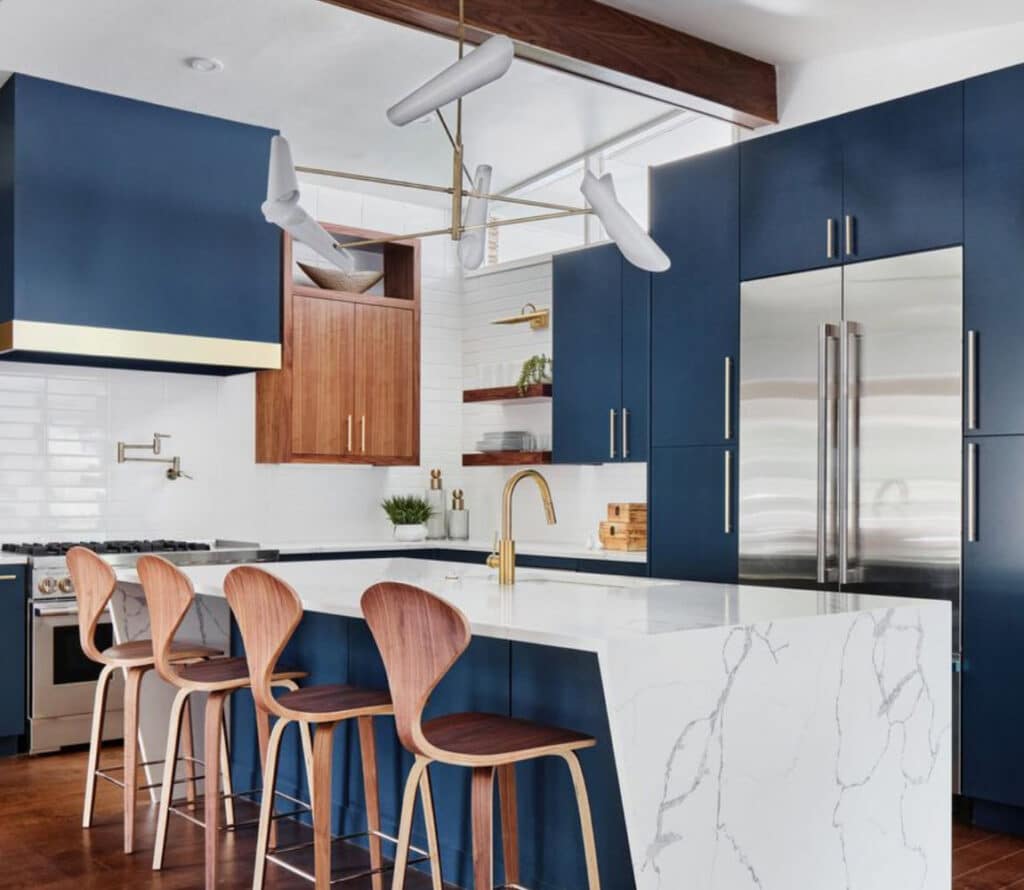 Color Schemes and Lighting in Mid Century Kitchen Decor
Neutral tones, complemented by bold colors like olive green and mustard yellow, define the color scheme. Pendant lights with geometric shapes or materials like opal glass add character.
In contrast, stark whites and matte blacks bring a striking visual dynamic to the setting. Soft furnishings in plush tones like muted purple and earthy brown provide a sense of comfort, offsetting the bolder elements.
In regards to furniture, streamlined pieces with minimalist influences are the preferred choice. Light oaks or dark mahogany woods serve as dominant materials, their natural textures adding warmth to the minimalist aesthetic. Oversized, angular furniture punctuates the space, highlighting the architectural details intrinsic to the design.
To add an element of surprise, unexpected textures could be incorporated into the overall design. Architectural Digest frequently highlights the importance of unexpected elements in a space, recommending the use of natural stone or exposed brick. These raw materials create an intriguing focal point, drawing the eye while maintaining the simplicity of the design.
Artwork makes another strong addition to the style. Abstract work in complementary bold colors, such as an oversized canvas showcasing a dynamic blend of olive green and mustard yellow, elicits dramatic yet balanced reactions.
For accessories, sculpted vases or bowls made from metal, ceramic, or glass lend an industrial edge to the setting. Venetian mirrors could also make a stunning statement, reflecting light and adding depth. A minimalist clock with strong geometric lines adds a practical element, tying together the overall design theme.
Lastly, we cannot overlook the importance of natural elements. Indoor plants like the traditional ficus tree or the trendy monstera deliciosa, featured in many Architectural Digest articles, offer a touch of organic beauty to the room, harmonizing with the bold colors present.
Delicately balancing the above elements contributes to a cohesive yet versatile style that resonates with the clean lines and bold colors specified, thus encapsulating the desired aesthetic. For more lighting ideas, Architectural Digest features articles on interior lighting trends. Recessed lighting and under-cabinet lights maintain the clean lines of the style while providing practical illumination.
Key consideration of choosing a Mid Century Modern Design for your home in Metro Vancouver.
Portfolio Showcasing Modern Flair and Wood Cabinetry
It's essential to explore kitchen ideas that align with the midcentury modern style. The business should offer a portfolio that showcases a modern flair with a nod to the retro elements that define the era. They should demonstrate expertise in incorporating wood cabinetry, often characterized by flat-front doors and warm walnut finishes that are staples of midcentury modern design.
Expertise in Inspired Kitchens and Lighting
The business should also have a strong sense of inspired kitchens that are not just replicas of the past but also adapt to contemporary living. Look for a service provider with a comprehensive understanding of midcentury kitchen dynamics, from the efficient use of space to the integration of modern appliances without sacrificing the vintage charm. Kitchen lighting is another critical factor. The right business should offer innovative backsplash ideas and solutions for natural light to highlight the sleek lines and organic forms of a midcentury modern space. The ability to blend midcentury modern kitchens with today's lifestyle while maintaining the classic style is indicative of a business's expertise in the field.
Attention to Mid Century Modern Style Details
A keen eye for detail is necessary for the selection of midcentury modern style furnishings and accessories. The business should understand the importance of maintaining wood cabinets that resonate with the time period, along with the ability to create an inspired kitchen that serves as the heart of the home.
Designing a Functional and Stylish Kitchen Island
The kitchen's central feature, the kitchen island, should be designed not only as a statement piece but also as a functional space for cooking and socializing. The industry leaders will be those that can turn a cooking space into a beautiful and practical midcentury modern hub, complete with open shelving and ample counters.
Balancing Vintage Aesthetics with Modern Functionality
When integrating modern appliances and functionality, the selected business should navigate the delicate balance of modernity while preserving the vintage aesthetics and retro feel. This includes the judicious use of color and pattern, especially in elements like subway tile backsplashes or black and white flooring.
Working with a Classic Palette and Modern Style Storage
A white kitchen is a classic midcentury choice, but the right business should also be able to work with a palette that includes the bold colors and earthy tones typical of the era. This could mean incorporating colorful appliances or accent pieces that add a pop of color without overwhelming the space. Modern style in a midcentury kitchen is about more than just appearance; it's also about functionality. The business should showcase expertise in creating kitchens with open shelving for a spacious feel and shelving that is both stylish and practical. Effective storage solutions, like open shelves, are vital for maintaining the clean lines and uncluttered look that is characteristic of the style.
Selection Criteria for White Cabinets and Overall Design
White cabinets may be a classic choice, but they must be chosen carefully to ensure they match the overall design. When assessing a business, consider their ability to integrate such elements into this kitchen style while ensuring they serve the homeowner's needs.
At Canadian Home Style, we're Metro Vancouver's go-to choice for kitchen design excellence. We're proud to have been honored with the Consumers' Choice Award for four years running, from 2021 to 2024, for our bespoke kitchens in North Vancouver. More than just a cabinet company, we specialize in crafting contemporary, practical kitchen designs that stand the test of time. We invite you to reach out for your upcoming kitchen remodel – we're excited to bring your unique vision and ideas to life. For us, the journey is just as important as the beautiful final product.
Our mission is to help homeowners create beautiful homes that reflect their lifestyles while reducing energy consumption and conserving resources. We do this by providing our clients with innovative products, services and education. Our vision is to become Canada's leading sustainable kitchen design and custom cabinetry solutions provider. Our values include integrity, respect, honesty and transparency. These principles guide us as we strive to provide outstanding customer service.
We believe that our success depends on the success of our clients and their customers. We work hard to ensure our clients get the most out of their investments. Our team consists of highly skilled professionals who are experts in their field. They have years of experience working together and know what works and what doesn't. They understand how to solve problems quickly and efficiently. We are committed to providing excellent customer service. We listen carefully to our client's concerns and suggestions. We take these into account when planning and executing projects. We always strive to exceed expectations.
Why choose Us?
Embracing Mid Century Modern Aesthetics

Canadian Home Style understands the allure of the Mid Century Modern ethos. This design philosophy, celebrated for its simplicity, functionality, and organic forms, is at the heart of their approach. They specialize in transforming spaces into authentic reflections of Mid Century Modern design, with a focus on clean lines and minimalist principles. Their attention to detail ensures that every aspect of the design, from the galley layout to the cocktail shaker on your quartz countertop, resonates with the era's iconic style.
Exquisite Material Selection
Tonewood and wood flooring lay the foundation for a Mid Century Modern kitchen's warmth and character. Canadian Home Style offers a curated selection of materials, such as rich oak and versatile lamination, that honor the period's charm while ensuring durability and ease of maintenance. The hardwood options, like their exclusive Fireclay Tile, provide a natural and inviting atmosphere, enhancing the beauty of your home.
Incorporation of Timeless Elements
Their expertise extends to the seamless integration of classic elements like ceramic, stainless steel, and porcelain tile — all staples of Mid Century Modern design. The team at Canadian Home Style understands how these materials work in concert to create a harmonious and stylish kitchen. With offerings like Thermador appliances and LED lighting solutions, they blend the old with the new, ensuring your kitchen is equipped for modern demands.
Top Design and Craftsmanship
Renowned for top design, Canadian Home Style boasts cabinetry that is both functional and aesthetically pleasing. Whether it's custom-built cabinetry that pays homage to the sleek, geometric patterns synonymous with Mid Century Modern or stone wave textures that add depth and interest, the workmanship is impeccable.
Light and Space Maximization
One of the defining features of Mid Century Modern design is the emphasis on natural light. Canadian Home Style excels in designing kitchens that are bathed in light, enhancing the sense of space. Their strategic use of light-emitting diodes and light fixtures coupled with a thoughtful layout maximizes luminosity, creating an inviting environment.
Countertops and Accents That Speak Volumes
With a selection of quartz, granite, and porcelain countertops, the company ensures that your work surfaces are not only stunning but also resilient. Their aluminum and white base accents provide a modern twist to the classic Mid Century palette. The selection of wallpaper and stoneware offers an array of choices for those looking to personalize their space further.
Elevated Decor and Finishing Touches
Decor elements like chandeliers and minimalism-inspired furniture pieces are thoughtfully chosen to complement the Mid Century Modern kitchen. The use of white walls as a canvas for oak furniture or plaster accents underlines the company's dedication to creating authentic Mid Century Modern spaces.
Expertise in Mid Century Modern Principles
Canadian Home Style's portfolio speaks to their expertise in Mid Century Modern design principles like "less is more". They apply this philosophy across cabinetry, countertops, and overall decor, ensuring that each element from porcelain tiles to plaster textures, contributes to a cohesive look.
Services We Offer:
Main Areas of Service in British Columbia:
Frequently Asked Questions
Can you DIY a Kitchen Renovation
It's possible that you could do the kitchen renovation yourself if you aren't too experienced. Yes, it is possible. But there are some important things to keep in your mind.
First, a kitchen renovation can be a big project, so make sure you have the time and energy to tackle it. It's also essential to have some basic carpentry and plumbing skills before starting. You also need to decide which aspects of your kitchen you would like to change, such as adding additional storage space, replacing old appliances, or improving lighting.
After you have planned your kitchen remodel, it is time to shop for materials. You'll need to decide on cabinets, countertops, flooring, and appliances.
A good idea is to think about the layout of your kitchen before you go shopping. This will allow for you to decide how much space you require and what layout would work best in the kitchen.
You have many options for cabinets. You can choose from ready-to-assemble (RTA) cabinets or custom cabinets. RTA cabinets can come in different styles and colours. Custom cabinets tend to be more expensive.
It's important to ensure safety and security when undertaking large-scale remodeling projects. For renovations, it might be a good idea to check the local building codes.
While you may be tempted to tackle a large-scale renovation on your own, it is recommended to seek help from professionals. It is possible to save both time as well as money by hiring qualified contractors. Additionally, working with a professional will ensure that the project runs smoothly.
What is the best budget for a Metro Vancouver kitchen remodeling project?
A kitchen remodel in Metro Vancouver is feasible within a budget of $50,000. This would cover new appliances, countertops, cabinets, flooring, and lighting.
Statistics
External Links
How To
Ten kitchen renovations you could do yourself.
Ideas for small kitchen renovations you can do yourself. DIY Home Improvement Tips For the Average Joe
Small kitchen renovations are not something that you would want to undertake. However, if you are looking to make your house feel new again, then this is something you should do. There are many ways to make your kitchen more beautiful without spending a lot of money. These are some simple kitchen renovation ideas you can do.
Add a backsplash – If you don't have tiles around your countertop and sink, then adding one is the best thing that you can do. It adds colour and style while making your kitchen look bigger and cleaner.
You can replace your cabinets. Cabinets are a great addition to any kitchen. They keep your walls safe from water, spills, and stains. They give your kitchen a stylish look. If you notice that your cabinet doors look worn out, you should replace them with new ones.
Paint your Kitchen – This will make your kitchen look better and save you money. The kitchen will look fresher and more modern if you paint it. It will also make it easier to clean.
Make your appliances more efficient – This will not only prolong their life expectancy but also give them a new look. If you know which appliance you need to upgrade, do it. Or, you can find someone who can install these appliances.
Add a counter – A bar area is another option. This not only gives you more work surface, but it also allows for entertaining guests.
Create a breakfast nook – You don't have to break the bank to create a breakfast nook. A small table and a few chairs are all you need. You can also add cushions to make it more comfy.
Add a pantry – A pantry is a necessity in any kitchen. This is a great place for food storage, dishes, and other items.
Install an Island – An island makes a great addition in your kitchen. It gives your kitchen a spacious appeal and provides ample work surface. It is also very attractive when combined to wood flooring.
Add a wine rack. Wine racks can usually be found in restaurants or wine bars. You can use them in the comfort of your own home. They come in a variety of sizes and designs. You can choose whatever suits your kitchen best.
Read our last kitchen renovation article here: