The latest Tile and Stone Collection will be showcased at Coverings 2023
Roma, the latest collection from Tagina S.P.A., showcases a multiplicity of genres and styles that merge into unique and original designs.
Orlando – Coverings has released a sneak peek of new tile and stone products, along with a select preview of installation materials, tools and technology products, that will be showcased at Coverings 2023, set to take place April 18-21, 2023, here at the Orange County Convention Center.
Coverings' three primary pavilions and sponsors of the show, Ceramics of Italy, Tile Council of North America (TCNA) and Tile of Spain, will feature a robust showcase of the newest and most innovative tile, stone and installation products. Showgoers of any tile and stone market segment will be able to source products from these and many other pavilions and displays throughout the duration of this year's show.
Attendees at Coverings 2023 will have opportunities to see, touch and experience a wide range of new and trend-setting product introductions while engaging with more than 1,000 global exhibits representing 40 countries.
"After more than 30 years, Coverings continues to be the pre-eminent event for the global ceramic tile and natural stone industry as well as the pinnacle for product innovations and trends," said Jennifer Hoff, president of Taffy Event Strategies, the show management company for Coverings. "As the No. 1 marketplace for tile, stone, tools, equipment and machinery, thousands of tile and stone industry decision-makers will be able to connect with and source products from more than 1,000 international exhibitors so they can stay on the cutting edge of the industry."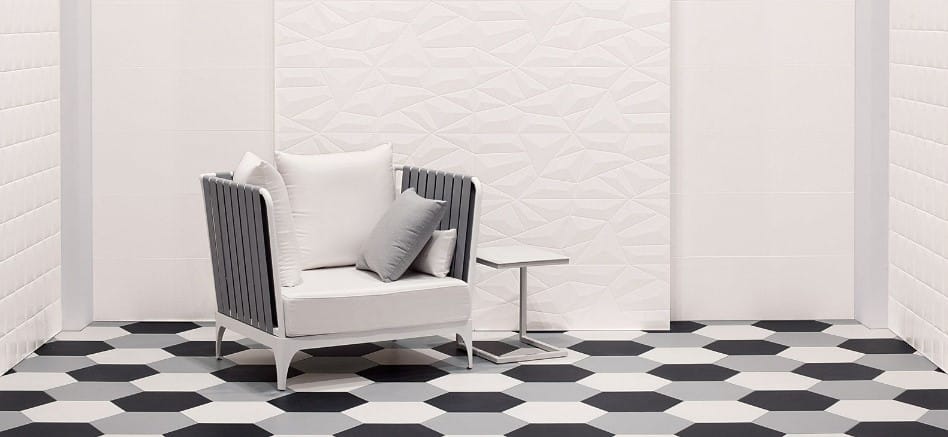 The following is a select preview of the newest tile and stone products Coverings 2023 exhibitors will be featuring:
Astrum Porcelain Tiles, by Ceramiche Supergres, is a porcelain stoneware tile collection inspired by one of the most widely used materials in architecture: travertine. Astrum offers a reinterpretation of durable, compact natural stone with a modern taste that is sensitive to the needs of contemporary design (booth #2125).
Glass Mosaic has been added to VIDREPUR's Nature Collection. This new product is made from recycled glass mosaic and is suitable for wet, indoor-outdoor areas, providing innovative solutions for pool, bath, spa and kitchen design projects (booth #5130).
Habana, a new collection from CEVICA S.L., is produced in 8" x 8" porcelain tiles that are suitable for walls and floors with anti-slip properties. Habana comes in a variety of colours and geometric patterns that manage to transform any space with a very personal touch (booth #5525).
Kenzo Dec 08, by BESTILE, offers elegance and versatility with eight different wall decors in combination with white and black matte finishes and a variety of sizes in chevron and hexagonal shapes (booth #5408).
Matisse Moonstone is a new addition to Anthology Tile's Artistic Impressions collection, a new line inspired by Old-World traditional hand painting yet created by an inkjet process. These beautiful tiles are made in soft hues with perfectly on-trend colours and a unique satin finish (booth #3200).
Millennium Porcelain, by Wonder Porcelain, combines the appearance of Byzantine mosaics with the trendy look of Terrazzo. The series features a chic style with a lappato finish and is offered in white and dark grey colours with cool grey tones throughout each (booth #2612).
Pastelli, a new collection from Appiani, features small-format stoneware tiles designed for unique, intricate mosaic designs for outdoor walls and floors. The stone-effect tiles are available in select colours and small mosaic sizes to present endless design possibilities for both indoor and outdoor settings (booth #1037).
Pigmenti, introduced by Lea Ceramiche, is a collection rich in formats and decorative inspiration. Pigmenti provides 12 contemporary nuances, and its ultra-thin slabs present a ceramic skin that can even be curved, making it capable of covering not only internal and external walls but also furnishings and architectural volumes (booth #1225).
Pluriball, part of the Diesel Living collection from Iris US, is inspired by bubble wrap, bringing a striking, eclectic dimension to tiling with an irresistible appeal. The sophisticated, contemporary spirit of Pluriball is embodied to perfection in a variety of shades and a texture that channels a bold, vibrant style (booth #2619).
Rebels, a new collection by WOW Design (WOW USA, Inc.) offers a freshness that adds value and identity to any design space. The collection delivers diversity, with various cool-note colors and contrasts in both gloss and matte finishes (booth #4855).
Revival, the latest collection from EMILGROUP's Provenza brand, honors the essence of natural material while expressing the beauty of authenticity and uniqueness. Revival is Provenza brand's reinvention of oak wood with a contemporary form (booth #2021).
Rok Candy, by AlysEdwards Tile & Stone, is an organic collection of artistically designed terra cotta wall tile that nurtures and supports any design. It is hand pressed into molds forming hills and valleys; the clay is fired, hand glazed and fired again creating a sugar crystal effect (booth #4223).
Roma is the latest collection from Tagina S.P.A., made from some of the richest and most precious materials of the Romans. This series beautifully showcases a multiplicity of genres and styles that merge into unique and original designs while creatively alluding to the distinctive features of the historic and luxurious materials which inspired it (booth #1201).
Small, a new collection from La Fabbrica, translates the look of watercolor hues and brush strokes to ceramic surfaces. The white-body wall tiles have a shiny glaze with chromatic variations inspired by the majolica tradition, giving the collection a hand-crafted aesthetic (booth #1840).
SOLID+, by UNDEFASA, includes a range of technical, mass-colored porcelain tiles plus flakes, with high-performance features. The collection's advanced physical, mechanical and chemical properties are achieved through a shaping technology developed to provide a higher density and increased longevity to the tile's body (booth #4623).
Songbird, from Florida Tile, exhibits the look of handcrafted tiles inspired by a joyful, soaring journey through nature. Subtle undulations in the surface are reminiscent of rippling water, drawing your eye and creating a sense of calm (booth #3620).
Tycoon – Wave Mosaic, by MILE®stone, combines sophisticated surfaces with precious mosaics, creating eye-catching appeal due to its luxuriously rich details. This natural stone-based collection raises the value of interior design to new levels of style and opulence (booth #3212).
Vulcano, the new collection by AZTECA PRODUCTS & SERVICES, S.L.U., is a composition inspired by the movements of incandescent lava. It is powerfully expressive and is produced by hand to achieve the desired effects. The most intriguing part of the Vulcano Collection is the "gloss-matte" and "double gloss" contrast techniques (booth #4818).
A preview sampling of new installation materials, tools and technology products slated for Coverings 2023 includes the following:
GRABO® OTTOVAC – The Electric 8″ Suction Cup, from Russo Trading Co., is a new portable electric vacuum 8″ cup that engages to the surface with the simple push of a button (booth #3322).
MEGA Plus Manual Tile Cutter, by Cortag Tools USA, delivers the best and most enhanced features for the ultimate tile cutter with a cutting capacity of up to 71 inches (booth #2640).
PERMACOLOR® Select & PERMACOLOR® Grout, the new-and-improved formulas by Laticrete deliver increased strength and enhanced stain resistance while being easy to spread and clean, making installations faster and less labor-intensive (booth #3334).
Porcelain Driveway Systems, from Cercan Tile, offers a proven system for installing (dry laying) 2cm (¾ inches) porcelain tiles on driveways (booth #3016).
PROVA BOARD® PLUS, from PROVA Tile Installation Products by M-D PRO, is now available in 1/8″ thickness among other densities. This lightweight, high-density, quick- and easy-to-install tile backer board is the ideal build-up for listellos and mosaics. It can also be used as an adapter or spacer (booth #2903).
Schluter®-KERDI-DRAIN-F is a new drain offering from Schluter-Systems that has been specifically designed for floors without a slope. The KERDI-DRAIN-F features a flat, narrow bonding flange with an integrated KERDI collar (booth #2925).
USG Durock Brand Waterproof Foam Board is USG Corp.'s new lightweight, waterproof and easy-to-cut tile backer, composed of a waterproof extruded polystyrene foam core that's covered with a fiberglass mesh and a cementitious coated finish for maximum adhesion of any tile, stone or mosaic finish (booth #3031).
To view all Coverings 2023 exhibitors prior to the show, visit the detailed online exhibitor list and show floor map.
References:
By: FCNews Staff
Title: Coverings releases 2023 product previews
Sourced From: www.fcnews.net/2023/03/coverings-releases-2023-product-previews/
Published Date: 03-14-2023
Choose Canadian Home Style for your Vancouver flooring projects.
Canadian Home Style is your family-owned and operated flooring retailer with a showroom in North Vancouver, BC. We provide full-service commercial and residential flooring solutions across the Lower Mainland with an extended warranty. We are proud members of the BC Floor Covering Association (BCFCA) and the National Wood Flooring Association (NWFA). In addition, we have won the Consumer's Choice Awards back-to-back in 2021, 2022, and 2023 for our commitment to business excellence. We are considered the highest-rated flooring experts in Metro Vancouver. We pride ourselves on holding the highest standards in the flooring industry. To uphold our high standards, we have a strict policy of "not selling or displaying any products that we wouldn't want in our own homes." Before we select a product to feature, we carefully assess product quality, off-gassing, warranties, and responsible sourcing. Book now to visit our North Vancouver flooring showroom; we can help you choose the perfect floor for your home or business.
Our mission is to help homeowners create beautiful homes that reflect their lifestyles while reducing energy consumption and conserving resources. We do this by providing our clients with innovative products, services and education. Our vision is to become Canada's leading sustainable flooring solutions provider. Our values include integrity, respect, honesty and transparency. These principles guide us as we strive to provide outstanding customer service.
We believe that our success depends on the success of our clients and their customers. We work hard to ensure our clients get the most out of their investments. Our team consists of highly skilled professionals who are experts in their field. They have years of experience working together and know what works and what doesn't. They understand how to solve problems quickly and efficiently. We are committed to providing excellent customer service. We listen carefully to our client's concerns and suggestions. We take these into account when planning and executing projects. We always strive to exceed expectations.
Services We Offer:
Main Areas of Service in British Columbia:
Frequently Asked Questions
What's the difference between solid and engineered hardwood?
Solid hardwood can be described as solid wood and is generally 3/4 inch thick. Engineered hardwoods are not solid hardwoods. Instead, they have layers that give stability to a structure otherwise unstable. This makes them ideal for high-end properties with stringent requirements.
Solid wood flooring has the advantage of being sandable and refinished at most three times. Solid hardwood can be refinished to your specifications if you need to change your floor's color or if there are scratches. Engineered hardwood can be sanded. You can sand and refinish engineered hardwood up to twice, but only if your top wear layer is thick enough. It is important to glue or staple your wood floor down if you are planning on sanding it and refinishing it in the near future. Usually engineered floors are floated on a subfloor with a proper underneath. Floating floors cannot be sanded or refinished.
Engineered wooden flooring is more resilient to temperature changes, humidity, and heat fluctuations. Engineered hardwood flooring is easy to install and is flexible. It is not possible to nail a solid hardwood subfloor to your plywood subfloor if it is below grade. With engineered hardwood, however, you have the option to choose which type of installation you prefer. These floors are available in three types: floating, stapled (similarly nail down) or glued to the floor. Engineered hardwood can be installed below grade, on top of or above it. Therefore, you can install them where installing solid hardwood is not an option, such as in basements or condos with concrete subfloors. The advantage of engineered hardwood is that they can be made wider due to the strength of the core. You typically can go up to a maximum of five inches wide with solid hardwood, but you can go up to nine inches wide with your engineered product. This is our preferred look, especially on the West Coast or Lower Mainland. Larger boards will make your home feel larger and more modern.
What are the top hardwood brands in Canada that you would recommend?
We recommend hardwood flooring only that is made in Canada, or Europe, for the best results. We'll be glad you chose one of these brands.
Purparket made in Croatia, finished in Canada
Mercier made in Canada
Made in Canada
Preverco – Made in Canda
Boen – Made in Europe
What happens if cork flooring is wetted?
Cork flooring can withstand water, but it is not waterproof. Cork flooring can swell and warp if it gets wet. It is important to wipe up any spills immediately and dry the flooring as soon as possible. If cork flooring does get wet, it should be allowed to dry completely before walking on it or putting furniture on it. Otherwise, the flooring may become damaged.
Last but not least, cork flooring should not ever be placed in humid conditions as this could increase the risk for mold growth.
Statistics
To figure out how much your floor will cost, calculate the room's square footage, then add 5 to 10 percent for cuts and waste. (thisoldhouse.com)
External Links
How To
How to Remove Scratches From Hardwood Floors
Scratches are common when living in a wood-floored house. Scratches are caused by dragging furniture across the floor with no protection at the bottom. It's worth noting, though, that most hardwood flooring manufacturers sell touch-up kits which you can purchase at the time you order your flooring. If you don't own a touchup pen that matches your hardwood, these are the steps you can take to make one.
Use a color-coordinating wood filler to fill in the scratches if they are very deep. Next, use a little stain or polish that matches your floors to cover up the scratch. If the scratch is not too deep, you could use a matching polish or a small amount of shoe wax to fill it in. As a quick fix, you can use crayons that match your flooring's color. If you don't own matching polishes, it's possible to mix a few of them to create your unique color.
The best way to remove scratches in hardwood floors is to fix the issue. This means that you need to be careful with your furniture and make sure your floors are protected from scratches. Avoid wearing heels on hardwood floors. These can cause damage. Hardwood floors can be scratched by pets' nails, so it is important to have them trimmed regularly.
Here are some other tips to prevent scratches from hardwood floors.
Avoid dirt and grit getting in your shoes by using mats or rug at all of your entrances.
To prevent the floor from being scratched, place rugs or mats in front of furniture, such as chairs and sofas.
To avoid scratches while moving furniture around, use furniture glides and furniture coasters.
Heavy furniture can scratch the floor so be extra careful. Do not drag heavy furniture across the floor.
Helpful Resources: