Flooring Trends: Laminate is back in 2023
The resurgence of the U.S. laminate flooring category has been well documented. Over the past two years in particular, laminate has sought to recoup market share lost to certain sub-segments of the resilient category (i.e., SPC and WPC) due primarily to supply chain challenges with some popular, imported resilient products. This phenomenon forced specialty retailers and distributors to fill the void with domestically produced laminate flooring.
The question now is will this resurgence continue as supply chain issues surrounding imported SPC/WPC normalize and as domestic production of competing for hard surface categories ramp up. The response from laminate suppliers so far is a resounding "yes."
"Laminate is back and better than ever," said Isaac Lee, director of product development at Eternity. "The revival of laminate is making a splash, and the market is accepting it with open arms. Right now, there's a big waterproof laminate craze with so many products coming onto the market."
Lee is not alone. "We expect the resurgence to continue, and our projections call for the laminate category to grow between 5% and 7%," said David Sheehan, vice president of residential hard surface, Mannington. However, he thinks that the laminate category was never left in the first place. "Laminate remains popular in the U.S., so talk of a 'comeback' is surprising. I describe it more as a 'renewed interest.'"
Other proponents include Brian Parker, vice president of product management for AHF Products, which expanded its portfolio in 2021 to include laminate flooring. "Laminate is making a resurgence for sure," he said. "SPC has been the fastest growing category for about seven years, but over the past few years, laminate has also been growing quickly. It now has a waterproof performance story to it and there's special interest in domestic supply."
Companies like Johnson Hardwood, traditionally a hardwood flooring supplier before throwing its hat into the SPC/LVT ring, is also betting big on laminate. "We're very excited about our laminate products, which is a new category for Johnson," said John Ousley, vice president of sales and distribution. "The laminate category has started to come back to life. It's unique in that it offers clean visuals, dent resistance, and durability."
Across the board, suppliers' investments in the laminate flooring category reflect their faith that those investments will pay big dividends moving forward. Take Mohawk, for example. Over the past two-plus years, the company has poured millions in its laminate plants to support new technologies and additional capacity at its domestic production facilities.
Then there are firms like CFL, which has supported the U.S. laminate flooring market from the get-go. Not to be outdone, companies like Inhaus—a longtime player in the U.S. laminate arena—is also looking to raise the innovation stakes to support the still-growing category. The company is putting a lot of R&D dollars and marketing muscle behind its signature Lamdura offering, its latest laminate innovation touting direct digital printing and high-tech embossing for added texture.
Following is a sampling of some of the latest high-performance laminate flooring products hitting the market today:
AHF TimberTru
AHF Products, which markets more than a dozen flooring brands covering hardwood, LVT and SPC, has extended its offering to cover the resurgent laminate flooring category. Six of the company's hard surface lines, including Bruce, Hartco, Robbins, Autograph, tmbr and Hearthwood, are now available in a laminate option under the TimberTru banner. All lines are offered in a 10+2 structure (8mm thickness plus a 2mm attached pad in an 8-inch-wide format), giving homeowners what AHF calls "the right amount of material and heft needed for a more solid feel underfoot."
Cali Shorebreak
Cali expands its offering of eco-friendly flooring solutions to include laminate. The new Shorebreak line features ultra-realistic stone visuals made to be stronger, lighter, warmer and easier to install and clean than the real thing. This modernized laminate tile is fortified by an SPC core for 100% waterproof flooring that is safe for families and brings an instant upgrade to any room.
Eternity Sequoia XL
The latest laminate offering from Eternity is Dubbed Sequoia XL, a 6-foot-long plank format touting optimal waterproof performance. Made in Spain, the product features an AC6 rating for wear and dent resistance—the highest rating currently available—and boasts trendy designs, including wood visuals that offer up to 24 variations before a pattern repeat appears. Built on a platform that entails 6-foot planks on a 9.5-inch board, the product features a 3D textured surface. MSRP is $3.99–$4.99 per square foot.
Johnson Hardwood Olde Tavern/Bella Vista
Johnson Hardwood continues to expand its comfort zone—first entering the rigid core arena and now broadening its hard surface offerings with high-performance laminate floors. Olde Tavern is available in realistic, rustic/reclaimed visuals with EIR embossing that mirrors its genuine hardwood offerings, while Bella Vista conveys cleaner, more elegant visuals.
Olde Tavern and Bella Vista are AC4 and AC5 rated, respectively, for wear resistance, and each features WaterShield technology to prevent topical water incursion.
BHW Floors Kingston collection
This isn't your grandmother's laminate floor. The new Kingston collection reveals eight high-resolution planks that stand up to everyday accidents. The line features an i4F locking system for easy installation, a tough AC4 wear layer for scratch resistance and 100% waterproof functionality. Brimming at 12mm + 1mm attached IXPE pad thickness, these laminates are designed to last a lifetime.
CFL AtroGuard Q
After breaking ground in the water-resistant laminate flooring category in 2013, CFL plans to take laminate again to the next level with its patent-pending AtroGuard Q, designed to reduce the noise level typically associated with laminate flooring dramatically. According to CFL, AtroGuard Q is up to 6x times quieter than standard laminate and features all the advantages customers have come to expect from a waterproof laminate floor—durability, scratch and dent resistance and visual appeal. "Added value/innovation will be key moving forward to ensure continuous growth for us in the category," said Barron Frith, president of CFL North America.
Inhaus Lamdura
Lamdura, a ground-breaking 2022 laminate from Inhaus, has been upgraded for 2023. All tiers within the line each feature new colours, are now water resistant, anti-microbial and embossed in register. Lamdura boasts a high-density, water-resistant core (Aqua Protect), a commercially rated wear layer (abrasion class 5) with a proprietary finishing process that creates a scratch-resistant surface. All Lamdura collections also feature Inhaus' patented Megaloc 2.0 water-resistant, angle-fold locking system.
Lions Floor Comfort Heights
Lions Floor Comfort Heights collection aims to take home décor to the next level. The large-profile laminate plank resembles the authentic and timeless charm of hardwood. The EIR is embossed, yet the matte finish vividly expresses nature. Comfort Height's high-density core delivers beauty and durability and is proven to be water-resistant with a micro-painted bevel, waxed joints and AC4-level scratch resistance.
Mannington Harmony
Harmony, part of Mannington's Restoration collection, is based on Japanese maple species that convey a peaceful and harmonious environment. Its smooth surface, consistent graining and 8-inch-wide footprint make for a clean, timeless look that coordinates with the restorative home interior trend. More importantly, the collection features 20 individual plank designs in a box—which creates a more realistic visual—and features SpillShield Plus Waterproof technology.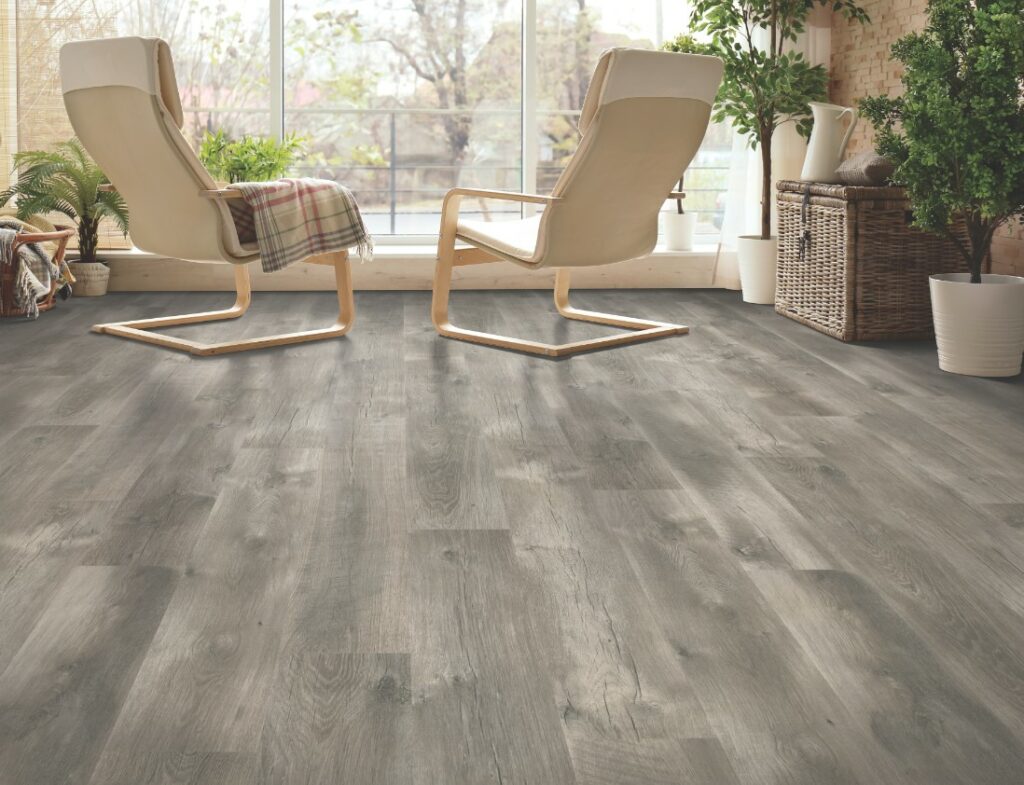 Mohawk RevWood Premier
Mohawk remains committed to building its popular RevWood portfolio by adding 14 new styles to RevWood's Plus and Premier tiers. RevWood Plus and RevWood Premier feature Mohawk's proprietary WetProtect technology for the "right kind" of waterproofing, offering maximum scratch protection and All Pet Protection & Warranty. The collection was recently upgraded to feature Mohawk's proprietary Signature Technology, an innovation based on high-definition scanning and printing capabilities for extremely realistic hardwood visuals.
SLCC Laminate
SLCC's laminate flooring options feature wavy design patterns and natural-looking knots made from oak for a very modern and contemporary look and feel. Available in 7.5-inch wide boards and herringbones—backed by a 25-year warranty—this is an affordable, durable, performance-designed flooring ideal for any active family. Realistic EIR textures and real wood grain patterned décors distinguish this laminate from the pack.
Urbanfloor The BLVD
One of the highlights of the 2023 Urbanfloor lineup is TheBLVD—an all-new collection of 7.6-inch-wide, water-resistant laminate. The eye-catching, European-made collection includes 20 trendy new SKUs featuring AC5 scratch-resistance, an antimicrobial surface and realistic in-register embossing.
The post Laminate enhancements fuel resurgence in 2023 appeared first on Floor Covering News.
References:
By: Reginald Tucker
Title: Laminate enhancements fuel resurgence in 2023
Sourced From: www.fcnews.net/2023/03/laminate-enhancements-fuel-resurgence-in-2023/
Published Date: 03-19-2023
Choose Canadian Home Style for your Vancouver flooring projects.
Canadian Home Style is your family-owned and operated flooring retailer with a showroom in North Vancouver, BC. We provide full-service commercial and residential flooring solutions across the Lower Mainland with an extended warranty. We are proud BC Floor Covering Association (BCFCA) and the National Wood Flooring Association (NWFA) members. In addition, we have won the Consumer's Choice Awards back-to-back in 2021, 2022, and 2023 for our commitment to business excellence. We are considered the highest-rated flooring experts in Metro Vancouver. We pride ourselves on holding the highest standards in the flooring industry. We have a strict policy of "not selling or displaying any products that we wouldn't want in our homes to uphold our high standards." Before we select a product to feature, we carefully assess product quality, off-gassing, warranties, and responsible sourcing. Book now to visit our North Vancouver flooring showroom; we can help you choose the perfect floor for your home or business.
Our mission is to help homeowners create beautiful homes that reflect their lifestyles while reducing energy consumption and conserving resources. We provide our clients with innovative products, services and education. Our vision is to become Canada's leading sustainable flooring solutions provider. Our values include integrity, respect, honesty and transparency. These principles guide us as we strive to provide outstanding customer service.
We believe that our success depends on the success of our clients and their customers. We work hard to ensure our clients get the most out of their investments. Our team consists of highly skilled professionals who are experts in their field. They have years of experience working together and know what works and what doesn't. They understand how to solve problems quickly and efficiently. We are committed to providing excellent customer service. We listen carefully to our client's concerns and suggestions. We take these into account when planning and executing projects. We always strive to exceed expectations.
Services We Offer:
Main Areas of Service in British Columbia:
Frequently Asked Questions
What are the top-selling types of hardwood floors in America?
Maple and oak wood floors are the most well-known. These two types of wood are timeless and classic, but can also be stained to create different looks. Cherry, walnut, birch, and other hardwoods are also very popular. When choosing hardwood for your house, take into account the amount of traffic that each room will receive and the overall design of your home.
What is the best flooring for your home?
Hardwood or cork flooring are the most health-friendly options for homes. These materials don't emit harmful toxins or off-gas as synthetic alternatives like vinyl and carpet. Cork and hardwood are also hypoallergenic, making them a good choice for people with allergies or sensitivities.
How much would it cost to floor a 1500 sq. Vancouver with hard-surface flooring.
Laminate, hardwood and luxury vinyl flooring would cost $2 to $30 per square feet for the materials. Keep in mind that you will need to remove 10% of the waste.
Prices for underlayment vary from $0.25 to $1.50/square foot.
Installation can cost from $2.00 up to $6.00 per square footage depending on how skilled the installer is and what type of installation it is.
Baseboards must be removed and reinstalled. This will cost you anywhere from $2.00 to $3.50 per linear foot.
The existing floor should be removed and taken to the station. For carpet and floating floors, floor removal can cost you between $0.50 to $1.50.
Your subfloor may need to be leveled to meet industry standards. To level your floor, if it is not level, you may have to pay $0.50 to $2 per square foot.
Don't forget that you may need additional trims, such as transitions or shoe bases. These would increase the cost.
How much is hardwood flooring per sq foot in Metro Vancouver
Hardwood floors range in price from $6-$30 per sq. ft. Depending on the type and construction of the wood, its width, grading, brand, and other factors, prices can vary widely.
How long does it take to finish 1000 sq. ft. of flooring?
Installing 1000 SF of flooring takes between 3-7 days. This depends on the method used to install the flooring. The fastest method would be floating installation. Installations using glue or nail would take twice as long.
Installing flooring isn't always straightforward. A professional installer can help you save money in the end.
Professional installers are skilled in measuring and cutting each piece of material accurately. Professional installers will align boards properly so they fit together correctly. You won't have to worry about making mistakes or wasting your time by working with professionals.
When you are looking to hire a pro to help you, make sure to inquire about their pricing structure. Some companies charge an hourly fee, while others charge by the square foot. The cost of your job will vary. Before you choose one contractor, it is worth getting several estimates.
What are the most popular hardwood brands in Canada, according to you?
For the best results, hardwood flooring should only be made in Canada and Europe. We'll be glad you chose one of these brands.
Purparket is made in Croatia and finished by Canada
Made in Canada
Lauzon– Made in Canada
Preverco – Made in Canda
Boen Made in Europe
Statistics
Amorim's WISE WaterProof flooring is 100% waterproof, kid-proof, and pet-proof, giving you longer-lasting floors. (greenbuildingsupply.com)
External Links
How To
How to fix cracks and holes in wood floors
Cracked wood flooring problems are common among homeowners. Changes in temperature and humidity in the air can cause crack-in wood flooring. Wood expands and contracts due to moisture. Eventually, the boards will split. This is especially true in areas where there is heavy traffic.
There are many methods to repair cracks on wooden flooring. You should consult your local flooring retailer before you start. For small cracks, epoxy resin mixed in sawdust can be used. After removing floorboards, you can seal cracks with this mixture. However, ensure you do not apply too much pressure when mixing the resin and sawdust because this could cause the wood to split further. Installing new floorboards can prevent future cracking.
You should call a professional to remove the damage if the crack is large. A professional contractor will replace the floorboard damaged and remove it.
Helpful Resources: