Flooring Industry News: Mohawk fortifies UltraWood line
Calhoun, Ga.—In 2023, Mohawk will continue to fortify its distinguishable UltraWood line with a refined focus on performance and design along with advancing its sustainability story—a precedent set in 2022 in the residential wood segment.
Hybrid in performance and beauty
"As the ultimate performance hardwood, UltraWood is the perfect bridge between the performance and durability of RevWood and the beauty of TecWood," said Seth Arnold, Mohawk's vice president of marketing, hard surface. "It has established itself as a hybrid to serve the consumer that wants both attributes, which gives our retail partners an opportunity to give more choices to their shoppers."
Domestically produced at the company's Danville facility in Virginia, the line offers the latest technological innovations. UltraWood features Mohawk's patented WetProtect technology, a lifetime surface and subfloor waterproof warranty, as well as EasyClean technology, and Mohawk's enhanced lacquer resistance against stains and soil buildup. UltraWood also provides Mohawk's Everlast hardwood protection system, guarding the hardwood veneer against scratches, wear and dents. With Everlast, floors benefit from 4x greater scratch protection, 2x stronger wear protection and 5x greater dent protection. In 2022, UltraWood was enhanced with CleanProtect—featuring antimicrobial properties built in to protect the floor.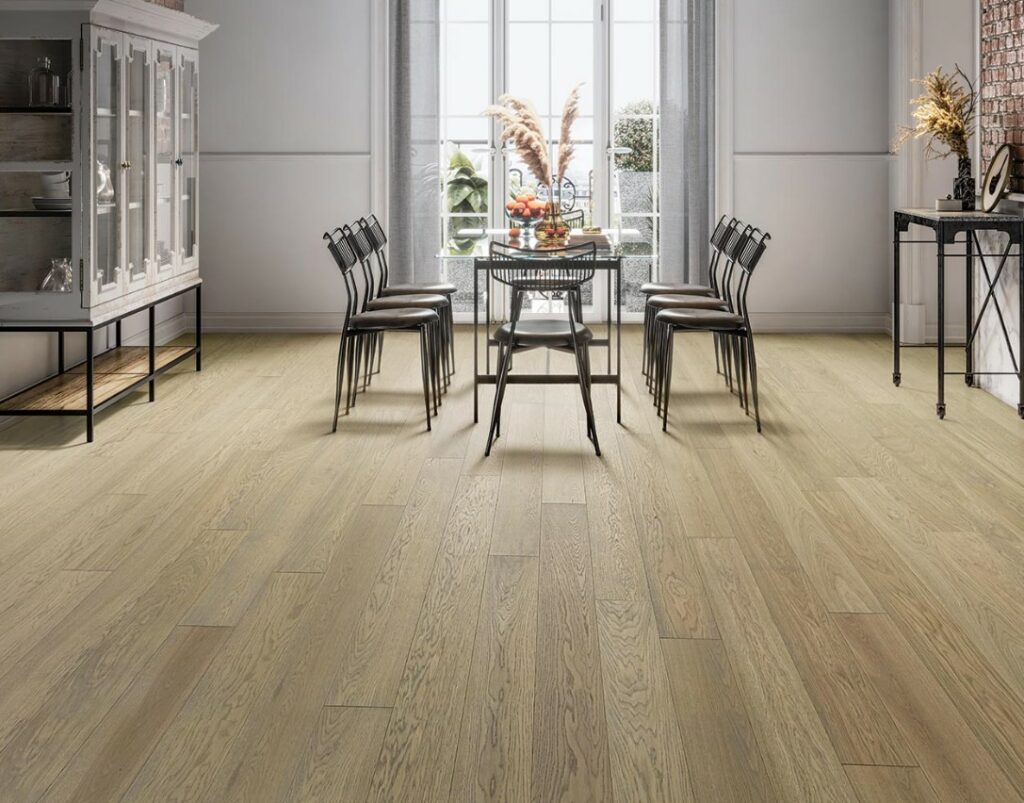 "UltraWood's 28 styles offer the best of both worlds," explained David Moore, Mohawk's senior product director, wood. "From an oak perspective, the line focuses on super clean finishes without knots. From a maple side, we have super rustic styles with character marks and depths of colour. It is all about providing a range of visualization for the consumer."
Naturally sustainable
In addition to performance and beauty, UltraWood offers a sustainable alternative to traditional hardwood.
"UltraWood is one of those rare products where its sustainable attributes actually improve its performance," Moore said. "UltraWood's recycled platform opens new opportunities to create and enhance product circularity."
To illustrate this story, Mohawk created an infographic in 2022 for retailers to use when selling UltraWood. The infographic, located on MohawkToday.com, includes the following information:
Sustainability
As trees grow, they sequester carbon. When the tree is turned into UltraWood, the carbon stays locked away in the finished materials. Therefore, UltraWood removes carbon from the air and stores it in a beautiful long-lasting floor. Since natural wood is the primary raw material used in UltraWood, the floors are 100% renewable.
10x more flooring
The UltraWood manufacturing process delivers 10x more natural hardwood per log when compared to traditional hardwood flooring production. For instance, in a 2,500-square-foot home, it only takes 2.5 logs to floor the entire space with UltraWood compared to 25 logs to floor the entire space with traditional wood.
90% recycled wood
Ninety percent of the wood used to create the impact-resistant boards of UltraWood is recycled from post-industrial wood. In fact, every year Mohawk converts half a million tons of industrial wood waste into impact-resistant boards with 5x greater dent protection for UltraWood hardwood floors.
Mohawk will provide first-class marketing support for UltraWood in 2023 through retailer advertising options. Additionally, UltraWood will be included in the Mohawk national sale.
The UltraWood line will coordinate with Performance Accessories products to offer innovative, multifunctional transitions that are colour-coordinated for retailers to sell a complete flooring package in one purchase.
References:
By: FCNews Staff
Title: Mohawk fortifies UltraWood line
Sourced From: www.fcnews.net/2023/03/mohawk-fortifies-ultrawood-line/
Published Date: 03-19-2023
Choose Canadian Home Style for your Vancouver flooring projects.
Canadian Home Style is your family-owned and operated flooring retailer with a showroom in North Vancouver, BC. We provide full-service commercial and residential flooring solutions across the Lower Mainland with an extended warranty. We are proud members of the BC Floor Covering Association (BCFCA) and the National Wood Flooring Association (NWFA). In addition, we have won the Consumer's Choice Awards back-to-back in 2021, 2022, and 2023 for our commitment to business excellence. We are considered the highest-rated flooring experts in Metro Vancouver. We pride ourselves on holding the highest standards in the flooring industry. To uphold our high standards, we have a strict policy of "not selling or displaying any products that we wouldn't want in our own homes." Before we select a product to feature, we carefully assess product quality, off-gassing, warranties, and responsible sourcing. Book now to visit our North Vancouver flooring showroom; we can help you choose the perfect floor for your home or business.
Our mission is to help homeowners create beautiful homes that reflect their lifestyles while reducing energy consumption and conserving resources. We do this by providing our clients with innovative products, services and education. Our vision is to become Canada's leading sustainable flooring solutions provider. Our values include integrity, respect, honesty and transparency. These principles guide us as we strive to provide outstanding customer service.
We believe that our success depends on the success of our clients and their customers. We work hard to ensure our clients get the most out of their investments. Our team consists of highly skilled professionals who are experts in their field. They have years of experience working together and know what works and what doesn't. They understand how to solve problems quickly and efficiently. We are committed to providing excellent customer service. We listen carefully to our client's concerns and suggestions. We take these into account when planning and executing projects. We always strive to exceed expectations.
Services We Offer:
Main Areas of Service in British Columbia:
Frequently Asked Questions
Is cork a magnet for mold?
Cork is a natural product that is resistant to mold and mildew. Cork can become moldy if it is exposed to too much moisture. It should be kept dry.
What are the most sought-after types of hardwood floors?
The most popular types of hardwood floors are oak and maple. These two types of wood are timeless and classic, but can also be stained to create different looks. Cherry, walnut and birch are other popular hardwoods. When choosing hardwood for your home, consider the level of traffic in each room and the overall style of your home.
What type of underlayment should I use for floating floors
The subfloor is made up of a thin layer of foam called underlayment. It absorbs sound and provides cushioning. It is recommended to use a 3-in-1 underneathlayment that includes a moisture barrier and sound barrier as well as foam padding. This will protect your laminate floor from water and damage.
How to cut laminate flooring
If you have the right skills, cutting laminate is easy. If you follow these tips, you'll be able to make smooth cuts and avoid any problems.
You should ensure you have enough light. This will prevent you from having to look for the cause of the strange floor.
Use an electric saw. These tools are safer that hand-held. They are also easier to use.
Do not cut too close to edges. Allow at least 1/4 inch space between the edge and the wall.
Cut slowly and steadily. Stop immediately after you are done.
Never place laminate directly on concrete. Instead, place a piece o paper under your laminate. Then use a straightedge (a piece of wood) to guide the blade.
You should keep your grip steady on the tool. Gloves are a good option if you struggle to do this. Use a saw that has a fine-toothed tip. This will prevent the laminate chipping.
Do not let the blade heat up. If the blade gets too hot, switch off the power supply and wait for the heat to dissipate before you continue.
Is cork flooring a good idea?
Cork is a beautiful natural product that has been around for centuries. Cork floors have been gaining popularity because they are both sustainable and environmentally friendly. Here are the advantages of cork flooring
Cork is quiet and soundproof, making it a good choice for flooring. Cork is also comfortable to walk on and has a natural cushioning effect. Cork is hypoallergenic, and resistant to mould, mildew and bacteria. Cork offers excellent insulation properties, both in terms of thermal and acoustic. Cork does not absorb water so it is water-resistant.
Cork floors can also be eco-friendly and sustainably produced. Cork can be harvested from cork oak trees and is a renewable resource. Cork floors are also recyclable.
Cork flooring can also be very durable and resists wear and tear. This makes it ideal for long-term storage. It is also easy to clean and maintain. These characteristics make it an excellent choice for busy households.
However, cork flooring does not come cheap. Cork flooring can also be more expensive than luxury vinyl flooring.
Additionally, cork is not entirely waterproof. Therefore, you should avoid installing it in areas where water tends to accumulate, such as bathrooms or kitchens.
Cork flooring is a great alternative to hardwood floors. Cork flooring has its downsides. Make sure you consider all aspects before deciding to buy cork flooring.
***
What's the downside to cork flooring
The main downside to cork flooring is that it's not cheap. The initial cost of cork flooring can be two to three times that of laminate flooring. Cork is also sensitive and susceptible to humidity. A high level of moisture can cause it curl and plump.
Which type of flooring works best in Canada
According to most flooring experts, wood flooring is the best choice for Canadians. Wood floors are elegant, timeless, stylish, and simple to maintain. With proper care, they can last decades. Wood floors are beautiful and can add value to your house. Many styles and types are available in wood flooring so that you can find the perfect match.
There are many options for wood floors, from solid hardwood to engineered, so there is a floor that suits your needs. Wood floors are great for people with allergies because they don't trap dust and other allergens as carpets.
Statistics
External Links
How To
How to successfully install a floor at your Vancouver home
Professionals should install your floors because mistakes can cost more in the long run.
Remove your old flooring with care. It can be expensive to remove old flooring, especially if it is carpet or floating.
Buy extra material to account waste. 10% waste is standard. It is best to cut down more waste if you have hallways or stairs.
You should hire a licensed and insured flooring contractor, especially if your home is in a strata building.
Install the planks, so the longer sides follow your primary windows.
Before you deliver or install the product, make sure to measure the job site conditions. Install laminate or hardwood flooring only in areas with high humidity, such as full bathrooms and laundry rooms.
At least 48 hours should be given for your flooring material's temperature to adjust before you install it. Wood species can take up to four hours to adjust.
Before you install any planks, check for damage. Do not install planks that are damaged.
Make sure your subfloor has a level surface. Your subfloor must be leveled to industry standards. Problems such as telegraph wire effects and hollow spots can be caused by subfloors that are not level.
Vancouver's strata buildings are seeking IIC and STC numbers that exceed 72. Be sure to get the strata regulations before you make any commitments.
Most strata buildings in Metro Vancouver also require a minimum of $2 million in liability insurance and good standing with work-safe BC from your flooring company. These documents should be requested from your flooring contractor.
Use felt pads to prevent scratches on your furniture as soon as it's installed.
Helpful Resources: