All you need to Know about Mannington Flooring
Mannington Flooring is a well-known brand of floor covering that has been around for over 100 years. It has become an integral part of home décor and design, that nearly 65% of US households have at least one Mannington product. This statistic speaks to the enduring quality, aesthetic appeal, and innovative approach taken by this world-leading provider of floor coverings.
As a specialist in Mannington Flooring, I am pleased to introduce you to its vast array of flooring products and provide insight into its production process and how they remain ahead of the curve when meeting consumer needs. Through extensive research and creative innovation, Mannington Flooring continues to demonstrate why it is a leader in providing beautiful floors with superior performance qualities.
From classic hardwood designs to contemporary tiles and luxurious patterns to solid colours, there is something for everyone within the diverse collection offered by Mannington Flooring. In addition, these products are designed with functionality in mind – making them easy to clean yet still durable enough to enjoy for many years to come. With every purchase, customers know they made the right decision for themselves and their homes.
Overview Of Mannington Flooring
Mannington Flooring is a leader in the flooring industry. Established in 1915, Mannington has over 100 years of experience crafting superior quality and performance-oriented products for residential and commercial spaces. Their vast selection of flooring types includes resilient sheet vinyl, luxury vinyl tile (LVT), laminate, hardwood, and carpet tiles. With each type offering distinct advantages and features, Mannington provides customers with an array of options to meet any design need or budget.
Mannington's commitment to innovation has led them to develop unique technologies designed to maximize durability while providing exceptional environmental protection benefits. For example, their revolutionary SpillShield technology utilizes advanced water-resistant particles that form a barrier against liquids on contact so spills can be easily wiped away without staining the surface below it. Additionally, Mannington uses recycled content when manufacturing certain products ensuring they have a minimal environmental impact.
When looking at all the available Mannington products, one thing stands out: beauty and style. From classic wood looks to modern stone designs, there is something for everyone. This range of styles allows homeowners and businesses to customize their space easily while achieving their desired aesthetic goals.
Mannington offers comprehensive warranty coverage for all its products and helpful installation services such as free estimates and product samples delivered straight to your doorstep. With this kind of support behind you, selecting the perfect floors for your project just got easier! By combining innovative technologies with timeless design aesthetics, Mannington ensures everyone can find what they need for residential or commercial use. Transitioning into the subsequent section about "types of flooring materials", understanding what's offered by Mannington will set up shoppers perfectly before making purchasing decisions.
Discovering the Diversity of Mannington Flooring Collections
Mannington offers a wide range of flooring options, making it a renowned choice in the industry. In this section, we will explore the various collections provided by Mannington, highlighting their unique features and benefits. Each collection has its own distinctive characteristics, such as the Adura® Max line, known for its exceptional waterproof qualities, and the Realta SPC collection, celebrated for its impressive robustness. By providing detailed information about each collection, readers can easily select the perfect Mannington flooring that meets their specific needs.
Mannington's Adura® Max line stands out for its exceptional waterproof qualities, making it an ideal choice for areas prone to moisture and spills. This collection offers a wide range of styles and designs, ensuring that there is a perfect option for every aesthetic preference. With its durable construction and easy maintenance, Adura® Max flooring provides long-lasting beauty and functionality.
The Realta SPC collection from Mannington is highly regarded for its robustness and durability. Designed to withstand heavy foot traffic and everyday wear and tear, this collection is perfect for high-traffic areas such as hallways, kitchens, and commercial spaces. Realta SPC flooring is also resistant to scratches, stains, and fading, ensuring that it maintains its beauty even in the face of daily use.
Mannington's Revolutions Plank collection offers a unique blend of style and durability. With its wide range of colors and finishes, this collection allows homeowners to create a truly personalized look for their space. The Revolutions Plank flooring is also known for its easy installation process, making it a popular choice among DIY enthusiasts.
For those seeking a more traditional look, Mannington's Restoration collection is the perfect choice. This collection features stunning hardwood designs that capture the timeless beauty of natural wood. With its durable construction and realistic textures, Restoration flooring provides the perfect balance of elegance and functionality.
Mannington's Spacia collection offers a wide range of luxury vinyl tile options, perfect for those looking for a stylish and durable flooring solution. With its realistic wood and stone designs, Spacia flooring adds a touch of sophistication to any space. This collection is also known for its easy maintenance and long-lasting performance.
The Mannington Adura® Rigid collection is designed to provide the look and feel of real hardwood with the durability and easy maintenance of vinyl. With its innovative construction and realistic textures, Adura® Rigid flooring offers a cost-effective and practical alternative to traditional hardwood flooring.
Mannington's Nature's Path collection is inspired by the beauty of nature, offering a wide range of eco-friendly flooring options. Made from sustainable materials and featuring natural designs, Nature's Path flooring allows homeowners to create a beautiful and environmentally conscious space.
The Mannington Adura® Flex collection combines the durability of vinyl with the comfort and warmth of cork. This collection is known for its exceptional sound absorption properties, making it a popular choice for multi-level homes and commercial spaces. Adura® Flex flooring is also resistant to scratches and stains, ensuring that it maintains its beauty even in high-traffic areas.
Mannington's Primus collection offers a wide range of commercial flooring options, designed to withstand the demands of heavy foot traffic and daily use. With its durable construction and easy maintenance, Primus flooring is a popular choice for commercial spaces such as offices, retail stores, and healthcare facilities. For further information on flooring options, visit the National Wood Flooring Association at nwfa.org.
The Aesthetic Appeal of Mannington Hardwood Flooring
In this section, we will explore the aesthetic aspects of Mannington hardwood flooring. Let's delve into the exquisite designs, wide range of finishes, and the inherent natural beauty that these floors bring to any space. Additionally, we will discuss the cutting-edge technology employed in the creation of these floors, ensuring both durability and visual allure. By understanding these factors, homeowners can appreciate how Mannington hardwood floors can enhance the overall ambiance of their homes.
Mannington hardwood flooring offers a plethora of elegant designs that cater to various tastes and preferences. From classic to contemporary, these floors encompass a diverse range of styles that can effortlessly complement any interior decor. Whether you prefer a rustic farmhouse look or a sleek modern aesthetic, Mannington has a design that will suit your needs.
In terms of finishes, Mannington offers a wide array of options to choose from. From smooth and glossy to textured and distressed, these finishes add depth and character to the hardwood floors. Each finish is carefully crafted to enhance the natural beauty of the wood, showcasing its unique grain patterns and color variations.
One of the key highlights of Mannington hardwood flooring is its ability to bring the outdoors inside. The natural beauty of the wood is preserved and showcased, creating a warm and inviting atmosphere in any space. The rich tones and intricate details of the hardwood floors add a touch of sophistication and elegance to the overall design.
In addition to their aesthetic appeal, Mannington hardwood floors are built to last. The innovative technology used in their construction ensures durability and longevity. These floors are designed to withstand daily wear and tear, making them an ideal choice for high-traffic areas in the home.
When it comes to maintenance, Mannington hardwood floors are relatively easy to care for. Regular sweeping and occasional mopping are usually sufficient to keep them looking their best. Additionally, Mannington offers a range of cleaning products specifically designed for their hardwood floors, ensuring optimal care and maintenance. Explore design inspirations at the American Society of Interior Designers at asid.org.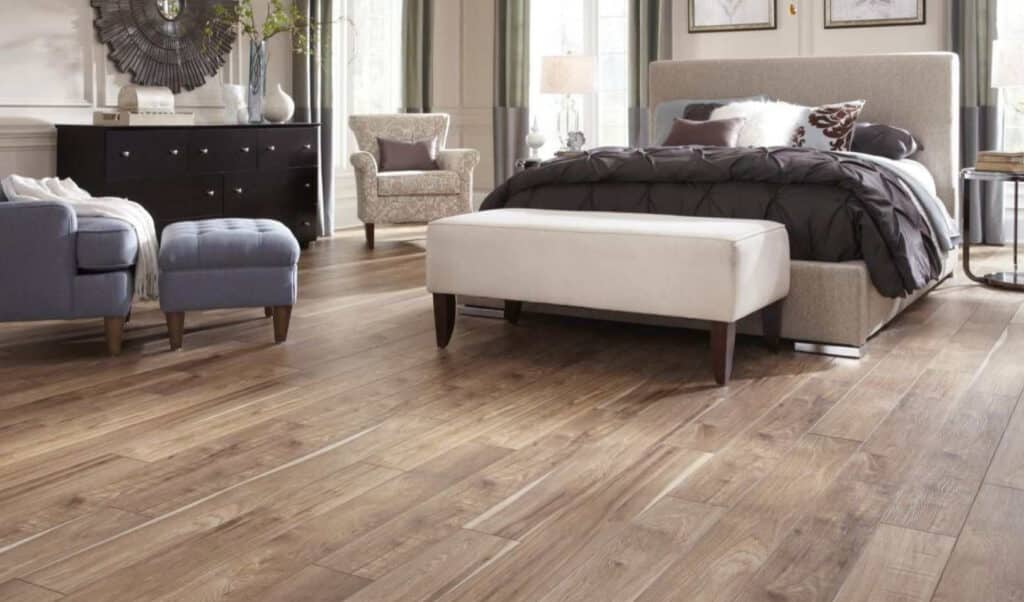 Types Of Flooring Materials
Look at your home and imagine the possibility of having Mannington Flooring as interior decoration. Mannington is one of the leading manufacturers in flooring materials, offering innovative design solutions for any space. Many types of flooring materials from Mannington can create an inviting atmosphere in any room. Let's explore some of these options:
Vinyl Plank – Vinyl plank provides an attractive, low-maintenance solution with realistic wood visuals and textures. This option offers excellent durability and easy installation on most existing surfaces with minimal preparation needed. It also has great sound insulation properties and comes in various colours.
Engineered Hardwood – Engineered hardwood floors offer all the beauty and character of solid hardwoods. Still, they require less maintenance than traditional hardwoods due to their composite construction, making them more resistant to moisture damage and warping over time. They come in various styles to fit any décor or budget.
Laminate Flooring – Laminate flooring is another popular choice from Mannington, as it simulates the appearance of real wood while being much easier to maintain than real hardwood floors. Its durable surface resists scratches, dents, stains, fading, and discoloration making it perfect for high-traffic areas such as kitchens and family rooms.
Resilient sheet vinyl – Resilient sheet vinyl provides superior comfort underfoot and outstanding protection against spills thanks to their water resistance capabilities. Sheet vinyl comes in various styles, from light oak finishes to bold patterns for those creative souls.
Carpet Tiles and broadloom carpet – Carpet tiles and broadloom carpets offer an array of texture, colour, and pattern options that can be used to create a unique look in any room. Carpet tiles are perfect for high-traffic areas as they resist wear and tear and can easily be replaced. Broadloom carpets are ideal for bedrooms, living rooms, and stairs.
Mannington offers a diverse selection of quality flooring materials that can help create beautiful spaces in homes around the world—from traditional looks using natural stone tiles to modern designs featuring vibrant hues found in resilient planks or engineered hardwood floors—the possibilities are truly endless when it comes this industry leader's expansive collection! With these various flooring materials available through Mannington, homeowners have ample options when looking for ways to add style and value to their living space without breaking their budgets. Now let's move on to discussing some advantages that accompany choosing Mannington flooring products for residential applications.
The Advantages of Choosing Mannington Flooring for Your Home
This final section will summarize the benefits of choosing Mannington flooring. It will reiterate key points such as the wide range of designs available, the sustainability of the product, the ease of maintenance, and its long-lasting quality. This concluding part aims to reinforce the reader's decision to opt for Mannington flooring, highlighting its value as a wise investment for their home.
One advantage of Mannington flooring is the extensive variety in design options. Whether you prefer a classic, traditional look or a more modern, contemporary style, Mannington offers a wide range of choices to suit every taste and preference. From hardwood to luxury vinyl, there is something for everyone.
In addition to its design versatility, Mannington flooring is also known for its sustainability. The company is committed to using eco-friendly materials and manufacturing processes, ensuring that their products have a minimal impact on the environment. By choosing Mannington flooring, you can feel good about your decision to support a company that prioritizes sustainability.
Another benefit of Mannington flooring is its ease of maintenance. With busy lifestyles, it's important to choose flooring that is easy to clean and maintain. Mannington flooring is designed to be durable and resistant to stains, making it a practical choice for households with children or pets. Simply sweep or vacuum regularly and mop up any spills, and your Mannington flooring will continue to look great for years to come.
Lastly, Mannington flooring is known for its long-lasting quality. Investing in high-quality flooring is essential to ensure that it stands the test of time. Mannington uses innovative manufacturing techniques and materials to create flooring that is not only beautiful but also built to last. With proper care and maintenance, Mannington flooring can retain its beauty and functionality for many years. For additional home improvement resources, check out the Home Improvement Research Institute at hiriresearch.org.
Mannington flooring provides a range of advantages for those looking to upgrade their current floors. Its high-quality material and construction make it one of the most sought-after options on the market. The benefits of Mannington Flooring include the following:
Durability: Mannington Flooring is designed to withstand heavy foot traffic and everyday wear and tear. It also resists scratches and scuffs better than many other materials, making it ideal for busy households or commercial spaces.
High-Quality Material: The product is made from premium quality material that ensures long-term performance.
Easy Maintenance: Cleaning and maintaining your new floor is simple, thanks to its easy-to-clean surface.
Longevity: With proper care and maintenance, this type of floor can last up to 20 years or more, providing lasting value in any space.
These features create an attractive option when selecting your next flooring project. From residential homes to commercial buildings, customers can rest assured knowing they are getting a reliable product that will stand the test of time. In addition, Mannington offers a variety of colours and styles so you can find just what you need for your desired look without sacrificing durability or longevity. Now, look at 'Mannington Adura', which brings even more benefits for homeowners and businesses.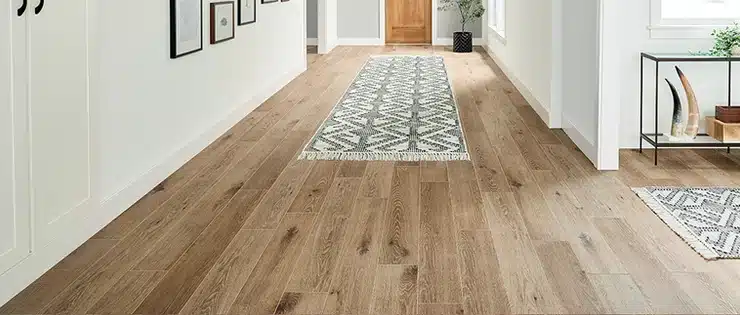 Mannington Adura – Vinyl Flooring Reviews
Mannington Adura is a state-of-the-art flooring solution that has revolutionized the industry. Its versatility and unique design have won many favourable reviews among homeowners and professionals alike. Boasting an array of advantages, such as easy installation, durability, and a wide variety of colour options, Mannington Adura offers something for everyone.
Adura comes in Three series. The flex, rigid and Max.
Mannington Adura Max
Adura Max is a WPC vinyl flooring that provides incomparable style and luxury. Its solid core HydroLoc™ construction combines wood's strength with polymer's durability, creating an ultra-resilient flooring solution. But it's not just about the looks – this hybrid solution also delivers superb acoustic performance. With an STC rating of 63 and an IIC rating of 72, soundproofing your home is easier then ever before – no additional underlay required! Mannington's crown jewel in vinyl flooring, Adura Max, is nothing less than luxurious comfort for your home.
Bring your home to the next level of comfort and luxury with Adura Max Vinyl Flooring. Installation is a breeze, as it's a floating style making it easy to place in any room, above or below grade. Its waterproof feature suits bathrooms, ensuring seamless flooring throughout your house. The wear layer has an impressive 20 mils Urethane with ScratchResist®, which features Aluminum Oxide for extra defence against scratches. And you can install it on all subfloors – including ceramic or porcelain tiles with grout lines. Experience flooring like never before with Adura Max Vinyl Flooring!
A truly revolutionary evolution in luxury vinyl flooring. Combining SPC's unparalleled strength with a super-stable core, it stands up to extreme temperatures and dents while providing superior soundproofing and insulation. The built-in underlayment has an STC rating of 63 and an IIC rating of 72, so you get comfort and resilience. The 12mil Urethane wear layer with exclusive ScratchResist® protects against scratching from everyday wear and tear. Installation is a breeze as you can float without removing existing tiles or feather-patching grout lines! Go beyond what you thought possible for your home or commercial space with Adura Rigid – the top choice for lasting luxury.
Mannington Adura Flex – Glue Down Luxury Vinyl Flooring
Mannington Adura Flex is a luxury vinyl flooring solution with glue-down installation. It's an affordable option created for commercial applications and does not include a built-in underlay for soundproofing. Flex is easily repaired, yet proper subfloor preparation must be done for a successful installation. Microban® technology offers extra protection, so floors remain 99% cleaner than untreated surfaces. Available in planks (6″x48″ or 7″x48″) and tiles (18″x18″ squares and 12″x24″ rectangles), this collection will suit any layout.
Key Benefits of Adura Vinyl:
Waterproof
Stunning Style
Incredible detail
Stain-resistant
Scratch-resistant
High performance
Superior durability
Comfort underfoot
Mannington Adura makes something for everyone!
Adura flooring has several varieties, including vinyl planks and luxury vinyl tiles. Customers can choose the product that best fits their needs with each option's benefits. The installation process is relatively simple compared to other flooring solutions, making it an ideal choice for DIYers or those on a tight budget. Additionally, Adura products are designed to be durable and resistant to scratches and stains, making them a great long-term investment.
In terms of reviews, both professional installers and homeowners have expressed their satisfaction with the results produced by Mannington Adura flooring. Customers note that it looks great and stays good despite regular wear and tear from pets or children's activities. Additionally, most report having no issues during installation or subsequent maintenance tasks such as cleaning or repair work.
The range of designs available means there's sure to be something suitable for any room in your home regardless of style preference or décor scheme. From solid colours to elaborate patterns inspired by natural elements like stone or wood, this fantastic collection has something to suit all tastes! Wherever you decide to use these high-quality floors, they will add value to your living space while providing reliable performance over time.
With Mannington Adura's impressive selection of options for design and colour choices, finding the perfect fit for your home couldn't be easier.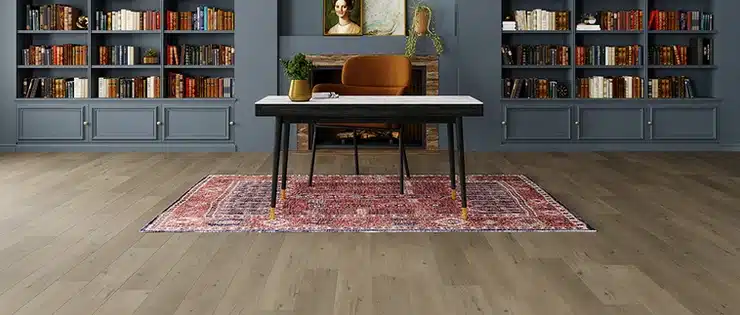 Design And Colour Options
Mannington flooring offers an expansive array of design options, colour choices, style selections and pattern possibilities for residential and commercial settings. The possibilities are virtually limitless with various finish options and with Mannington's innovative technology that enables fast installation times and easy maintenance.
Whether you want to create a classic look in your home or office space, or something more modern and stylish, Mannington has the perfect product to meet any aesthetic needs. From durable Luxury Vinyl Tile (LVT) to hardwood floors made from real oak or maple species, there is sure to be a product that fits both your interior décor vision and practical daily use requirements.
Suppose long-term durability is desired in high-traffic areas such as offices, hospitals or other public places. In that case, Mannington provides resilient products that withstand heavy usage while retaining their beauty over time. Special features like Stain Resist provide superior protection against everyday spills and messes making it easier for busy households to maintain cleanliness. And if you're looking for eco-friendly solutions, Mannington also manufactures Green Select Flooring which meets rigorous environmental standards without sacrificing quality.
No matter what type of flooring you choose from Mannington's extensive selection of attractive designs and finishes—from traditional looks such as plank styles or elegant tile patterns; to natural hues or bold colours—you can count on having a beautiful living area that will last for years to come. The next important topic is durability and maintenance requirements when selecting Mannington flooring.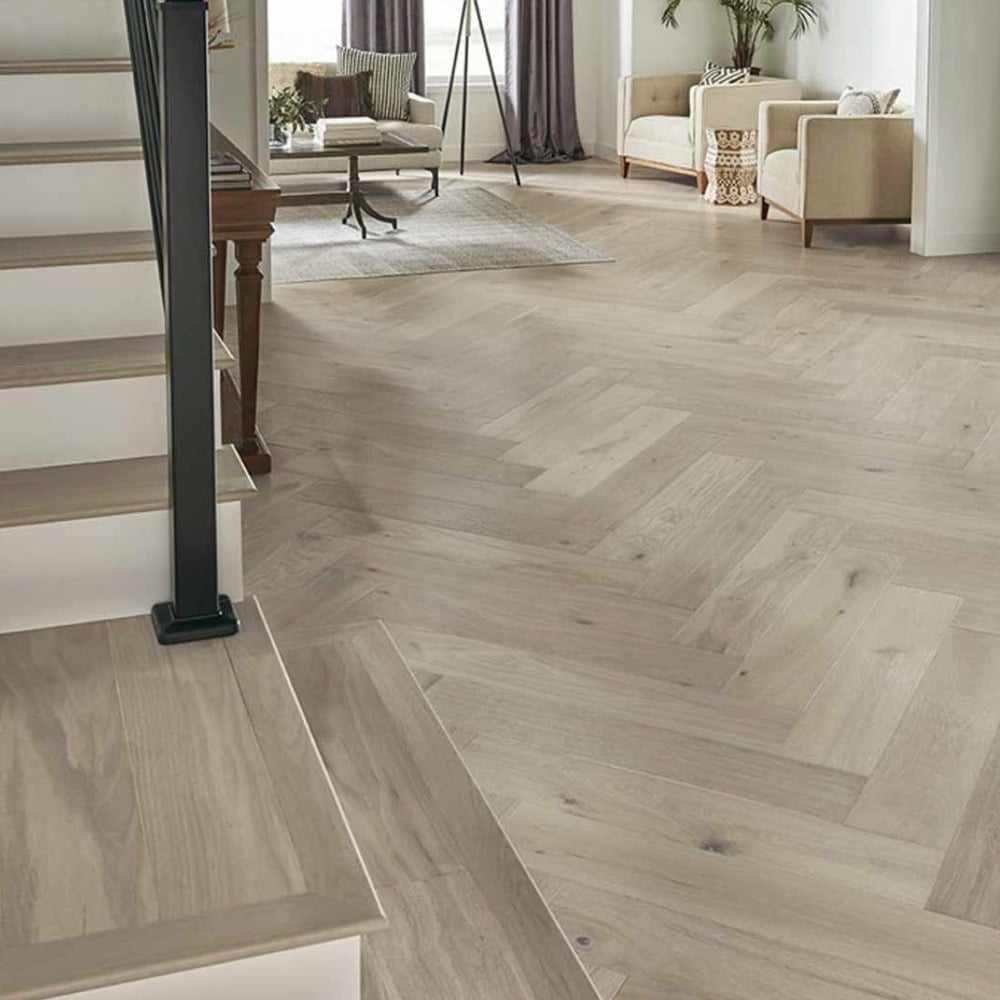 Durability And Maintenance Requirements
Mannington flooring is renowned for its durability and longevity. This makes it a popular choice among homeowners, as they can rest assured that their investment will last for years.
When considering the purchase of Mannington flooring, one should also consider the maintenance requirements associated with this type of product. The following table outlines some general guidelines for maintaining Mannington flooring:
| Maintenance needed | Laminate product line | Adura Product Line | Hardwood Products |
| --- | --- | --- | --- |
| Sweeping/Vacuuming | Weekly | Weekly | Weekly |
| Mopping | Never | Monthly | Never |
| Replacement | 30+ Years | 25 – 40 Years | 35 – 50 Years |
Sweeping and vacuuming are necessary weekly to keep dirt and debris from falling into the floor's surface. Mopping monthly ensures that any spills or stains are addressed quickly before they have time to set in and become difficult to remove.  Replacement depends on many factors including traffic levels, the care taken when cleaning, etc.. Still, Mannginton's Adura Max line generally offers superior longevity with an expected lifespan of thirty-plus years. It outperforms similar products by lasting up to three times longer than traditional hardwood or vinyl plank options.
Regarding maintenance requirements, Manngintonflooring has much less demanding needs than other types of floor covering materials such as carpet or linoleum tiles which require regular deep cleanings and often need replacing after only five to ten years of use. Its unbeatable durability and easy upkeep make it a great option if you're looking for long-term value without sacrificing style or quality.
Pros And Cons Of Mannington Adura Flooring
Over the years, Mannington Adura flooring has steadily increased in popularity, with more than 600 million square feet installed worldwide. This is due to its many benefits and advantages, making it one of the most sought-after types of flooring on the market. Let's take a look at some of the pros and cons associated with Mannington flooring.
One major pro for Mannington flooring is its durability. It is engineered from high-grade materials like fibreglass or PVC, which makes it highly resistant to wear and tear in comparison to other types of similar flooring. Additionally, its waterproof properties mean that spills can be easily wiped up without staining or discolouring them.
Another pro for Mannington flooring is that it requires little maintenance compared to other floors, such as hardwood or laminate. It doesn't need regular polishing or refinishing; simply occasional vacuuming and mopping will suffice. In addition, Mannington floors are available in various colours and styles, so they can be tailored to fit almost any decor style you have in mind.
On the downside, one con associated with Mannington flooring is cost – while it may initially seem expensive compared to other options like linoleum or cork, Mannington floors are an investment that should last for many years if properly maintained. Furthermore, installation can be labour-intensive since each piece must first be cut before being laid down correctly on top of existing subfloor material.
Overall, despite potential drawbacks related to cost and installation time, Mannington flooring offers numerous advantages, including excellent durability, low maintenance requirements and aesthetic appeal that make it an attractive option for those looking for long-lasting results. With proper care and attention given to your new purchase, you'll enjoy beautiful results for years!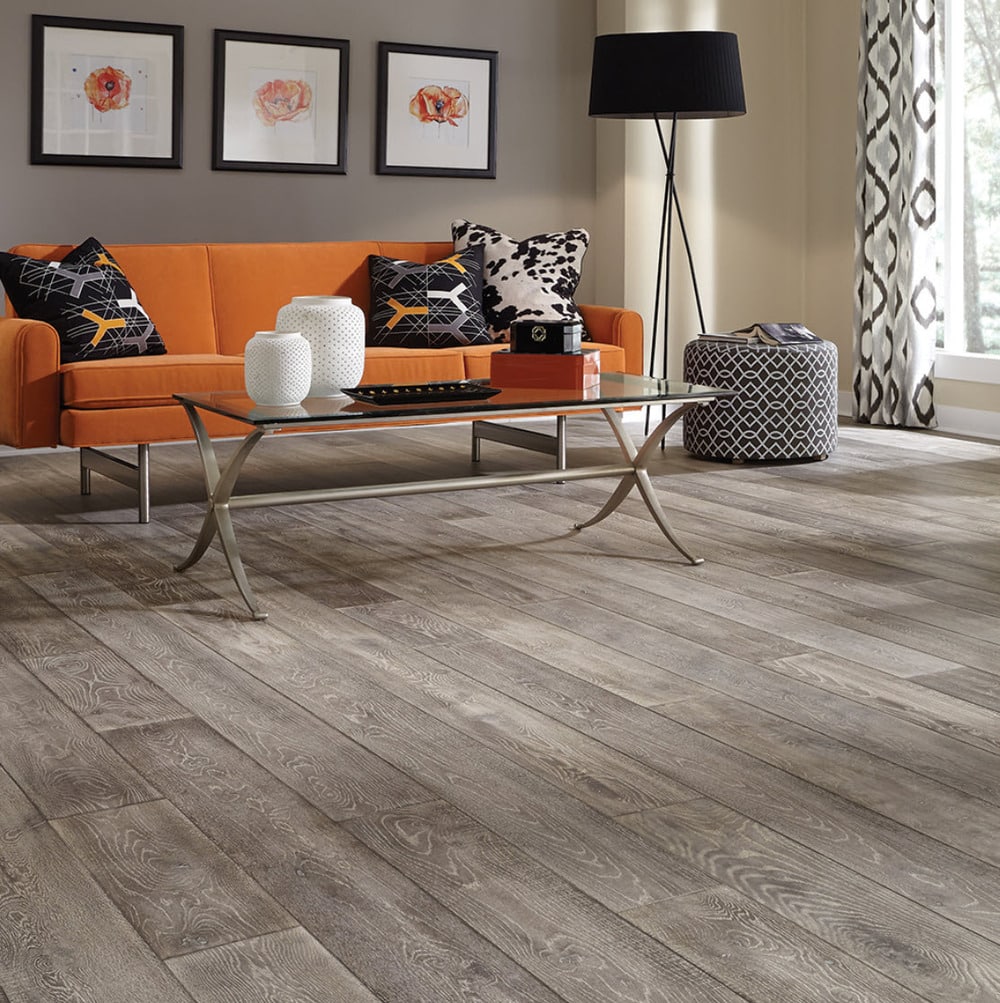 Recommended Uses For Mannington Flooring
Having discussed the pros and cons of Mannington flooring, it is time to explore recommended uses for this versatile material. From kitchen flooring to bathroom flooring, there are countless applications where Mannington can be used confidently. Here we will discuss some commonly-used types of Mannington flooring in both residential and commercial settings:
Kitchen Flooring: Because of their durability and easy maintenance requirements, Mannington floors are ideal for kitchens. They come in various colours and styles, allowing you to create the perfect look for your home's cooking space. Plus, its hard surface makes cleaning up spills easier than ever before!
Bathroom Flooring: Many homeowners choose Mannington as their bathroom floor covering option due to its water-resistance properties. Its non-porous nature means that bacteria won't grow on the surface, making it an especially safe choice for kids or elderly family members who may not have full mobility or balance when using the restroom.
Commercial Flooring: The combination of high-quality craftsmanship and long-lasting performance make Mannington a great choice for businesses looking to upgrade their office or retail spaces. It stands up well against heavy foot traffic while still providing comfort underfoot – two key features any business needs to remain successful!
Wetroom Flooring: If you want to convert an existing room into a wetroom (like a steam shower), consider installing Mannington tiles. Not only are they waterproof and slip resistant but their unique patterns allow them to accommodate intricate designs while remaining incredibly durable over time!
Entryway Flooring: Whether inside or outside your home, entryways tend to take quite a beating from mud and dirt being tracked constantly throughout the year – so resilient flooring like Mannington is essential here! Its scratch-proof surface ensures you always have a clean, inviting entrance whenever someone comes through the door!
Overall, Mannington floors provide style without compromising functionality; no matter what type of project you're undertaking – residential or commercial – this brand has something for everyone's needs! Furthermore, these products come with warranties ranging from 10 years commercial up to 50 years residential, depending on product selection – ensuring that whatever application you use them for will be covered should anything go wrong.
With such reliability, aesthetic appeal and affordability, choosing Mannington flooring could be one of your wisest investments yet!
Warranties And Guarantees
Mannington flooring offers a variety of warranties and guarantees to ensure that customers are satisfied with their product. Mannington warrants its products against manufacturing defects in materials, workmanship, or performance for the applicable period as set forth by the manufacturer's warranty guidelines. Additionally, all Mannington floors have an unconditional lifetime residential structural guarantee when installed correctly according to instructions. This ensures that customers have peace of mind knowing they will enjoy their flooring purchase for many years.
All Mannington flooring warranties provide coverage against staining, fading, wear-through due to normal household foot traffic, edge ravel/separation, delamination, joint separation, matting/crushing (including indentations caused by furniture), surface coating failure from abrasion or chemicals used following care & maintenance procedures and more. Furthermore, registered products under the company's WearDefense System may receive additional warranted protection depending on the specific product selected. This includes extra layers of resiliency, resulting in superior stain resistance and durability compared to other non-registered products outside the system.
Customers should always read through each product's details regarding any associated warranties before making a purchase decision. If there is any issue related to these guarantees or warranties, contact one of the company's knowledgeable customer service agents, who can help answer questions and offer solutions if necessary. As such, consumers need to know what type of warranty comes with their chosen Mannington flooring to know exactly what kind of protection they are getting before buying.
In terms of environmental impact & sustainability considerations related to Mannington flooring purchases and installation processes alike, this must also be taken into account for customers to get the most out of their investment over time.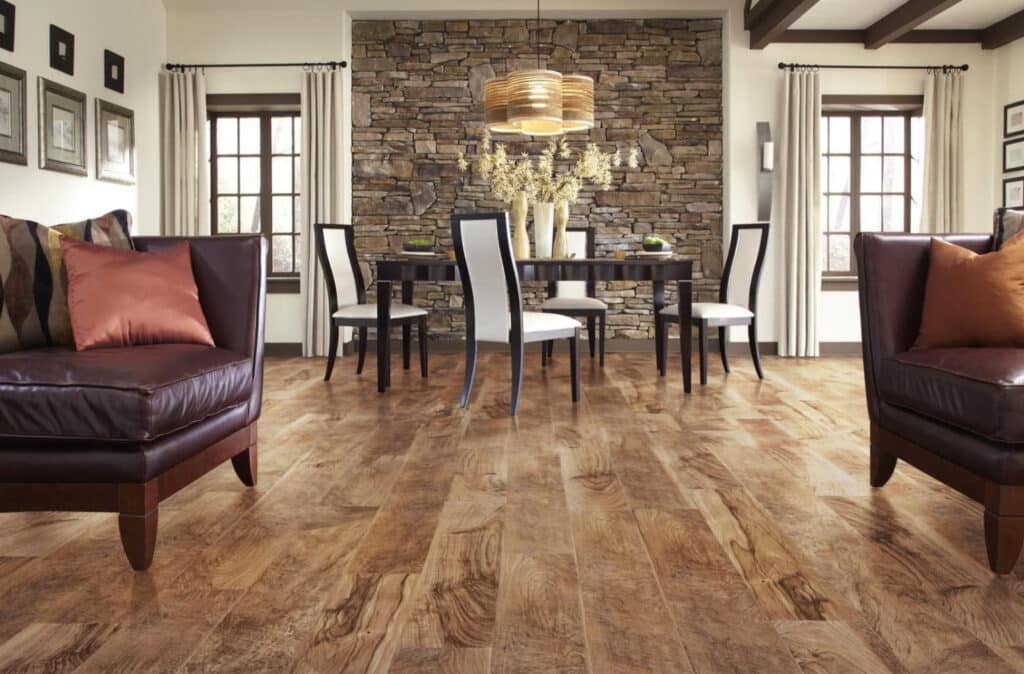 Environmental Impact & Sustainability
As the world continues to move towards sustainability and eco-friendly practices, Mannington Flooring is committed to producing products with a low environmental impact. By leveraging advanced technologies, they strive to reduce emissions while fostering energy efficiency and protecting natural resources. Their commitment extends beyond their manufacturing process, resulting in flooring solutions that are both stylish and sustainable.
Mannington's floors exceed industry standards for air quality performance and have been certified by the Carpet & Rug Institute (CRI). The CRI Green Label Plus program recognizes carpets and adhesives that meet stringent indoor air quality requirements, which help protect people from exposure to potentially harmful chemicals found in some building materials. Furthermore, their laminate collections also earn certification from the Forest Stewardship Council® (FSC), assuring that these products come from responsibly managed forests.
The company uses recycled content, such as post-consumer paper fibres while producing flooring materials. This reduces waste and helps keep costs down so consumers can purchase more affordable options without compromising style or quality. In addition, Mannington has adopted an Environmental Management System (EMS) at all its facilities worldwide, ensuring consistent compliance with international regulations regarding product safety and environmental performance throughout the supply chain.
Mannington Flooring is dedicated to creating beautiful, innovative products that still respect our planet's precious natural resources. From certifying FSC woods to utilizing recycled content, they demonstrate leadership in green innovation daily – setting an example for other companies looking to do better for our environment. As we look toward future certification standards, it will be interesting to see how Mannington will continue striving for excellence in this regard.
Eco-Friendly and Sustainable Practices in Mannington Flooring Production
Mannington's commitment to sustainability and eco-friendly practices is of utmost importance. In this section, we will explore how Mannington flooring contributes to the environment in a responsible manner. We will discuss the use of recycled materials, sustainable manufacturing processes, and the company's initiatives to reduce its carbon footprint. This information will be valuable for environmentally conscious consumers who want to make informed purchasing decisions.
Mannington flooring is designed with the environment in mind. By utilizing recycled materials, the company minimizes waste and promotes a circular economy. Additionally, their sustainable manufacturing processes ensure that resources are used efficiently, reducing the overall environmental impact. This dedication to eco-friendly practices sets Mannington apart as a responsible choice for consumers.
In addition to using recycled materials and sustainable manufacturing processes, Mannington is actively working to reduce its carbon footprint. Through initiatives such as energy-efficient production methods and renewable energy sources, the company is making significant strides towards minimizing its environmental impact. By choosing Mannington flooring, consumers can support these efforts and contribute to a greener future.
Environmental responsibility is a key focus for Mannington, and their commitment to sustainability extends beyond their products. The company actively participates in initiatives to protect natural resources and promote conservation. By partnering with organizations dedicated to environmental preservation, Mannington demonstrates their dedication to making a positive impact on the planet.
Mannington's dedication to sustainability is not only beneficial for the environment but also for consumers. By choosing eco-friendly flooring options, individuals can create healthier living spaces for themselves and their families. Mannington's flooring products are designed to meet strict environmental standards, ensuring that they are safe and sustainable for use in residential and commercial settings. Learn more about eco-friendly practices in the industry at the U.S. Green Building Council at usgbc.org.
Certification Standards
Mannington flooring is known for its superior quality and high standards. The company has set the bar industry-wide by incorporating rigorous certification standards into its products, ensuring customers receive the best available product.
Most of Mannginton's floors are certified with environmental certifications such as Greenguard Gold, FloorScore and EPD (Environmental Product Declaration). These certifications guarantee that the finished product meets stringent emission requirements while protecting against indoor air pollution. Additionally, they ensure that the materials used in construction adhere to sustainable forestry practices.
Mannington also holds several safety certifications from organizations like UL Environment and NSF International to meet industry standards further. These third-party groups certify products based on various criteria, including durability, slip resistance, flammability ratings, stain resistance and more – helping you make an informed decision about your flooring purchase.
This commitment to quality assurance is why Mannington stands out among other flooring companies. From performance testing to chemical emissions analysis and life cycle assessments, their dedication to providing exceptional products ensures peace of mind when selecting new floors for any home or business project. With these strict protocols in place, it's easy to see why customers have come to trust Mannginton's name over the years. This same attention to detail drives them forward daily as they continue pushing boundaries within the flooring space, setting a higher standard for innovation than ever before.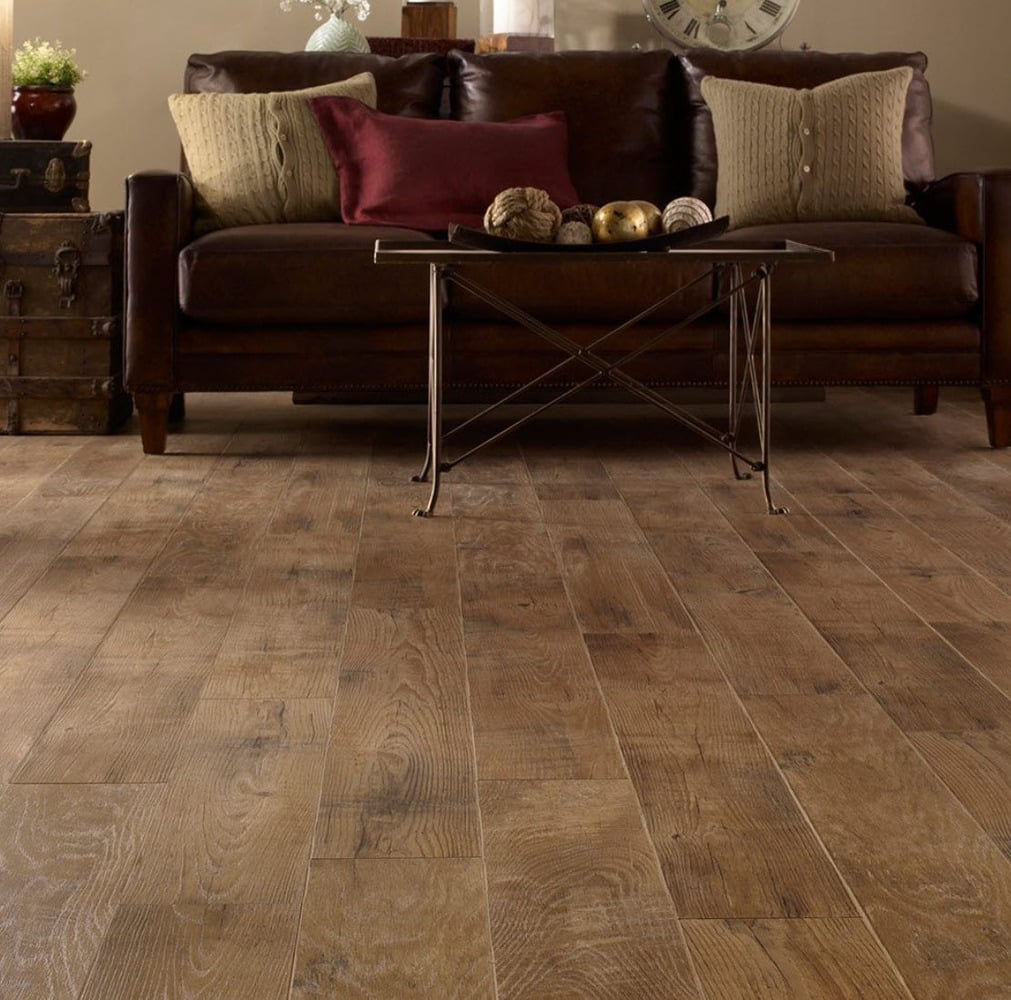 Why Mannington
Mannington Flooring is a leading innovator in the industry, offering various styles and options to suit any home or business. With its commitment to quality materials and construction techniques, Mannington products are designed to last for years while providing exceptional style and comfort. The company's commitment to delivering superior craftsmanship can be seen in every aspect of its product line. From engineered hardwood floors that provide extra stability and durability to carpeting with advanced Stainmaster technology, Mannington provides consumers with high-quality solutions that stand up to everyday wear and tear.
In addition to superior material selection, Mannington offers features such as scratch-resistant surfaces and stain resistance on select flooring lines. This makes them ideal for busy households where spills are common but easy clean-up is essential. Furthermore, many floors feature an antimicrobial protection barrier which helps keep germs at bay. And thanks to advances in manufacturing practices, most Mannington products come backed by lifetime warranties so homeowners can feel confident they're investing in something that will remain beautiful for years.
Mannington offers even more benefits beyond just quality materials and long-lasting performance—it also focuses on creating unique designs that add character and interest to any space. From traditional looks like oak planks or classic stone tiles through contemporary abstracts or bold geometric patterns; there's something for everyone when it comes to choosing from Mannington's diverse collections. Each collection has been carefully curated by experienced design professionals who understand how colour palettes work together to create cohesive spaces throughout a home or office building.
Overall, customers have nothing but positive things to say about their experience buying Mannington products: based on unbiased reviews from independent sources like Consumer Reports, shoppers consistently report satisfaction with everything from purchasing process to installation services provided by the company. So whether you're looking for aesthetic appeal or practicality –or both– look no further than Mannington Flooring! Transitioning into the next section on reviews and ratings…
Reviews And Ratings
The reviews and ratings of Mannington flooring are a testament to its quality, durability, and style. With the most advanced technology in the industry, Mannington has gained an outstanding reputation for providing superior floors that will withstand years of wear and tear without fading or warping. From Adura vinyl plank flooring to luxury laminate options, each product is designed with performance-grade materials and tested against real-world conditions. Customers can rest assured knowing they have made an investment that will last.
Mannington's commitment to excellence is reflected in its flooring materials ratings – consistently high marks across all categories. Their innovative designs offer exceptional value compared to other brands today. For those looking for something unique, even customizable selections allow customers to create a unique look tailored just for them.
Flooring reviews from independent organizations such as Consumer Reports also give insight into how well Mannington meets customer expectations in terms of both quality and price point. Unsurprisingly, Adura by Mannington receives top marks as one of the best luxury vinyl tiles (LVT) available today. It scores highly among homeowners, and professionals recognize its exceptional features such as water resistance, scratch protection, and easy maintenance at reasonable prices.
Unparalleled beauty combined with unmatched craftsmanship makes Mannington's selection of hardwood, laminate, tile & stone, and LVT products a wise choice for any home remodelling project, sure to bring lasting satisfaction through many years ahead. As we move forward towards creating more sustainable living spaces with cutting-edge designs fit for any lifestyle – so too do we find ourselves drawn back time after time to this trusted name in the floor covering solutions; unparalleled proof that good things come in threes: Quality + Innovation + Value = Mannington Flooring Reviews & Ratings. A seamless transition into finding answers to frequently asked questions awaits us next.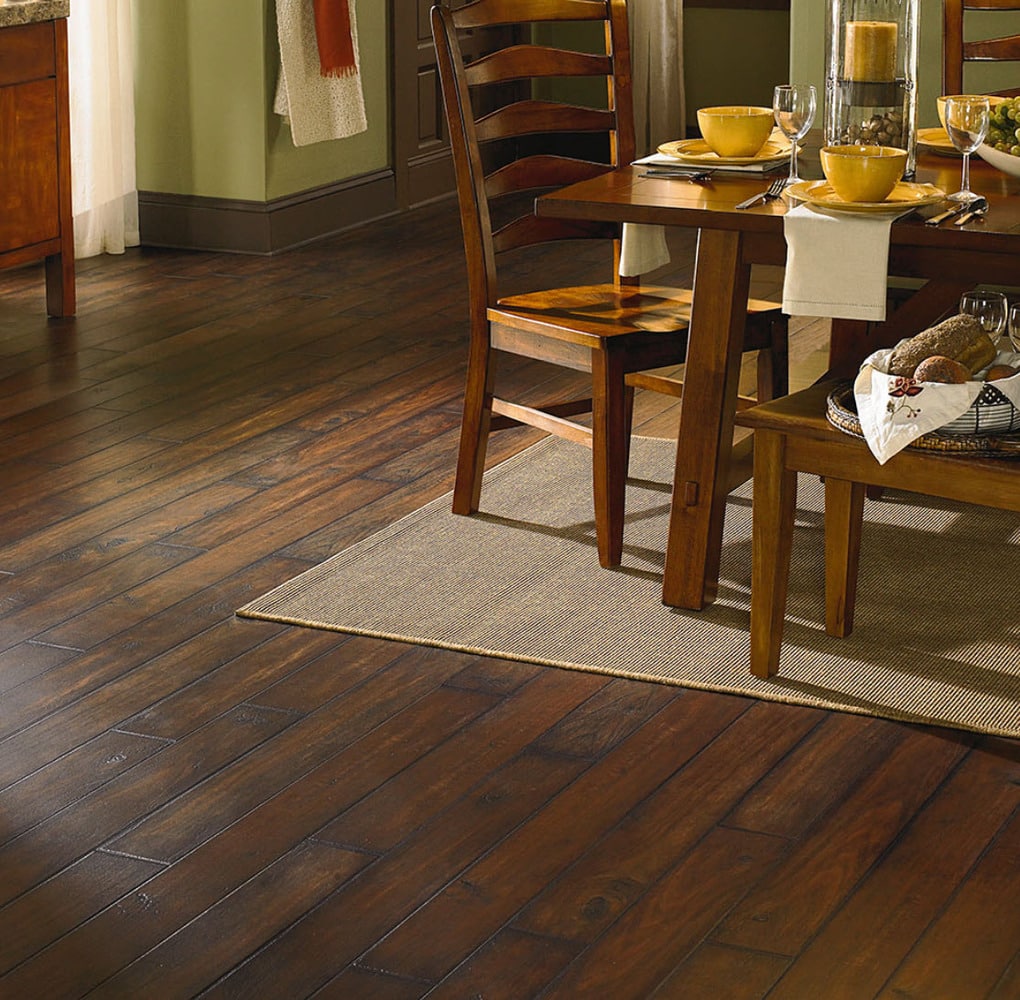 Installation and Maintenance Tips for Mannington Floors
Practical information on the installation and maintenance of Mannington floors will be covered here. This section will provide helpful tips and tricks to ensure the long-lasting beauty of these floors. From the best practices for installation to easy maintenance tips, our goal is to assist homeowners in keeping their Mannington floors in excellent condition.
To begin with, it is crucial to follow the proper installation procedures for Mannington floors. This includes preparing the subfloor, ensuring it is clean and level, and using the recommended adhesive or underlayment. By following these guidelines, you can ensure a smooth and durable installation that will stand the test of time.
Once your Mannington floors are installed, regular maintenance is essential to preserve their beauty. Simple tasks such as sweeping or vacuuming regularly can help prevent dirt and debris from scratching the surface. Additionally, using a damp mop with a mild cleaning solution specifically designed for vinyl or laminate floors can effectively remove any stains or spills.
In order to maintain the longevity of your Mannington floors, it is important to avoid certain practices that could potentially damage them. For instance, dragging heavy furniture across the floor can cause scratches or dents. It is recommended to use furniture pads or lift the furniture instead. Similarly, excessive exposure to direct sunlight can cause fading or discoloration, so it is advisable to use window coverings or blinds to protect the floors.
In the event of any spills or accidents, it is crucial to clean them up promptly to prevent any potential damage. Wiping up spills immediately with a soft cloth or paper towel can help prevent staining or warping of the floors. It is important to avoid using harsh chemicals or abrasive cleaners, as they can damage the surface of the floors.
Regularly inspecting your Mannington floors for any signs of wear or damage is also important. This includes checking for loose or damaged tiles, as well as any areas where the flooring may have become discolored or worn. By addressing these issues promptly, you can prevent further damage and extend the lifespan of your floors. For more insights on floor maintenance, visit the Floor Covering Installation Contractors Association at fcica.com.
Easy Installation – a solution for every application
First and foremost is the question of flooring installation. Mannington Flooring products are designed to be easy to install for any homeowner or professional installer. We additionally offer installation instructions on our website and video tutorials on YouTube for those who prefer visual instructions. For more complex installations such as curved surfaces, it may be best to consult a professional contractor with experience in installing Mannington Floors.
Cost plays an important role when considering new flooring options. Mannington has many attractive options that fit almost every budget without sacrificing quality or design aesthetics. You should remember that wood floors increase home resale value over time so they can be seen as an investment rather than just a cost expense.
Floor maintenance is another frequent query from customers looking to purchase new flooring solutions. Mannington offers a wide range of hardwood and laminate floor care systems specifically designed to clean, protect and preserve their floors while keeping them looking new for years to come. Following these simple steps will ensure longevity and satisfaction with your purchase long after it's installed in your home or office space.
Overall, choosing the right type of flooring depends on personal preferences, intended use and budgetary constraints; however, all homeowners should feel confident that there are plenty of great options available from Mannington Flooring, no matter their needs! With this information, one can make an informed choice regarding their final selection.
Final Thoughts
Mannington flooring offers a range of products and styles that suit any customer's needs. Their commitment to innovation and robust warranties and expert installation services make them an ideal choice for those looking for quality flooring solutions.
When making a purchase decision regarding Mannington flooring, there are several key points to remember. The first is the type of product being purchased: vinyl planks or tiles offer great durability and ease of maintenance. At the same time, hardwood floors provide timeless natural beauty and can increase the value of a home. Additionally, customers should consider the cost associated with each option and their long-term goals for future renovations. Lastly, it is important to know Mannington's commitment to providing warranty protection against wear and tear from normal use over time.
In summary, Mannington Flooring provides consumers high-quality options backed by extensive warranties and expert installation services. Customers should consider all factors when deciding which flooring suits them best: product types available, costs involved, longevity desired, and warranty coverage offered. Considering these elements before purchasing this brand's flooring solution, they can rest assured that they will enjoy many years of satisfaction from their newly installed floors.
As such, it is easy to see why Mannington remains one of America's top choices for quality residential flooring solutions. With its wide selection of products, strong warranties, and helpful customer service representatives, it is no wonder many people turn to this trusted brand for all their flooring needs. Taking away lessons about what matters most when evaluating different brands—product offerings/specifications/costs—can help customers make informed decisions based upon individual lifestyle requirements or preferences when selecting new floors for their homes or businesses.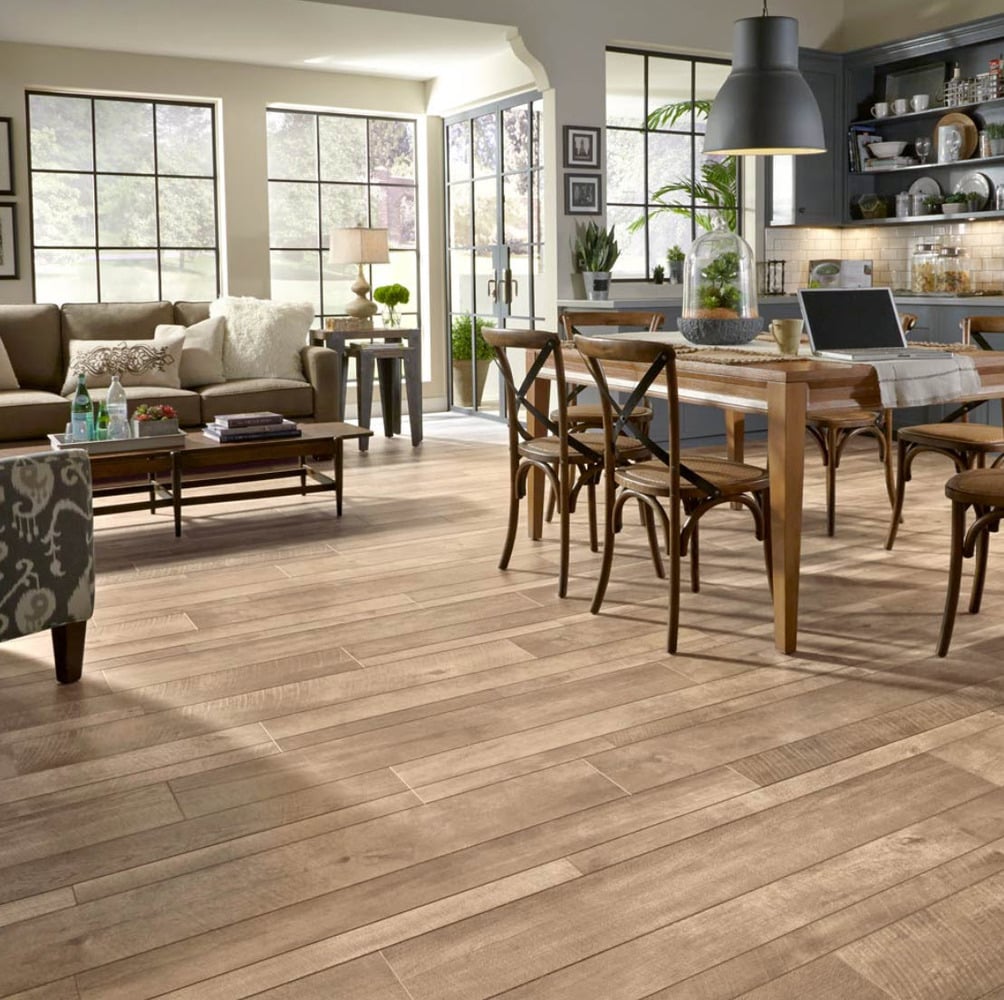 Frequently Asked Questions
How Much Does Mannington Flooring Cost?
The flooring cost is critical for any homeowner to consider before deciding. Mannington flooring is an excellent option, but understanding its costs can be difficult. This article will explore the factors that affect the estimated cost of Mannington flooring and provide helpful tips on estimating your total expenditure.
When estimating the cost of Mannington flooring, one must first consider what type they want to install. There are many types available including engineered hardwoods, laminate floors, luxury vinyl tile (LVT), and carpet tiles. Each material has its unique advantages and drawbacks in terms of durability and ease of installation which should be considered when deciding between them. Additionally, due to their complexity, certain materials may have higher installation or labour costs. The material cost is anywhere between $4.00 to $18 SF.
In addition to material choice, other considerations include room size and shape and specific areas of the subfloor needing repair work or special attention during installation such as stairs. For more accurate estimates of Mannington flooring price, tools such as a Mannington flooring cost calculator can be used to help calculate approximate costs based on these variables. These calculators consider factors such as square footage, subfloor preparation, and local labour rates so that homeowners can better understand how much they might expect to spend on their Mannington Floor project.
Professional installation services should be between $3.00 to $5.00 SF and offered by some retailers at additional expense. However, self-installation is becoming increasingly popular among DIYers who enjoy undertaking projects while saving money. Whichever route you choose to go down, understanding the different elements that comprise a Mannington flooring cost estimation will ensure that you make an informed purchase decision without breaking the bank in the process!
Is Mannington Flooring Suitable For High Traffic Areas?
When considering flooring for high-traffic areas, suitability is a key factor. It must be able to withstand daily wear and tear, as well as retain its aesthetic appeal over the long term. Mannington Flooring has several products that meet these criteria:
Vinyl Plank – This water-resistant material comes in various styles with realistic textures and colours, which are easy to maintain.
Laminate Flooring – This cost-effective option provides scratch resistance and durability without sacrificing style or design options.
Hardwood Floors – Hardwoods offer natural beauty and superior strength and longevity when properly maintained.
Mannington Flooring offers numerous advantages that make it suitable for high-traffic applications such as public spaces, commercial buildings, retail stores, and industrial facilities. Each product line is designed to provide lasting value through increased durability compared to other flooring materials while retaining its original look even after extended use. The manufacturing process used by Mannington also ensures consistent quality control throughout each project's life cycle from production to installation. In addition, Mannington's commitment to sustainable practices helps reduce environmental impact while providing customers with floors they can trust will last for years.
The range of Mannington flooring solutions allows users to select the best type of product for their specific needs depending on budget considerations and desired aesthetics; this includes both traditional hardwood varieties like oak and maple and more modern alternatives such as luxury vinyl tile (LVT). Whether you're looking for a classic wood grain finish or a unique patterned design—there is something available for every taste within Mannington's extensive flooring options.
For those seeking an ideal balance between performance, price point, and visual appeal—Mannington Flooring may be a perfect choice! Advanced technologies have resulted in improved engineering processes that produce higher quality results while still being affordable enough so anyone can enjoy them regardless of budget constraints or lifestyle requirements. All types are backed with manufacturer warranties giving peace of mind knowing your investment is protected against future damage due to normal wear and tear over time.
How Long Does Mannington Flooring Last?
The longevity of flooring material is an important factor to consider when selecting the right product for any space. Mannington flooring has become known as one of the most durable and long-lasting options on the market, but how long does it last?  Typically between 30 to 50 years, you can expect from your Mannington floor.
Mannington flooring is renowned for its high-quality construction and materials that can withstand significant foot traffic and wear over time. Its unique combination of vinyl, wood, stone or ceramic tiles makes it beautiful and resilient in many environments. In addition, a regular cleaning with approved products helps keep dirt and dust from accumulating between planks or tiles which can also extend their life expectancy.
When considering Mannington's durability, it is important to consider how much foot traffic a particular area receives and other environmental factors like sun exposure that may cause fading or discoloration. For instance, while some areas, such as kitchens, may receive more daily wear than others like bedrooms, all parts should be given equal attention in maintenance. Additionally, using protective mats around furniture legs may help protect against scuffs or scratches that could otherwise damage the finish over time.
Finally, proper installation methods are essential when installing Mannington flooring so that seams remain tight against moisture seepage which can lead to warping or buckling if not done correctly. If properly maintained and installed according to manufacturer specifications, Mannington floors typically have a lifecycle ranging from five years up to 25 years depending on use patterns and care taken during installation and maintenance phases. By following these tips for extending your Mannington floor's lifespan you can ensure your investment lasts years!
Is Mannington Flooring Easy To Install?
When considering a flooring installation for your home, one of the most important questions is "is it easy to install?" This question applies especially to Mannington Flooring. Installation cost and effort can be major factors when deciding what type of flooring to choose.
Mannington Flooring has several advantages in terms of ease of installation:
It has an interlocking design that simplifies installation and reduces time spent on labour costs
Audra's pre-attached pad eliminates the need for additional padding or adhesives during installation (Rigid and Max only)
The lightweight material makes it easier to move around than other types of flooring
Its flexible nature allows it to fit into odd corners and nooks with ease
It comes with detailed instructions and a helpful online support team who can assist.
A qualified professional should always be hired for any large-scale Mannington Flooring project. However, smaller projects may be possible as a DIY job. That being said, some considerations must be taken before self-installation, such as accurate space measurements, cutting techniques, and proper handling and placement of panels during the process. A handy person might find this task manageable; however, mistakes could result in extra expense due to wasted materials or even damage from incorrect methods used during installation.
Mannington offers detailed instruction manuals and instructional videos on their website for those seeking more help. These resources provide step-by-step guidance through every phase including preparation, laying out planks/tiles, installing trim pieces, grouting joints between panels and finally sealing them off against moisture. Professional consultation services are also available at reasonable rates which can prove invaluable when dealing with complicated installations in tight spaces or converting existing floors to Mannington products.
In addition, many local hardware stores offer advice regarding all aspects related to Mannington Flooring's selection and installation processes – ensuring you get exactly what you're looking for without unnecessary stress or hassle associated with do-it-yourself projects. With so many options available today combined with modern technologies like mobile apps and video tutorials, anyone can become an expert installer quickly – leaving you free to enjoy your new floor for years come!
Does Mannington Adura Flooring Require Special Cleaning Products?
Sweep your floor regularly (at least once per week).

Prevent stains by wiping up spills promptly.

Occasional mopping is recommended when dirt builds up and sweeping alone is insufficient. Use a clear, non-sudsy ammonia-based cleaner solution in one gallon of warm water. Using more than the recommended cleaning solution may leave a dulling film. Do not use soap or detergent products as they will leave a dulling film. Rinsing is not required, but if time permits, rinsing will provide the best care.

ADURA®Max floors are low-gloss; only use polish or "mop and shine" products to make the floor shiny.
Achieve optimal floor care by following simple steps: Sweep your floor at least once per week and wipe up spills promptly to prevent stains. Mop as needed with a solution of non-sudsy ammonia-based cleaner in warm water, avoiding more than the recommended amount and never using soap or detergent products. ADURA®Max floors should not be polished or waxed; instead, use only mop and shine products if you want a shiny finish. To further protect your flooring from dirt, sand, and other substances, place doormats outside each entrance to disperse those particles and use non-staining floor protectors for furniture. Lastly, quickly remove any liquid spills to ensure your Mannington ADURA® Floor remains unscathed.
Key Consideration Choosing Mannigton Flooring Four your Home In Metro Vancouver.
Reputation and Reliability: One of the first factors to consider is the reputation of the flooring business. A company that has established a strong presence in the market, especially one known for offering Mannington products, is likely to provide reliable service and quality products. Look for reviews and testimonials from previous customers to gauge the company's reputation. Pay attention to comments about product quality, customer service, and after-sales support.
Product Range and Options: Mannington flooring is known for its wide range of options, including luxury vinyl, laminate, and hardwood floors. A good business should offer a comprehensive range of Mannington products, catering to various aesthetic preferences and functional needs. Check if the business provides the latest collections and styles, ensuring you have access to contemporary and trendy flooring options.
Knowledge and Expertise: The staff's expertise in flooring solutions is crucial. Professionals who are well-versed in Mannington's product line can offer valuable advice on the best options for your specific needs. They should be able to answer questions about the durability, maintenance, and suitability of different flooring types for various areas of your home or office.
Installation and Aftercare Services: The quality of installation is as important as the quality of the flooring itself. Ensure that the business provides professional installation services with experienced technicians. Proper installation is key to the longevity and appearance of your flooring. Additionally, aftercare services, including maintenance and repair, should be part of the package, ensuring that your investment is well-protected.
Pricing and Value for Money: While price should not be the sole deciding factor, it is an important consideration. Look for a business that offers competitive pricing without compromising on quality. Sometimes, a higher upfront cost can translate to better quality and longer-lasting flooring, which offers better value in the long run.
Sustainability and Eco-Friendliness: Given the growing concern for the environment, it's important to consider the sustainability of the flooring options. Mannington is known for its commitment to sustainability, so ensure the business you choose shares this commitment. This includes using eco-friendly materials and practices in both their products and operations.
Customization and Personalization Options: If you have specific design needs or preferences, check if the business offers customization options. This can include custom sizes, colors, or patterns that align with your interior design vision.
Location and Accessibility: The business's location is also a key factor, especially for logistical ease. A local business can offer quicker installation and more prompt aftercare services. Moreover, it's easier to visit their showroom to personally view and feel the flooring options.
Warranty and Guarantee Policies: Lastly, understand the warranty and guarantee policies of the flooring. A reputable business should offer robust warranties for their products and installation services. This not only provides peace of mind but also speaks to the confidence the business has in its offerings.
Choose Canadian Home Style for your Vancouver flooring projects.
Canadian Home Style is your family-owned and operated flooring retailer with a showroom in North Vancouver, BC. We provide full-service commercial and residential flooring solutions across the Lower Mainland with an extended warranty. We are proud members of the BC Floor Covering Association (BCFCA) and the National Wood Flooring Association (NWFA). In addition, we have won the Consumer's Choice Awards back-to-back in 2021, 2022, 2023, and 2024 for our commitment to business excellence. We are considered the highest-rated flooring experts in Metro Vancouver. We pride ourselves on holding the highest standards in the flooring industry. To uphold our high standards, we have a strict policy of "not selling or displaying any products that we wouldn't want in our own homes." Before we select a product to feature, we carefully assess product quality, off-gassing, warranties, and responsible sourcing. Book now to visit our North Vancouver flooring showroom; we can help you choose the perfect floor for your home or business.
Our mission is to help homeowners create beautiful homes that reflect their lifestyles while reducing energy consumption and conserving resources. We do this by providing our clients with innovative products, services and education. Our vision is to become Canada's leading sustainable flooring solutions provider. Our values include integrity, respect, honesty and transparency. These principles guide us as we strive to provide outstanding customer service.
We believe that our success depends on the success of our clients and their customers. We work hard to ensure our clients get the most out of their investments. Our team consists of highly skilled professionals who are experts in their field. They have years of experience working together and know what works and what doesn't. They understand how to solve problems quickly and efficiently. We are committed to providing excellent customer service. We listen carefully to our client's concerns and suggestions. We take these into account when planning and executing projects. We always strive to exceed expectations.
Why Choose Us?
Expertise in Hardwood Flooring: Canadian Home Style has established itself as a leader in hardwood flooring. Their selection of Mannington hardwood floors is notable for its beauty, durability, and variety. Whether you are looking for traditional oak, trendy maple, or exotic woods, their range is vast and versatile. This ensures that every taste and interior design theme can be matched with the perfect hardwood floor.
State-of-the-Art Lamination Options: For those who prefer laminate flooring, Canadian Home Style offers an impressive array of Mannington laminate flooring. These options are not only aesthetically pleasing but also boast high durability and easy maintenance. Their laminate floors mimic the look and feel of real wood or stone, providing an affordable yet luxurious alternative to traditional materials.
Financial Accessibility with Discover Financial: Understanding that flooring can be a significant investment, Canadian Home Style partners with financial institutions like Discover Financial to offer flexible financing options. This commitment to customer service ensures that high-quality flooring solutions are accessible to a wider range of customers, aligning budget with quality.
Historical Elegance of Mannington Hall: Drawing inspiration from the rich history and elegance of Mannington Hall, Canadian Home Style's collection features designs that reflect both classic and contemporary tastes. This connection to historical elegance ensures that each flooring option carries a timeless appeal, perfect for those looking to add a touch of sophistication to their spaces.
Commitment to Quality with Stuart Restoration: In collaboration with experts like Stuart Restoration, Canadian Home Style ensures that every installation and restoration project meets the highest standards of quality and craftsmanship. Their team's expertise guarantees that your flooring will not only look great but will also last for years to come.
Versatility with Slate and Aspen Options: The range of slate and aspen flooring options at Canadian Home Style offers unique textures and colors, catering to diverse preferences. Slate provides a natural, earthy feel to any room, while aspen floors bring a light, airy ambiance. These options allow customers to create a personalized look that reflects their style and enhances their living space.
Comprehensive Customer Support: Beyond just selling flooring, Canadian Home Style provides comprehensive support, from selection to installation and maintenance. Their knowledgeable staff assists customers in every step, ensuring a seamless and satisfying purchasing experience.
Eco-Friendly Choices: In line with modern environmental concerns, Canadian Home Style offers eco-friendly flooring options. Their commitment to sustainability means customers can choose floors that are not only beautiful and functional but also kind to the planet.
Innovative Design Solutions: Keeping up with the latest trends, Canadian Home Style frequently updates its collection, offering innovative design solutions that set them apart. This ensures that customers have access to the latest and most stylish flooring options.
Services We Offer:
Main Areas of Service in British Columbia:
Resources we Recommend: