Who says carpet is not healthy?
For years, carpet has carried the stigma (unfairly) of being unhealthy or adversely affecting air quality indoors. For years, mills have fought back to dispute that narrative. The subject of health and hygiene in homes gained traction during the COVID-19 pandemic when millions of people stayed or worked from home. Against this backdrop, soft surface suppliers saw the pandemic as an opportunity to tout carpet's benefits to overall human health as they continued to bring healthier products to market.
Here are some of the more recent introductions:
Anderson Tuftex
Anderson Tuftex's Pet Perfect+ products are dedicated to helping create a healthy home. Kaleidoscope and all other Pet Perfect+ styles are built with LifeGuard Spill-proof Technology that prevents moisture from soaking into the subfloor and causing mould, mildew and unwanted odours. All Anderson Tuftex carpets also support air quality in the home as every floor is third-party verified for emitting low volatile organic compounds (VOCs).
Karastan
Karastan SmartStrand carpets are renowned for cleanability and durability, particularly around pets, with Mohawk's All Pet Protection & Warranty guarantee that gives homeowners peace of mind that "if your pet stains it, we replace it." The Karastan line of wool styles is striking in appeal, and hypoallergenic wool does not promote the growth of bacteria, mould or mildew.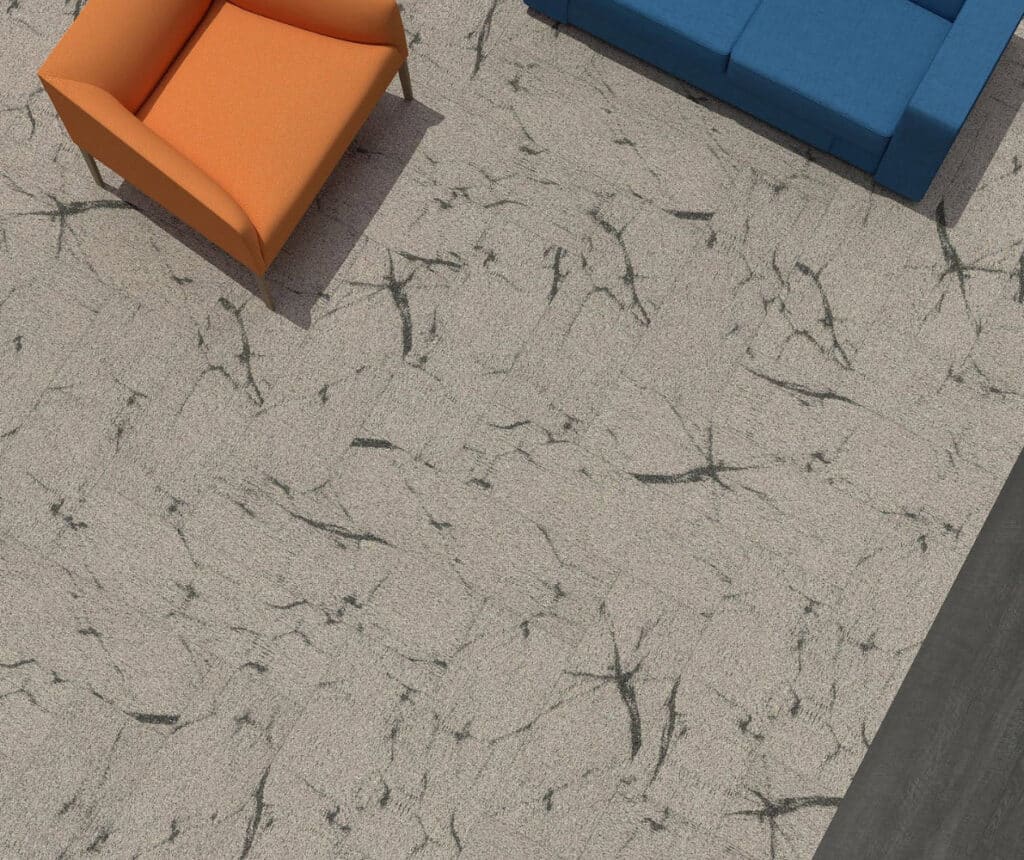 Godfrey Hirst
The Godfrey Hirst line includes wool styles that can provide multiple benefits. In addition to the softness and resilience of this renewable material, wool is also hypoallergenic and deters the growth of dust mites, a common irritant with allergy and asthma sufferers. The natural scaled structure of wool fibres has built-in repellency to help keep the wool stain-free.
Marquis
Marquis' extensive line of solution-dyed carpets is free of topical chemical coatings or additives. This allows the fibres to 'grab' dust and other particles floating through the air. If the carpet is adequately cleaned and maintained, air quality is better with the carpet than on hard surfaces. New introduction Dream On III exemplifies how a thick, plush carpet can look good and be hygienic.
Mohawk
Mohawk EverStrand is partly made from the highest quality, food-grade PET bottles that it reclaims, sanitizes and repurposes into carpet featuring inherent stain protection. Mohawk recycles 6 billion to 7 billion plastic bottles annually and keeps plastics out of the oceans, waterways and natural environments. This sustainable practice offers a story that resonates with home buyers and Millennials who want to make a difference.
Phenix
Providing warmth, texture and coziness, the Cardigan—part of the FloorEver PetPlus collection—captures the essence of Scandinavian design. The product is crafted with a richly textured all-loop pile and a subtle silver metallic accent that reflects light. Cardigan comes with Phenix's SureSoftSDN solution-dyed cationic nylon fibres and Microban surface protection and is suitable for active homes, especially those with kids and pets.
Stanton
Evolve is made from Econyl, a regenerated nylon six fabric from waste nylon products. According to Stanton, Evolve helps preserve the environment while adding a soft and sophisticated foundation. This innovation in fibre technology can be used in a wall-to-wall configuration or as a custom rug installation.
Nourison
Wool offers numerous advantages for rugs. A case in point is Nourison's new Colorado area rug collection, made of low-shed wool fibres, ideal for easy care and casual style throughout the home. Because it is made of wool, Colorado is natural and renewable and features inherent properties making it resistant to odours, mould, mildew and dust.
Tarkett Home
Tarkett Home recognizes the importance customers place on a healthy home environment. The company produces durable products using 100% dyed PET fibre solution. A case in point is Cloud 9, an SD polyester yarn with a natural resistance to staining and fading without compromising softness.
References:
By: Ken Ryan
Title: Latest carpet intros promote health, hygiene
Sourced From: www.fcnews.net/2023/03/latest-carpet-intros-promote-hygiene-healthier-products/
Published Date: 03-25-2023
Choose Canadian Home Style for your Vancouver flooring projects.
Canadian Home Style is your family-owned and operated flooring retailer with a showroom in North Vancouver, BC. We provide full-service commercial and residential flooring solutions across the Lower Mainland with an extended warranty. We are proud BC Floor Covering Association (BCFCA) and the National Wood Flooring Association (NWFA) members. In addition, we have won the Consumer's Choice Awards back-to-back in 2021, 2022, and 2023 for our commitment to business excellence. We are considered the highest-rated flooring experts in Metro Vancouver. We pride ourselves on holding the highest standards in the flooring industry. We have a strict policy of "not selling or displaying any products that we wouldn't want in our homes to uphold our high standards." Before we select a product to feature, we carefully assess product quality, off-gassing, warranties, and responsible sourcing. Book now to visit our North Vancouver flooring showroom; we can help you choose the perfect floor for your home or business.
Our mission is to help homeowners create beautiful homes that reflect their lifestyles while reducing energy consumption and conserving resources. We provide our clients with innovative products, services and education. Our vision is to become Canada's leading sustainable flooring solutions provider. Our values include integrity, respect, honesty and transparency. These principles guide us as we strive to provide outstanding customer service.
We believe that our success depends on the success of our clients and their customers. We work hard to ensure our clients get the most out of their investments. Our team consists of highly skilled professionals who are experts in their field. They have years of experience working together and know what works and what doesn't. They understand how to solve problems quickly and efficiently. We are committed to providing excellent customer service. We listen carefully to our client's concerns and suggestions. We take these into account when planning and executing projects. We always strive to exceed expectations.
Services We Offer:
Main Areas of Service in British Columbia:
Frequently Asked Questions
What is engineered hardwood flooring?
Engineered hardwood consists of a solid-wood veneer over an engineered central. Engineered core constructions can include layers of wood, lumber core, and composite materials. Engineered hardwood is more durable than solid wood and can support modern design needs. Engineered hardwood is versatile, and it can be installed in many different configurations. This comes with the advantage of suiting your needs and application. Engineered hardwood flooring comes with a variety of widths, colours, and styles. In Metro Vancouver, wide plank oak flooring is the most commonly used engineered hardwood floor.
What are the most sought-after types of hardwood floors?
The most popular types of hardwood floors are oak and maple. These two types of wood are timeless and classic, but can also be stained to create different looks. Other popular hardwoods include cherry, walnut, and birch. When selecting hardwood for your home consider how often you will use it and the style of the home.
Are waterproof cork floors possible?
No, cork is water naturally water-resistant and not waterproof. Waterproofing cork will make it less durable, more difficult to use as a flooring material, and would also alter its properties. If you are concerned about water damage to your cork floor, we recommend sealing it with a water-resistant sealant. This will help protect the floor from spills and other accidents and make it easier to clean up any messes.
Which type is best for Canada's flooring?
Wood flooring is considered the best option for flooring in Canada by most flooring professionals. Wood floors are classic, stylish, easy to maintain, and can last for decades with proper care. Wood floors can bring beauty and value to your home. Many different types and wood flooring styles are available to find the perfect match for your application.
You can choose from solid hardwood or engineered wood to find the right wood floor for you. Wood floors are an excellent choice for those with allergies. They don't trap dust and other allergens like carpets.
Statistics
External Links
How To
How to do a successful floor install in Vancouver
Installing floors should only be done by professionals.
You should take care of your flooring. It can be expensive to remove old flooring, especially if it is carpet or floating.
You might want to buy more material to cover waste. 10% waste is standard. It's best to reduce waste when there are stairs and hallways.
You should hire a licensed and insured flooring contractor, especially if your home is in a strata building.
Install the planks, so the longer sides follow your primary windows.
Before product delivery or installation, measure and record the conditions at the job site, including temperature, relative humidity, and subfloor moisture content. In humid areas like full bathrooms or laundry rooms, you should not install laminate flooring or hardwood flooring.
Allow your flooring material to adjust to room temperatures for at least 48hrs before installing. Remember that some wood species need three to four times as long to adjust.
Before you install any planks, check for damage. Do not install planks that are damaged.
Make sure your subfloor is level and flat. It is important to ensure your subfloor is level and up to industry standards. Problems such as telegraph wire effects and hollow spots can be caused by subfloors that are not level.
Most strata buildings in Vancouver are looking for IIC and STC numbers greater or equal to 72. Before you sign anything, make sure to ask about the strata bylaws.
The majority of strata buildings in Metro Vancouver require at least $2,000,000 in liability coverage and good standing with Work-Safe BC from your flooring company. These documents should always be requested by your flooring contractor.
Use felt pads to protect your furniture from scratches right after installation.
Helpful Resources: