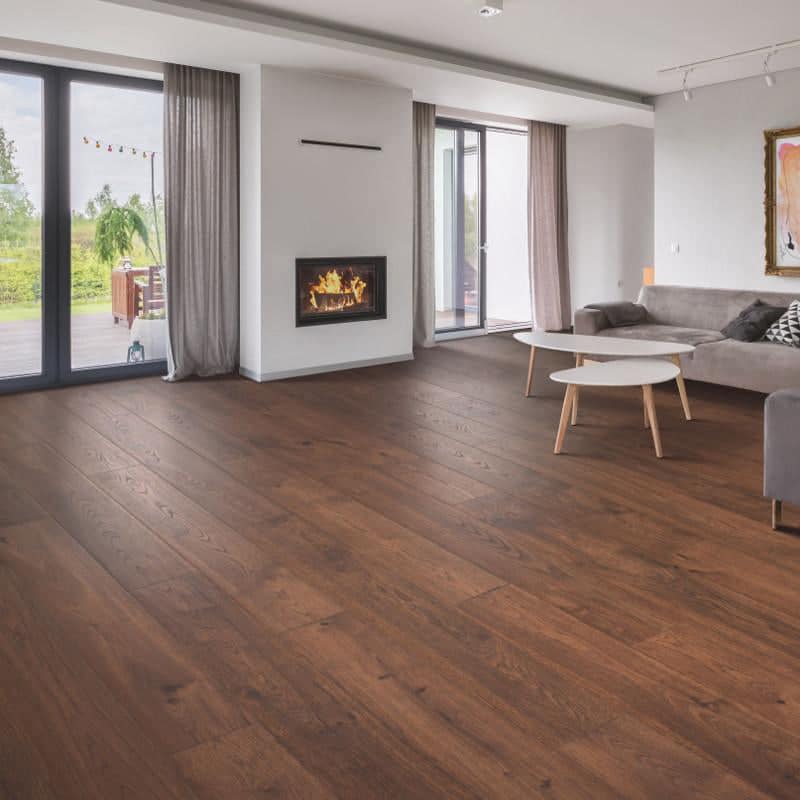 The Mighty Mohawk Revwood
Are you looking for an affordable hardwood alternative that looks and feels like the real thing? Look no further than Mohawk RevWood. This laminate flooring is made in the USA, certified by NALFA and GreenGuard, and meets CARB2 standards. Its Hyper-Realistic Signature Technology, Uniclic joint system, GenuEdge pressed bevel edge, and Hydroseal perimeter coating provide a safe and secure environment while providing a realistic wood look. With three collections – Select, Plus, and Premier – you will indeed find something perfect for your home!
Key Takeaways
Mohawk Revwood is a budget-friendly alternative to hardwood flooring that can withstand even the most active family.
It offers four collections: Revwood, Revwood Select, Revwood Plus, and RevWood Premier, each with different features and benefits.
The Select, Plus and Premier collections are waterproof and can handle spills, scratches, and pet messes, making them suitable for wet areas like kitchens and bathrooms.
Mohawk Revwood is made in the USA, is environmentally responsible, and meets certification standards for safety and sustainability.
Affordable Hardwood Alternative
You can get a budget-friendly, hardwood look with Mohawk RevWood laminate flooring that is four times more scratch resistant than other leading laminate products and offers complete waterproof protection. The RevWood Plus line is ideal for families with pets because it has a 10-year or lifetime waterproof warranty to protect from accidents, depending on the series. Not only will it keep liquids out, but its fade-resistant coating also ensures the floor will remain to look new for longer.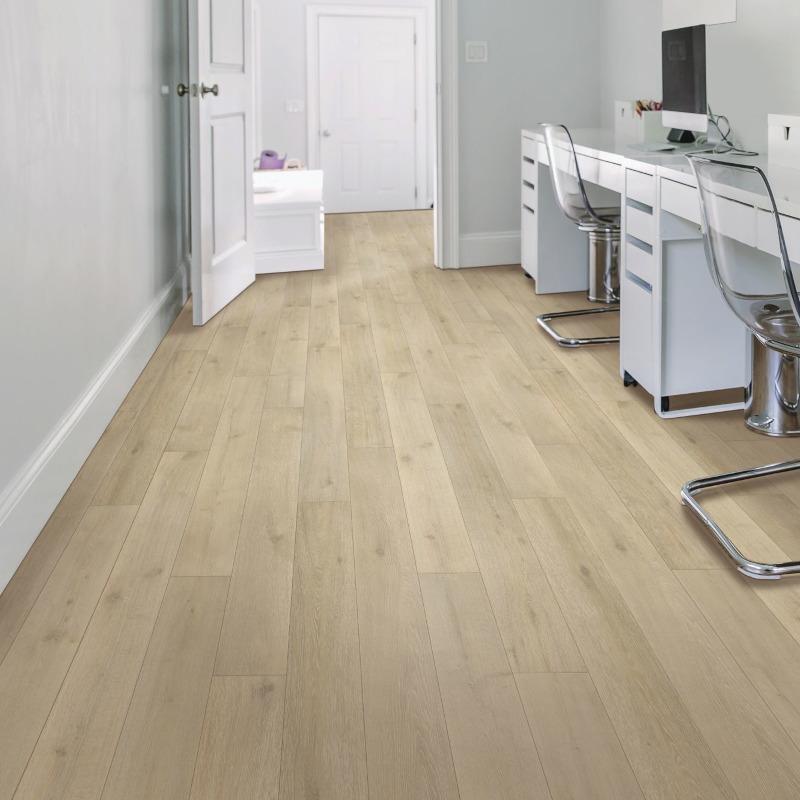 The Uniclic joint system and GenuEdge pressed bevel edge make installation easy, while Hydroseal perimeter coating provides extra waterproof protection at the edges of each plank. With Mohawk's Rare Vintage design collection, you get wide and long planks that provide an elegant look similar to high-end hardwood floors. For a beachy feel, try the Select Boardwalk Collection, which uses warm tones inspired by driftwood to create a rustic vibe.
RevWood Select stands up to minor splashes and spills so it's great for almost any room in your home – avoid installing in areas prone to standing water like kitchens or bathrooms. And if you're still worried about moisture getting through, you can purchase an additional sealing kit as an accessory add-on.
Finally, Mohawk Flooring is certified by NALFA and GreenGuard, which meets CARB2 standards set forth by California Air Resources Board (CARB). This means your purchase of RevWood laminate flooring helps prevent 680 million pounds of materials from ending up in landfills yearly – making this product beautiful and environmentally responsible!
Environmental Responsibility
You can trust that your flooring choice is beautiful and responsible for the planet. Mohawk Flooring is committed to creating environmentally friendly products and works hard to reduce its environmental footprint. From using renewable materials in their laminate cores to preventing 680 million pounds of waste from entering landfills each year, Mohawk offers top-notch eco-friendly flooring: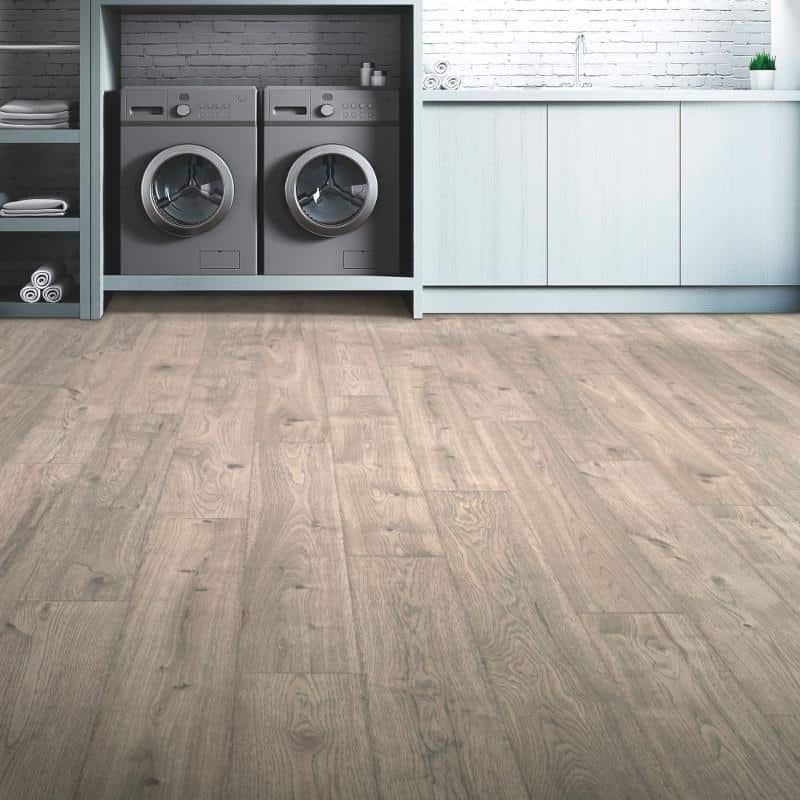 Wear layer made from recycled plastic bottles for a durable finish and easy maintenance
Waterproof flooring with Uniclic technology and Hydroseal perimeter coating for maximum moisture protection
Scratch-resistant floors that are certified by NALFA and GreenGuard so you know they're safe to use.
Mohawk has its own ReCover Recycling Program, which helps keep used carpets out of landfills by turning them into new products like automotive parts and furniture. This program is available nationwide, making it easier than ever to help reduce our environmental impact. Plus, with hundreds of eco-friendly products, from carpets to hardwood, tile, and laminate, there's something perfect for any style or budget.
Making an eco-conscious decision doesn't have to be difficult. With Mohawk's commitment to sustainability throughout the entire product life cycle, you can trust that you're getting beautiful flooring while helping protect the environment at the same time.
RevWood: Durability and Waterproofing
No matter how active your household is, RevWood laminate flooring offers exceptional durability and waterproofing to keep your home looking beautiful. The Mohawk RevWood product line has several options for different needs and budgets. The most budget-friendly option is the RevWood, which comes with as many as 75 design options that are water-resistant but not waterproof. For more protection against spills, the RevWood Select line offers a 10-year warranty for its waterproof topcoat. This type of flooring also features wider and longer planks for a sophisticated look twice as durable as other laminates.
For even greater waterproofing, Mohawk developed the RevWood Plus line. This type of laminate has an extra layer of protection from moisture that makes it perfect for any room in the house – from damp basements to bathrooms and kitchens – without worrying about water seeping between planks or scratches damaging the surface. It also uses signature technology to capture natural designs of various wood species with exceptional detail and Uniclic technology for easy installation.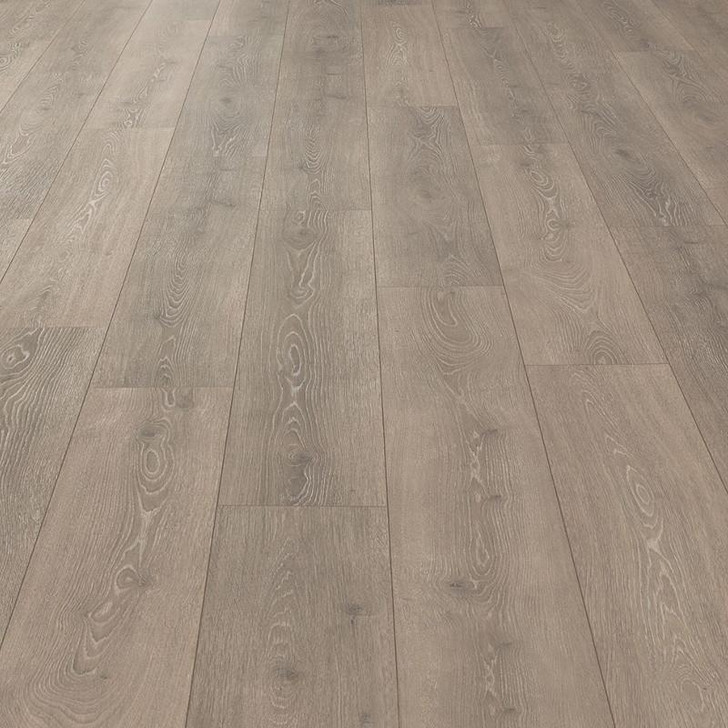 If you're looking for a beachy look with warm tones, consider the Select Boardwalk Collective line inspired by driftwood colours. And if you love rustic charm, then check out Rare Vintage collection with embossed textures to give it a real hardwood feel. All these collections offer great scratch resistance and easy maintenance, so you can enjoy them worry-free for years!
RevWood provides all the beauty of hardwood floors without compromising on durability or waterproofing ability! With features like GenuEdge pressed bevel edge and Hydroseal perimeter coating creating a complete waterproof system plus all pet protection coverage warranties, you can rest assured knowing your floor will last through whatever life throws at it!
RevWood vs Hardwood
Comparing hardwood flooring to RevWood laminate flooring, you'll get the same stunning aesthetic without sacrificing durability or protection from spills – all at a fraction of the cost! With Mohawk's deep graining and colour variations rivalling natural hardwood's look, any room can be transformed with a RevWood laminate flooring collection. Plus, their Uniclic joint system allows for easy installation, and GenuEdge pressed bevel edges give extra protection against water damage. And with Pet Protection coverage in their warranty, you know your floors will stand up to even your most active family members.
RevWood Plus takes it one step further by offering advanced waterproof protection that won't break the bank. It utilizes both Hydroseal technology and a UniClic locking system to keep liquids on top of the planks until you have time to clean them up. This makes it perfect for wet or steam mopping without worrying about water seeping between planks. And its embossed texture gives an incredibly realistic wood look that is scratch-resistant and as durable as any hardwood floor.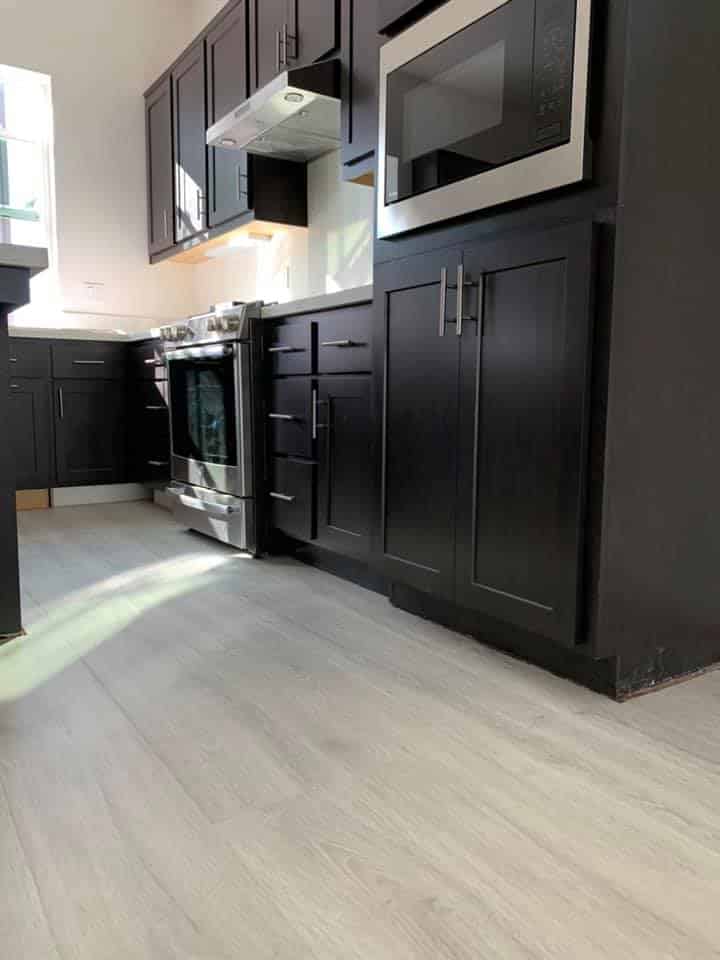 Mohawk's Unique Benefits
From their renewable and sustainable sources to their easy installation and exceptional warranties, this flooring line offers unique benefits that make it an attractive alternative to hardwood. Mohawk RevWood is a revolutionary wood flooring system designed to capture the beauty of hardwood while providing long-lasting durability. It features:
Renewable and sustainable southern pine for laminate cores
Flooring made in the US contains 74% pre-consumer content. This helps prevent 680 million pounds of materials from being deposited in landfills yearly.
Hyper-Realistic Signature Technology for capturing natural designs of various wood species with exceptional detail
UNICLIC technology for easy installation.
The Select line also has some unique benefits. It has a 10-year warranty for its waterproof topcoat and resistance to scratches and stains. Plus, it uses the Mohawk Hydroseal technology to keep water out, along with its glue-free locking system called UniClic, which keeps moisture from seeping between the planks. You can choose classic colours like cool gray, warm chestnut, or a beachy feel with the Boardwalk Collective's rustic tones inspired by driftwood.
For your rooms that may get wetter than others, such as laundry rooms or bathrooms, you can turn to RevWood Plus. Its waterproof layer keeps out moisture while offering the look of real hardwood. This product also features Mohawk's Antique Craft collection, which provides embossed textures for a realistic wood look in five different colours that appear naturally time-worn and aged – perfect if you want something more characterful! Additionally, this laminate flooring system is resistant to pet messes. It offers an extra layer of protection due to its bevelled edge design, which helps prevent water damage on the sides of your planks.
Mohawk RevWood products provide homeowners with many options for finding just the right style for their home renovation project – all backed up by reliable warranties that ensure safety and quality in every product they craft! Whether you are looking for classic elegance or something more modern and rustic – these laminates offer timeless beauty that will last without sacrificing budget or performance needs.
RevWood comes in three categories.
RevWood Essentials
RevWood Select
RevWood Plus
RevWood Premier
RevWood Collection
Looking for stylish and modern flooring options for your home? Look no further than Mohawk's regular RevWood range! With four different styles to choose from – Rivercrest, Chalet Vista, Carrolton, and Kingmire – you can choose 28 different colours to match your decor perfectly.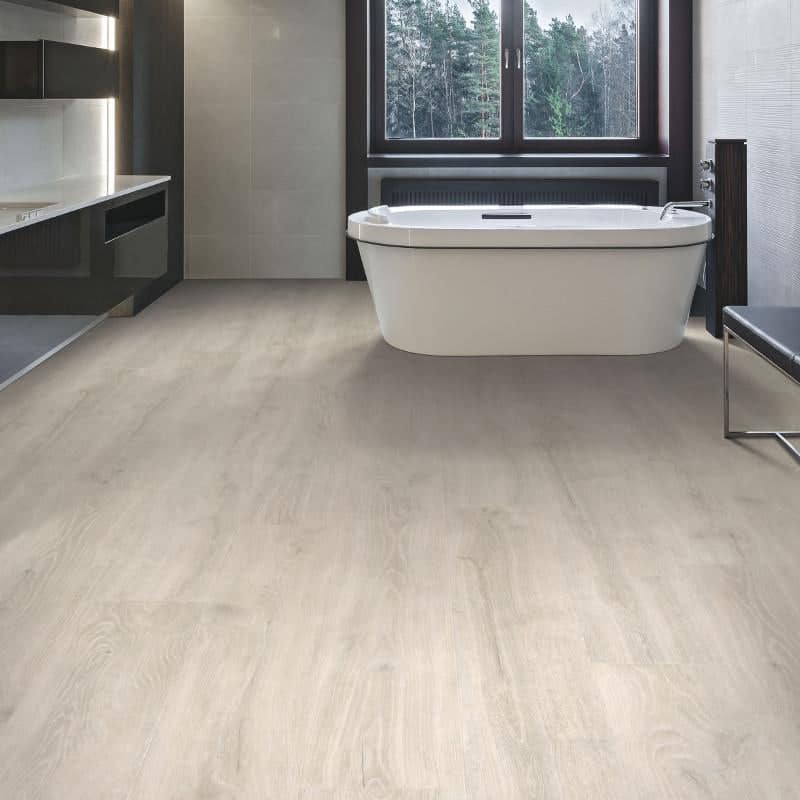 Not only do these styles offer a beautiful modern hardwood look, but they also provide the durability and convenience of laminate flooring. Mohawk's RevWood range is the perfect choice for anyone looking for the best of both worlds in their flooring. You can choose from 5.25" x 47" or 7.5" x 47" depending on the specific needs of your home.
It's important to remember that it's not waterproof. So, if you spill something, be sure to wipe it up right away. While it can handle moderate wear and tear, we recommend avoiding installing RevWood in kitchens or bathrooms where water damage is more likely to occur. However, it's the perfect choice for your living room or bedroom, where spills are less common. And because of its lower price point, it's a great option for larger rooms that need to be covered. Taking care of your RevWood can last as long as you need, providing a durable and stylish solution for your flooring needs.
RevWood Select Collection:
Maximum Scratch Protection
Fade Resistant
10-Year Waterproof Protection
Mohawk's RevWood Plus line is perfect for those seeking durability and style. With three different lines to choose from, Boardwalk, Rare Vintage, and Woodcreek, there are 23 different styles. You'll indeed find a design that suits your taste and preferences.
These planks are 12mm thick, 7.5 inches wide, and 54 inches long, making them a fantastic option for those who want the look of hardwood but don't want to deal with the installation hassle.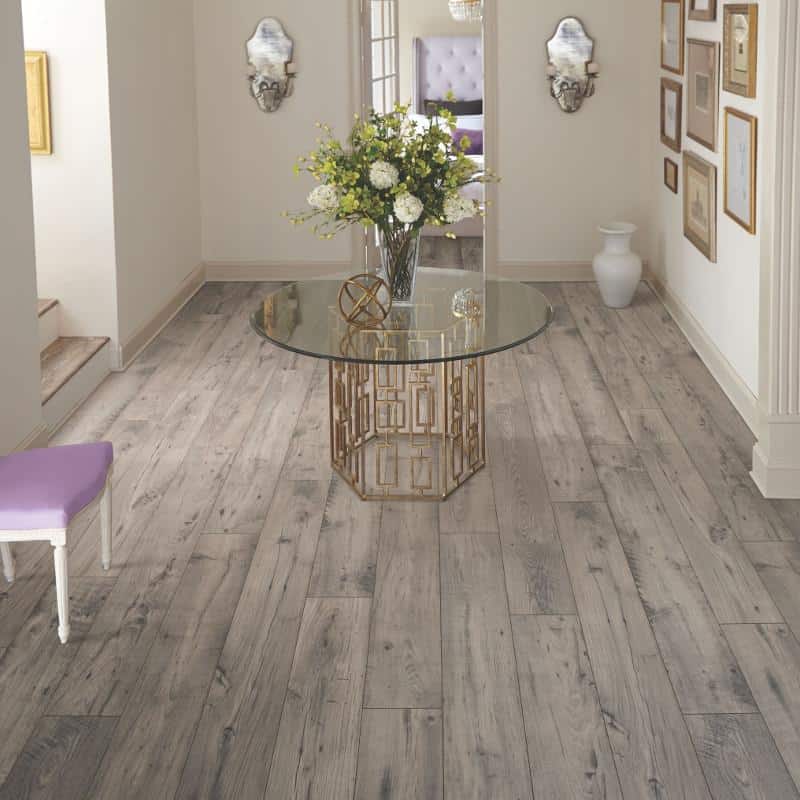 You'll love the realistic hardwood look of RevWood Select, plus its waterproof topcoat and scratch-resistant features mean it's a durable choice for any room! Mohawk's Rare Vintage design collection offers wider, longer planks that look like high-end hardwood. Plus, with twice the durability of other laminates, your flooring will be protected with a layer of protection from scratches and stains. And if you opt for the Boardwalk Collection, you can bring beachy vibes to your home with colours inspired by driftwood.
RevWood Select uses two advanced technologies to keep water out: Hydroseal and UniClic. The former creates an impenetrable seal, while the latter locks each plank together without using glue, trapping liquids on the surface so you have time to clean up spills. This makes it perfect for bedrooms or living rooms where minor splashes are likely. This is very similar to the same technology Torlys NatureTEK uses to make their waterproof laminate flooring.
The RevWood Plus product takes things even further with its Antique Craft collection featuring embossed texture for a truly realistic wood look in five colours that appear naturally time-worn. This laminate is resistant to scratching and pet messes, and its waterproof layer allows easy cleaning – make sure not to let moisture seep between planks!
For oak flooring lovers looking for something more affordable than real hardwood yet still offers a hyperrealistic signature technology, Mohawk's RevWood line is the perfect solution – durable enough against everyday wear and tear while providing budget-friendly options from one of the leading laminate flooring manufacturers in North America.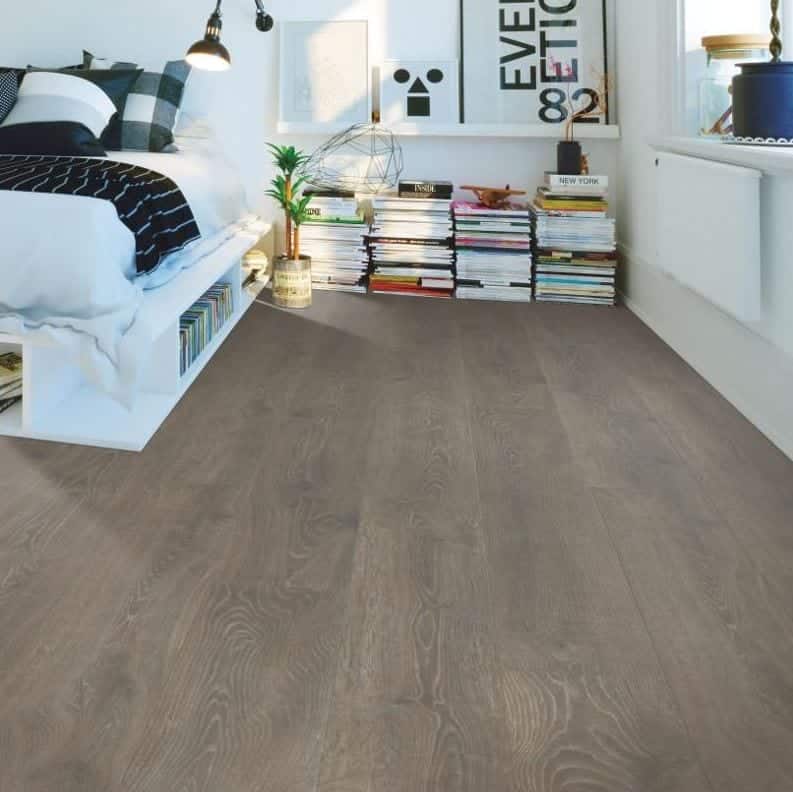 RevWood Plus Collection:
Maximum Scratch Protection
Fade Resistant
WetProtect Lifetime Waterproof Protection
GenuEdge Locking
Wet & Steam Mopping safe
This collection of flooring is made up of 31 products, each with a unique design. There are ten different lines to choose from, Western Ridge, Southbury, Crest Haven, Antique Craft, Sawmill Ridge, Bellente, Cypresta, Castlebriar, Hartwick, and Elderwood.
Thanks to Mohawks GenuEdge technology, the planks have a realistic hardwood look, complete with natural curves and bumps. This sets them apart from regular laminate products, which have straight edges.
The planks are durable and versatile, with a thickness of 12mm, a width of 7.5 inches, and a length of 54 inches. Experience waterproof, scratch-resistant flooring with the RevWood Plus product line – perfect for any room, even those prone to pet messes! With its locking mechanisms and durable layers of laminate floors, it's designed to stand up to active households. The Plus line works in any room of your home, from a damp finished basement or laundry room to a kitchen or bathroom. Its waterproof layer keeps out moisture and allows easy cleaning while giving you the look of real hardwood.
If you're looking for an exceptional flooring product that can handle everyday spills and pet messes without breaking the bank, RevWood Plus is the answer. It offers superior protection against water damage with features like the Hydroseal layer and UniClic technology. And its bevelled edge makes it look more like real hardwood than other laminates – plus adds extra moisture protection. You'll also find a range of colours available that captures natural designs with exceptional detail.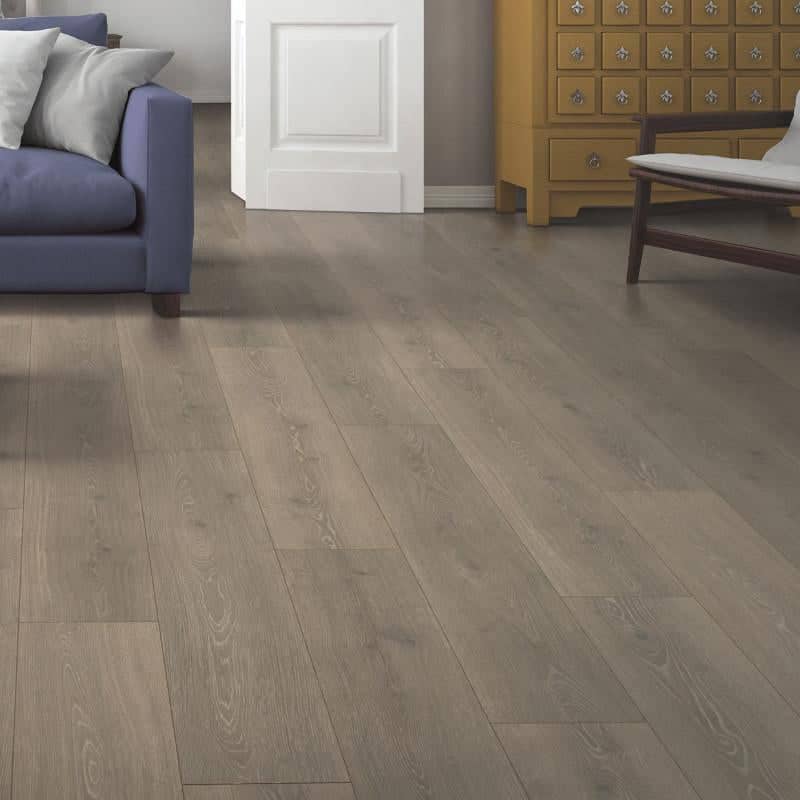 When shopping for RevWood Plus products at your local flooring retailer, ask about Mohawk's WetProtect coverage warranty. Hence, you have peace of mind knowing your floors are covered in case of unexpected accidents.
RevWood Premier Collection (New)
Maximum Scratch Protection
Lifetime All Pet Warranty
WetProtect Lifetime Waterproof Protection
GenuEdge Locking
Wet & Steam Mopping Safe
CleanProtect Antimicrobacterial
Signature Texture
Picture this: a flooring option that offers everything you need and more. The RevWood Premier series has all the features of RevWood Plus, but it goes the extra mile with its CleanProtect Antimicrobacterial technology and Signature Texture technology.
Signature Technology captures the natural designs of each wood species and incorporates 64 layers of design data and 1,000 colours in every square inch of each plank. That's right, 64 layers!
With this technology, Mohawk has achieved a wood floor that's so realistic it's "indistinguishable from natural hardwood". Can you believe it? This isn't your average flooring option.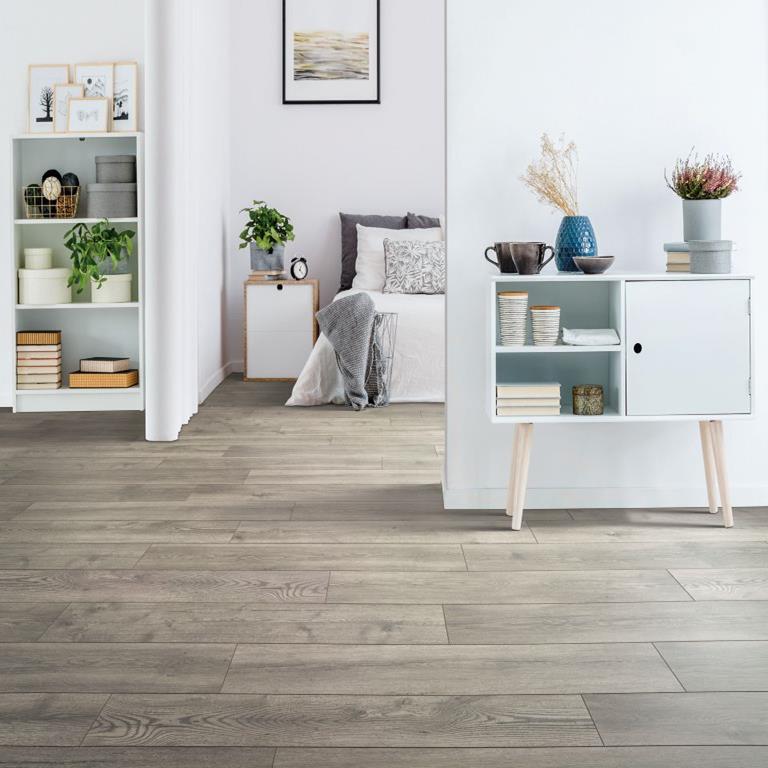 And it's not just about appearance – Signature's clarity finish achieves four times more resolution than previous methods, giving your space a refined and sophisticated look.
Plus, with CleanProtect Antimicrobacterial technology, you can rest easy knowing your floor is protected from harmful bacteria and keeping your home clean and hygienic.
RevWood Installation
Now that you have chosen the perfect RevWood flooring for your home, it's time to start thinking about installation. Installing Mohawk RevWood is easy and hassle-free, and with a few simple steps, you can have beautiful floors in no time. Here are some tips on how to install RevWood successfully:
First, ensure your subfloor is level and clean of debris before installing any floor underlayment. This will ensure that your new floor has an even surface to support it. It's also important to undercut door frames and wall base so the flooring fits snugly underneath them. Additionally, leave a 3/8" minimum expansion space for each plank of flooring around all edges of the room.
Next, unpack the planks and let them acclimate in the room where they will be installed if there isn't enough time for this step then make sure there is no more than 25° F difference between the stocking environment and installation environment. Once everything is ready, begin laying out the planks starting from one corner of the room, leaving a 3/8″gap between walls for expansion purposes. You may need to cut down certain planks depending on their size or shape and trace the wall contour onto the tongue side of the plank before cutting if the walls are uneven.
When joining planks together, use either two spacers thick side-to-thick side equals 3/8" or use an alternate tap method aligning tongues into grooves of long and short sides, then tapping lightly along the long side until the joint is closed tightly before tapping the end using the tapping block into locked position ensuring not to use excessive force which could damage joints. After completing the last row, make sure there is still at least an 8" gap between walls for expansion before cleaning up any extra debris created during the installation process and enjoy an extraordinary performance from the newly installed Mohawk RevWood!
RevWood WetProtect and Pet Warranty
Are you looking for beautiful flooring that can withstand everyday messes while protecting your subfloors from water damage? RevWood WetProtect and Pet Protection coverage is the perfect choice for you. With its innovative technology, RevWood provides superior waterproof protection backed by a lifetime warranty that gives you total peace of mind.
| Benefit | Mohawk Revwood | RevWood Select | RevWood Plus | RevWood Premier |
| --- | --- | --- | --- | --- |
| Water Resistance | 30 minutes | 10-year Warranty | Lifetime Warranty | |
| Wear Resistance | Moderate | Scratch & Stain Resistant | Scratch & Stain Resistant | Scratch & Stain Resistant |
| Dent Resistance | High | High | High | High |
| All Pet Plus Protection | No | Yes | Yes | Yes |
| Damp Mopping | No | Yes | Yes | Yes |
| Wet and Steam Mopping | No | No | Yes | Yes |
| Installation | Uniclic Technology | Uniclic Technology + Bevel Edging | Uniclic Technology + Bevel Edging + Sealing Kit | Uniclic Technology + Beel Edging + Sealing kit |
The Mohawk RevWood line offers four options: Mohawk RevWood, RevWood Select, RevWood Plus and RevWood Premier. Each has unique benefits that make it ideal for any room in your home – from living rooms to bathrooms to basements. The Mohawk RevWood line also features designs inspired by natural wood textures and trendy colours like cool gray and warm chestnut.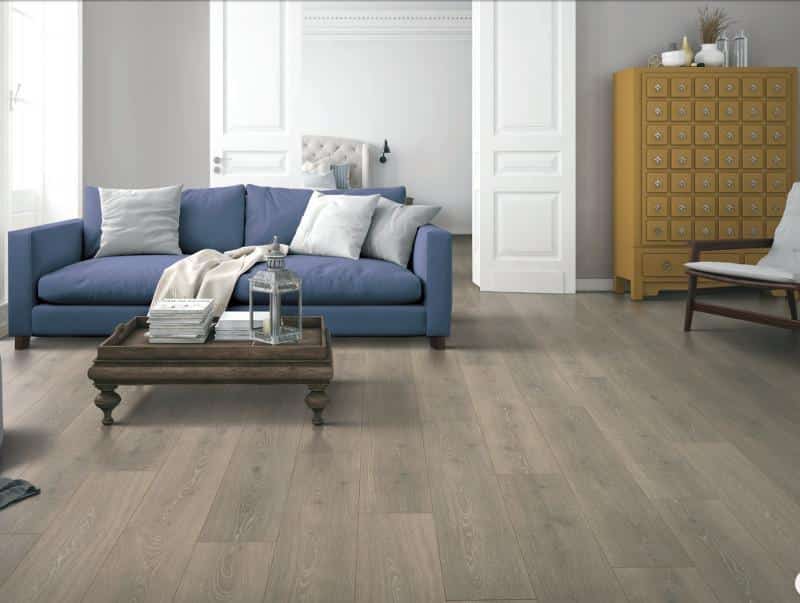 Additionally, the Plus and Premier lines have an All Pet Protection coverage warranty – so even if your furry friends have accidents on your floors, don't worry! With the All Pet Coverage Warranty, you won't have to worry about pet messes ruining your floors ever again. So go ahead – let them play on the floor knowing they are protected!
RevWood allows you to design a stylish and safe home without sacrificing quality or durability – backed up by a lifetime surface and subfloor waterproof warranty. With this comprehensive protection plan, you can rest assured knowing that whether it's everyday cleaning or a big kitchen mess – your floors are covered!
RevWood Maintenance
Keeping your RevWood flooring looking its best requires regular maintenance and care. There are certain steps you should take to keep your floors in top shape:
Floor Protection: Place felt floor protectors under legs of moveable furniture. Chair casters should be rubber – not plastic or metal. Place walk-off mats at entrances to reduce tracked dirt and debris, which can wear down the dense HDF core material and laminate cores over time.
Everyday Household Spills: Dust mop as primary cleaning method, occasionally wet mop with water only, using a well-wrung-out mop; DO NOT pour liquid directly on the floor or use an excessively wet mop that will puddle or leave moisture on the floor.
Modern Performance Standards: Mohawk's RevWood Plus line features waterproof technology that guards against everyday household spills and pet messes while meeting modern performance standards demanded by today's discerning consumers. Its UNICLIC technology makes it easy to install for DIYers or professionals alike, so you can enjoy lasting beauty with minimal effort.
Whether you're looking for a classic hardwood look or something more contemporary, RevWood has a look that fits your style and your budget — all while providing exceptional performance and protection for up to 25 years with normal wear and tear!
Frequently Asked Questions about RevWood
How long will RevWood laminate flooring last?
With proper care, RevWood laminate flooring can last for decades. It's a great alternative to hardwood that's more durable, affordable, and offers complete waterproof protection! Even better, it won't scratch or fade over time, so you don't have to worry about costly repairs.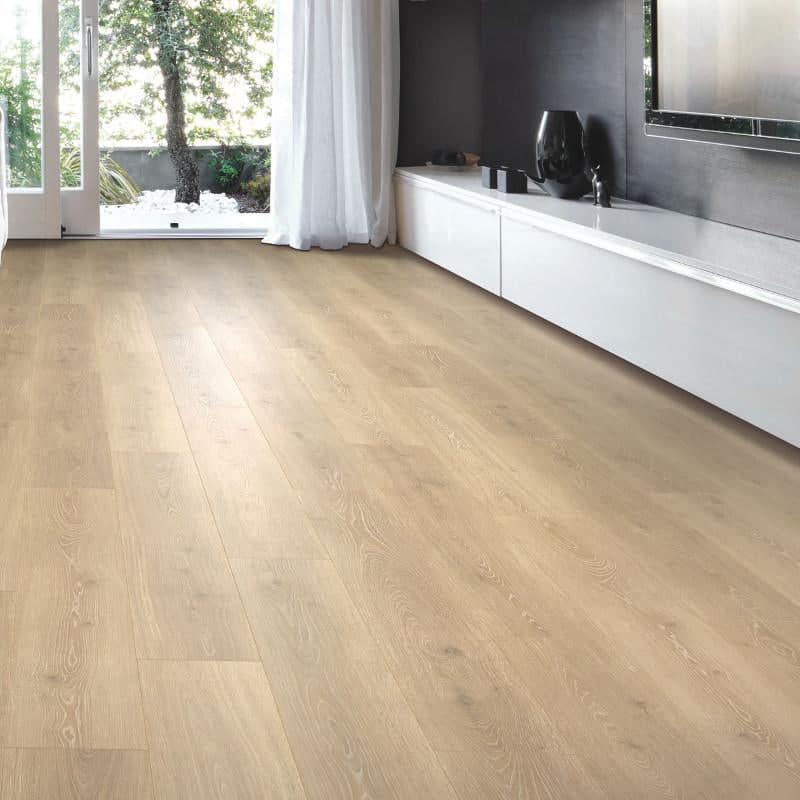 Is RevWood laminate flooring easy to install?
Yes, RevWood laminate flooring is easy to install. It features a Uniclic joint system and GenuEdge pressed bevel edge for a simple setup. Plus, its waterproof protection gives you added peace of mind regarding installation.
Can RevWood laminate flooring be used in outdoor spaces?
No, RevWood laminate flooring cannot be used outdoors. As the old adage goes: "A stitch in time saves nine,"it's best to use materials specifically designed for outdoor spaces. Laminate is not one of them and may warp, fade, or become discoloured if exposed to the elements.
Does RevWood laminate flooring require any special cleaning?
Yes, RevWood laminate flooring requires special cleaning. Regular sweeping and mopping with a gentle cleaner is recommended to keep it looking its best. For messier spills, use a damp cloth and mild detergent for quick cleanup.
Does RevWood laminate flooring come in a variety of colours?
Yes! RevWood laminate flooring comes in stunning colours, from cool grays to warm chestnuts and even beachy driftwood tones. You'll find the perfect colour for your home, no matter what style you're looking for. And with such realistic detail, it's like having real hardwood floors without the hassle or cost!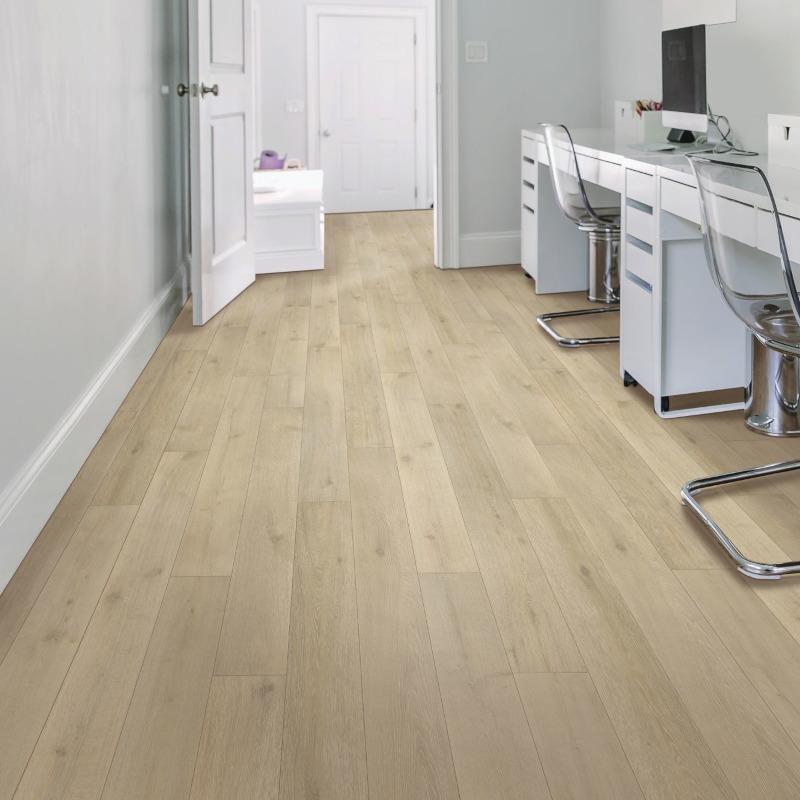 How do I seal the perimeter of my Revwood Flooring?
To keep Revwood floors waterproof for life, it's important to prevent liquids from getting underneath. This is done by using silicone sealant along the edges. RevWood Premier, Plus, and Select floors can resist spills, but the edges lose their protection when cut. Sealing the perimeter with silicone helps keep moisture on the surface. Or, you can use Waterproof Quarter Round with a built-in seal. This will keep the warranty comprehensive.
Choose Canadian Home Style for your Vancouver flooring projects.
Canadian Home Style is your family-owned and operated flooring retailer with a showroom in North Vancouver, BC. We provide full-service commercial and residential flooring solutions across the Lower Mainland with an extended warranty. We are proud BC Floor Covering Association (BCFCA) and the National Wood Flooring Association (NWFA) members. In addition, we have won the Consumer's Choice Awards back-to-back in 2021, 2022, and 2023 for our commitment to business excellence. We are considered the highest-rated flooring experts in Metro Vancouver. We pride ourselves on holding the highest standards in the flooring industry. We have a strict policy of "not selling or displaying any products that we wouldn't want in our homes to uphold our high standards." Before we select a product to feature, we carefully assess product quality, off-gassing, warranties, and responsible sourcing. Book now to visit our North Vancouver flooring showroom; we can help you choose the perfect floor for your home or business.
Our mission is to help homeowners create beautiful homes that reflect their lifestyles while reducing energy consumption and conserving resources. We provide our clients with innovative products, services and education. Our vision is to become Canada's leading sustainable flooring solutions provider. Our values include integrity, respect, honesty and transparency. These principles guide us as we strive to provide outstanding customer service.
We believe that our success depends on the success of our clients and their customers. We work hard to ensure our clients get the most out of their investments. Our team consists of highly skilled professionals who are experts in their field. They have years of experience working together and know what works and what doesn't. They understand how to solve problems quickly and efficiently. We are committed to providing excellent customer service. We listen carefully to our client's concerns and suggestions. We take these into account when planning and executing projects. We always strive to exceed expectations.
Services We Offer:
Main Areas of Service in British Columbia:
Frequently Asked Questions
What floor is waterproof?
There are two types of waterproof flooring available: luxury vinyl flooring and tile. Waterproof flooring is great for all rooms, including bathrooms and kitchens. If you have pets, children or live in an area that receives a lot of rain, waterproof flooring is essential.
Is cork flooring safe for kitchens
Cork flooring can be used in the kitchen because it's durable, stain-resistant, and easy-to-clean. Cork flooring is a good choice for anyone who spends a lot of time in their kitchen. Cork can also be used as an insulation to keep your kitchen floor warm throughout the winter. Cork is also waterproof, so it's a great choice if you have kitchen floors that get wet from spills and other accidents.
Is wide plank flooring better?
Wide planks are extremely popular in interior designing. The wider planks have fewer seams and are more harmonious in modern designs. But, performance wise, there is no difference in the boards between narrow and wide.
How much would it be to lay a 1500 square foot of flooring? Vancouver has a variety of hard-surface flooring options.
The materials would be priced at $2-$30 per square foot. You will need to cut 10% of the waste.
Costs for underlayment range from $0.25 to $1.50 per square feet.
Installation would cost between $2.00 to $6.00 SF depending on the installer's expertise and type of installation.
The cost to remove and reinstall your baseboards will be between $2.00 and $3.50 per foot.
You will need to remove your existing floor and transport it to the transfer station. Floor removal costs for carpet and floating floors range from $0.50 to 1.50.
Your subfloor may need to be leveled to meet industry standards. You may need to pay $0.50-3.00 per square foot to level your floors if they are not perfectly level.
You may also need to add trims such as transitions and shoe bases. These will increase the overall cost.
What is engineered hard flooring?
Engineered wood is a product that contains a solid veneer of hardwood over an engineered base. You can have layers of wood, lumber core or composite materials as the engineered core construction. Engineered wood is more dimensionally stable than solid wood and can accommodate the winder width needed in modern design. Engineered hardwood can be installed in many different ways. This allows you to customize your installation. Engineered hardwood flooring can be purchased in many widths and colors. The most common engineered hardwood floors are wide plank oak floors in Metro Vancouver.
How do you choose the best wood flooring?
Hardwood floors are beautiful, long-lasting, and simple to maintain. However, they can show signs wear and tear. Here are five tips for making an informed decision when replacing hardwood floors.
You can determine if you are able to replace hardwood floors yourself. This is a crucial step because it allows you to determine if you should hire a professional or do-it yourselfer to replace your hardwood floors. For most flooring projects homeowners should hire professionals. However, there are times when it makes sense to tackle the project yourself. It may be worth it if you have previous experience with woodworking to take on the project.
How much money you want to spend. There are two options for determining how much your hardwood floors will cost. Either an estimate based upon square footage (SF), or you can calculate the total cost per foot. Multiply the square footage in your home by $6 to $30 to determine the price per SF. Then add additional costs such as installation fees, rip-out, baseboards and delivery.
Choose the hardwood flooring that is best suited for your home. There are two main wood types: engineered and solid. Engineered is Vancouver's most popular type of wood. This is due to the environmental factors like humidity and personal style preferences. You must also decide what type of wood to use. Some of the most popular species are Maple, Oak, Hickory, Birch and Walnut.
The right colour, texture, or sheen will be chosen for hardwood flooring. Consider that your hardwood flooring is in every room and that you are physically in direct contact with it every day. You should choose a colour or stain that will match your home's style and decor.
Select the right contractor for the job. Once you have made the decision to replace hardwood floors it is time for a professional contractor. Asking your family and friends to refer you is the best way to find one. You can also check online directories like Better Business Bureau. It's a major decision to have hardwood floors replaced. These five tips can help you be confident that you are making the right decision for you home.
Statistics
To figure out how much your floor will cost, calculate the room's square footage, then add 5 to 10 percent for cuts and waste. (thisoldhouse.com)
External Links
How To
How to do a successful floor install in Vancouver
Professionals should install your floors because mistakes can cost more in the long run.
Remove your old flooring with care. Moving old flooring can be costly, particularly if it's carpet or a floating one.
You might want to buy more material to cover waste. Standard waste is 10%. If you have staircases and hallways, it would be a good idea to reduce waste.
A company or licensed flooring contractor should be used, especially if you are living in a strata structure.
Install the planks so that your primary windows are on the longer side.
Before you deliver or install the product, make sure to measure the job site conditions. Install laminate or hardwood flooring only in areas with high humidity, such as full bathrooms and laundry rooms.
At least 48 hours should be given for your flooring material's temperature to adjust before you install it. Some wood species take three to four times longer to adjust.
Before you install any planks, check for damage. Do not place damaged planks.
Make sure your subfloor is level and flat. Your subfloor must be leveled to industry standards. Uneven subfloors can result in problems like telegraph wire effects, hollow spots and others.
Vancouver strata buildings require IIC and STC numbers greater 72. Before you commit, be sure to check the strata bylaws.
Most strata buildings in Metro Vancouver also require a minimum of $2 million in liability insurance and good standing with work-safe BC from your flooring company. These documents should be requested from your flooring contractor.
Use felt pads for all your furniture to avoid scratches immediately after installation.
Resources: